One of the biggest conveniences of having a doorbell camera is being able to not only see who's at the door but speak to them too. This is especially useful if you're indisposed at the moment and can't get to the door in time.
But it'd probably be even better if that person can actually hear you – and you hear them. Settings can be confusing sometimes, leaving some Ring doorbell users with volumes that are less than optimal, resulting in miscommunication – and having to run to the door anyway.
But are you doomed to having sub-par video doorbell communication? Not at all! Fortunately, there are fixes to this very common problem.
What Is Ring?
Ring is a popular manufacturer that makes a variety of smart home devices. Their line of products includes security cameras, a wide array of smart lighting for the inside and outside of your home, and even an alarm system.
They remain one of the top smart home device manufacturers, and their popularity continues to increase – despite the fact that some of their devices do tend to run somewhat higher price tags in comparison with some of their competitors. Most would argue, however, that with the features and devices they offer, they're worth it.
Ring, however, is probably best known for their large variety of cameras. From spotlight cams, to indoor cams, to outdoor cams that catch every bit of footage around your home, they've got your home security covered.
In order to get the most out of your smart home cameras, Ring also offers a paid subscription plan called Ring Protect, available in Basic, Plus, and Pro tiers. This ensures that all of your motion alerts and events are actually recorded and stored so that you can view them later.
One of their most notable camera products? The Ring Video Doorbell.
What Is The Ring Video Doorbell?
The Ring Video Doorbell is perhaps one of Ring's best sellers. These convenient devices come in different versions including the Ring Doorbell Elite, as well as the Pro. They can be screw-mounted on your door frame or other location of choice, and are powered by a rechargeable battery, or wired into existing doorbell wiring. They connect to the Ring app via Wi-Fi or, in the case of the Elite, a wired Ethernet connection.
Via the Ring app on your smartphone, tablet, or smart home hub, this convenient doorbell allows you to not only see, but hear any visitors that come and ring your bell – and they can hear you as well, enabling effective two-way communication without you having to be at the door. They also work like many of Ring's other smart cameras and detect motion, even if someone doesn't ring the doorbell.
By pairing it with a Chime, you and anyone else at home can hear the doorbell, even if you aren't near your smartphone or tablet.
If you have Ring Protect, a short video is recorded of the detected motion. You can specify the length by going into your Settings and selecting a recording length anywhere from 15 to 120 seconds.
Video doorbells in themselves are very useful little things. Imagine you've got a package or any kind of delivery on the way, so you're rushing to get ready – and they arrive while you're in the shower. Not to worry! Right from your phone or other smart device, you can tell them you'll be right down, or to just leave the package in a designated area for you to get when you're ready.
These smart devices are indeed convenient – but only if you and your guests can actually hear each other well. So what happens when you can't?
Common Issues With Ring Doorbell Volume
While users of the Ring Video Doorbell don't typically have issues with their device, when they do, one of the most common issues is related to volume:
Some users find it difficult to hear whoever is at the door. As one might imagine, this can be very frustrating for both parties. One person can't hear a thing, and the other individual at the door gets tired of repeating themselves louder and louder into a tiny machine on the wall – not an ideal situation.
On the other hand, some smart home owners complain that their visitors and/or delivery personnel can't hear them. This, again, is frustrating for both parties.
The result in either of these incidences involves the Ring user rushing to come to the door anyway, thereby defeating the whole purpose for having a video doorbell in the first place.
Still other users complain that the audio on their recorded events is too low, resulting in missing important information.
So how can you make sure that these issues don't become, or remain a problem?
How To Adjust Ring Doorbell Volume via the Ring App
Time to get into the settings. One of the most common places to adjust the volume is in the Ring app. However, a word of caution. Because of the way some of the settings are worded, there can be some confusion.
When you open the Ring app, and select your Ring Video Doorbell, you will see Device Settings:
When you go into this section, you would then go to General Settings. Here is where it gets a bit tricky. The labeling "Ringer" indicates that this adjusts the volume of your Ring Doorbell when it rings. This setting is a bit mislabeled as it leads you to believe that this refers to only the volume of the doorbell itself – which isn't true.
This slider also affects the volume of the speaker outside, a.k.a. what your visitors hear. If your visitors are having trouble hearing you, adjusting the "Ringer" slider to the higher end will help in this regard:
Now when it comes to the volume of the person on the other end, a.k.a. what you hear, you will have to do it while in Live View. You would then use the volume keys of your device – whether it's a smartphone or tablet, in order to increase or decrease the volume.
It's to be noted, that these adjustments in the Ring app won't affect previously recorded events, but they will help make sure that any future recordings are at a proper volume.
How To Adjust the Ring Doorbell Volume in Alexa/Echo
So what happens if you're like most smart home owners, and use a 3rd party device like the Amazon Echo with your Ring Video doorbell, and you notice the same volume issue?
Because Alexa is a 3rd party app, though it works with your Ring doorbell, there are less options within the Alexa app to adjust volume. In fact, you would be relying mainly on the volume buttons.
If you're using an Echo Show, for example, you would only be able to adjust the volume in Live View:
In this case, you would use the volume buttons on your Echo. This, however, only adjusts what you hear, not what your visitors hear. The volume of your voice through the speaker doesn't change, only how your visitors sound to you: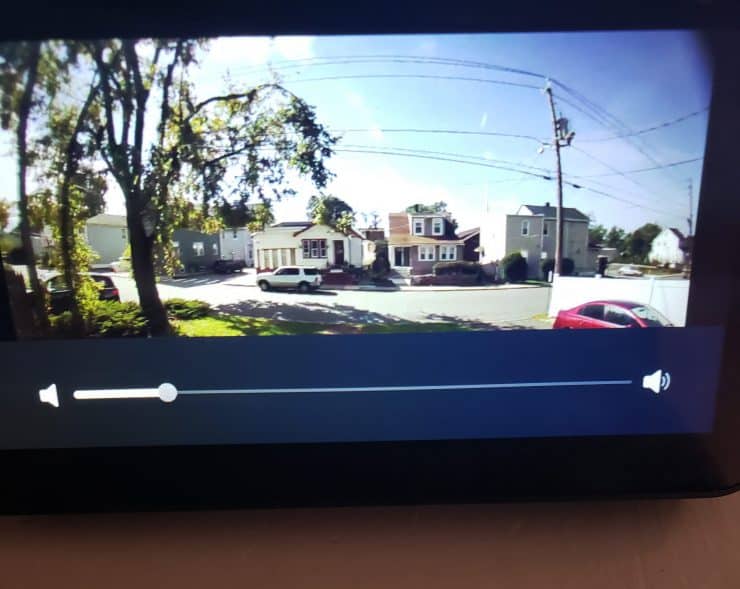 When it comes to the Alexa app, much the same is true. You would have to make any volume adjustments via Live View. Again, this doesn't affect how you sound to your visitors, only how they sound to you:
If you want your voice to come through louder, you would have to make the "Ringer" adjustment in the Ring app – or speak louder.
Troubleshooting Volume Issues
Despite using the volume keys on their smart devices, and Ring app settings, some have found that their recordings and Live Views may still be too low or incoherent. Fortunately, there are a variety of fixes that many have used to help successfully solve these problems.
For starters, it's important to check the strength of your Wi-Fi connection. If the connection is weak, this can result in the volume of your recordings being lower than they should be, and even distorted, severely marring the quality of your call and recordings.
To fix this, try strengthening your Wi-Fi connection. If possible, try moving your router closer to the doorbell. If this isn't feasible, try installing a Wi-Fi extender to boost the signal. Alternatively, you can opt to upgrade your internet speeds with your service provider. This can help not only with connection and quality issues you have with your Ring video Doorbell, but other smart devices in your home as well.
If you have a Bluetooth connection enabled, this can also play a role in any volume issues you may be having. Sometimes having Bluetooth enabled in the Ring app can negatively affect the volume. Turn it off and try again. Many users have reported this being a viable solution.
Sometimes the solution can be as simple as making sure you're not on a call when you check your Ring app, as the volume is often automatically lowered when you're on the phone.
If the problem still persists, it may be time to give Ring, a ring. 
Hear Everything
No one wants to be yelling "What?!" repeatedly into their phone or doorbell, trying to hold a conversation that should be easy.
Fortunately, with a little tinkering with volume settings, you won't have to. Most volume issues are easily solved with just the press of a button, leaving you on your way to coherent, convenient communication.