I live in a town called Cwmbran, but yet when I ask my Echo device for "the weather today", I get the weather forecast for Caerphilly – somewhere I haven't lived in over 3 years. Why?!
Equally, the weather forecast I get from Alexa (who use AccuWeather) seems to contradict the one I get from BBC weather (who get their information from MeteoGroup). Neither AccuWeather nor MeteoGroup are the most accurate in the UK, so can I change my Alexa to use a more reliable data source?
Alexa can get the weather wrong due to an incorrect Echo device location being set (separate to your Amazon address), or using a less reliable weather provider. Thankfully, both of these issues can easily be resolved.
The text version of this article is below, but if you prefer video, feel free to check out my YouTube video on this topic instead:
Fixing Alexa's Incorrect Town Location For Weather
If you've moved house, you'll probably have noticed that your Echo devices still give you the weather for your old town. So you've probably made sure that your address is now correct in your Amazon account, but the weather is still wrong.
As a result, you may have gone into the Alexa app and gone to Settings -> Your Locations, and made sure that 'Home' is up to date too:
But guess what? The weather town is still wrong. As it happens, there's a third place that you must change for Alexa to finally get your weather correct for your town!
And somewhat annoyingly, you must change for this every single Echo device you own. So go to Devices in the bottom right, click on "Echo & Alexa" and go into your first Echo. Scroll down to "Device Location" and you'll see the zipcode – or full address – of your last house:
Change this, click 'Save' and now Echo will get the weather correct for your town. Phew, no more saying "Alexa, what's the weather like today in [town]?". Simply saying "Alexa, what's the weather today?" will work fine.
I have noticed that, after updating the device location, the corresponding Echo can sometimes switch back to the old town for a day or two. In this case, don't worry – you have updated all the addresses/zip codes you need to change (for that device), and it will get the weather correct for your town soon enough.
Why Does Alexa Have Different Locations Per Echo Device?
Having different addresses per Echo device, so that when you move house you'll still get the old address' weather, seems really odd and incorrect. But whilst this behavior might seem weird at first, but it actually makes sense.
Many people buy an Echo for a relative, but register it to their own account because that relative might not have an Amazon account, or they don't feel confident to configure it all themselves.
Equally sometimes people have multiple homes – whether that's a log cabin for the spring, a holiday home for the summer, or a winter hideaway.
Being able to configure an address for each Echo therefore does make sense, otherwise the weather forecasts would be incorrect in those other homes.
The only thing I wish Amazon changed, however, is to detect when you've moved house and automatically change any Echo's which have the same address/zipcode as your old one. Or, at least, ask you if you wanted this to happen.
Otherwise you'll be stuck wondering why your Echo keeps giving the weather for the wrong town, even though your Amazon account – and the Alexa app – both list the correct overall address.
Alexa's Severe Weather Alerts STILL Use My Old Address
You might have finally fixed the main issue, but noticed that Alexa's severe weather alerts still rely on your old address. Why is this? Well, it's pretty much a bug within the Alexa platform – but it's not one that they have been quick to fix (2 years and counting, Amazon!).
Luckily you can fix this by manually deleting the severe weather alert config, then setting it up again. To do this, launch the Alexa app and click More -> Settings -> Notifications -> Weather, and delete severe weather alerts for your old town/address.
Then just walk up to an Echo update and say: "Alexa, tell me when there's a severe weather alert".
This will set-up severe weather alerts all over again, but this time it will use your updated address. Phew!
Changing Alexa's Weather Source To Get More Reliable Weather
Something that's always annoyed me about my Alexa weather forecasts is that I check the BBC Weather news, and it'll say that today is sunny/cloudy with 0% chance of rain:
I then ask Alexa what today's weather is like, and it'll tell me that there's a chance that it'll rain. Wait, what? There's no rain clouds in the sky, and multiple weather tools say it'll be dry all day – so what gives?
When you login to the Alexa app, you'll probably see that it gives the weather for your town, and "AccuWeather.com" underneath. As this suggests, AccuWeather is the default weather provider for Alexa/Echo – and this isn't something you can change, unfortunately.
So when you say "Alexa, what's the weather?", it'll always use AccuWeather. Whilst AccuWeather is fairly good, it's not perfect – but thankfully you can still get more accurate weather forecasts through your Echo device using skills.
Whilst it's slightly annoying that you have to remember to say "Alexa, open [skill name]" to get your weather forecast, using a skill also means that the skill can provide much more flexible weather forecasts than with the default behavior. For example, you could say "Alexa, ask Big Sky if it'll rain in three hours": this will use the Big Sky skill, and its own AI will then understand your question and check if there's a chance of rain in three hours.
To activate this, you can either simply say "Alexa, enable Big Sky" and it'll enable the skill, automatically using your device's address as the town for Big Sky's weather forecasts.
Or you can use the Alexa app: go to Settings and then "Skills & Games". From here, click search in the top right and search for "Big" to select "Big Sky Weather":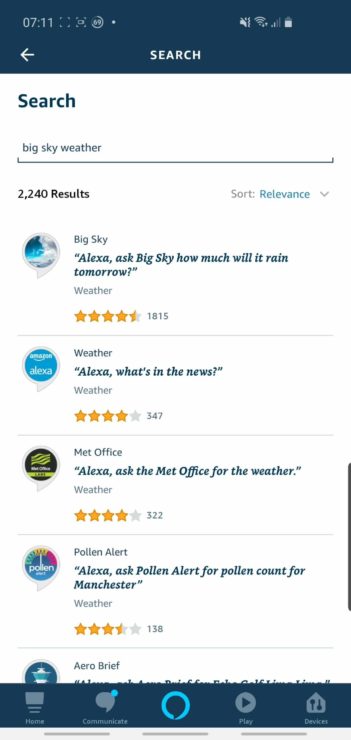 You'll see that the Big Sky weather skill has the best ratings of all the weather skills: close to 5/5, compared to 4/5 for the default Alexa weather skill, and also more than some of the region-specific weather forecasters (such as Met Office, which is the official UK wide forecaster).
If we go into the Big Sky app, you can see examples of some of the questions you can ask Alexa to get your weather forecast:
"Alexa, open Big Sky" – this is how you open a skill in Alexa, and by opening it, you'll get the weather forecast for your town. It'll give a very detailed weather reading (more on this below).
"Alexa, ask Big Sky if it will rain in three hours?" – this is really useful, because it'll provide accurate information about whether it'll rain when you're due to go out, allowing you to plan ahead accordingly.
"Alexa, ask Big Sky how much will it rain tomorrow?" – do you have big outdoor plans tomorrow? Well, being able to check if it'll rain on your parade (so to speak) is always handy.
Once you click "Enable Skill", you'll have to choose the permissions you want to grant. I just chose Device Address and nothing else, as I didn't need to share notification or GPS/location access:
Click to finish, and you can now ask any of your Echo devices for the weather forecast by just saying "Alexa, open Big Sky". You will get a very detailed – and useful – weather forecast containing:
The current temperature.
The current weather.
The next hour's temperature/weather.
The weather throughout the day (e.g. rain).
Today's temperature high.
How hot (or cold) it'll actually feel).
Today's temperature low.
This evening's weather forecast.
The overnight weather forecast.
Any national weather warnings and alerts (e.g. warnings of heavy rain or dangerous snow).
The only downside for me is that by opening a skill, it takes 2-3 seconds longer to start getting your weather forecast than using the default Alexa weather provider.
So it would have been nice to be able to change the default provider, but this isn't an option – and there's no sign that it will be in the future, either.
Why Doesn't Alexa Allow You To Change The Default Provider?
To be honest, no-one knows for sure. Amazon are one of the world's biggest companies, and so it's not like they regularly communicate with their Echo customers (like you get with SmartThings and other smart company's message boards).
My guess is that Amazon don't see the need to provide loads of customization options (from the default behavior), since you can use skills anyway.
In other words, either Amazon can build a fancy feature that allows you to change the default weather provider – which costs money, and increases Amazon's own maintenance costs (since weather providers can change and shutdown… or just stop working!).
Or Amazon can give you access to third-party skills, and allow its customers to choose the perfect third-party weather forecaster for them – at no extra cost to Amazon.
The choice for Amazon is simple, in that sense. Plus third-party skills are useful for its customers, too, since those skills can actually provide more features than the default behavior.
As we seen, the Big Sky skill is a lot more flexible – and helpful – than the default "Ask Alexa" weather updates.