The speaker quality on Amazon's Echo range has improved with each generation released, with the speaker of the third generation Echo Dot being 60% bigger than its 'younger brother' (the Echo Dot 2nd Gen).
For example, the 1″ speaker on the 2nd Gen Echo Dot was only designed for being an assistant and an alarm clock (not for music), whereas listening to music works fairly well with the 3rd Gen Dot's 1.6″ speaker. Then the Dolby-powered speakers in the full-size Echo range improved on this further: they include a 2.5″ subwoofer, providing better quality music than the 'Dot' range.
However the Echo Studio – released at the end of 2019 – has eclipsed the rest of the range, providing 5 speakers including a 5.25″ woofer for full, all-round audio (marketed as "3D audio").
Hence I wanted to write this post and go into specifics of the speaker system(s) within various Echo devices that are still currently for sale. If you just want a general overview, the table below covers this:
| | | | | |
| --- | --- | --- | --- | --- |
| Model | Main Speaker Size | Size Of Other Speaker(s) | Total Num Speakers | Notes |
| Echo Dot (1st and 2nd gen) | 1″ speaker | n/a | 1 | |
| Echo Dot (3rd gen) | 1.6″ speaker | n/a | 1 | |
| Echo (1st gen) | 2.5″ subwoofer | 2″ tweeter | 2 | |
| Echo (2nd gen) | 2.5″ subwoofer | 0.6″ tweeter | 2 | |
| Echo (3rd gen) | 3″ subwoofer | 0.8″ tweeter | 2 | |
| Echo Show 5 | 1.65″ speaker | | 1 | Speaker runs at 4W |
| Echo Show 8 | 2″ | Another 2″ speaker | 2 | Each speaker runs at 10W |
| Echo Show | 2.2″ | Another 2.2″ speaker | 2 | Each speaker runs at 10W |
| Echo Plus | 2.5″ subwoofer | 0.8″ tweeter | 2 | |
| Echo Plus (2nd gen) | 3″ subwoofer | 0.8″ tweeter | 2 | |
| Echo Studio | 5.25″ subwoofer | 3x 2″ mid-range speakers, 1x 1″ tweeter | 5 | Has five speakers in total. |
| Echo Flex | 0.6″ 'mini-speaker' | | 1 | |
Speaker comparison between the various Amazon Echo devices.
Read on for more detail on the speakers of specific Amazon Echo devices.
Echo Dot 2nd Gen Recap
The Echo Dot 2nd Gen's speakers are known to be fairly basic, with a single 1″ speaker that doesn't handle bass too well and so the sound often comes across as fairly tinny when listening to music.
This is, however, not surprising: the 2nd Gen Dot was never meant for listening to music on. The second sentence from Amazon's sales page says:
"Connects to speakers or headphones through Bluetooth or 3.5 mm stereo cable to play music"

Echo Dot (2nd Gen) sales page on Amazon.com
And later on, Amazon say that the built-in speaker is designed purely to be a "smart alarm clock in the bedroom, an assistant in the kitchen, or anywhere you might want a voice-controlled device".
And this is all that Amazon were aiming for with their 1st and 2nd generation Dot: to bring a cheap (below $50) voice assistant to market in a way that would capture people's attention and get them riding the smart home train.
They achieved their goal well, which then brings us to the 3rd generation Dot and the full-size Echo devices (including the 'Plus' models) which cost a bit more to produce but also produce better music quality.
Echo Dot 3rd Gen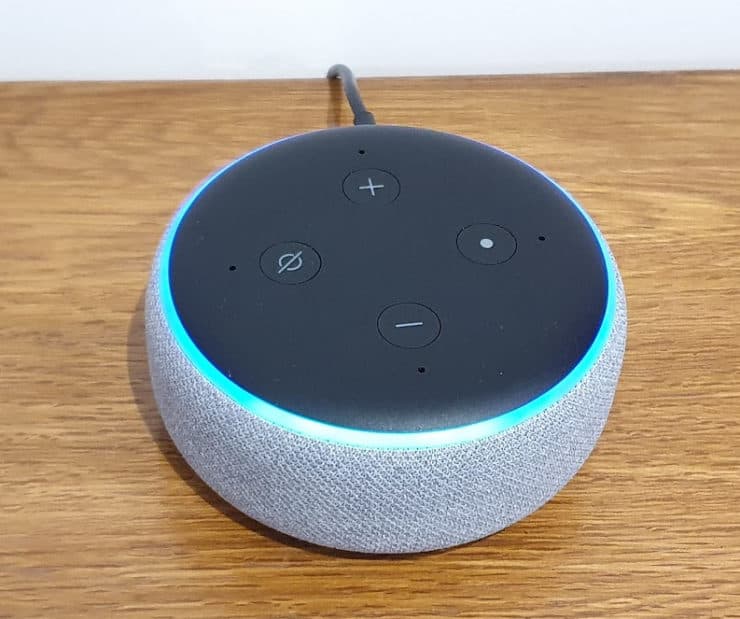 The 3rd Gen Dot comes with a 1.6″ speaker, a 60% increase in size over its younger brother. This helps it to achieve better quality sounds which handles both bass and higher frequencies better.
While audiophiles would cringe, it's entirely possible to listen to music on this Dot as long as you're not expecting Sonos-level quality.
Amazon's sales pages reflect this, too, with the very first sentence saying:
"Our most popular smart speaker: now with a fabric design and improved speaker for richer and louder sound".

Echo Dot (3rd Generation) sales page on Amazon.com
Whilst Amazon do also mention that you can plug in an external speaker, this is mentioned a lot further down the sales page.
In other words, whilst Amazon are clearly highlighting that the 2nd Gen Dot needs an external speaker (for any serious listening), Amazon seem keen to communicate a different message for their next gen model.
I have noticed this personally too. I dislike listening to music on my Echo Dot 2nd gen because it sounds a bit tinny, but I'm happy enough listening to music on my 3rd gen model. Of course, full-size Echos have even more space for speakers…
Full-size Amazon Echo speakers
The full-size Echo is, of course, a different proposition at a different price point: costing around 2-3x more than the Dot and taking up more space. In return, the Echo 2nd Gen contains two speakers: a 2.5″ subwoofer and a 0.6″ tweeter.
This is actually a 'downgrade' on the 1st generation model that has a 2.5″ subwoofer and a 2″ tweeter. However it's thought that Amazon wanted to reduce the higher pitched frequencies (from the tweeter) to give the sound more balance, hence them reducing the tweeter size.
You then have the 3rd generation Echo which wasn't sold for too long (with Amazon pushing the Echo Plus and Echo Studio versions instead), but it has a 3″ subwoofer and 0.8″ tweeter – so Amazon do seem to have decided that a sub-1″ tweeter provides best audio balance overall.
For those who don't know, a subwoofer kicks out lower, deeper bass sounds whilst a tweeter (also called a treble speaker) produces higher pitched audio frequencies which are ideal for higher notes. Both Echo speakers take advantage of Dolby technology which "uses advanced audio formatting and signal processing to deliver enhanced sound".
Amazon are also keen to highlight that the subwoofer is downward facing and the tweeter is upward facing. I'm not an audio expert (in-fact my wife keeps saying I'm deaf!) but my understanding is that this setup helps to reduce sound interference from a 'floor bounce' effect, and improving the overall acoustics and sound dissipation.
Amazon sum-up their full-size Echo by saying that it has a "new speaker with Dolby processing that fills the room with immersive, 360° omnidirectional audio, and delivers crisp vocals, deep bass, and clear highs at louder volumes".
My own experience of my Echo (2nd gen) device matches this: I'll happily listen to music and audio books through it, since it delivers a good quality of sound that seems perfectly fine to me.
Echo Show speakers (including the Show 5 and 8)
Next up we have the Echo Show range, which are actually fairly bulky – I was surprised at its size when I first took my Show 8 out of the box:
Of course, part of the reason for this is because the Show range contains a touch screen – meaning that the room for extra equipment is needed to power the screen.
But when I turned on my Echo Show, I was pleasantly surprised with the sound quality in general – and also when listening to music. So what are the speaks for the Echo Show range?
Well, the Echo Show 5 only has a 1.65″ speaker (running at 4 watts), whereas both the Echo Show and Show 8 have two 2.2″ speakers, each running at 10 watts.
However this doesn't mean that the Show 5 has bad sound quality – it's a slightly bigger speaker than the Echo Dot (3rd generation) model, after all. heck, the sales page says that the "Echo Show [5] connects to Alexa to give you vivid visuals on a 5.5" screen with crisp full sound".
But the other two models have a step up in terms of sound quality, with bigger speakers and two of them leading to what Amazon market as "rich stereo sound".
This refers to stereophonic sound which is a way of disbursing sound so that it seems like it's coming from multiple directions, leading to a higher quality of perceived (and hence actual!) sound than with the Show 5 and the Dot range.
The speakers within Echo Plus models
As you may have worked out from the table at the start, the speaker setup within the Echo Plus is very similar to the full-size Echo product range, and this is because they're actually fairly similar devices – the main difference is that the 'Plus' model contains a ZigBee chip, allowing it to control a wider range of smart devices (such as Philips Hue bulbs, which also use ZigBee).
In other words, the down-facing subwoofer is slightly larger on the 2nd gen (3″ compared to 2.5″), but the upward facing tweeter is the same on both – 0.8″.
Both deliver what Amazon describes as "360° audio with crisp vocals and dynamic bass", and the 2nd gen model here has the exact same speaker setup and size as the 3rd gen Echo model: a down-facing 3″ subwoofer and an upward facing 0.8" tweeter.
This does deliver some great quality sound, although as I mentioned earlier, the main driver for the 'Plus' range is the ZigBee chip which can control many more smart home devices than the other Echo devices (not improved speakers).
For the best quality sound quality on the Echo range, the "Studio" is where it's at..!
The best sound quality: the Echo Studio's speakers
Amazon are hyping up the sound quality of the Echo Studio a lot, saying things like:
"High fidelity smart speaker"
"Our best-sounding smart speaker ever"
"Crystal-clear, studio-quality sound"
"You've never heard an Echo like this before."
… and a whole lot more.
They're clearly proud of the sound quality, and it does sound pretty good as 4:30 onwards of the following video demonstrates:
Whilst there's always going to be an element of marketing speak, terms like high fidelity (the ability to support high quality reproductions of sound, just like HD is for video) do show that it's a high quality smart speaker to rival some of Sonos' products.
So what makes the Echo Studio's sound quality so special? Well, it has five speakers:
What's interesting here is that whilst it has a large 5.25″ subwoofer and a 1″ tweeter – capable of producing great low-pitch, bassy sounds and also higher-pitched sounds, there are also three mid-range speakers to 'fill the gaps' between the low and high pitch sounds that the subwoofer and tweeters make.
In other words, these 2″ mid-range speakers will work with the subwoofer and tweeters to deliver good quality sound at all sound frequencies. What's more, these three speakers also face in different directions (left, right and upwards) to deliver a more 'surround sound' type experience.
Not bad from a single smart device!
Of course, it's not just about hardware. The other thing that makes the Studio's sound quality really awesome is the software. It has in-build Dolby Atmos software that adds extra sound processing and enhancement into the mix, allowing for the sound to better make use of the room via spatial processing and room compensation features. It also supports Sony's 360 Reality Audio, a newer audio format which aims to make listeners feel like they're sat in a live concert (or recording studio) whilst listening to the music.
The worst sound quality: the Echo Flex!
If Echo Studio has the best sound quality of the range, something has to offer the worst quality sound too, right?!
Thankfully for Amazon, the Echo with the worst sound isn't an old Echo Dot or Echo model, it's actually designed to be that way: the Echo Flex.
The Flex is plugged into a wall socket and… that's it. There's no separate device. It looks a bit like a smart plug, only there's nothing space for another plug. The Flex is a way of extending Alexa to areas of your house where you may want to control your smart home (and get weather/news updates), but where you may not want to listen to music. Hallways and other walk ways are good examples of this.
The Echo Flex has a single, 0.6″ speaker which is described as a 'mini-speaker'. Amazon make clear that this device isn't designed for listening to music.
Despite this, some reviewers complain that the Flex isn't even good enough for generally getting news and weather updates, saying things like:
"it can barely play music and even the voice quality is poor (Alexa's own voice is small and tinny)"
"The sound quality, in regards to volume, is terrible. With the sound turned all the way up and standing within 2 feet of the Flex, I can barely hear Alexa."
"The sound quality was that of a bad transistor radio."
"Its very small, alexa sounds like a chipmunk"
Oh dear! Of course, it also has a bunch of positive reviews from people (it averages 4.3/5 on Amazon, with 15,782 ratings at the time of writing). Many people are aware that the sound isn't designed to be great, and rely on the Flex mainly to control their smart home instead.