One of the best things about having an Amazon Echo is the ability to play your music. You can have it either playing from one Echo or, if you have multiple Echos in different rooms, you can play music throughout your home!
So it stands to reason that when you're, let's say, cleaning, or working, you want your music to just keep playing. Unfortunately, things don't always work out that way…
Some Echo users have reported that Amazon Music keeps stopping. And the Echo's reason? "Due to no activity" – or to be more precise: "Sorry Amazon Music stopped playing earlier because there hasn't been any activity on the device":
What are we supposed to do: constantly ask the Echo questions, or touch the screen? What's going on? And how can we keep the music going despite there being 'no activity'?
Let's explore how to fix this problem.
A Recap Of The Amazon Echo Range
The Amazon Echo is Amazon's smart home hub. It enables you to get weather updates, play music and control all of your smart home devices from one central location. The Echo comes in a few different versions. There's the classic Echo Dot, which can be either round or cylinder-shaped. Some have the time displayed on them digitally:
Then there's the Echo Show. The Echo Show takes things up a notch by giving you a screen. There's the Echo Show 5, 8, 10, and 15. The number corresponds to the size of the screen (for example, the Echo Show 5 has a 5-inch screen display):
Newer Amazon Echos often have more capabilities, such as acting as a Zigbee hub – allowing you to manager a wider range of smart devices through the Echo.
Even though the Amazon Echo is a great smart home hub, one of the most popular uses for it, is playing music. The Echo Show 10 especially boasts great sound and clarity with its large speaker, making it a great choice for listening to music.
You can use your Amazon Echo with a variety of music streaming services, but the most commonly used, is Amazon Music. Whenever you request your Echo to play a song, it automatically pulls from the Amazon Music library. Many people even include Amazon Music in their Routines in the Alexa app.
In order to understand why Amazon Music gives the "no activity" error, let's briefly recap on how does Amazon Music work?
What Is Amazon Music?
Amazon Music is Amazon's own music streaming service. It comes in three different subscription tiers, each with its own perks:
The first of these tiers, is Amazon Music Free, which as its name indicates, is free. As such, it has the most limited options in terms of music selection and quality.
The next tier up is Amazon Music Prime, which is specifically for Prime users. Amazon Music Prime is included with your Amazon Prime subscription at no extra cost and gives you access to a wider range of music.
Amazon Music Unlimited is the paid plan that's also the most popular. You have access to millions of songs and podcasts in SD, HD, and Ultra HD quality. If you have the Unlimited Family Plan, you can also listen to Amazon Music on up to 6 devices with different users at the same time.
Amazon Music is the most popularly used music streaming service with the Amazon Echo because it's built-in and fairly easy to use. They also have a large song selection, and the ability to create playlists, arrange queues of songs, and even play on different Echos and devices. You can even download your favorite music and play it offline.
Although it works great most of the time, sometimes things don't always work as they should.
Amazon Music Stopping Due to 'No Activity' (Or Due to 'Inactivity')
Amazon Music users have noticed that their music is cutting off after certain intervals, such as an after just an hour. The reason? The Amazon Echo says it's due to 'No Activity' or 'Inactivity'. Well if you're playing music, let's say, overnight, this should be a given! So why is this happening?
If you're using Amazon Music Prime, Amazon themselves makes a note about this particular tier of Amazon Music. It states that the music will shut off after an hour of inactivity:
Being that Amazon themselves has made this statement means that they're aware of the issue, and there is likely no way around it.
Note: Some Amazon Music Prime customers are able to play music for longer than an hour (without activity), but it seems to vary a lot – especially in countries other than America.
It's also rumored that Amazon pays a fee per song played. Whether this is true or not, it could explain why the music stops at a certain point, and why Amazon has yet to rectify the situation. The only 'solutions' they offer are to make sure your Wi-Fi connection is strong and reboot your modem if necessary – 'fixes' that have often proved useless time and again for this issue (same as when your Amazon Music stream goes distorted for no obvious reason!).
If you have Amazon Music Unlimited or even Amazon Basic, there are no disclaimers from Amazon as to why the music is stopping. To boot, this sometimes happens randomly. It may work for a while, playing music continuously when its supposed to, then one day decide not to work.
If this continues to be a problem, there are some ways to get around it so you can keep the music going.
How to Get Music To Play Continuously
Your music stopping due to inactivity is definitely an issue, especially if you're trying to keep a child soothed. Some children only stay asleep when there's some soft music playing, so once that stops, the peace does too!
So how can you get your music to not stop?
Play With Routines
This option can range from simple, to somewhat tricky. You may already have a Routine in place to play music continually – and it stops anyway!
To combat that, some have modified or added Routines in order to add an 'activity' to thwart the Echo's 'no activity' claim.
One such option involves lowering and raising the volume of the music. So, for example, you may have a routine that plays music. Now, you can't add actions to happen at different times within the same routine. Because of this, you'll have to create a separate routine for the volume.
Go to Routines in the Alexa app, then select the "+" sign in the upper right-hand corner. Name your Routine, then when it comes to adding the trigger, select "Schedule".
Here you can choose the interval at which you want your volume to lower or raise.
You can either do this each time you want to play music (a hassle I know!) or, if you have say a bedtime routine that starts around the same time every night, choose a time that corresponds with the routine so that you don't have to change the schedule all the time.
For example, if you start the bedtime routine at about 9 pm each night, you can choose to have the volume raised or lowered at about 11 pm. This might constitute enough 'activity' so that your music doesn't randomly stop playing.
With the example in mind, if you have Amazon Music Prime, you may need to set it to about 9:30 pm instead. This is to try and offset the shut-off due to 'inactivity' so that the music doesn't stop after an hour.
Timers
For starters, make sure your Amazon Music sleep timer is off. This will help ensure that your music doesn't stop after a certain point.
If your Amazon Music sleep timer is active, it may be shutting off due to a preset interval.
When it comes to your Echo devices, they have their own sleep timer. For this, you can set the sleep timer verbally. You would say, "Alexa, set sleep timer for x hours." After this time period, the Echo will stop playing your music. At this point, the maximum time you have before your music shuts off, is 4 hours.
Another option is to use the Timer within a Routine. For example, if you have a Routine to play a certain station, you can set the Timer to play it for a certain amount of time.
Currently, the longest music will play is 4 hours.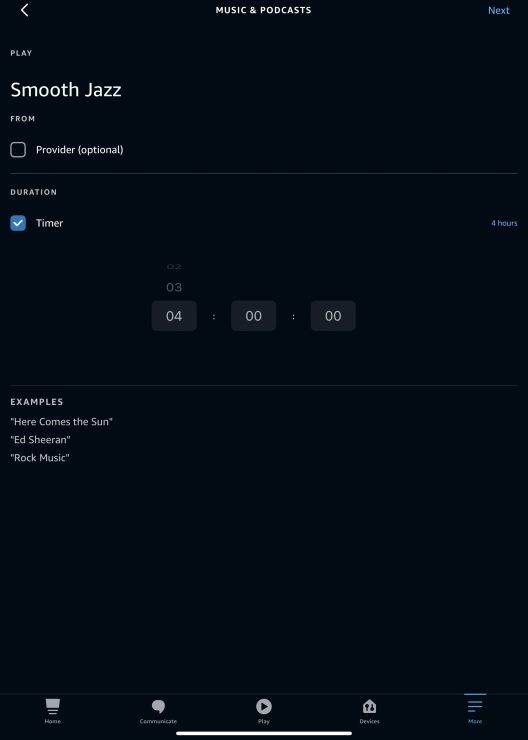 So while the sleep timer is sort of a good thing (because it does seem to guarantee more than one hour's of music playing!), it's also bad if you were hoping for 8-9 hour's of music being played overnight. Still, having two routines (with max timers of 4 hours each) should be sufficient.
Wait-and-See Approach
This is probably the least desirable approach, yet it has worked for some people. We all know that sometimes Alexa can be a bit, tempermental. In some cases, after a couple of days, the issue seems to resolve itself. Will it happen again? I won't lie, it might.
Sometimes factors such as interrupted internet and/or power connections can play a role as to why the music stopped. So giving it a few days can sometimes work.
Tired of Amazon Music shutting off? There are other music options you can explore.
Alternative Music Streaming Services
Because this issue of shutting off due to inactivity seems to be related mainly to Amazon Music, you may try using a different music streaming service. When creating a music routine, you have the option of choosing from a few different music providers.
One very popular option is Pandora. Users have reported that the music doesn't stop until they choose to stop it themselves. They offer subscription tiers similar to Amazon Music, but with supposedly a bigger catalog of music.
Other options include Spotify and iHeartRadio, both of which are options in the Alexa app. Users have access to millions of songs, as well as podcasts.
All of these music streaming services can be used with the Alexa app via Skills.
Once you've added the appropriate Skill, you can add music from the music app into your Routines for uninterrupted music.
Keep The Music Going
While sometimes we may be in the mood for just one or two specific songs, in general, we want the music to keep going. How this is accomplished depends on how long you want the music to play. Sometimes playing with routines and timers works, other times it's a wait-and-see game.
If you're tired of Amazon Music being fickle, you can always try another music streaming service. This way, no matter what, you can keep the music going.