Have you been having problems with the range performance of your ZigBee network?
ZigBee repeaters can improve your experience with smart technology. Every smart device in your ecosystem is only as good as the connection that holds it together. The ZigBee mesh network is made stronger when more devices are added to it.
ZigBee devices that are hardwired or physically plugged into an outlet also act as ZigBee repeaters. These add more nodes to your ZigBee mesh network and extend its range while improving its functionality. These include smart outlets, hardwired switches, and smart plugs.
Let's dive into everything you need to know about ZigBee mesh networks.
What is the ZigBee Network Range of a Smart Hub?
There's a few things we need to talk about when it comes to the overall range of a ZigBee smart hub. We're going to cover the indoor range, the outdoor range, and things that can lower both of these ranges.
The indoor range of a ZigBee connection is somewhere between 250 and 325 feet. This can seem pretty impressive. A room that's three hundred feet across would be pretty massive right?
However, our homes aren't designed as big open rooms. We have plenty of obstacles in the way for wireless signals. The biggest of these are walls, floors, and the building materials themselves. That 250 foot range is going to drop dramatically when it runs up against a concrete wall.
The same can be said for the outside. Without any obstructions and in the open air, ZigBee has up to 980 feet of outdoor range. But this can also be lowered by obstacles such as buildings, power lines, and trees.
This means that the range of your smart hub is going to vary based on the design of your home and what materials it is made of. Adding more repeaters to your mesh network helps to improve this connectivity and boost of the range by working around these obstacles.
How Does the ZigBee Mesh Network Work?
The ZigBee mesh network might seem like a minefield of technical jargon for the uninitiated. However, it's actually really simple when you break down what's going on with this technology.
It all starts with your ZigBee hub or bridge. This is the center of your ZigBee network. This device makes sure that all of your other ZigBee compatible smart tech can connect to the internet. A common example of a ZigBee hub is the Philips Hue Bridge: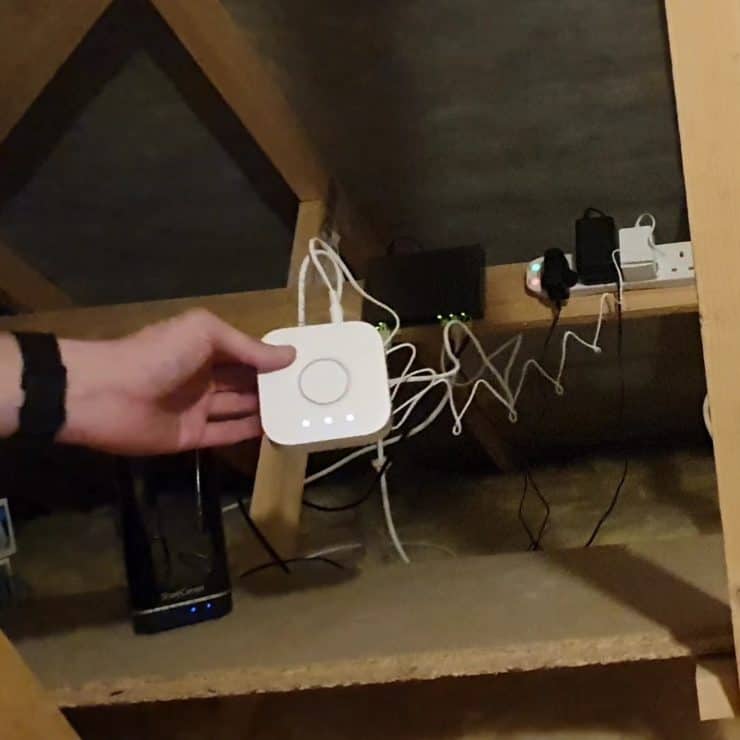 Certain ZigBee devices can send and receive the signals of other devices along the ZigBee network. These are typically devices that are physically plugged into a power source. These could be a hardwired smart outlet or a smart light you have to screw into a socket. These devices join together to create the "mesh" part of the ZigBee mesh network.
In a sense, you've got a web of smart devices all communicating with each other and sending signals back to the central hub:
This means that if a smart light burns out in your ZigBee network, the other devices will find a different way to get their signals back to the hub. This is why people refer to the ZigBee mesh network as "self-healing." It doesn't stop working even when one device goes dark:
Another bonus of this feature is that it can improve the range of your ZigBee network. You don't need to buy a second ZigBee hub to make sure that your smart network reaches throughout your entire home. You just need to plug in a device that can act as a node in the ZigBee network.
To recap:
Your hub is the center of your ZigBee network
Each device in the network can send and receive the signals of other devices
When a device breaks, other ZigBee devices step up to keep the signal connected
You can use this mesh network to act as a repeater and extend your ZigBee networks range
Before we get into any more detail on how you can extend a ZigBee mesh Network, we need to talk about a few types of devices that aren't going to get the job done.
Devices That DON'T Extend ZigBee Range
Not every smart device is going to be able to act as a repeater in your ZigBee network. It takes a little extra energy to be able to send and receive the signals of other smart devices. This means that only devices that are physically connected to a power source are going to be able to perform as a repeater.
As a general rule, if it's powered by batteries or recharges by being plugged into a USB connection, it can't act as a ZigBee repeater. Most of the devices that function as a ZigBee repeater are plugged in.
So a Philips Hue dimmer switch or motion sensor – which are battery powered – will NOT repeat a ZigBee signal:
But a ZigBee smart plug or light bulb, such as any of the below, WILL repeat the ZigBee signal because they are plugged (or screwed!) in:
Devices that can extend your ZigBee range include hardwired outlets and switches, light bulbs, and smart plugs.
Now that we know how the ZigBee network operates and what kind of devices you need to extend the range, what benefit does this give your smart home ecosystem?
Why You Should Consider Adding ZigBee Repeaters to Your Network
There are two big reasons why you should add more ZigBee repeaters to your network. Those are extending your range and improving functionality.
All of the devices on today's list are able to boost the range of your ZigBee network. If you've been struggling with devices that are a little bit far away from your central hub, you can add these repeater devices along the way to help boost the signal.
This can be especially helpful when reaching distant locations such as the attic, garages, and your backyard. Most of these devices are either discrete or they have plenty of utility which makes them ideal for serving and their role as a ZigBee repeater.
Next week to talk about functionality. You don't want to be stuck in a situation where entire rooms are only connected to the smart hub through a single Philips Hue bulb. You want to have multiple fail-safes in your system that ensures if anything happens to break, there's a second device ready to pick up the signal.
This not only acts as a backup, it helps to lower the load on any given device and improves the overall functionality of your smart home ecosystem.
Are you ready to jump into the top eight devices that are ZigBee repeaters? Here we go!
The Top 8 ZigBee Repeaters
If you're looking to improve your ZigBee mesh network, these are the devices for you. None of these devices are going to break the bank to get the job done. You need a streamlined option that will improve your ZigBee network performance without denting your budget.
Here's 8 of the best devices for adding more nodes to your ZigBee network.
1. Philips Hue White Bulb
This is the most basic option when it comes to finding a way to extend and improve your ZigBee network. The Philips Hue white bulb costs somewhere between $10 and $20 depending on which model you purchase. It's also a great way to make sure that you have more nodes in your mesh network.
These light bulbs are a solid option for extending your ZigBee network. They're typically plugged high up in the center of a room which makes them a great choice for repeating your ZigBee signal without being obstructed.
2. Sylvania Smart+ LED Bulb
Looking for an alternative to Philips Hue that will still boost your ZigBee network? The Sylvania Smart+ LED Bulbs often come in a four pack which gives you more light bulbs than Philips Hue.
Just be sure to buy the Sylvania ZigBee bulbs and not their Wi-Fi ones – since their Wi-Fi ones definitely don't act as ZigBee repeaters!
These smart light bulbs do almost the same job as Philips Hue, except without the same brand recognition that comes with Hue products. The Sylvania light bulbs also feature full color LED options which can be a great addition to your smart home.
Position these light bulbs in the same way you would any other ZigBee device and you'll boost your local mesh network.
3. Innr Smart Plug
Now we're getting really crafty. Smart light bulbs don't work for every home, but there's always room for a smart plug to help improve your ZigBee network.
The biggest advantage that comes with smart plugs is that they can stay out of sight. You can throw a few of these smart plugs around your house to dramatically improve your ZigBee mesh network. They are also very affordable which makes them a cheaper alternative to more expensive ways of extending your network.
These smart plugs come with the added advantage of being able to get your older devices connected into your smart ecosystem.
4. GE ZigBee Smart Dimmer
Smart plugs aren't the only devices that can improve your ZigBee network. GE ZigBee Smart Dimmers are virtually invisible in your home, since they seem like normal light switch modules. The GE ZigBee Smart Dimmer gives you improved smart features with your lighting as well as helping out your ZigBee network.
This dimmer blends in and looks just like any other wall switch. It is hardwired into your home's electricity which means it's going to act as a node in your ZigBee network.
The one thing you need to keep in mind with these GE brand smart dimmers is that they make models for Z-Wave and other protocols. Double check you have the right one to make sure it works with your network.
5. Enbrighten ZigBee Dimmer Outlet
Smart outlets and smart dimmers are all well and good, but what if you can have both in the same package?
The Enbrighten ZigBee Dimmer Outlet allows you to have a dimmer that also functions as a smart outlet. This device features two standard outlets as well as the ability to dim connected lighting. There's a top-mounted on-off button that also functions as a dimmer switch for when you don't feel like controlling the device from your smartphone.
Keep in mind that the Enbrighten ZigBee Dimmer Outlet is a little bit larger than other smart plugs and it might not be a good fit for every situation.
6. Enbrighten ZigBee Smart Light Switch
What if you just wanted a light switch that could also help improve your ZigBee network?
The Enbrighten ZigBee Smart Light Switch looks like any other light switch but it comes packed with smart features. It's able to fully integrate with a wide range of smart applications to give you more control over your lighting. Best of all, it also helps improve your ZigBee mesh Network.
Smart light switches are kind of like the smart lights themselves. They provide you with an essential function and offer a very affordable way of improving your local ZigBee network.
If you combine smart light switches and smart light bulbs, you give yourself a secondary layer in your ZigBee mesh network that will help improve the ZigBee "self healing" property.
7. Enbrighten ZigBee Outdoor Plug
The outside of your home is one of the areas where your ZigBee network is going to struggle the most. This is typically where your signal starts to drop off as fewer and fewer smart home devices are positioned outside your house.
This can be a problem when using ZigBee devices a bit further from your central hub. Outdoor lighting, garages, and anything else further away from where you keep your router and your hub can experience more outages than central devices. The Enbrighten ZigBee Outdoor Plug is a great solution for this problem.
It's designed to be an outdoor smart plug and it can also boost your ZigBee network range.
8. Enbrighten ZigBee Smart Outlet Receptacle
The Enbrighten ZigBee Smart Outlet Receptacle gives you some of the most interesting options for improving your ZigBee range. Rather than plugging in a smart device to your outlet, why not just replace your outlets with a smart alternative?
The Enbrighten ZigBee Smart Outlet Receptacle offers you all of the standard smart functionality you would expect from a plug-in outlet. It works with Alexa and Google Assistant. This smart outlet also has tamper resistant design which improves overall safety.
It also greatly improves your ZigBee range. The Enbrighten ZigBee Smart Outlet Receptacle can boost your ZigBee mesh network by up to 150 feet!