Home security is a top concern on all of our minds. As such, many have armed their homes with smart cameras for that necessary security. One brand many people use, is Blink. To better achieve that sense of security, many have wondered if their Blink cameras and doorbells can record continuously.
Having continuous, 24/7 recording means that everything that goes on within your camera's field of vision is always being recorded. This definitely has its advantages! It also has some disadvantages. But is 24/7 recording even possible with Blink?
Blink Cameras and Doorbells: An Overview
Blink is just one of many contenders in the smart home security sector. They make cameras for the inside and outside of your home, as well as video doorbells. They don't have a line as extensive as some other manufacturers, such as Ring. But they do have enough so that your home can be properly secured, inside and out.
Their product line includes cameras like:
Outdoor Wireless Cam
Video Doorbell (wired and wireless versions)
Mini Pan Tilt (Wired)
Indoor Mini (Plug-in)
Indoor Wireless Camera
They also have a Floodlight mount for the Outdoor Cam, to help light up those dark areas around your home.
You'll need to download and create an account in the Blink app.
Here is where you can configure all of your cameras' settings such as how and when they record motion-detected events.
Much like other smart security cameras, they connect to the internet and the Blink app using Wi-Fi. Motion-detected events are recorded, then stored in the Cloud where you can view them later.
To get the most out of your Blink cameras, you'll want to opt for the Blink Subscription Plan. Blink is partnered with Amazon, so you'll have to visit Amazon.com to purchase a subscription for your Blink cameras.
Without a subscription, you won't get any recorded videos. You can only view them via Live View and get notifications of motion-detected events.
The Blink Subscription plan comes in two different tiers depending on your needs and budget. With a subscription, your videos will be saved for up to 60 days, and you can view continuous Live Views on certain cameras like the Blink Mini – but only for 90 minutes at a time.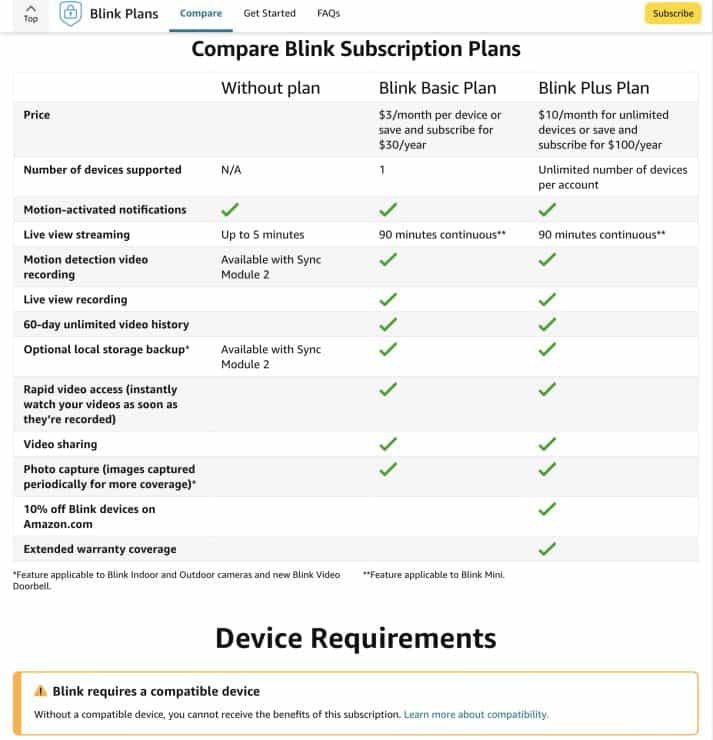 So let's say you have a Blink subscription plan, can your Blink cameras record continuously?
Do Blink Cameras Record Continuously?
Unfortunately, Blink cameras do not record 24/7, they are purely motion-based clips. With a subscription plan, you'll only be able to look at Live View continuously, but even that has a time limit. After 90 minutes, Live View will stop. And even this feature only applies to certain cameras, such as the Blink Mini.
Without the Cloud subscription plan, Blink cameras won't record Motion-detected events. However, if you want your cameras to record without a subscription, you can opt for local storage via the Sync Module 2.
This optional device allows you to connect up to 10 cameras. It offers local storage of motion-detected events when there's no active Blink subscription. The Sync Module 2 is only compatible with certain cameras, like the Blink Video Doorbell, 2nd generation Indoor, Outdoor, as well as Mini cameras.
When it comes to Live View footage, Live View recording is only available with a Cloud subscription plan. Without a Blink subscription, if you're streaming a Live View, you'll only be able to view it for up to 5 minutes.
So now, since Blink can't record continuously, are there any smart home cameras that can?
Smart Cameras That Offer Continuous 24/7 Recording
Having a smart security camera that records all the time definitely has its benefits. You won't have that delay between motion-detected events where you can potentially miss important footage. You'll also be able to see what's going on around your home at all times, helping keep it safe. Of course, there are also some disadvantages.
For example, you'll most likely end up with a lot of footage of absolutely nothing! You can choose to keep it or go through the potentially tedious process of deleting all that video footage.
Continuous recording is also very draining on battery life, which is why this type of recording is typically offered only on wired devices. This is to make sure that there's a constant supply of power available.
So now, which smart camera brands actually offer this convenient feature?
Wyze
First up is Wyze, one of the biggest contenders among smart cameras that can record continuously. However, you can only achieve this if you're using a microSD card.
This enables your camera to store all of the footage it captures. As the SD card gets full, older recordings will get deleted to make room for newer ones.
In addition, you'll find this option only with plug-in cameras such as the Wyze v3.
This is because always recording uses a lot of power, and a battery-powered device would quickly drain.
Cameras that have the ability to continuously record include:
Wyze Cam v.2 and v.3
Wyze Cam Pan v.1 and v.2
Continuous recording isn't available with the Wyze Outdoor Cam, since it's battery-powered. Some argue that since it uses a Base Station, which can hold a microSD card, continuous recording should be an option here too. However, even then, since the cameras themselves are battery-operated, continuous recording isn't available.
To get your Wyze cameras to continuously record, go to the Wyze app, then select the camera you want to continuously record from. Next, go to that camera's Settings, indicated by the gear icon in the top, right-hand corner of the screen.
On the next screen, go to Advanced Settings. If your camera has a microSD card inserted, you'll see the option for Continuous vs Event Only recording.
Choose continuous, then all of your footage will be saved to the inserted microSD card. Additionally, you also have the option of using Wyze without a subscription.
Google Nest
Nest Cams are also capable of recording continuously – but only with a Nest Aware Plan. In fact, the Nest Aware Plus tier (costing $12/month) is required if you want to achieve continuous recording. Even with the subscription plan, however, this feature is limited to certain cameras only.
For example, whether wired or battery-powered, this feature isn't available on the Nest Doorbell. It is, however, available on Nest Cam Indoor and Outdoor – but only when wired.
When you have Nest Aware Plus, paired with a plugged-in compatible camera, you'll automatically get 24/7 continuous video history. Though, there is a slight stipulation.
In the Google Home app, you can go back and see the past 60 days of continuous event history. Meaning, you can see continuous video triggered by motion-detected events from the past 60 days.
Note: When it comes to all out continuous video history, you can only see the past 10 days of 24/7 continuous history. They probably do this to allocate more Cloud storage to motion-detected events, which may be considered more important. In any case, whether 10 or 60 days of history, this is usually enough for most people.
Arlo
The small, efficient Arlo cameras can also give you the 24/7 continuous recording you need. You first have to make sure you're using a compatible model, however, as not all Arlo cameras have this capability.
You can use continuous recording with:
Pro 2, 3, 3 Floodlight, and 4
Ultra and Ultra 2
Essential Indoor
Q and Q Plus
Baby Cameras
If any of the cameras you're using also uses battery power, please note, you have to plug the camera in with an ac adapter. CVR, or Continuous Video Recording will not happen if it's not plugged into a power source.
Next, you have to get a CVR subscription. You can only do this on Arlo.com or on the Arlo Secure Android app. But sorry Apple users (such as myself!), you can't buy or change the subscription in the iOs Arlo Secure app.
The price for this feature starts from $9.99 per month for 14 days of recordings, rising to $20 per month for 30 days of continuous recordings.
To use Arlo.com to purchase your CVR subscription, sign into your account on Arlo.com. Next, go to Settings, then to Subscriptions. There you can purchase your CVR subscription for whichever camera(s) you'd like to purchase it for.
To view your video footage, go to either Arlo.com or the Arlo Secure app. Select the camera you'd like to see footage for, then Menu. Next, go to Timeline, where you can see footage for up to 30 days, depending on the subscription you've chosen.
Eufy
This is another brand where you can achieve continuous recording.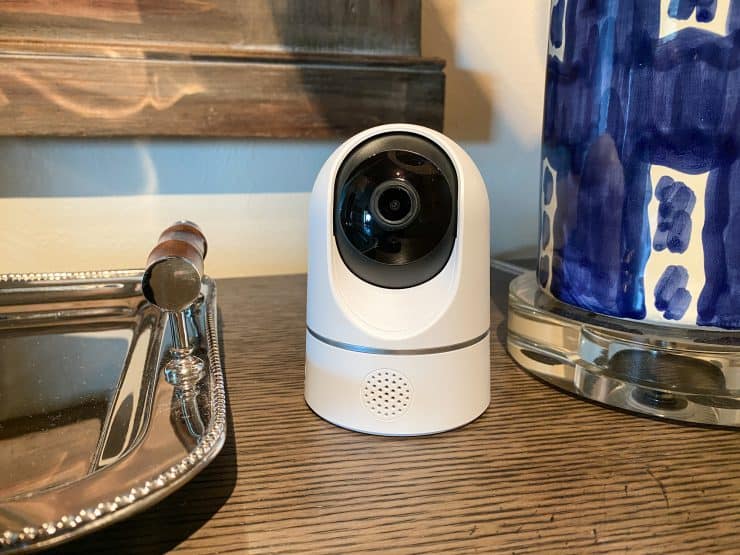 Much like other smart home cameras, this feature doesn't work with battery-operated devices.
Your videos will also need to be backed up to external memory. Continuous recording can yield hundreds of hours of video so you'll need sufficient storage space for all of that footage.
In this case, you'll have to back up to a microSD card, or use NAS a.k.a. Network Attached Storage.
You can achieve 24/7 recording with some of Eufy's cameras, but not all. Some models available for this are the Indoor Cam 2K, as well as the 2K Pan & Tilt. Eufy's line of Solo Outdoor Cams are also compatible with 24/7 recording.
Their line of eufySecurity cameras, unfortunately, do not support 24/7 recording either. It's a mixed bag and unclear whether they'll enable 24/7 recording to other cameras in their product line.
For now, as long as the camera you're using is compatible with 24/7 recording, you can use it without having to pay for a Cloud subscription. To get the feature, first, make sure you at least have a microSD card inserted.
Then, you'll go into your Eufy app, and make sure that the camera in question has local storage selected as the preferred storage location. Then you can go into the recording settings, and choose whether to record 24/7 – or continuously between certain times (e.g. between 9pm and 5am):
Reolink
Another, less popular brand that you can try, is Reolink.
As with many smart cameras, continuous recording only applies to their plug-in or wired cameras. Reolink actually offers more customizable recording options than most other cameras when it comes to Continuous recording.
To use this feature, you'll first have to go into the Reolink app.
From there, you'll go to Device Setting, then to Camera Recording. Next, you'll go to the Schedule page. Here is where you'll set up a schedule, essentially telling your cameras to record continuously.
Select the date, or dates that you want to edit, then hit Timer. A Timer will allow recordings to happen regardless if it's a motion event or not. Then, highlight the times you want recordings. Highlight all times for continuous recording.
After you've made your selections, be sure to hit Save – and that's it! Your Reolink cameras will now record continuously on the days/times you've selected.
Keeping A Continuous Eye Out
Watching over our homes is essential to our sense of security. For that reason, and because their cameras are cost-effective, many have chosen Blink cameras. However, when deciding to opt for continuous recording, Blink users are disappointed to learn that this option isn't available.
Fortunately, other options from other smart home camera manufacturers exist, so that you can take advantage of the benefits of continuous recording.