In 2015, Philips introduced the second version of the Philips Hue Bridge. As a result, Philips Hue users who were currently using the first version of the Bridge became a little concerned and began to wonder – are they going to stop supporting the first Hue Bridge? Will we have to get another one?
Many of us are familiar with this scenario – when a company introduces a newer version of one of their products, it usually means the current version is about to go. Fortunately, at the time, this wasn't the case. Support continued for the Hue Bridge version 1. But eventually, as predicted, this too changed.
So what were Hue users to do now? Did they still need a bridge? And just what is the difference between the two Bridge versions?
What is Philips Hue?
If you're familiar with Philips Hue, you know that they have a pretty impressive line of smart home products to light your home. Not only do they have a huge selection of lighting products, but they also have a host of other smart home devices that includes sensors and switches for both the inside and outside of your home.
They've even got motion-activated lights to make the outside of your home more secure – great for scaring away burglars. But what Philips Hue is perhaps best known for, is there line of smart ambient lighting to make the inside of your home feel more peaceful, and the best place to relax.
Why Is a Hue Bridge Required?
Most Hue devices require a Bridge because they communicate with each other via the wireless mesh networking protocol known as Zigbee. Because of its mesh network, Zigbee allows for quick response time between devices, and is associated with lower power consumption and a more secure network in comparison to Wi-Fi-only devices. The Bridge acts as a mediator, making communication possible between Wi-Fi and Zigbee.
There are only two scenarios where a Hue Bridge isn't required.
Scenario#1: If you're using Philips Hue lights that are Bluetooth-capable. These lights can be controlled via Bluetooth on your phone – but with some limitations:
For example, you can only control up to 10 lights, and because Bluetooth range is limited to about 30 feet, you would ideally have to be in the same room in order to control them. You also won't be able to use all of the cool room and routine features that you'd be able to with a Hue Bridge either – so that can be an issue.
Scenario#2: You may not need a Bridge if you own an Echo Plus. Newer versions of Amazon's Echo are now equipped with a Zigbee chip, eliminating the need for a separate hub or bridge when connecting Zigbee-enabled devices. However, there is a catch here too.
While you can use most of the features that you'd be able to with a Hue Bridge, not every option (especially the Philips Hue lab formulas, and home and away control) is available. Depending on how you use your lights, you may not care nor need the few options you may be missing – but it's something to consider if you decide to go this route.
If you're not a big Amazon Echo fan, or just want to have all of Hue's awesome capabilities at your fingertips, then the Bridge is definitely something you want to consider.
Support For the Hue Bridge v.1 Ended in 2020
In 2020, Philips did what many Philips Hue users feared would happen – they pulled support from the first version of the Hue Bridge.
In April of 2019, Philips announced that as of April 30th, 2020, there would be no more software updates for version 1 of the Hue Bridge, nor would they have access to Hue cloud services. Functionality would be limited to local network use only using the Hue Bridge v.1 app. As you can imagine, this didn't sit well with many Philips Hue users. So what were they to do?
If they wanted to continue using their Philips Hue smart lights as well as their other Hue devices, users now had to go out to get the upgrade, and shell out about $60 USD for a new Bridge – definitely nothing to sneeze at! But, if they were going to continue to use their Hue products (and why wouldn't they?), purchasing a new Bridge was their only option.
To sweeten the deal a little, Hue offered existing customers a discount for $20 off the new bridge, bringing the grand total down to $40. It may not have been what they wanted (a.k.a. just send one for free) – but it was better than nothing!
So what was the big deal anyway? What would be so different about the new hub that the old one had to go?
What's the difference between Philips Hue Bridge 1 and 2?
For starters, there's a physical difference. The Hue Bridge version 1 is round, while the version 2 is square. Functionally, this has no bearing. Aesthetically? Perhaps – for some individuals. At best, the design change makes it easy to tell the difference between the two versions.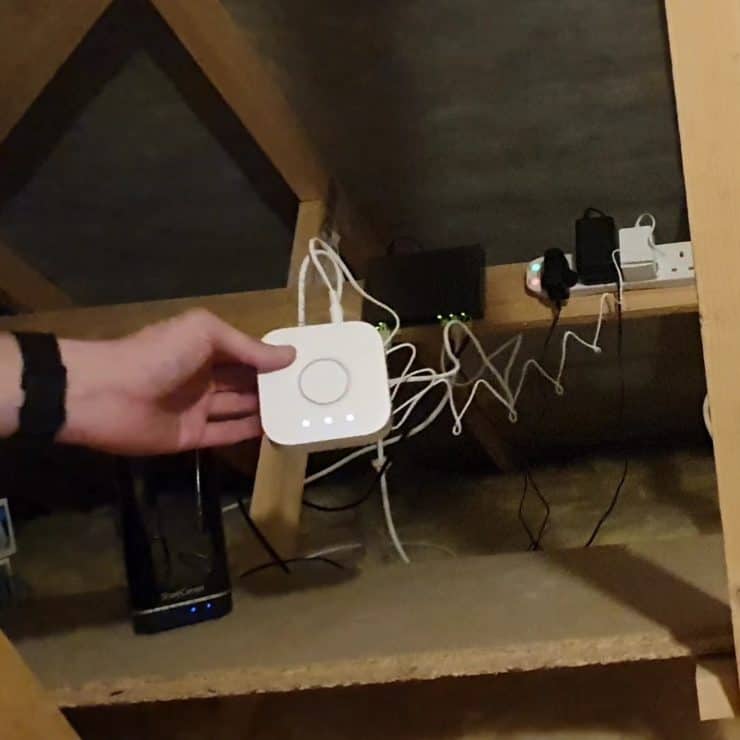 The Hue Bridge version 2 also introduced support for Apple HomeKit, whereas the first generation did not. Could a software update have handled this without the need for a new version all together? Perhaps.
But in order to make further upgrades, Philips thought it best to incorporate all of them into a new Bridge. After all, the first-generation Hue Bridge hit the market for the first time in 2012. In the almost 10 years that it's been around, technology has been making major strides. In order to keep up with ever-growing technology, they probably felt that an upgrade was due.
In addition, some of Hue's bulbs got an upgrade, and the Hue Bridge version 2 is deemed the best way to control and get the most out of these new bulbs as well.
Something else that Philips Hue plans to introduce, is a firmware update called Matter. Whether this 'matters' to you, depends on how you use your Philips Hue lights.
For example, if you're like the average, every day user who doesn't do anything extravagant (aside from some fancy color schemes), then it probably won't mean very much for you.
However, if you operate or plan to operate any kind of ecosystem, meaning, a combination of smart home products from different manufacturers and/or wireless communication protocols (i.e. Wi-Fi, Zigbee, Z-Wave), then integrating all of your Matter-capable devices would be of more interest to you.
It's to be noted, Hue has also introduced a Hue version 2.1. There was no major announcement about this, and most people have no idea if their Hue Bridge is a 2.0 or 2.1. So is there a difference between the two?
Aside from some minor internal hardware and software adjustments – not a thing.
Some users say there's a slight difference in power consumption, but other than that, and perhaps a difference in product code, there isn't much of a difference and most users have detected none – they didn't even know a version 2.1 existed! Both continue to be supported and work just fine.
Limitations of the Hue Bridge 2: The 50 Device Limit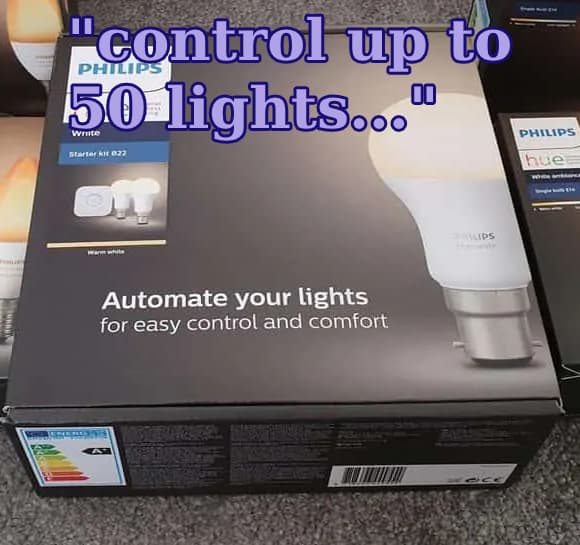 While it came with new abilities, such as being able to work with Apple HomeKit, users were particularly annoyed with the 50-device limit.
50 devices may seem like a lot, but considering Philips Hue has a very varied line of products – if someone were to be using many different Hue devices at the same time, only being able to control some of them could become very frustrating.
Consider this: If you're using outdoor lights, motion sensors, indoor lights, Play Bars, light strips and ceiling lights – you'd have to decide what you're going to control via your Hue Bridge, and what you may have to control another way – not an ideal situation.
Past 50 devices, you would be forced to purchase and set up another Hue Bridge, in order to control your other devices.
Even though Philips Hue suggests a 50-device limit, you may start to see performance issues before you even get that far. For that reason, many users have complained heartily, and are asking for Philips Hue to change this. After all, they've just had to shell out extra money for a whole new Hue Bridge, expecting at least the basics to be covered – only to run into this issue.
Some have even been calling for a Hue Bridge version or generation 3! But will a Hue Bridge version 3 actually come about?
Will there be a Philips Hue Bridge Gen. 3?
While some call out for it in order to fix the 50-device limit, many others users would say – they sure hope not!
The introduction of yet another version of the Hue Bridge usually spells imminent 'death' of one or more current versions. Having dealt with this hassle recently, no one is really looking forward to dealing with it again anytime soon.
Fortunately, it doesn't look like Hue is trying to roll out a new version of the Hue Bridge anytime in the near future – especially since Matter support will be added to the v2 Bridge, instead of Hue working on a v3 Bridge.
But what about modifications, like increasing the 50-device limit? Or what about adding a Thread chip to the lights and devices, akin to Nanoleaf? This would eliminate the need for a Hue Bridge altogether! There's no word on this yet either, so it's not likely to happen, at least not anytime soon.
For now, Philips Hue continues to provide updates and upgrades to the Hue Bridge version 2 so that it continues to improve in functionality and performance – so it looks like this one will be here for a while.