With everyone spending a little extra time at home these days, many people have started exploring smart lighting products like Philips Hue, to add a little extra atmosphere to their living space.
If you've chosen to purchase Hue lights, you may have considered purchasing the popular Hue Dimmer Switch in order to dim and control that lighting. However, you might wonder if instead of purchasing a separate Hue Dimmer Switch, can you dim philips hue without dimmer switch? In short…
Yes, you can dim Philips Hue bulbs using a variety of methods (including voice and app control) – you don't have to purchase the separate Hue Dimmer Switch. However some options cannot be used, so caution is also needed.
So what exactly is the Philips Hue Dimmer Switch?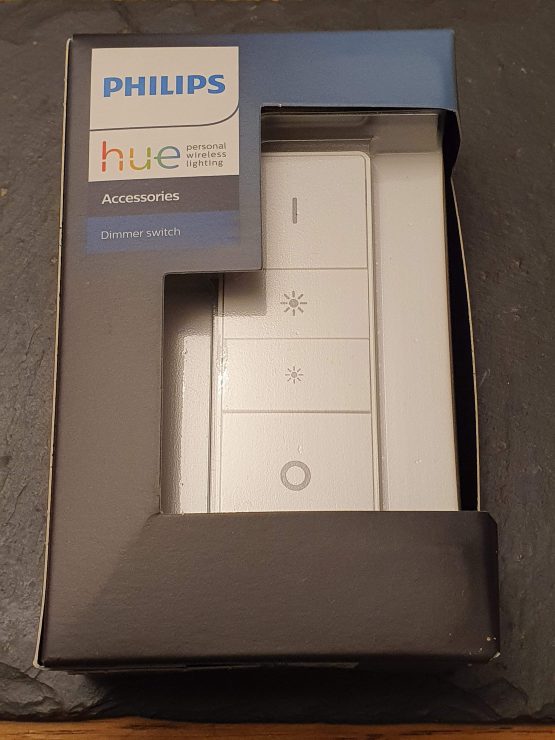 The Hue Dimmer Switch is often the first choice for dimming Philips Hue smart lights. It was created specifically by Philips Hue to make dimming (or changing) your lights simple and intuitive. It also gives you the ability to connect up to 10 smart lights, making it easier to control the lighting throughout various areas of your home.
This dimmer switch can easily be interchanged between a wall-mounted switch, and a remote control that you can operate from anywhere within your home! Simply attach it to the wall with the special adhesive (included), to make it a convenient wall-mounted switch. Then, when you'd like to use it as a remote control, you can easily detach the remote from the magnetic base for portable use as you move about your home:
The Hue Dimmer switch allows you to not only dim your lights, but also change between four different, pre-programmed light scenes, just by pressing the "on" button. You can use the Hue app (discussed further below) to further customize these settings.
The Hue dimmer switch doesn't just work with Hue bulbs, but all ZigBee based lights. Though this is one of the most popular options for dimming and controlling your ZigBee smart lights, there are other options available that you might find even more appealing – especially since they don't require a separate dimmer switch to be purchased!
An important point on the Philips Hue apps and the Hue Bridge
In order to make controlling your Hue smart lights incredibly intuitive and portable, Philips has designed two simple apps. They offer the Hue app, as well as the Hue Bluetooth app. Both are easily downloadable from the Google Play or App Store, and offer a plethora of options that go far beyond just dimming your lights.
With the Hue app, you'll also need to purchase the philips hue bridge in order to control your smart lights: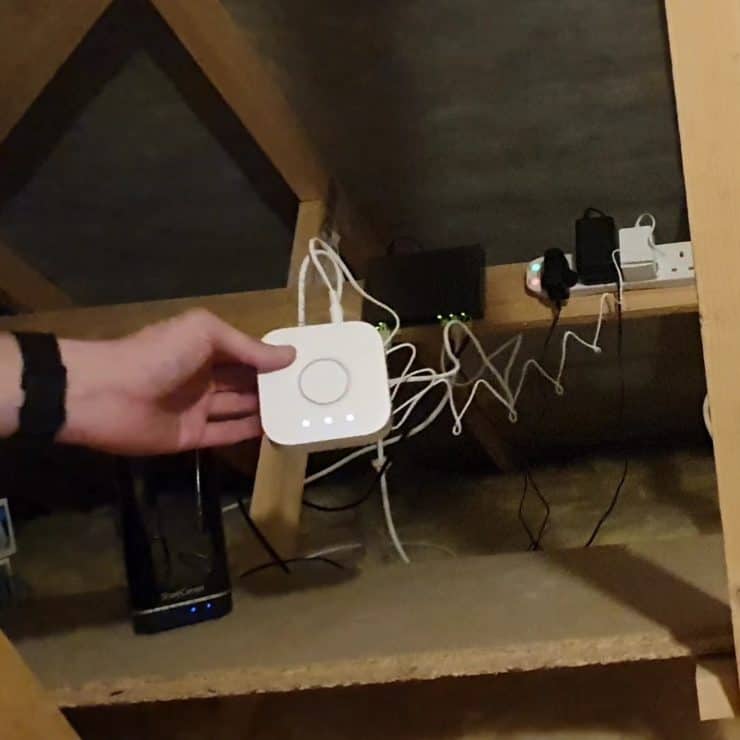 This will allow you to not only connect up to 50 Hue smart lights inside and outside of your home, but actually acts as the hub of control for all of your lights.
It offers a variety of options to control your lights, such as:
The ability to set up schedules so that your lights come on how you want them (including choosing their brightness), and when you want them to. This is great for setting the mood in your home before you or loved ones get home. You can even have the lights come on at regular intervals; which is great for deterring thieves!
Because it's an app, you can control your lights away from your home! Forgot to set up a schedule? No problem. You can easily use the app to automatically turn on and dim your indoor and outdoor lights, just as you're reaching home.
Customize lighting themes to set the perfect mood for any room in your home.
Enabling voice-control via smart speakers such as an Amazon Echo, for easier operation around the house (only in the newest version of the Hue Bridge).
Note: If you're operating the original version of the Hue Bridge from 2012, you'll need to download the Hue Bridge v.1 app in order to use it. The older version of the Hue Bridge also doesn't support the newest functions of the Hue Bridge (i.e. voice control).
Dimming Hue bulbs using the Hue dimmer switch
Should you decide to get the Hue Dimmer Switch as well, the Hue Bridge also works great with it. The app enables you to further customize your light settings, giving you more options as to how your lighting functions and displays:
Philips also has their Hue Bluetooth app. However, this app allows you to control only Bluetooth-enabled smart lights. Because these lights use a Bluetooth connection, the operation range will be limited. It allows you to instantly dim, or change the lighting within one room of your home.
Dimming Hue bulbs using the Hue app
Whichever Hue app you choose, you can access all your compatible Hue (and other ZigBee) lights and dim them accordingly using the simple slider – slide left to dim it down to 1%, or slide right to brighten up to 100%:
This is quite simple, but if your smartphone isn't nearby, it isn't convenient to dim your lights this way. So what other options do you have open to you?
Dimming Hue lights using the Hue Tap Switch
Another great option for controlling your Hue smart lights is the Hue Tap Switch:
The touch-operated Tap Switch is portable, wireless, and features four buttons that you can use to control your smart lights. However, the Hue Bridge is required in order to use the Tap Switch.
The Tap switch includes four buttons with presets built-in. These buttons are also conveniently customizable, so you can create your own decorative flair with just the touch of a button.
What this means is that whilst the Hue Tap Switch technically isn't a dimmer switch, it can be configured to switch lights between different scenes – and these scenes can alter the brightness of your lights (such as the following scene which is around 40% dimmed, i.e. 60% brightness:)
This switch can be wall-mounted, then easily detached so that you can take it with you to conveniently control your lighting from anywhere in your home.
Dimming Hue lights via smart voice assistants (e.g. Amazon Echo)
If you use smart home devices, you'll be pleased to know that you can use Amazon Alexa/Echo, and Google Assistant/Home to control your smart lights as well. Simply open the respective apps, and follow the prompts to connect your Philips Hue smart lights in order to get started.
To use your lights with Google Home or Amazon Echo devices, you have three main options:
You can either use Alexa or the Google Assistant with Bluetooth-enabled lights to voice-control your lighting within a single room. This is only possible on the newer generation of Hue Bulb, so be sure to look out for the "Bluetooth" logo on the Hue light box if you want to go with this option.
When you add the Hue Bridge, you can control up to 50 lights inside and outside of your home. This uses the ZigBee protocol between your Hue lights and the Hue Bridge, instead of WiFi.
Purchase a Amazon Echo device which contains a ZigBee chip. This includes the full size Amazon Echo Show, the 4th gen Amazon Echo (not the Dot) and the Echo Plus. This allows you to pair your Hue lights directly with your Echo smart speaker, and bypass the Hue Bridge accordingly.
Whichever pairing method you use, you can then either launch the Amazon Alexa (or Google Home) app and dim the bulbs that way:
Alternatively, you can use a voice command. This is much more convenient and it's what I do 99% of the time – especially since I'm usually carrying my newborn baby or toddler at the time!
To do this, you can say "Alexa, set living room to 30%" and this will set any lights (or group of lights) called 'living room' to 30% brightness.
Dimming Hue bulbs with the Hue Motion Sensor
Another notable option is the Hue motion sensor. However, like the Hue Tap Switch, you do also need the Hue Bridge App in order to utilize motion sensor operation.
The convenient Hue Motion Sensor allows you to mount a sensor anywhere in your home. Your lights come on with your specified settings anytime motion is detected, lighting up your pathway, and enabling you to move safely throughout your home.
With the motion sensor, you can even create schedules so your lights come on according to the current lighting. You can customize your settings so that the lights stay off while there's plenty of natural sunlight in the home, then come on as the sun goes down and it gets dark, giving you the perfect lighting any time of day.
I do this in my study which contains a Hue Motion Sensor and a Hue Lightstrip Plus around my desk line. At night, the Hue Light strip comes on at a much lower brightness level:
This is simple to configure in the Hue app:
Using schedules and routines for smart dimming
The final way to dim down your Hue Bulbs is via schedule and routines. There's loads of approaches to take here – you can use the Hue app to set-up a schedule that changes your light(s) – including setting the brightness – at a set time of day, or linked to sunset/sunrise:
Equally you can setup an automation schedule/routine on the Google Home or Amazon Alexa app, which allows you to choose the brightness of the bulb when something happens. That something could be when your smart doorbell is pressed, when someone says a particular phrase ("Alexa, let there be light!!") or a particular time of day.
Caution: Using a standard dimmer switch with Philips Hue Lights
If you already have a standard dimmer switch in your home, you may be tempted to use it when it comes to your Philips Hue smart lights. You may reason that it's worked perfectly in the past with other dimmer lights, and that it should be fine to use with smart lights as well – right?
However, standard dimmer switches can seriously damage smart Hue bulbs! In addition, because of the complexity of installing an ordinary dimmer switch, and the potentially dangerous electrical failures that can ensue because of faulty installation, these are not a good choice.
Smart bulbs operate within a specific voltage and they need this to be a stable voltage, and thus only components designed to be used with smart lights should be used to dim them. If standard dimmer switches are used, lower voltages will be supplied to the smart bulb, which can damage them.
If they do somehow function, they could still potentially run the risk of causing electrical problems which can cause fire in the worst case.
It's imperative then, that you make sure to only use devices and equipment that have been clearly designed to work with smart lights.
Should you have further questions or concerns regarding what electrical components will operate best with your smart lights, please consult a certified, quality electrician.