GE Enbrighten makes some of the best and most versatile smart home products out there. They make their devices for both ZigBee and Z-Wave connection types which allows them to slot into the majority of smart home ecosystems. However, this does raise some questions about whether or not they can work with Alexa. Well, the short answer is…
Yes, GE Enbrighten works with Amazon's Alexa. Both the ZigBee and Z-Wave connection types used by GE Enbrighten can be connected with your Amazon Alexa system. The newer models of Amazon Echo devices can even connect directly to ZigBee smart technology. Older devices, or those that use the Z-Wave protocol, are going to need to connect to Alexa through a smart bridge.
Let's explore what GE Enbrighten technology has to offer for your smart home and how you can get Alexa hooked up to ZigBee and Z-Wave devices.
What is GE Enbrighten?
GE Enbrighten is a brand that focuses on a tight range smart home controls and smart plugs. They make smart switches, dimmers, and have recently expanded into smart outlets and plugs. Their products feature an in wall design or can be used by plugging them into an existing power source.
One of the things that makes GE Enbrighten so unique is that their product line-up supports both ZigBee and Z-Wave. Many of the products made by this brand come in both varieties of connectivity. This lets you use GE Enbrighten products with a wider range of Smart Home ecosystems.
This means that there are some big questions about using GE Enbrighten with Alexa. Let's start this deep dive with a closer look at GE Enbrighten's products.
GE Enbrighten ZigBee vs Z-Wave Products
The bread and butter of the GE Enbrighten product line are their light controls. You can buy these switches and dimmers as the in wall variety or purchase versions that can be plugged into outlets. These come in both ZigBee and Z-Wave connections. They also come in a few color options as well as a few styles.
GE Enbrighten also sells smart outlets. These can be hardwired directly into the wall. This is a great way to upgrade your home with some serious smart technology.
This company also has some smart plugs that can work outdoors. You can think about these as extension cords that have smart features built right in. This is a great option to add smart features to regular power outlets.
Now we need to talk about the difference between ZigBee and Z-Wave.
What is the Difference Between ZigBee and Z-Wave (A Quick Answer)
How is your home Wi-Fi network holding up with all of these additional smart devices connected to it? One of the biggest problems facing smart home technology is over-congested Wi-Fi networks. Too many devices hooked up to one network slows down the traffic for everyone and this is before we even consider things like streaming Netflix or downloading games.
ZigBee and Z-Wave are two ways that smart devices are attempting to dodge the crowded Wi-Fi issue altogether. Let's start this exploration with Z-Wave.
Z-Wave does not use Wi-Fi connections. Z-Wave uses a 800-900 MHz signal to create its mesh network. This allows it to skip the Wi-Fi frequencies all together. In fact, there are plenty of people out there that consider Z-Wave to be the superior connection type because it leaves Wi-Fi behind completely.
Z-Wave is the ideal choice for people looking to give their home Wi-Fi as much breathing room as possible.
On the other hand we have ZigBee. ZigBee uses the 2.4 GHz frequency band – which can in theory clash with 2.4 GHz Wi-Fi, although the channel that ZigBee runs on is higher than Wi-Fi. This also means that modern Wi-Fi networks that operate on 5 GHz will be left open and free while the lower frequency band is used for other devices.
This should free up plenty of signal for your home's network, but keep in mind that 2.4 GHz is still your Wi-Fi connection. There are smart home users who report that ZigBee eats into their signal or suffers from interference.
Both ZigBee and Z-Wave devices also form a self-healing network known as a mesh network. This means that if one device goes offline, the rest of the network still works. Each newly added device also helps to extend the range of the network:
This is similar to how "whole home" Wi-Fi mesh systems work: each new mesh point increases the range of the overall Wi-Fi network.
Adding New Devices to Alexa
You can add both GE Enbrighten ZigBee and Z-Wave devices to your Alexa smart home ecosystem. It should be a quick and easy process to get either up and running.
If you have ZigBee devices, you're in luck. The latest version of Alexa devices comes with a ZigBee switch built right in. This means that it should work right out of the box.
Older Alexa devices, or GE Enbrighten devices with Z-Wave connections, will need to connect to a smart hub before connecting to an Alexa device. This is going to need the Alexa app for best results.
Here's how Alexa works with both GE Enbrighten ZigBee and Z-Wave products.
GE Enbrighten ZigBee Products and Alexa
We're going to start with the ZigBee products because these are the ones that are going to give us the most options when we try to connect with Alexa. In fact, if you've got the latest Alexa gear it's going to be as easy as asking Alexa to pair with a new device.
Amazon Echo Plus and 4th Gen Devices
The Amazon Echo Plus and 4th Gen devices come with a ZigBee chip built right in. This means that it's able to pick up devices that use the ZigBee network. Connecting these devices is just as easy as connecting any device that uses a regular Wi-Fi network.
All you need to do is put your GE Enbrighten device in pairing mode, place your Amazon Echo nearby, and then ask Alexa to discover new devices. You can do this by saying "Alexa, Discover my devices". This will get your new GE Enbrighten device connected with your Amazon Echo and Alexa ecosystem.
You should then be able to see your new device in your Amazon Alexa app. This will give you more options when it comes to controlling your smart devices. The Alexa app is one of the essential parts of a smart home ecosystem that runs using Amazon's technology.
Instead of using your voice, you can instead connect through the app itself – as we explore below.
The Amazon Alexa App
The Amazon Alexa app is very straightforward when it comes to adding new devices.
All you need to do is open your Amazon Alexa app and then navigate to the add new devices menu:
You'll be able to scroll through a wide variety of different types of smart devices as well as Brands. All you need to do is select your brand, in this case GE Enbrighten, and then find the device that you're looking to connect with.
The Amazon Alexa app will take care of the rest.
ZigBee Bridges
Only the latest generations of Amazon Echo devices can connect directly to a ZigBee network. This means that your older devices are still going to need to connect through a ZigBee compatible bridge. This process is a little bit more involved, but shouldn't be too difficult.
The first thing you need to do is set up your ZigBee bridge and get all of your GE Enbrighten devices connected to that bridge. Such a bridge might include the latest Echo devices (as mentioned above), the Tuya ZigBee Wireless Smart Gateway or a Philips Hue Bridge: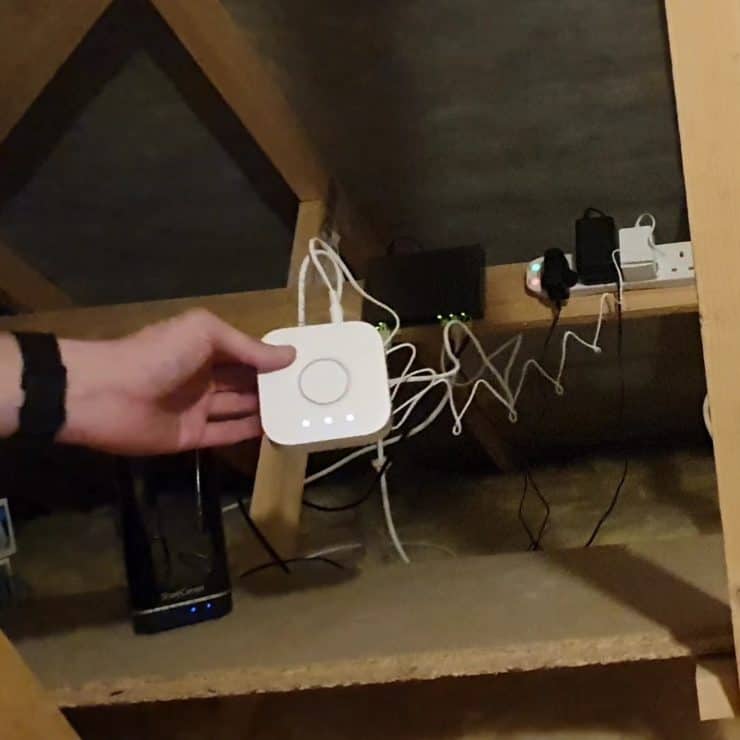 Once your ZigBee network is up and running, we need to turn our attention to Alexa.
Depending on the manufacturer of your Bridge, you might need to download an app specific to that smart bridge. Follow the directions that come with that app in order to get it installed and running.
Next all you need to do is add the bridge like you would any other device to your Alexa app. This will get all of your other devices that are connected to the bridge under your control through Alexa.
The purpose of a smart bridge is to give all of your devices a way of connecting to your home's Wi-Fi network. Once your bridge is hooked up to your network and your app gets connected to the bridge, you have everything working together under one roof.
GE Enbrighten Z-Wave Products and Alexa
There are less options when it comes to connecting Z-Wave products to Alexa.
Z-Wave might be the better option if you're looking to limit the strain and interference on Wi-Fi network frequencies, but it does come with a drawback of having fewer connectivity options when it comes to connecting with Amazon devices. As of this writing, Amazon has not released any Z-Wave compatible Echo devices.
This means that you're going to need to use a bridge to connect your GE Enbrighten Z-Wave devices into your Alexa ecosystem. There's some good news here.
If you've already got some Z-Wave technology (and a hub such as SmartThings or Hubitat), this means that you already have a smart bridge. Most modern smart bridges are designed with Amazon, Google, and even Apple in mind. You shouldn't have any problem connecting your Z-Wave bridge to Alexa.
Z-Wave Bridges Only
Let's break this down and do a few easy steps. Getting a Z-Wave smart home to work with Alexa typically means having a second app involved in the process. So here's how it works.
Many of the common Z-Wave bridges, like those offered by SmartThings, require you to download their app in order to work with Alexa. The first thing you should do is download the app that comes with your smart bridge.
Now you're going to want to download the Alexa app and set up your Alexa account. Amazon likes keeping everything under one roof, so this should be the same as your regular Amazon login. Just in case you're wondering, you do not need Amazon Prime to use Alexa.
Now we should head back to our smart bridge app. In your settings menu there should be an option that allows you to enable Amazon Alexa to use this app. You'll need to confirm this setting in order to let Alexa see any Z-Wave devices.
Now we can head back to the Alexa app. You'll now be able to add the Z-Wave devices that connect through your Z-Wave bridge. Alexa will now be able to "see" them as if they were there all along!