As smart technology gets more advanced, it's beginning to integrate with the core of our homes. This includes wiring it directly into the walls.
Smart switches offer incredible potential when it comes to the limits of smart technology. Rather than just having technology attached to your home, this wires the smart technology directly into the house itself. Smart switches represent a future of truly intelligent homes. However, wiring them in is a challenge in itself, especially since some smart switches require a neutral wire in the switch box. What about Lutron Caseta – do they require a neutral? Well, the short answer is..
Some Lutron Caseta products do need a neutral wire, depending on which model of light switch you purchase. However Lutron Caseta does sell a few switches that do not need a neutral wire, and there are competitors that offer 'no neutral' switches too. Let's explore what neutral wires do and why your smart switch might need one.
What Is Lutron Caseta?
If you've been looking into smart home technology recently, then you've probably heard the name Lutron Caseta.
This is one of the most recognizable and respectable brands and smart lighting controls. Lutron makes everything from reasonably priced smart lighting controls for your average size home all the way up to commercial systems designed to control thousands of lights. They also cover everything in between.
Their smart lighting controls are respected as being some of the best in the industry. They cover almost every lighting control situation you can think of. The Caseta line is their flagship smart technology product for the average size home. If you're looking to control the lights of anything ranging from a condo to a suburban mini-mansion, the Lutron Caseta line will have more than enough options to help you gain control of your lights.
One thing that many homeowners ask is does the Lutron Caseta line of switches require a neutral wire?
Do Lutron Caseta Switches Need A Neutral Wire?
Yes and no.
A few of the Lutron Caseta switches definitely require a neutral wire in order to function. We'll get into this a little bit later, but the neutral wire is an essential part of smart switches and many of the varieties of these switches can't work without one.
Thankfully, though, Lutron Caseta do sell a few switches that do not require a neutral wire. These are often simple on-off switches that don't need a neutral, as well as the Lutron Caseta switches that use the Caseta Bridge.
The Lutron Caseta Bridge skips the need for a neutral wire. Part of the need for a neutral wire is keeping your smart switch powered on all day and all night. This is required for keeping your smart switch connected with your smart environment and the internet.
The Caseta Bridge stays connected on behalf of the switch. This allows the switch to function without a neutral wire. You can think about it like the Caseta Bridge doing the heavy lifting on behalf of the smart switch.
As the Caseta help pages mention, the Lutron Caseta PD-5WS switches do not require neutral wires, whereas the Caseta PD-6ANS and PD-5ANS switches do require a neutral.
How To Check Whether Your Existing Switch Contains A Neutral Wire
In the United States, most homes use 120 volt AC current. Modern electrical standards require the use of a neutral wire when using 120 volt AC.
Here are a few quick ways to tell if you have neutral wires in your lighting switches.
If your home was built after the mid-1980s, then there is a very strong chance that you have neutral wires in your lighting switches.
If there is an electrical outlet near your light switch, there's a good chance is that a neutral wire was installed in that switch.
If your lighting switch is a gang box, that means there is a strong likelihood that there are neutral wires present .
If you want to be extra sure, here's how to double check that your lighting switches contain neutral wires.
First you want to turn off your breaker box to turn off power to the light switch. This is an essential part of working with dangerous electrical currents
Next you want to remove the decorative face plate that covers your light switch.
Pull the light switch out from the wall slowly to examine the wires.
A white wire, or a group of white wires, is the tell-tale sign that a neutral wire is installed.
The video below from Leviton also covers how to determine whether your switch has a neutral or not:
If you want to skip all of this guesswork, the fastest way to tell if you have a neutral wire is to contact an electrician and have them do an inspection of your home's electrical systems. Even if you see the tell-tale white wires that usually signifies a neutral line, it's still a good idea to get in touch with an electrician to have them double-check for you. There's always a chance that someone made a mistake when they originally wired your home and that white wire isn't actually the neutral line.
Whenever you're working with electricity, especially your home's wiring, it always pays to have an expert electrician double check everything.
Alright, we've put in a lot of work to find out if our light switches have neutral wires. So, what do these things do anyway?
What Does A Neutral Wire Do?
The neutral wire is an often-overlooked part of home electric wiring, but it has an essential function.
The neutral wire carries the current back to the source. This completes the circuit and allows your devices to function. While the neutral wire doesn't always carry a current, it should always be treated as a live wire that can carry a potentially fatal shock.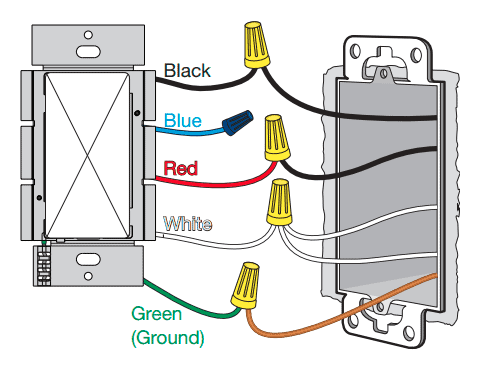 A common misconception is that the neutral wire and the ground wire are the same thing. The neutral wire is a circuit wire while the ground carries the current back to earth. These two might sound similar, but they have very different functions and places within your home's wiring.
You cannot substitute a neutral wire for the ground wire when you're connecting a smart light switch.
Why Many Smart Switches Require A Neutral Wire
The neutral wire completes the circuit and allows your smart switch to stay powered up all day and all night.
Traditional light switches don't need to be powered at all. This is why many old light switches don't have neutral wires. They simply regulate the current going to and from the light switch and they themselves use no electricity.
A smart light switch needs electricity for a variety of tasks. Whether it's communicating with a server or taking signals from your smartphone, that Lutron Caseta light switch is using some electricity of its own to control your home lighting system.
This is why contemporary smart switches require a neutral line. Technically, they're not switches as much as they are miniature electric devices that happen to be able to control your home's lighting.
So how can some of these switches work without a neutral wire?
How Smart Switches Can Work Without A Neutral Wire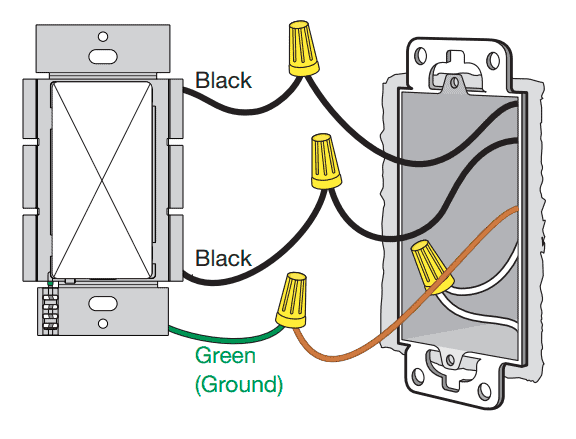 Some smart switches are just dressed up versions of traditional light switches, even if they sometimes 'steal' a small trickle charge of voltage from the bulb (as I explore here).
If your smart switch has to connect to a hub in order to function, there's a good chance that it won't need a neutral wire to be properly installed.
This is because that smart hub is actively doing all of the work. The smart hub is staying connected to the server, checking passwords, and taking care of all of the commands that you're sending to your smart lights. That smart light switch has gone back to its traditional job of being just a switch—even if it is a much fancier version of the on-off switch of yesteryear.
Can You Add A Neutral Wire?
Yes.
If your switches don't currently have a neutral wire, the good news is that adding one is a fairly simple process. In fact, all you need to do is make a phone call.
Adding a neutral wire is complicated work that can be very dangerous if not handled by a professional. An electrician will be able to quickly and easily run a neutral wire to any switch in your house. This process is typically very affordable and can be done quickly. It's a common upgrade for older homes that are looking to have neutral lines installed.
This is definitely outside of the realm of DIY. Running a neutral line requires specialized electrical knowledge that can only be earned by working in the trade.
There are building codes as well as safety standards to be met when installing electrical lines in your home. That's why this is one of the few jobs that's best left to professionals and professionals alone.
If you're looking to skip the bill of the electrician installing a neutral wire, you can just use a smart switch that doesn't need one.
Other Smart Switches That Don't Need Neutral Wires
There are plenty of smart switches out there that just don't need a neutral wire.
We've already mentioned that the Lutron Caseta switches that use the Caseta Bridge typically don't need a neutral wire. The more basic the smart switch model is, the less likely it's going to need a neutral wire to connect to your home.
If you're looking for smart switches outside of the Lutron brand, there are a few options for switches that don't need a neutral wire – although it's worth avoiding TP-Link Kasa, whose switches all seem to require a neutral.
Enbrighten and Leviton are thankfully reputable smart companies that offer no neutral solutions, along with an interesting option from one of Lutron's other product ranges – Lutron Maestro:
Equally a search on Amazon for "smart switch no neutral" returns dozens of other suitable products – although some of these are little-known brands whose support might not be quite as good as the bigger companies like Leviton, GE and Lutron.
Alternatives To Smart Switches That Need Neutral Wires
There's another work around that you can use if you're not looking to add a neutral wire to your smart switch.
You can install a smart LED bulb into the fixture itself. There are many self dimming bulbs out there that can be controlled with the same apps that you would use to control a smart switch. There are some trade-offs to consider between using a smart switch or a smart bulb, but this could be a quick and easy work around for a home that lacks the neutral wire necessary to install a smart switch.