When it comes to smart home devices, many people are familiar with two of the most popular manufacturers out there – Philips Hue and Ring. Many smart home users have either one or the other – or in some cases, both – brands of smart home devices at work in their homes.
Being a primary goal of the smart home is to get all smart home devices to work harmoniously, many have started to wonder how – or if – they can connect both their Hue and Ring devices, including Ring's new line of smart lights.
But is it really possible for these two systems to work together?
In terms of operating directly – no. These two smart home devices work on different connection protocols; Philips Hue uses Zigbee, and Ring uses Wi-Fi. Because of this, it's not possible to operate their systems together – directly.
However, there are alternative ways to connect these devices. One such means is by using a smart home hub, such as SmartThings or increasingly Amazon's Echo devices. This would, in effect, get the two smart home systems to work together with specified routines.
If you're interested in getting your Hue lights to be triggered by the actions of your Ring cameras or doorbells, see the section – "Can Hue Lights Be Triggered by Ring Devices?"
Should you be more concerned with the opposite – getting your Philips Hue lights to control Ring smart lights, see the section – "Can Philips Hue Control Ring Smart Lights?"
First, though, in order to understand how these smart home devices can work together, we'll need to become better acquainted with each of them.
What Is Philips Hue?
Philips Hue is a line of smart lights for the inside and outside of your home. Their lineup includes bulbs, light strips, and a very diverse group of outdoor lighting options, including those that can be used to provide better lighting for security cameras, as well as motion sensor lighting that can be placed along walkways for a lighted path at night.
Most of these smart lights connect to each other via a Zigbee mesh network. More recent versions of Hue's lights can also connect to each other via Bluetooth (in addition to Zigbee).
These lights can be controlled via the Hue app. You also have the option of adding on a Hue Bridge, which increases the amount of lights you can control, as well as offers other connection options.
The Hue Bridge also acts as a hub that enables these lights to connect to other smart home hubs, such as the increasingly popular Amazon Echo. Newer versions of Amazon Echo, including the Echo Plus and Echo Show 10, have a built-in Zigbee hub, so the Hue Bridge from Philips isn't necessary.
What Is Ring?
Ring is a line of home security cameras that help make the inside and outside of your home more secure.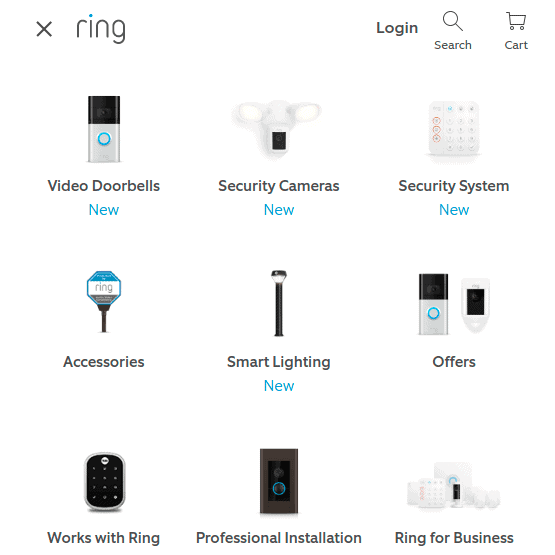 In addition to indoor and outdoor security cameras and doorbells, Ring has recently introduced a line of smart home lights designed to enhance the security of your home. These lights come in a variety of options such as hard-wired, battery-operated, and solar-powered. They have step lights, floodlights, spotlights, and path lights – all designed to make your home well-lit and secure, as lights deter thieves.
These smart devices and lights use the Ring app and connect to each other and the app via Wi-Fi (although connects from Ring's lights to the Ring Hub uses a proprietary approach called Long Range Radio Waves). While the indoor cameras typically have to be plugged in, the outdoor devices such as the Ring video doorbell, outside cameras, and some outdoor lights, operate wirelessly with rechargeable batteries, or with solar power.
The batteries in the Ring outdoor stick-up cam can be removed, making it easy to swap out a charged battery for the dying one. The Ring video doorbell, 2nd generation and newer, must be removed though, and charged via a power cord, as its battery is not removable.
In order to control Ring smart lights, the Ring bridge is also needed. In other words, Ring offers a lot of different choices and integration. But more choice also means more devices, leading some to ask whether you skip the Ring Bridge and instead use the Hue Bridge?
Can Hue Lights Be Triggered By Ring Devices?
In terms of being directly triggered, because the two devices work on such different protocols (Wi-Fi vs Zigbee), this isn't possible – at least not directly. However, there are a couple of options that can be used to indirectly connect the two types of smart devices.
Alexa Routines
If you own an Amazon Echo, integrating your Hue lights into a routine with Ring devices is possible. The type of equipment you need will depend on what version of the Amazon Echo you're using.
For example, if you're using an Amazon Echo Show 5, you will also need a Hue bridge in order to connect your Hue lights to the Alexa app. This is because Philips Hue runs on Zigbee, and therefore cannot connect directly to Wi-Fi devices such as the Echo.
Should you be using a newer version, such as the Echo Plus or full-size Echo Show 10, a separate hub isn't needed, as a Zigbee hub is already built into these versions of the Echo.
After you make sure both your Hue and Ring devices are properly connected, and the necessary Alexa skills (i.e. Philips Hue and Ring) are active by importing both your Hue and Ring devices within the Alexa app, you can begin to create a routine.
For example, let's say you want your Philips Hue lights to turn on when motion is detected by one of your Ring devices. You would go into "Routines", and in the section "When This Happens", choose "Smart Home":
From there, choose "All Devices" Alexa will provide a list of cameras and devices that you have connected. You select one of your Ring devices such as your video doorbell. You can toggle the bar to select either "When Motion is detected" or "When Doorbell is pressed". Then hit Save:
Your next step is to select what you want your Philips Hue lights to do. You do this by adding actions to your Alexa routine. You choose "Smart Home" and the list of devices you have is listed. You would select your Philips Hue lights, and indicate what you want them to do (i.e. turn on/off, at what brightness, and what color – if applicable):
Using IFTTT
Another option available, is IFTTT. An acronym for If This Then That, this is a connection protocol that was designed to connect devices from different developers by creating certain routines. It creates these routines by using applets that perform specific functions.
For example, one applet connects your reminders on Alexa, with the reminders on your Apple devices. So if you add an event to the Alexa app's reminders, then it will also be added to the reminders app on your Apple devices.
Or, for the purposes of the discussion at hand regarding Ring and Philips Hue smart devices, if your Ring camera detects motion, then your Philips Hue lights come on.
IFTTT has recently introduced Hue – Ring applets that offer a variety of options when it comes to carrying out actions with your Philips Hue and Ring devices.
To be able to use IFTTT, you will need to purchase a Hue Bridge. This enables the Hue lights to connect to IFTTT.
Some applets available with IFTTT include:
Although IFTTT has proved to be useful in some instances, it has also come under scrutiny recently.
This is mainly due to plan changes that have occurred. IFTTT has recently introduced a Pro tier, which costs approximately $10/month. Individuals who don't pay for the Pro tier are now limited to a maximum of 3 applets, as opposed to the unlimited option with the Pro tier.
Previously, users of IFTTT were also able to use unlimited applets, without paying. With this change, though, many people have voiced complaints. Because of this, the more popular option remains using routines within the Alexa app and Echo, as opposed to using IFTTT.
Can Philips Hue Control Ring Smart Lights?
Because Philips Hue and Ring Smart Lights work with separate connection protocols (Wi-Fi vs Zigbee), just like the converse, a direct connection isn't possible. Ring lights cannot be imported into the Philips Hue app, and the same is the case vice versa.
In addition, Ring Smart Lights require a Ring Bridge in order to be used – in most cases. When it comes to newer versions of the Amazon Echo (4th generation), as well as the Echo Show 10, these already have a Ring bridge built in. Because of this, the purchase of a Ring bridge isn't necessary. Older versions of the Echo, however, will require a Ring Bridge in order to connect Ring smart lights.
However, being both are compatible with Amazon's Alexa, this could be used as a bridge to create routines that enable the devices to work together.
For example, say you want your Philips Hue and Ring lights to come on at a certain point of the day, such as the evening. You would make sure both devices are connected to the Alexa app, and create a routine based on the event you would like to occur – such as having your Hue smart lights dim, and having your Ring smart lights around the outside of your home turn on.
To do this, you would go into the Alexa app, and over to create a new Routine. You would set the Routine to start by a Schedule – such as 6pm every evening. An alternative is also starting the routine via a specific voice prompt to Alexa, such as "Alexa, turn on the evening lights".
You would then add each light to the routine, and follow the prompts to set them to what you'd like them to do.
Using IFTTT Applets
Using IFTTT is another option for the lights to work together. Just as it works for the Ring triggering Philips Hue lights, IFTTT applets can also work the other way around.
Some applets available for both Philips Hue and Ring smart lights are:
Unfortunately, when it comes to Hue lights triggering Ring smart lights, or having them work together, IFTTT has limited options available. If Philips Hue and Ring smart lights are to work together, using routines via Alexa and the Echo provides a wider range of options. Coupled with the fact that depending on how many applets you want to run, it might start to cost you with IFTTT, Alexa also remains a more cost-effective option.
Conclusion
While we'd like nothing more than to integrate all of our smart devices to be able to operate together, sometimes, this just isn't possible. However, with a little ingenuity, and a basic understanding of how our smart home devices work, we can connect them via alternative ways.
IFTTT, though not always as well-received as Alexa and the Echo, remains an option if you're not keen on using an Echo. Keep in mind that if you'd like to run more than 3 applets, you will need to upgrade to their $9.99/month Pro tier service (NB: this is currently available at a discounted $3.99/month rate).
When it comes to Ring devices, since they're also manufactured by Amazon, there will no doubt continued support and perhaps enhanced compatibility between Ring and Amazon smart devices – making them a more popular choice when it comes to operating them together.