The biggest benefit of the Amazon Echo Show is that it can act as a central hub to control all of your smart devices. There are a few glitches that prevent the Echo Show from working as intended.
Fixing the camera not responding error for Amazon Echo show starts with disabling the camera's Alexa skill and then enabling it again. You should also check to make sure the camera has a strong Wi-Fi connection and a full battery. Some niche fixes include changing the name of the camera, and using Alexa voice commands to access it.
You should be able to check all of your smart cameras from your Amazon Echo Show. We will help you get to the bottom of this issue and get it fixed.
How the Echo Show Works With Smart Cameras
The Amazon Echo Show has been designed to work as a central hub for all of the smart devices you use on a regular basis. One of the coolest features that the Amazon Echo Show offers is the ability to switch to a live view to any connected smart camera.
You set up this connection inside of the Alexa app. This involves activating Alexa skill for your camera and making sure you've got Home Monitoring set up.
However sometimes a problem occurs that stops the camera from being viewable through the Echo Show. We've got fixes for all these problems and more.
Behind the "Camera Isn't Responding Error" and Fixes
Fixing connection problems if your Amazon Echo Show doesn't have to be a challenge. We're going to start you off with some easy fixes that you can work through quickly before moving into some repairs that are a bit more time-consuming.
1. Turn on Home Monitoring
Home Monitoring allows you to use the camera on your Amazon Echo Show as a smart home camera. It's got some advanced features like being able to detect when a person walks by, but Home Monitoring also optimizes your Echo Show's ability to connect with other smart cameras.
Turning on home monitoring is the first step if you plan on using your Amazon Echo Show for live view with other smart cameras. We've heard from plenty of users that turning on Home Monitoring helped their Echo Show work better with other cameras.
Here's how you can turn on home monitoring.
Go to Settings on Your Echo Show.
Select "Camera".
Toggle the "Home Monitoring" option so it is enabled.
2. Disable The Camera's Alexa Skill
If that didn't work, you should then look to disable the skill for the smart camera that's giving you trouble in the Alexa app. Once the skill is disabled, you should wait about 10 minutes and then set up the skill again.
This will refresh the skill and get rid of any glitches that might be causing your video problems. To do this:
Open the Alexa app.
Open More.
Select Skills & Games.
Select Your Skills.
You can now manage any active skills. Click "Disable Skill" here to temporary 'uninstall' the skill.
You can then set-up the skill again after a short wait by activating the skill again, and following the steps. This "turn it off and back on again" approach to the skill can often clear out temporarily data glitches.
3. Reset The Camera
The next step you should take is to reset the camera that's been giving you some trouble: this can often shake out any bugs that might be hanging out in the software.
Each brand of smart camera has its own instructions for giving it a factory reset. This typically involves holding down a power button or a reset button for about 10 seconds.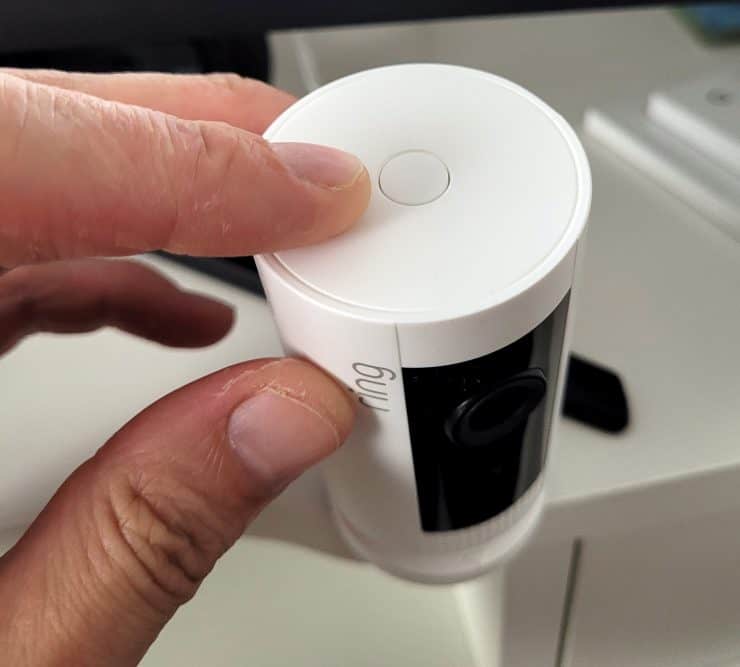 This doesn't mean that you will have to set up the camera again: all settings, automation or routines that were linked to it will remain. This is just a quick 'soft reset'.
4. Check the Camera's Connection
Next we're going to take a look at the Wi-Fi connection for the smart camera that's been having trouble connecting to your Amazon Echo Show.
The poor Wi-Fi connection can cause your Amazon Echo Show to be unable to connect to a smart camera. The connection might not be strong enough for watching back recordings or checking out live view.
Cameras that are far away from your router (or a Wi-Fi extension/mesh point) will be particularly prone to these types of issues. Cameras in your basement, attic and outside are most at risk here – including any smart doorbells you have.
I discuss this issue more in a YouTube video, but there are a few ways that you can resolve weak Wi-Fi issues:
Look at purchase a Wi-Fi extender, which you place between your home router and your smart camera/doorbell. This will 'boost' the Wi-Fi strength for your smart device.
If you are able to move your smart device, try moving it nearer the router – or away from thick walls (these can block even the strongest of Wi-Fi signals).
You might alternatively want to look at Wi-Fi mesh systems. These come with multiple mesh discs that are like Wi-Fi extenders, but they use the latest technology to ensure that you have a single, strong Wi-Fi signal all around your property.
5. Check the Power Supply for the Camera in Question
The power supply for the camera might also be failing: whether it's a hard-wired camera, a plug-in device – or even a smart camera with a removable battery.
You should check the power supply for your camera by inspecting the power cord, switching out its current battery for a fresh battery, or using a multimeter to check the power running it to a hardwired smart camera.
If you detect any power problems like a battery that can't stay charged, or a hardwired connection with voltage problems or fluctuating power levels, you can address these issues as they pop up.
Important note: electricity can kill. If you suspect that your plug-in or hardwired device has a faulty cable somewhere, and you aren't 100% sure what you're doing, it is always best to call in a qualified electrician.
6. Change the Name of the Camera
Here's a fix that is going to seem really strange, but we've seen a lot of people get quick results with this:
All you might need to do is change the name of the camera that's been giving you trouble. We've seen people have success by changing the camera's name from "back door" to "backyard" for example.
There might be an interesting software problem at play, that gets easily fixed when your Amazon Echo Show has to update the name for a camera it's already connected to.
Note: You will usually need to change the name of the device in the original camera's app. So if you have a Ring camera that is connected to Alexa, you will need to change the name of the camera in the Ring app, not the Alexa app.
The exact process for this will vary, but in the Ring app you need to go to the device's settings, click "General Settings" then "Device Name":
This fix is a little bit more on the "might as well try it" side of things, but it's worth pointing out since it's had such good results.
7. Try Using Different Commands
Another potential interesting fix comes down to how you're using your Amazon Echo Show.
It seems that trying to navigate to live view through the Amazon Echo Show menu or the Alexa app has its own set of problems. Users have reported that the cameras don't work as reliably when you navigate to them using a touchscreen menu.
However, those same users have had a lot of success by using voice commands with Alexa.
Instead of pushing buttons and tapping on a touch screen, try getting some utility out of Alexa's voice commands: by saying "Alexa, show me my [camera]". So if your camera is called "backyard", you can say "Alexa, show me my backyard". This might bypass any issues that are preventing you from connecting to your camera.
8. Replace a Defective Camera
Smart cameras have an impressive lifespan, but nothing lasts forever.
There's a chance that your smart camera might have been damaged. This could be from water damage or a factory defect if the camera is still fairly new. Damage is much more common for outdoor cameras that have to stand up to the elements than indoor cameras that are kept shielded from most hazards.
If every other fix has failed, it's time to switch out your defective camera for an upgraded model that's (hopefully!) able to connect to your Amazon Echo Show.
Are you experiencing additional problems, such as an Amazon Echo displaying a solid orange bar, and do you want to learn how to address these issues? Take a moment to read this article!