The Ring Alarm Pro's key feature is the Eero 6 routers built right into the Alarm's Base Station. They're marketed as being able to work with Z-Wave and to a certain extent, Zigbee. Being as the Ring Base Station works with Z-Wave, might the Ring Alarm Pro also be used as a smart hub for Z-Wave devices? The short answer is…
The Eero 6 range does not support Z-Wave, and the Ring Alarm Pro only supports a narrow range of Z-Wave devices. So neither can act as proper Z-Wave hubs, unfortunately.
But why is this? The first step to figuring this out is to first look into what Zigbee and Z-Wave are to begin with, and what role the eero 6 routers play in this regard.
Zigbee & Z-Wave: What are They?
Zigbee and Z-Wave are wireless communication protocols, much like Wi-Fi. Wireless communication protocols get devices to connect to each other and the internet, just as the name indicates – wirelessly. But unlike Wi-Fi, Zigbee and Z-Wave are mesh networks.
Mesh networks work differently than traditional Wi-Fi. For example, Wi-Fi works by having one router where the internet signal is broadcast, and then all devices connect to that single point to connect to the internet:
With a mesh network, in addition to one central point of communication, or hub, each device on the network also acts as a connection point. Because of this, mesh networks are more stable, reliable, and often stronger than Wi-Fi networks:
If one device, or, node on the network fails, the signal automatically jumps to the next device, not breaking the cycle of connection between devices. This is what is referred to as self-healing. So now what are the differences between Zigbee and Z-Wave?
Zigbee
One of the most notable differences between Zigbee and Z-Wave, is Zigbee runs on a different wavelength than Z-Wave. This is why, although both Zigbee and Z-Wave are mesh networks, neither can intermingle nor cause interference with the other – even if run in the same house.
Zigbee runs on a 2.4 GHz frequency – much like Wi-Fi. Because of this, it's faster than Z-Wave, and a more popular choice for smart home operation. Zigbee also has lower power consumption than Wi-Fi, so it's more often used with devices and systems that require less energy and low data. This includes devices such as smart lights and smart plugs. With a range of 200 – 400 feet, it's also more suitable for devices that are within close range of each other. 
Lower power consumption and data, however, also means that it's not suitable for transferring large amounts of data such as downloading large files or online gaming. For these activities, it's best to use Wi-Fi.
Z-Wave
When it comes to Z-Wave, the radio frequency and data consumption are even less than Zigbee. It uses a 915 Mhz band, which translates to about 0.915 GHz. Because of this, it works with devices that also require very little power and data transfer. So much like Zigbee, Z-Wave isn't ideal for transferring large amounts of data.
The range for Z-Wave devices is about 328 feet, but most recommend placing each Z-Wave device about 30 feet apart to ensure the best possible connection and operation of the smart home network. This low-powered network is great for connecting various devices such as cameras and sensors in a home.
The Ring Alarm Pro is just one company that makes use of Z-Wave. So how does Z-Wave work with the Ring Alarm Pro?
What is the Ring Alarm Pro?
The Ring Alarm Pro is the more deluxe version of Ring's Alarm systems. The Pro comes with the addition of eero 6 routers to improve speed and reliability. 
The Ring Alarm Pro can be purchased in either an 8 or 14-piece kit, with prices often starting at $250. You can also purchase the components a la carte, or add on extra sensors to existing kits. This gives you greater customization over the safety and security of your home or business.
The main components of the Ring Alarm Pro system are the keypad, contact sensors, motion sensors, range extender, and the key part – the Base Station.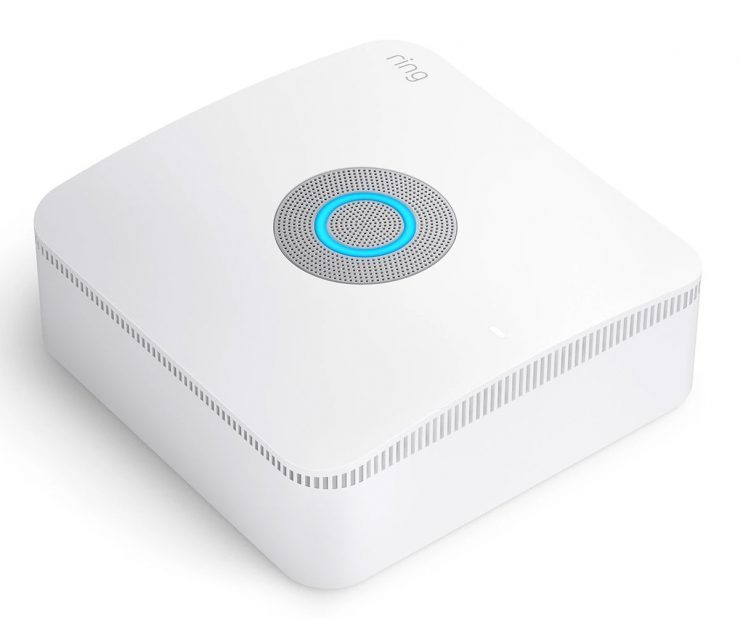 The Base Station uses Z-Wave to communicate to the other Ring Alarm Pro components. The Base Station allows the alarm components to connect to and work together, and 'translates' Z-Wave to Wi-Fi in order for it to work with the Ring app.
The Ring app is where you configure all of your Ring Alarm Pro's settings, as well as have it work with your other devices, such as smart cameras.
There is talk about a Zigbee chip being installed in the Ring Alarm Pro Base Station. While there is a Zigbee chip installed, it's not active. In fact, support for Zigbee is up in the air. Because of this, you cannot connect any Zigbee devices to your Ring Alarm Pro. Being that the Zigbee chip is installed, Ring might do something with this feature in the future. But for now, the Zigbee chips are dormant.
The Ring Alarm Pro's Base Station also has one of the best routers included – an eero 6 router. What is this exactly and what does it do?
How Does the Eero 6 and Eero Pro 6 Work?
The eero 6 routers are designed to facilitate the operation of the Ring Alarm Pro system. They're supposed to make the system smoother, faster, and more secure and reliable. 
Eero 6 and Eero Pro 6 routers look similar physically, but have some differences in performance. For example, the Eero 6 is dual-band with coverage of about 1,500 square feet. In comparison, the Eero Pro 6 is tri-band, and its coverage expands to about 2,000 square feet. There are also some differences in terms of max Wi-Fi speeds.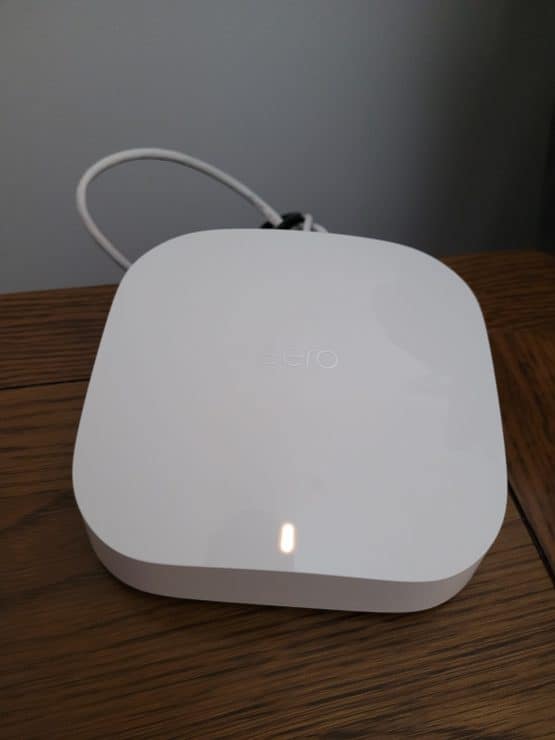 While the eero 6 is advertised to handle speeds up to 900 Mbps, this drops in a full-blown mesh environment – whereas the eero pro 6 can always handle up to Gbps. In all honesty though, they both have very impressive specs. It's no wonder Ring chose the Eero 6 for their Ring Alarm Base Station!
As standalone routers, purchased separate from the Ring Alarm Pro, the eero 6 and eero pro 6 can also act as smart home hubs for Zigbee devices. This is because they have a Zigbee chip installed in them. This makes them a smart choice if you need not only Wi-Fi, but also Zigbee for certain devices such as certain brands of smart lights.
Upgraded versions of the Eero 6 Pro are now introducing Thread capabilities. Since Thread can unite a wide variety of smart home devices, with this in place, the Eero 6 will be able to support, not only Zigbee, but Wi-Fi and Z-Wave as well. This new functionality will expand the usefulness, and no doubt popularity, of the already highly-acclaimed eero 6 routers.
Eero 6 and the Ring Alarm Pro
The eero 6 routers that are inside of the Ring Alarm Pro system aren't designed to replace any smart home hubs. If you're in need of a smart home hub to control your Zigbee devices devices, you'll need to purchase a separate smart home hub that does support Zigbee.
The Zigbee chip inside of the Ring Alarm Pro's eero 6 isn't active. Ring may perhaps change this in the future, but for now, they're largely inert.
The same can be said if you're hoping to use the Ring Alarm Pro Base Station as a Z-Wave hub. The Z-Wave radio inside of the Ring Alarm Pro Base Station is strictly for Ring's devices, and those that are part of the 'Works with Ring' program. You can't control other types of Z-Wave devices from other manufacturers with this Base Station.
Editor's Note: it's a bit disappointing that Ring rolled out the expensive Pro Base Station, and included both ZigBee and Z-Wave chips inside it – but haven't turned it into a proper smart home hub. It's possible that Ring didn't want the extra support headache for maintaining hundreds of other company's smart devices, but it's still disappointing. Here's hoping that Ring's position changes in the future.
Smart Home Hubs That Support Z-Wave
Now that you know the Ring Alarm Pro Base Station can't act as a Z-Wave hub, you're going to want one that does support Z-Wave. There isn't a large variety of hubs that support Z-Wave, but there are a few options you can look into.
One smart home hub you can try is Samsung SmartThings.
SmartThings is a static Z-Wave controller. This gives you the ability to use Z-Wave devices from a variety of manufacturers, and connect them to your smart home hub. Because Samsung SmartThings is compatible with so many other wireless communication protocols, you have the ability to create automations with a wide variety of devices. 
Hubitat is another option open to you, since it supports a range of Z-Wave devices. This works out at $150 and Hubitat is a popular option because it's designed from the ground-up for local-only control – in other words, you aren't stuck with cloud support and internet dependencies.
Another less popular option is the Athom Homey Pro. This pricey hub isn't common but can work with Zigbee, Z-Wave, and Wi-Fi. However, being tough to find, and retailing at a whopping $400, you may prefer to go with the more affordable Samsung SmartThings or Hubitat!
The Future of Z-Wave
The Eero 6 routers inside of the Ring Alarm Pro are no doubt impressive. Their speed and coverage rival most other routers. It's great at controlling the Z-Wave devices – but only within the Ring ecosystem. If you want to control unsupported Z-Wave devices, you'll need a separate Z-Wave hub.
Fortunately Samsung SmartThings and Hubitat provide affordable alternatives to controlling your Z-Wave devices.