Eufy cameras and doorbells have a bunch of great features, but do they support 24/7 constant recording like Nest do? This is a really useful feature to have because whilst many smart devices rely on motion (such a someone walking past) to start recording, this isn't infallible – so 24/7 recording can help ensure you don't miss anything. Is this possible with Eufy?
A few of eufy's products – including the Indoor Cam 2K, Solo OutdoorCam and 2K Pro Wired doorbell – supports 24/7 continuous recording to local storage, but all other eufy products still don't offer 24/7 recording support.
Nonetheless, this is still a step forward compared to some of eufy's competitors (including Ring) who don't offer 24/7 recordings at all. Let's look at the situation in a bit more detail.
The Eufy Smart Camera/Doorbell Range
Eufy have a good range of smart cameras and the doorbells on the market at the moment:
eufy Indoor Cam 2K, which records in 2K – better than full HD resolution.
eufyCam 2, which has IP67 weatherproofing for outdoor use, recording in full HD.
eufyCam 2C, also has IP67 weatherproofing but has a wider field of view for extra recording captures.
eufyCam E, the precursor to the 2 and 2C range.
eufy Video Doorbell 2K, an outdoor smart doorbell which records in 2K quality (albeit with a lower than expected bitrate). Can be battery powered or wired in (bought as a separate model).
eufy Wired Pro Doorbell 2K, an outdoor smart doorbell with 2K quality. It can only be wired in, and it supports 24/7 recording.
eufy Smart Floodlight with camera. This comes with two 2,500 lumen lights, an in-built smart cam and records in full HD.
eufy Solo OutdoorCams. This range of cameras includes the C22 and C24 also record in 2K and they are weatherproofed, since they are designed to work outside.
They therefore have a pretty good range of cameras – offering more than the Nest range (with 1-2 indoor cameras, 1-2 outdoor cameras and a single doorbell), and only a bit less than Ring (although Ring recently have lots of variants due to offering different power modes).
In terms of prices, I've put the above information in a table and included the full price – i.e. I haven't looked at what eufy cams go for during Black Friday sales!
| | | | | |
| --- | --- | --- | --- | --- |
| Device | Resolution | Is Weatherproofed? | 24/7 Recording Support | Price |
| eufy Indoor Cam 2k | 2k (2560 x 1920) | No | Yes | $39.99 |
| eufy Indoor Cam 2k Pan & Tilt | 2k (2560 x 1920) | No | Yes | $51.99 |
| eufyCam2 | Full HD (1920 x 1080) | Yes | No | $140/cam |
| eufyCam2C | Full HD (1920 x 1080) | Yes | No | $99/cam |
| eufyCam E | Full HD (1920 x 1080) | Yes | No | $140/cam |
| eufy Video Doorbell 2K (Battery) | 2k (2560 x 1920) | Yes | No | $199.99 |
| eufy Video Doorbell 2K (Wired) | 2k (2560 x 1920) | Yes | No | $159.99 |
| eufy Pro Wired Doorbell 2K | 2k (2560 x 1920) | Yes | Yes | $169.99 |
| eufy Smart Floodlight with camera | Full HD (1920 x 1080) | Yes | No | $199.99 |
| eufy Solo OutdoorCam | 2k (2560 x 1920) | Yes | Yes | $150-200/cam |
Eufy device line-up with their resolution and price per camera/device.
How Eufy Cameras Work
eufy cameras and doorbells work in a fairly similar way to other smart cameras: they tend to record only when motion is detected. However unlike some of their competitors, eufy devices store recordings on embedded storage or an SD card, meaning that no monthly subscription is required.
Some people (rightly) worry that a smart device without cloud storage can just be stolen – getting rid of all recordings in the process since they're stored on the device itself. As a result, their outdoor cameras have in-built sirens, which can be activated in different ways (including – in the eufyCam E's case – automatically if the device is taken off its mount).
As mentioned above, some of their devices also record in 2k resolution, capturing a bit more than twice as much data (pixels) as full HD devices. eufy are also aiming to be like Nest and offer smarter motion alerts, by firstly detecting motion and then running on-device algorithms to determine if it's a person or not. This varies depending on the device, but most plug-in or wired models have this feature.
Finally, the eufy indoor cameras allow you to add up to a 128 GB SD card (equivalent to months of recording capabity), or boost this further by streaming the recordings to a local NAS or your own cloud storage via RTSP – the real time streaming protocol. This is a feature that Nest and Ring do not offer, so it's good that eufy do.
Without this feature, you would lose any cloud-bound recordings made when the internet is out.
Do Eufy Cameras And Doorbells Support Continuous 24/7 Recording?
eufy's smart recording devices clearly offer some nice features over their rivals who tend to require monthly subscriptions for most of the useful features, but do they also offer 24/7 constant recording capability? Nest offer this, but Ring don't.
As mentioned at the start of this article, the answer is mixed…
The Eufy Indoor cameras (both the standard model and pan and tilt variant), and newer Solo OutdoorCam and Pro Wired Doorbell ranges, do offer 24/7 continuous recordings, via an SD card or NAS-streaming capability. However the other eufy cameras and doorbells don't 'yet' offer constant recording capability.
I'll talk about the indoor cameras' 24/7 capability in a second, but the reason I say 'yet' for the other devices is that eufy say the following on their doorbell's sales page:
Q: Can the video doorbell record 24×7?
A: No, the doorbell doesn't support 24×7 recording for now. The 3s pre-buffer let you see the whole picture prior to the initial alert.

eufy Video Doorbell 2k (Wired), FAQs
In other words, they may offer this in the future. To be honest, this will probably depend on the type of eufy device you purchase.
When a Eufy camera does offer this feature, you can either specify that it always records (known as 24/7 recording) or you can set a schedule – so that it only continuously records between certain times:
24/7 recording requires more on-board storage, it uses up more electricity, and it makes the device hotter (as it's running 24/7, not just intermittently). Their non-Solo outdoor cameras (eufy cameras E, 2 and 2C) are all battery powered, and thus are very unlikely to support 24/7 recording in the near future because their batteries would be drained fairly quickly.
The same is true of their non-Pro eufy doorbell (battery version), for the same reasons. The eufy doorbell (wired version) could offer this functionality in theory, but because it doesn't support expandable storage (such as an SD card or a NAS), my hunch is that the onboard, embedded storage just doesn't have enough space for constant recordings.
This is why eufy rolled out the Pro Wired 2K Doorbell, that does offer local storage capability – and thus they have also added 24/7 recording capability to it.
Best SD Card (or NAS) Size For eufy Recordings
To enable the 24/7 recording feature by Eufy, you'll need to have a good sized SD card installed at a minimum. eufy indoor cameras supports up to 128 GB cards, and I'd recommend at least 64 GB of storage because full HD, 24/7 recordings can fill up a 32 GB (or smaller) card quite quickly – in less than a day, potentially!
To give an example, a 1 minute full HD recording from my smart doorbell takes up 27 MB (I have a Ring Doorbell Pro, although other 1 minute smart cam recordings will be a similar size).
A 32 GB SD card will have no more than 30 GB (or 30,000 MB) of usable space. This allows for 30000/27 = 1,111 video clips. This sounds a lot, but that's just for 1 minute video clips.
There are 1,440 minutes in a day, meaning our 1,111 video clips would only last 18.5 hours. Whoops! You can see why 24/7 recording capability stops recording in 2k resolution and instead drops back to full HD – otherwise a 32 GB SD card would last for less than half a day!
As a result, a 64 GB or 128GB SD card will be better as they'll last for 2-4 days in 24/7 recording mode. Of course, that's still not great. Hence eufy allow for real time video streaming, so that the recordings can be saved to a NAS or cloud storage.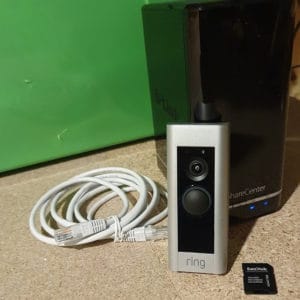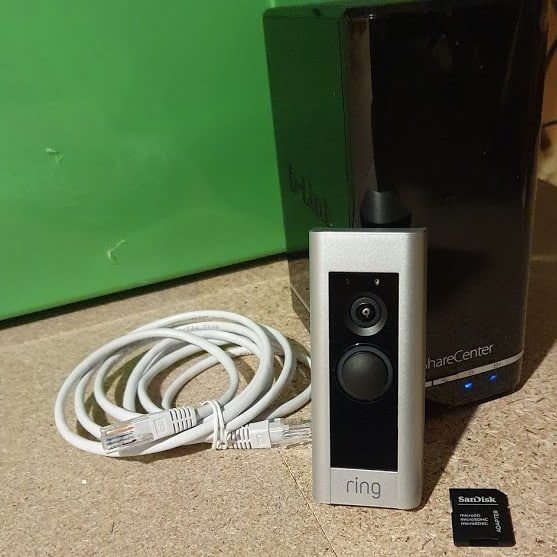 The good thing with these options is that whilst the NAS must obviously be purchased (and can cost $100 or more), the actual storage can be really cheap: a 500GB hard drive can cost as little as $20 nowadays, and will store well over a week of 24/7 recordings.
Plus your household then have network attached storage which can be really useful, as it provides a centralized place for your household to store documents, pictures and more and allows them to be accessed from any device on the network.
A final option is to make use of eufy's optional cloud storage plans,which start at $3 per month for 30 day's of video recording storage. This may work out much cheaper than purchasing a NAS and then hard drives for it, but if you already have a NAS, the cloud plan may be the pricier option.