We bet you've seen the GE Enbrighten smart switches around. You might even own some, but do you know who makes them? What most people don't know is that General Electric does not make these smart switches.
It's always important to know the company behind your smart products. This gives you a sense of their reliability as well as who to reach out for when it comes to customer support and updates.
General Electric does not own the GE Enbrighten smart switch product line. These smart products are owned by a company named Jasco that has a license to use the General Electric branding. Jasco and General Electric are not the same company— they only have a licensing agreement for this product line.
Here's a deep dive into the GE Enbrighten product line as well as the relationship between General Electric and Jasco.
What Is GE Enbrighten?
GE Enbrighten is a rising star in the world of smart switches. Thanks in part to the recognizable General Electric branding, these smart switches are becoming go-to choice for all different types of smart homes. Why are GE Enbrighten switches getting so popular?
Part of this answer has to do with their flexibility. You can find GE switches that use ZigBee or Z-Wave connectivity. These switches can also work with everything from Amazon's Alexa all the way over to SmartThings. That recognizable branding also has them in all the most popular online smart product stores.
Here's just a few of the products that GE Enbrighten makes.
GE Enbrighten Smart Products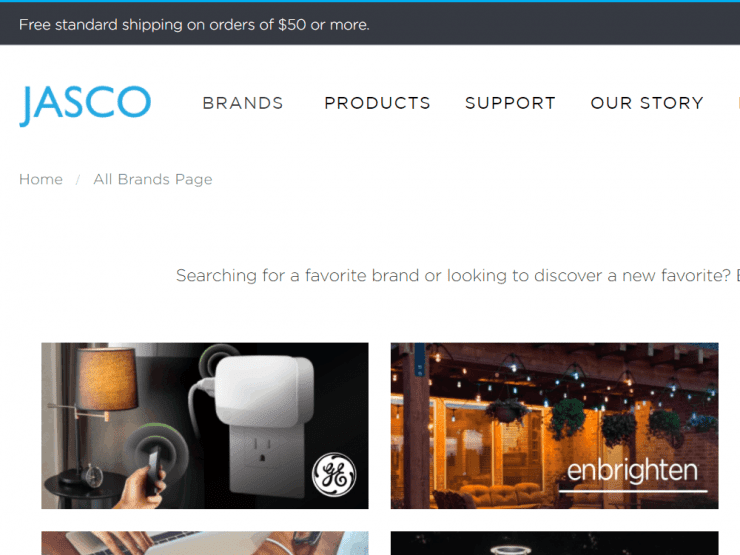 If you've heard of the GE Enbrighten brand, it's probably because of their smart switches. This is the bread and brother of this smart technology company.
GE Enbrighten makes smart switches, dimmers, and add-on switches that can extend the utility of smart switches you've already got installed in your home. These switches come in a variety of colors and are designed to be hardwired into your home and replace old-fashioned light switches.
GE Enbrighten has also started to branch out into a few other products. You can find smart outlets and smart plugs made by its brand. They also have a smart extension cable that is capable of being run outdoors.
It might appear that this GE brand is owned and designed by General Electric, but that's not actually the case. Let's find out what company is actually making these General Electric products.
Does GE (General Electric) Own Enbrighten?
General Electric does not own the GE Enbrighten brand. This might seem a little counterintuitive since their name is all over the packaging. However, it's actually common in the marketing world for a company's name to appear on a product that it does not technically own.
There's a lot of nuance here, but the GE Enbrighten brand falls under what is known as a licensing deal. General Electric has allowed another company to use its logo and name on their products. Typically, companies need to either share profits or outright purchase the legal right to use a company's branding.
This is the same as what 'Philips' Hue done – Philips sold the Hue brand to Signify, so "Philips Hue" is owned by Signify, not Philips.
Let's peel back the marketing curtain and see who makes the GE Enbrighten products.
Who Makes GE Enbrighten?
Since General Electric doesn't own the GE Enbrighten brand, who does?
If you're just looking at the packaging of a GE Enbrighten switch, it might appear that General Electric is the company behind these products. However, there's a second company that's actually designing and building these devices. This is a company known as Jasco.
Jasco currently designs and manufactures all of the GE Enbrighten switches. They have a licensing agreement with General Electric that allows them to use the GE logo and other branding elements on their smart switches. Why would Jasco want to do this rather than just market the switches themselves?
The GE Enbrighten brand has been mutually successful for both Jasco and General Electric. These types of licensing deals allow larger companies to make some quick and easy profit while smaller companies can benefit from using a more recognizable brand on their product lines.
Here's a closer look at the relationship between Jasco and General Electric.
Is Jasco The Same As GE?
Jasco has become synonymous with GE thanks to the popularity of the GE Enbrighten devices. However, Jasco and General Electric are not the same company. Let's take a closer look at Jasco, this company's history, and its relationship with General Electric.
Jasco Products Company was founded in 1975. They've been operating for nearly five decades and in that time they've worked in a variety of Industries. They've made consumer electronics, appliances, and have designed electronics for the military.
The Jasco Products Company is currently based in Oklahoma City. Even though this is an American company, they make most of their products overseas. Jasco has offices in Taiwan and China as well as a division in South America.
This is where we get to the relationship between Jasco and General Electric. Jasco is an official licensee of the General Electric brand. This means that Jasco can use the GE name as well as General Electric's branding in its products.
Jasco uses its status as a GE licensee to create the GE Enbrighten brand. This relationship has been successful for both Jasco and General Electric in terms of sales. It's safe to assume that the GE Enbrighten brand will continue as a partnership between Jasco and General Electric. However, it's worth keeping in mind that these are two separate companies and their paths may one day separate.
Now let's take a closer look at the smart technology being developed by Jasco using the GE brand.
Does GE Enbrighten Work With ZigBee Or Z-Wave?
One big question people have about GE Enbrighten devices is whether or not they work with ZigBee or Z-Wave? This is an important distinction because buying the wrong device can leave you with a smart switch that you can't use. There are not a lot of devices that are compatible with both ZigBee and Z-Wave. So, which way does GE Enbrighten fall?
There's good news here, but it's going to need a little explaining. GE Enbrighten devices work with both ZigBee and Z-Wave. However, they don't work with both of them at the same time. GE Enbrighten makes all of their devices with seperate ZigBee and Z-Wave versions.
This allows you to get the right device for your home. If your smart home ecosystem runs on Z-Wave, you can get a Z-Wave compatible smart switch from GE Enbrighten. This is one of the reasons why this Jasco brand has become so successful after its launch.
You won't have to search all over the box to find whether or not your particular smart switch uses ZigBee or Z-Wave. GE Enbrighten has conveniently color coded their boxes to help you find what you need faster. Boxes with a red stripe on the side use ZigBee connectivity. Boxes with a green stripe on the side run on Z-Wave. It's that easy.
Case in point – the below Smart Dimmer supports ZigBee:
Whereas this smart fan controller supports Z-Wave:
There's a third type of connectivity we need to talk about when it comes to GE Enbrighten products. You'll see some of the smart switches from this company have a box with a gray stripe. These are add-on switches:
Add-on switches are not smart switches themselves, but act as secondary controls for smart switches you already have installed. So if you have a ZigBee or Z-Wave GE Enbrighten smart switch, you can grab one of their add-on switches to give yourself more options for controlling your smart home ecosystem.
Just keep in mind that these gray add-on switches cannot control smart devices directly, but need to work through another GE Enbrighten switch.
While you're looking on the box for ZigBee or Z-Wave information, you're also going to find QuickFit and SimpleWire marketing speak. Let's take a look at what these two features offer.
What is QuickFit and SimpleWire?
QuickFit and SimpleWire are two of the features you're going to see on every GE Enbrighten product. It seems like every brand has some unique naming conventions for their key features. Let's dispel the mysteries and take a look at what QuickFit and SimpleWire really mean.
QuickFit is simply a way of marketing a more streamlined design for their smart switches. General Electric and Jasco have simplified they're smart switches to make them easier to install. Some of the changes include eliminating the heat tabs on the side as well as reducing the size of the product. This ensures that the GE Enbrighten smart switches will fit into more existing housings without any modifications.
SimpleWire is designed to help ensure that even beginners can install their GE Enbrighten smart switches safely and accurately. The switches feature auto line-load detecting technology as well as dual offset ground ports. This helps to reduce wiring congestion when installing multiple switches. It can also make installing GE switches a much easier process for beginners who aren't experienced electricians.
Now let's take a look at one of the most important questions. Does this combination of GE and Jasco make smart technology that works with Alexa, Apple, or and even Google?
Does GE Enbrighten Work With Alexa, Apple, Or Google?
This question is going to take a little consideration and all depends on your system. On the surface, GE Enbrighten works with Alexa, Apple, and Google Assistant. It also works with other popular smart home systems such as SmartThings and Wink. Let's take a closer look at the specifics to see how GE Enbrighten works with these systems.
GE Enbrighten typically connects into your smart home ecosystem through a bridge. Whether you're running Z-Wave or ZigBee, you are typically going to have a bridge setup that keeps all of your smart home devices connected. A smart bridge can also help lower the burden on your Wi-Fi by minimizing the amount of devices that connect directly to your router.
You want to get a smart bridge that works with both of your type of connectivity as well as the system you want your smart home to operate on. If you're using Apple's HomeKit, you'll need a smart bridge that can connect to both GE Enbrighten technology as well as Apple products. The same is true for Google Assistant and Amazon's Alexa.
The good news here is that there are options for every type of conductivity and smart home combo by using GE Enbrighten and a smart bridge. There are plenty of smart homes that run on Apple, SmartThings, and other systems that use these brands of switches. All you need to do is make a few or quick changes to your smart home system and you'll be able to use GE Enbrighten switches no matter what devices you run.