Home automation can be achieved in a range of ways. With so much smart tech available nowadays, you can pretty much look around your house and find ways of automation everything you see.
But having loads of choice is both a blessing and a curse: it's easy to never automate anything around your house because you simply don't know where to start. That's why I have written this guide which covers 12 beginner-friendly ways of getting a smart automated house.
#1: Smart lighting for waking up
Have you ever had a 'lazy morning', slowly waking up as more and more light streams from the corners of your blinds/drapes? Who am I kidding, we've all done this – such mornings are awesome.
You may have noticed that you wake up feeling more relaxed and energized than normal, and this is because of the gentle wake-up you received from having natural light slowly enter the room.
Our ancestor's didn't need annoying alarms, and thankfully neither do we – anymore!
The Philips Hue smart light bulb range come with a 'Personal wake up' feature (available in the Labs section of the app) which can slowly introduce more natural-feeling light into your room. This has the same sort of positive effect on you that a natural wake-up will have.
It's currently a very popular Labs feature, with over a third of a million installs and close to 5/5 star ratings.
LIFX – Philip Hue's main competitor – also offers this feature, either with the built-in sunrise/sunset setting or via the ability to set custom wake-up scenes.
#2: Smart outdoor lighting at night
A motion-sensitive floodlight has been a near-essential item for years, offering great intruder prevention along with convenience when you need to nip around your backyard at nighttime.
However the light that comes from these floodlights is harsh: if you have some friends over for a party or you are simply reading out the back, a very bright white light randomly flashing for minutes at a time isn't great for mood-setting.
That's why smart outdoor lighting is such a welcome invention. Philips offer a range of outdoor lighting, saying: "Imagine your backyard changing into a colorful wonderland with a touch of your smartphone.". Amongst the many benefits of outdoor lighting, they list being welcomed back home, setting the mood for parties or outdoor dinners, and relaxing on a late summer night. These are all great uses for color-changing outdoor lights.
In terms of product options, you'll probably pay more than $100: you can buy more conventional smart floodlights for around $140 or nice-looking smart lighting (which accept PAR38 bulbs) for $129 including the bulbs.
These outdoor solutions mean that lighting is no longer a barrier to hosting outdoor events: instead, it's an essential part of it.
#3: Smart music: creating 'music zones'
Whilst many people purchased their Echo to listen to the headlines and weather in the morning, its music playing functionality is also a nifty – and well known – feature.
But what's less well known is the ability to link different smart assistants together, to create 'music zones' – also called 'multi-room music'. This gives you the ability to group speakers together, and play music in multiple speakers at a time.
To give an example, this can be useful for creating a 'relaxation zone' downstairs with one set of music playing on a kitchen and living room speaker, and a completely different set of music playing in your children's bedrooms/playroom upstairs.
This means that you can easily liven up your house, whilst still playing tailored music that suits each room or zone.
Or you can annoy everyone simultaneously by saying "Alexa, play Slipknot everywhere"!
In terms of how to achieve this, Amazon's guide walks you through this for your Echo devices, whilst the Google Home help pages cover how to create speaker groups.
#4: Smart music: white noise to improve sleep and concentration
If you're growing bored of the Echo Dot you picked up for $25 in the sales, you might be interested to learn about the white noise and relaxation features.
You can say something like "Hey Google, help me to relax" on your Google Home devices (or something specific like "Hey Google, play country night sounds" – the full list is in that linked guide), or "Alexa play relaxation sounds" on your Amazon Echo. There's dozens of white noises you can request – it's worth experimenting.
Most of these sounds are free and very relaxing, but if you don't like them you can always buy a $0.99 MP3 and play this instead ("Alexa, play ambient music for therapy from my library"). Ask Alexa to loop this sound ("Alexa, loop mode on") to play this overnight instead of just for an hour.
As you can tell, I'm quite interested in white noise! As to why… well, they are great for sleep. My wife and I recently had a baby, and playing this when he still slept in our room helped all 3 of us sleep! We continue to play white noise in his nursery overnight (as we have a Google Mini in there), and we sometimes play it ourselves too (from the Echo in our bedroom).
A research paper demonstrated that white noise can help falling to sleep by 38%, whilst various other studies has shown that similar relaxation sounds can improve concentration (great when studying!) and reduce stress levels.
#5: Smart doorbells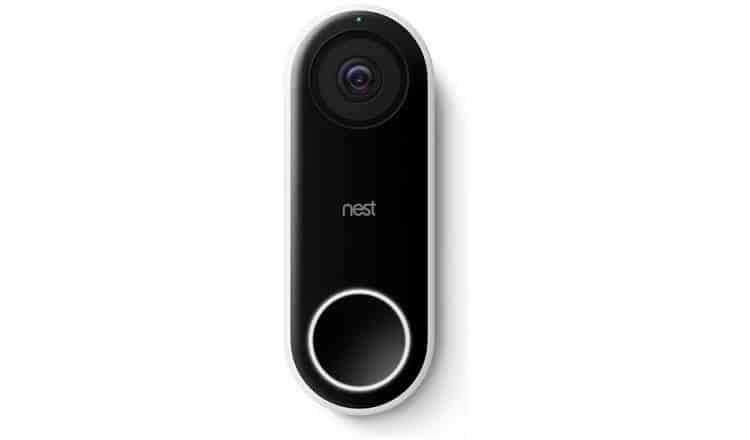 Have you ever come home from work to find your valuable parcel 'hidden in a safe place' – which turns out to be your trash can, even though the sign on the door said to put it in your backyard?
Well thankfully a smart doorbell (such as the Ring Doorbell 2) can help. When the delivery driver rings the bell, your phone will start ringing – just like when someone calls you. After answering, you can see – and speak to – the delivery driver, telling them what you'd like to do with the parcel. (This assumes that they actually press the doorbell, of course!).
Smart doorbells can also prevent crime. Whilst there were initial concerns that thieves would simply steal the doorbell too, such fears were dispelled because all motion-activated recordings sync up to the cloud – i.e. they are backed up to the internet. So a thief can't simply 'destroy the evidence'.
In-fact, some sources have found a 55% reduction in neighborhood crime after Ring Doorbells started being installed.
The other benefit of smart doorbells is that you can see who has just called by. If it's a sales person, you can ignore them (or tell them you're not interested without face-to-face interaction)! If it's a friend/family member who's just popped by whilst you're out, you can advise them when you'll be home.
The most recent Ring doorbell (the Door Bell 2) costs $199 and then $2.50/month (which pays for the storage of motion-triggered video captures).
The eufy smart doorbell is cheaper at $149 and has no monthly fees, and it also records in better quality. This could be a good one to check out!
#6: Control your TV with your voice
Many sci-fi films show characters issuing a command, and a monitor or TV screen updating to reflect the command. Thankfully this sort of functionality is possible right now, too: various higher end TVs offer voice control, as does things like Apple TV.
Whilst you might not see the point of this, the moment you start saying "Alexa, launch the YouTube app" or "Switch over to channel 5", you'll find it hard to go back to using an 'old fashioned' TV remote!
If you don't want to splash our $1,000+ for a high end TV or pay for an Apple TV box and then a monthly Apple TV subscription, a budget option is to go down the Amazon route.
The Amazon Echo can be used to control fire TVs, but also the fire TV stick. So if you watch a lot of Prime, Netflix and YouTube (all offered on the fire stick), this could be a great option for you. Whenever Amazon have a sale, it's possible to pick up an Echo Dot and Fire stick for just $41.99 – a very cheap way of having voice activated television. Outside of a deal, this will cost you more than $80 so it's worth waiting for one of the many Amazon sales (Prime Day, black friday, cyber monday etc).
#7: Automate your central heating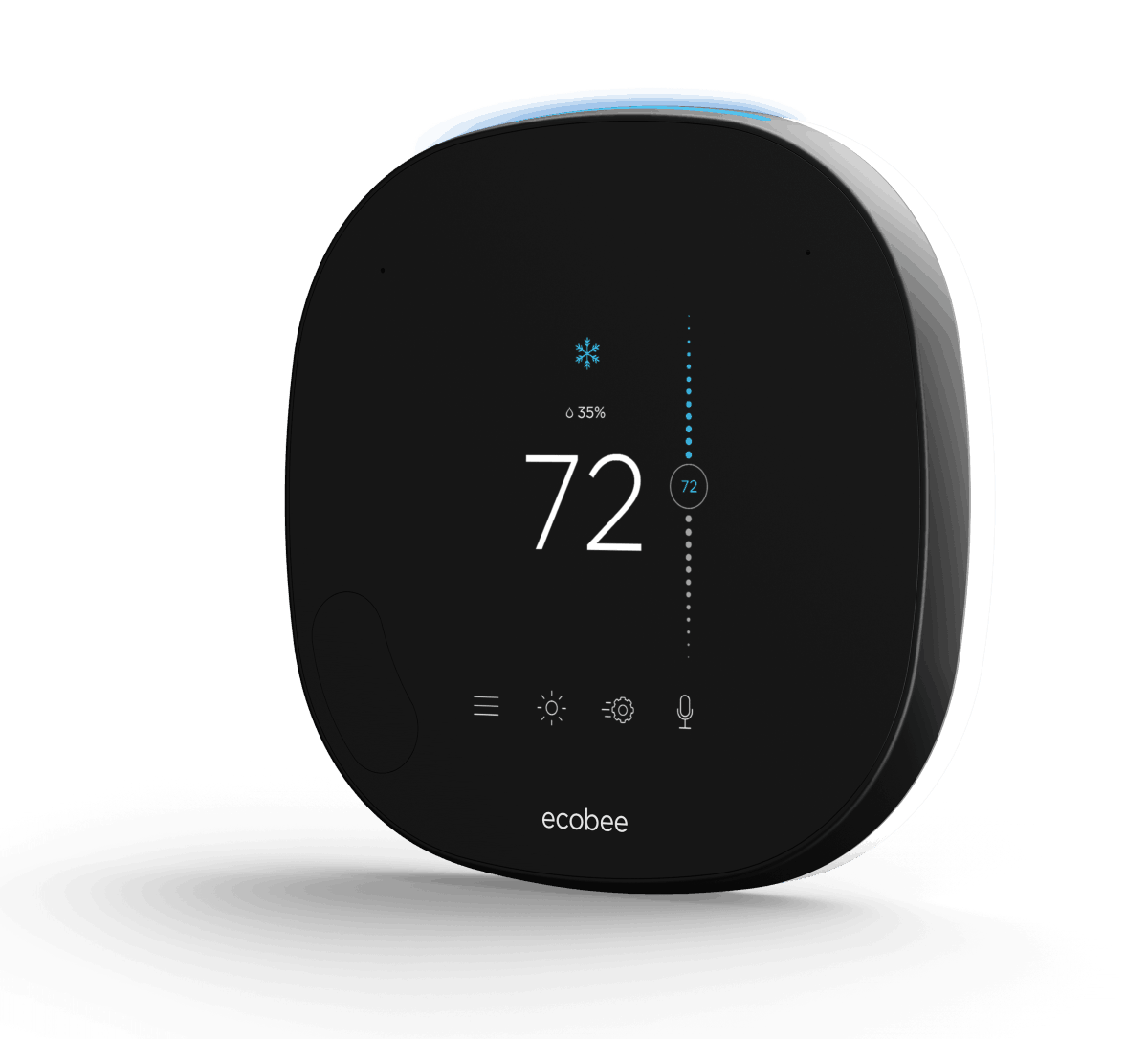 Have you ever been cold in bed, and can't be asse… bothered to get out of bed and turn up the heating? Well, worry not: smart thermostats are here to save the day!
With these you can control your house's heating from your smartphone app.
Of course, the benefit of smart thermostats goes far beyond not being bothered to get out of bed! They can learn your routines and what temperature you like, and eventually they will set your home's temperature accordingly – so that you are comfortable when you're in the house, whilst your heating's not on full (burning gas dollars) when you're out.
The latest 3rd gen Nest Learning Thermostat currently retails for $219.99, although the price can vary a little higher at times, or lower when Amazon or Google has a sale.
#8: Control your house's access remotely
Smart door locks sound a weird concept. Are you locked out of your house if your internet (or the device) fails? Can they be hacked, giving teenage hackers free access to your house? Well smart door lock manufacturers have been quick to promote the security measures build into these door locks, and there's been no major controversy of home break-ins rising due to smart locks.
The benefits of smart locks are numerous: if you are away on holiday, you can grant temporary access to a friend to check into your house, or to the electrician who's due to install a couple of new sockets. If you are traveling and a trusted neighbor tells you they are concerned about something in your house, you can also easily give them one-time access to your house.
Beyond this, 'remote Airbnb' hosting has taken off due to smart door locks. In other words, the Airbnb landlord might live in a completely different state (or country). When the room is rented, they will grant access to the lodger for the required amount of time. Nice and easy – and surprisingly secure, compared to having a dozen copies of your keys floating around.
The August Smart Lock Pro (and wireless bridge – a control device) – currently selling for $174 – is probably the most popular smart lock on the market.
#9: Intrusion detection with indoor smart cameras
Smart indoor cameras are pretty much the same as standard indoor cameras, apart from the fact that captured video is now stored 'in the cloud' and thus is accessible anywhere in the world – on your phone, or your computer.
They also have motion detection built-in, meaning that if movement is detected inside your house (when you're not in), you can be quickly notified – and see a video of exactly who (or what) is in your house. Most of the time it's a pet when caused a false positive, but sometimes it's an intruder which is scary, but good to know so you can take the relevant action.
The Wyze Cam 1080p offers full HD, free cloud storage and is just $23.99 – a bargain for the features it provides.
The Blink XT2 – an Amazon-owned company – retails for $99.99 but it offers a lot more features, including more extensive cloud video storage and 2-way audio (meaning it's a bit like a smart doorbell).
#10: Smart plugs: make it look like you're in when you're not
Remember how you used to be advised to put a hallway light on a mechanical timer before going on vacation? This is so that the light clicks on and off every so often, making it look like someone is in – and potentially deterring thieves.
Well this is still good advice, but having the same light click on/off at exactly the same time each day could be too predictable – a potential thief might notice this pattern and realize you are away.
Using a smart plug for this purpose can therefore be useful. This allows you to remotely turn the plug (and so light) on and off, along with setting timers to turn it on/off periodically – but in a way that's more natural and less obvious to would-be intruders.
TP-Link's Kasa mini smart plug is available for $14.95 and is probably the most common smart plug from a mainstream manufacturer, although the Gosund mini works out cheaper (at under $10 each) and has equally good reviews.
Of course, picking up a cheap $23.99 Wyze Cam (see tip #6) to detect indoor detection is also a good idea, as you then have a budget way of deterring – and detecting – would-be thieves.
#11: Smart plugs: control lights and internet access on a budget
Yes you can pay $99+ for a Philips hue (smart light bulb) starter kit, or buy a modern internet router with 'access control' times (which can be handy for disabling internet during meal times!), but these can be expensive. A far cheaper option is to pick up a smart plug for $15 and connect your existing plug-in light or router to this.
Then you can easily turn lights and internet access on and off simply by clicking a button in your smartphone app. Or if you picked up an Echo Dot for $25 in the sales, you can issue a simple voice command to do this (instead of going into your smartphone app). Simple!
#12: how many sleeps until Christmas?
If you have children (or any other Christmas lover at home!), you can ask both your Google Home and Amazon Echo devices "How many sleeps until Christmas"? "How many days until Christmas" also works: