Home working has never been more popular. Whilst just 8% of the global workforce worked from home in 2019 (around 260 million people), the 2020 global pandemic has seen the number of home workers increase to 50% or more in many countries – with billions of people now routinely working from home.
This substantial rise in home working has led to the need for comfortable and effective home offices, and the lighting of the home office is actually a key aspect of that.
Whilst natural day light is one of the best sources of light for a home office, 'white ambiance' smart bulbs and RGBW smart lightstrips are also really important for useful home office lighting.
The importance of good home office lighting
Both too bright (harsh) lighting and also too dim lighting can negatively impact your ability to effectively work in your home office. Even without realizing it, bad lighting can cause you to hunch over to "view the screen better", causing a range of potential physical issues:
A headache.
A bad back.
Pain along the shoulders.
Causing drowsiness/fatigue.
Painful eyes.
Worse work productivity
… and a whole lot more.
So it's very important to have good lighting in your home office. This isn't just important when using a computer, either: the reality of home working is that there'll be some paperwork – even in a "paperless office" job! Poor lighting will also make it harder to work on this paperwork too.
But it's not just the physical impact you have to worry about: poor lighting can actually harm your mood, too: with anxiety and stress levels rising directly due to the lighting conditions.
Based on all this, it's clearly worth improving the lighting situation in your home office. This doesn't have to be expensive (as I'll explore in the next section), and it'll likely pay dividends due to increased productivity, and also better physical and mental health.
Key tips for lighting your home office
Before I cover a range of different tips for properly lighting your home office, what are the main differences in the two pictures below?
This isn't 'spot the difference' (although my Fitbit is in one and not the other, and my headphones are different..!): the difference is the lighting: the first photo was taken during the day-time, and hence natural light is streaming in from the window; whereas the second photo is at night-time – and hence I'm relying on the overhead light.
Whilst you can simulate natural light (more on the below), the above photos hopefully demonstrate the important of natural light wherever possible. It feels a lot more natural and comfortable to do work during the day if the lighting matches 'day time' light. If you're able to work near a window (especially one that is south-facing, meaning it'll get maximum light throughout the day), that is ideal.
But of course, this article is on a smart home blog and so surely there's a "smart lighting" solution too, right? Well, yes there is – which is good because not everyone can work near a south-facing window with perfect weather outside!
Overhead lighting is important. Even if you're working near a window, having good ceiling lighting is important because there could be clouds blocking a lot of the natural light out. You should ensure that any smart bulbs fitted overhead are:

Sufficiently bright. Double check the lumen count of any smart bulbs you fit. The higher the lumens, the brighter the bulb. Some budget smart bulbs and also older-generation Philips Hue bulb actually aren't all that bright – some of the power consumption goes on the smart features and WiFi/ZigBee connection, instead of making the bulb brighter.

The previous-gen Hue downlights (GU10) were just 250 lumens, much less than the 350-500 lumens you often have with standard LED downlights. Plus even many current-gen Hue bulbs are only 806 lumens, compared to 1,100 lumens from LIFX bulbs – so do double check the lumen count before buying a smart bulb.
The color: you can purchase "white only" smart bulbs, but these are often "warm white" (below 3,000K). This type of light matches the sort of light you get during sunset, meaning that they often aren't sufficient for daytime working. If possible, look to buy "cool white" smart bulbs, or smart bulbs that allow you to change the color.

Hue's "white ambiance" range is perfect for this because it allows you to switch between warm white and cool white really easily. You can also purchase a full-RGB color smart bulb which also allows this, but these are more expensive and you probably won't want to work under bright pink lighting!
The below screenshot from my Hue app shows the color choices available for a Philips Hue White Ambiance bulb – notice how you can choose anything from night-time (warm white) and day-time (cool white) lighting: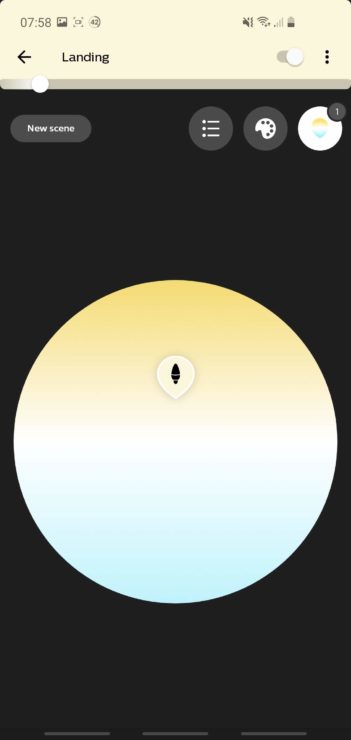 Other important home office smart lighting tips include:
Smart LED strips can be awesome for adding mood lighting around your computer desk and nearby shelves. These are often full color and can help you to add some extra brightness and lighting to your home office, whilst also being a nice ambient light source for when you're wanting to wind down a bit.
If you only have a single ceiling bulb, consider adding more. One thing that's never ideal is having a single, low-power ceiling bulb:
Whilst this might be sufficient for a small room (especially if you have a higher-lumen smart bulb, such as from LIFX), it often isn't ideal for long periods of home working. Either change the light fitting to a multi-bulb light, or consider converting to spotlights instead – having these every few feet overhead can really help improve your home office's lighting.

Just be sure to aim for "day time" smart spotlights if so, as I mentioned earlier.
Table and side lamps are a good alternative, too. If you're unable to change the overhead lights, purchasing plug-in floor/table lamps can be a good idea. They add a lot of light roughly at the height your sitting at, and can be moved as required throughout the day. These often support smart bulbs too, and so you can also use these to change the lighting color to suit your needs.

If you do go for plug-in lamps, try and avoid a position that directs the light onto your computer monitor – this causes glare which can make it harder to work.
Plan for evening and/or night-time working. So far I'm mainly discussed the need for "day time" lighting to mirror natural light colors, but if you're likely to be working in the evening or night-time, you may actually want warm white colors since this is more akin to natural sunset/night-time lights.

This is again where "white ambiance" or full-color RGB bulbs come in, since you can change the color to suit the time of day.

Up until recently I actually had just a white Hue smart bulb in my home office, which was fine for night-time working (as it was a 2,700k warm white bulb), but it wasn't great for day time working. I have since swapped this out for a smart bulb which allows me to change the color accordingly to suit the time of day: cool white in the day, and warm white in the night.
Lighting if you work on your dining room table…
Of course, not all of us have a dedicated "home office" space with a desk and proper lighting. It's quite common to hear of people working from their dining room table, especially with the forced home-working that COVID-19 bought about.
So what can you do in this case? I won't repeat everything from above, but the main things to consider are:
Make sure that any overhead lighting is sufficient. Smart bulbs overhead can be very useful as long as they allow you to change between different white colors: cooler whites for the day-time and warmer whites for the night-time. Philips Hue's white ambiance range continues to be great for this.
Smart LED strips can be an easy way to add simple lighting to your dining room table. Whilst these are usually added under things (under shelves, cabinets and even couches), they can look quite nice around the dining room table – and will help to add extra light, too.
Whilst I wouldn't recommend smart strips as the only light source you add, they can be good to enhance your existing lighting.
Upgrade your ceiling lighting, if required. If you only have a single bulb ceiling light, either change this to a multi-bulb light fitting, install downlighters, or simply buy a floor lamp and use this instead.

The more lighting you have when working on your dining room table, the better.
… lighting tips for working in your bedroom or other area
If you're confined to working from your bedroom (which many people unfortunately are since the coronavirus), it's even more important to get adequate lighting to ensure that you're as comfortable as possible when working from here:
Where possible, introduce natural light. If you have a window, position your workstation (if you have one) near this. Just be conscious of glare on your computer screen: if you can't avoid this, you can purchase an anti-glare screen that will help.
As I mentioned above, upgrade the amount of lights you have in the room. Either change the ceiling light to a multi-bulb setup, or buy a floor lamp.

Make sure that anything you buy can fit a smart bulb, and then either purchase a "white ambiance" smart bulb (which allows you to change between day-time whites and night-time whites) or purchase a full-RGB color smart bulb which allows the white-color changes, along with changing to any other color that you choose, too!
You may not even realize it, but the lighting in your work environment is so important to both your physical and mental health – so it's worth spending a bit of money to get it right. Your employer may also be able to help out in that since, especially if your current lighting is inadequate and you have to work from home.