Philips Hue is one of the most popular smart lighting systems in homes worldwide. People who use Hue lights often use them with Amazon's AI assistant, Alexa, one of the most popular smart home hubs. Normally, these two work together seamlessly. However, there are times when this isn't the case.
Either during setup or at other times after setup, errors where Alexa doesn't complete the command (and says "Please try again later") often occur. This leaves customers beyond annoyed! Maybe this has even happened to you. So why is this happening, and how can you get around it?
Key Points
Issues between Hue and Alexa can occur due to Wi-Fi issues, a temporary cloud blip, or a few other reasons.
The best 'solution' is often to wait a few minutes, and try again.
Disabling and re-enabling the skill can also help.
If all else fails, try restarting your Hue Bridge.
Recap: What is Philips Hue?
Philips Hue is a leader in smart home lighting today. They have over 19 million customers worldwide and have an extensive line of lighting products for every part of your home.
Their most notable products are their Hue smart bulbs. These bulbs come in a variety of sizes and shapes, such as E26 bulbs for traditional fixtures like lamps, or the GU10 bulbs for recessed ceiling lighting.
All of Hue's smart lights connect to the Hue app where you control and customize your lighting experience.
They connect to this app, and each other, in two ways.
The first way is via the Hue Bridge. Philips Hue lights work using Zigbee, a wireless mesh network. Each lighting product in your smart home network is a node or connection point in this mesh network. The lights communicate with each other using Zigbee. However, the Hue app uses Wi-Fi. In order to translate Zigbee to Wi-Fi, the Hue Bridge is needed. The Bridge allows you to connect your lights to the Hue app and smart home hubs.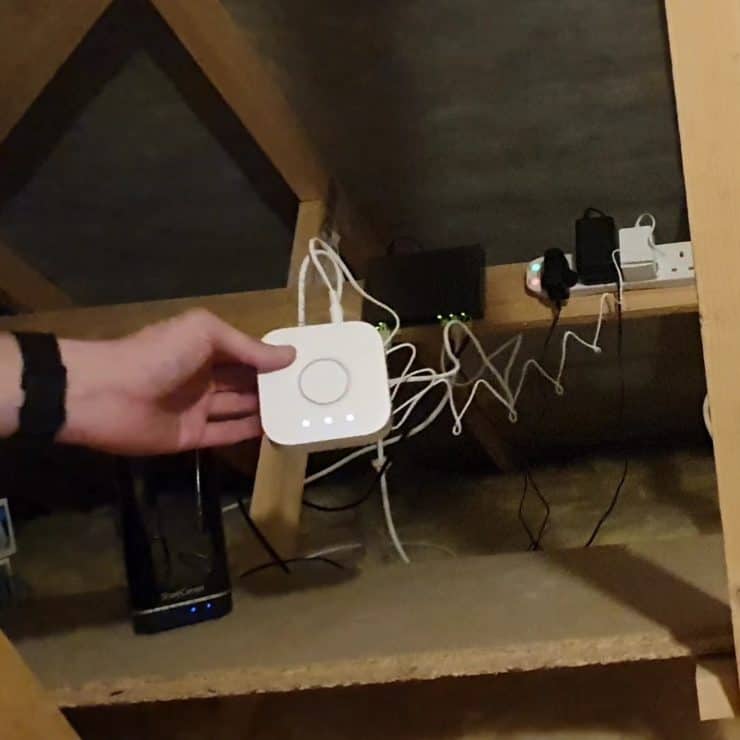 Another way to connect your lights is via Bluetooth. The range is shorter, about 30 feet (10 meters) but convenient if you just need to control lights in one room, and don't want to buy a Bridge.
Set up is easy, and you can easily connect them to the Hue app, as well as any smart home hubs you use – such as Amazon's Alexa.
Recap: Benefits of Using Philips Hue With Alexa
Amazon's Alexa is a household name that most of us have learned to love (or hate!) and is a central point of connection for all of your smart home devices. It gives you the ability to create a unified smart home by allowing you to connect devices from a variety of manufacturers such as Ring, Wyze, Google, and of course, Philips Hue.
Many people use Alexa via the Amazon Echo. They come in either the traditional Echo Dot, or the Echo Show, which has a screen.
This smart speaker can not only play your music, but gives you the ability to control your various smart home devices using voice commands. By simply saying, "Alexa, turn on Living Room light", the appropriate light turns on without you having to get up or lift a finger.
Philips Hue works with Amazon Alexa via the Hue Skill. The Skill has to be added to the Amazon Alexa app in order for the two to work together successfully.
While the steps for pairing Hue and Alexa are simple, sometimes things go awry along the way.
The Dreaded "Please Try Again Later" Error
So you're all ready to connect your devices together – and Alexa hits you with, "We were unable to link Hue at this time" and "Please try again later":
Insert facepalm here. You did all the steps, and in the correct order – so what gives?
Some Hue and Alexa users run into this frustrating issue after they add the Hue skill to Alexa, and then try to link their Philips Hue devices to Alexa.
It's not always clear as to why this error message occurs. It may be due to weak Wi-Fi, a glitch with the Alexa or Philips Hue site or software, the planets not being aligned properly…either way, it happens sometimes.
To help prevent these errors:
Make sure your Alexa and Hue apps are updated to the most recent version.
Check your internet connection as well to ensure it's strong and stable.
Make sure your Alexa and Philips Hue accounts are set up properly and both working correctly in other areas.
If things still aren't connecting properly, there are a couple of extra steps you can take to get things moving in the right direction.
Alexa Online
Sometimes the problem is the Alexa app. We typically use it on our smartphones or smart devices like iPads and tablets. However, in this instance, you may need to open up Alexa on your desktop or laptop computer's browser instead.
Navigate to Amazon.com and make sure you're signed in. Next, go to the search bar, and change the Department to "Alexa Skills."
After that, type Hue in the search box, then click Search.
On the next screen, you'll see the Hue Skill. Here you'll be able to enable the Skill and link your Alexa and Hue accounts.
Some users report that using the website as opposed to the app has helped them get the accounts linked.
Unlink/Re-link Hue Bridge
Try unlinking the Hue Bridge from your Hue account, then re-linking it again. You can do this in two ways: on the app, or a computer. On the app, just go to Settings, then "My Hue System" and select your Hue Bridge. Finally, click "Remove":
Alternatively, you can do this on a computer by going to account.meethue.com. Login there and click "My Philips Hue system". Then, in the Bridge section, scroll all the way to the bottom where it says 'Unlink Hue Bridge' or 'Remove Hue Bridge':
After you've done that, refresh the page. You should then see an option to Add a Hue Bridge. Click on that, and re-link your Hue Bridge.
This method has also been met with success on many occasions. Sometimes you may have to uninstall and then reinstall the Hue app as well.
Other Philips Hue Error Messages
Now let's say everything goes swimmingly when connecting your Philips Hue devices to Alexa. You've got everything connected, running great, and even executing routines smoothly – at first.
Then one day you go to ask Alexa to "Turn on Living Room lights", and she retorts with something along the lines of "I can't seem to find Living Room lights" or "Please try again later". So you go into the Alexa app and discover that none of your Hue lights are connected anymore. It's as if they don't even exist!
Unfortunately, this is an error that some Hue users are experiencing. After successfully linking their Hue lights, Hue Skill, and everything to Alexa, and even after using it for quite some time, they just magically unlink. Frustrating to say the least! Why did this happen and how can you fix it?
There may be a couple of reasons why this happens in the first place. One is due to a power interruption or a router change. Long-term power interruption, say several hours or a day, can cause problems when reconnecting.
Router changes can also cause problems. If the network name or password changes, it can cause a connection disruption, which results in reconnection issues.
Another reason? Hue and/or Alexa are just glitchy. Power isn't interrupted, Wi-Fi stays the same, nothing has changed – and it still unlinks. So now what?
If your Amazon Echo Show displays a persistent solid orange bar and you're looking for a fix, read through this article.
Fixing Hue Error Messages
First, you want to make sure both the Hue and Alexa apps are updated to their latest version. Next thing, you'll have to re-enable the Hue Skill on your Alexa account. If the Hue Skill still seems to be enabled, disable it, then start over.
To disable the Hue Skill, it's best to go to Amazon.com. Go to the Search bar, then change the Department to 'Alexa Skills'. Next, search for the Hue Skill. If it's still enabled, select 'Disable Skill'.
Next, go into your Hue account, also preferably online, and unlink the Hue Bridge. Refresh the page, wait a few minutes, then re-link the Hue Bridge. From there, you can go back to Amazon.com, and re-enable the Hue Skill.
A hassle, yes! However, if everything gets working again, it'll be worth the effort. Still having issues? It may be time to reach out to Amazon and/or Philips Hue.
Other Options for Smart Lighting
So maybe you're not down for the connection issues that come with Philips Hue, so you want to see what other brands are available. Fortunately, you have a plethora of options to choose from.
One of the other popular Zigbee bulbs is Innr. When you enable the Innr skill, you can use your Innr bulbs in Alexa routines with your various other smart home devices.
LIFX is another popular brand. Instead of Zigbee, however, these lights use Wi-Fi. Many find this convenient as no extra Bridge is required.
Another popular option is Nanoleaf. Nanoleaf is actually quite unique because in addition to smart bulbs, they also have intricately shaped lighting panels that add a decorative flair. They connect using Wi-Fi, and are even introducing Thread border routers.
Now, it's to be noted that most Skills have a really poor rating in the Alexa app. These include Ring, Wyze, and Pandora – all of which I use, but have great experiences with!
It may be because people who rate the Skill have complaints and this is the only way they feel they can get their point across. But those (like me!) who don't have issues, typically don't bother to rate these Skills at all.
Hopefully whatever option you choose ends up working well for you – without the glitches.
Errors No More
Error messages are unfortunately often a part of having a smart home. Technology doesn't always work as it should, which causes us to have to do some troubleshooting – and Philips Hue along with Alexa isn't immune. Fortunately, there are steps to take to help get things going again.
If you find that even after extensive troubleshooting that Hue and Alexa still aren't getting along, it may be time to reach out to Amazon or Philips/Signify for more assistance.