In the world of smart home hubs, Samsung SmartThings is one of the many main contenders – or is it?
Some users have begun to notice changes, albeit small, that make them wonder if SmartThings is soon to be a thing of the past. Even though the hub and app are still receiving updates, support for products like Ring is seemingly becoming null. In addition, it's tough to find a SmartThings hub to buy. So what exactly is going on with SmartThings?
Key Points
Samsung SmartThings used to be a physical hub, but it's now also software that ships with Samsung TVs, refridgerators and more.
SmartThings isn't dead, although some of their updates have been a bit delayed.
Stock issues mean that purchasing the physical SmartThings hub is increasingly difficult.
SmartThing's compatiblity with Ring's full product line-up is increasingly lacking.
Let's drill into whether SmartThings is indeed 'dead' or not, by firstly covering what "SmartThings" is (spoiler alert: it's not just a physical hub anymore).
What is Samsung SmartThings?
Samsung SmartThings' most common use is as a smart home hub. It's actually one of the more popular smart home hubs, as it supports a few different wireless communication protocols.
In addition to 'classic' Wi-Fi, SmartThings also supports Zigbee and Z-Wave. As technology continues to grow and change, Samsung is determined not to fall behind. As such, they're now implementing the use of Matter.
Samsung SmartThings works much like any other smart home hub. You use it as a central hub of communication for all of your smart home devices. It can also be used to create automations. Since it supports Zigbee, you can also use it as a hub for smart devices like Philips Hue.
The SmartThings hub comes in two versions, the v2 and the newer (and harder to find) v3. The v1 is discontinued. The v2 requires a wired, ethernet connection, while the v3 can be used with ethernet or wirelessly.
The hub has to be plugged in, but the v2 also has a compartment for 4 'AA' batteries. These are used as a battery backup in the event of a power outage, and last about 2 hours. The v3 unfortunately doesn't have battery backup.
You can use Samsung SmartThings via the SmartThings app, which most Samsung phones come already equipped with. Even if you don't use SmartThings as a smart home hub, with a Samsung phone, it's by means of this that your Bluetooth devices connect and pair to your phone.
If it's not already installed on your phone, or you have an iPhone, you can simply go to either your Play Store or Apple's App Store and download the SmartThings app.
Though Samsung is an Android company, the SmartThings app can be used on an iPhone as well.
So now, what other devices support SmartThings?
What Works With Samsung SmartThings?
Conveniently, SmartThings is compatible with a wide variety of smart home manufacturers. Companies such as Ring, Honeywell, LIFX, Alexa, Nanoleaf, and many more, are compatible with Smart Things.
As such, you can add them as devices in your SmartThings app, where you can create routines so that they can work together.
Newer Samsung TVs, such as those made in 2021 and 2022, also come equipped with SmartThings. This makes it possible to access your SmartThings Dashboard. Just sign into your Samsung account, and you can control your connected smart devices right from SmartThings on your TV!
SmartThings is also compatible with Samsung's wide range of smart appliances. These include refrigerators, washers, dryers, and even dishwashers! This gives you the ability to check on your various appliances, and even control them, no matter where you are.
So with all of the advancements and compatibilities that SmartThings has, what about those rumors that SmartThings is 'dead'?
Is Samsung SmartThings Really Dead?
Some people say SmartThings constantly stops working, others have issues finding the hub.
So while there's evidence that SmartThings is still alive and well (such as a fully-functioning website!), why do people still say that it's dead, or dying?
Update Delays
On their forum, Samsung SmartThings announced that a new update would be rolling out on August 22nd, 2022. This update would fix bugs and performance issues that SmartThings users were having.
However, even after the date of the supposed release of the update, many reported that they still hadn't received the update.
Looking further on the SmartThings community board, Samsung themselves noted that the update could take up to a week to roll out completely. They even said it could be spread out over several days. So when a week came and went, many users were still confused – and annoyed.
There are different reasons that could affect the speed of the update. Issues such as internet connection and device compatibility are just two. While there is still support for the Samsung SmartThings v2 hub, some say the update doesn't come up right away.
Despite complaints, Samsung insisted it was still going to be, and is, rolling out the update little by little. While many have reportedly received and are enjoying the update, some users haven't had such luck. The solution in this case? Patience – and apparently lots of it!
Hard-To-Find Hub
This is one of the biggest reasons for the 'SmartThings is dead' rumor. Lately, some would-be customers are having a hard time getting a hold of the SmartThings v3 hub.
Because of this, rumors have spread that Samsung has stopped making them. After all, one of the first indications that a product is about to be discontinued is the sheer scarcity of finding it.
However, there is some truth to this particular rumor. Samsung has stopped making the SmartThings hub – but that doesn't mean it's being discontinued, nor is it dead.
Though it's been tough to find, the Samsung SmartThings hub is not being discontinued. Instead, Samsung has moved away from making their hardware, such as the SmartThings hub. Instead, they have contracted Aeotec to start making the hub. Because of this, users will see a huge similarity between Aeotec hubs, and the Samsung SmartThings hub.
Still, with Aeotec making them, it's been hard to find the hub in stock. The world health situation that we all are just now recovering from, has created a great deal of issues with supply and demand. I mean, just look at the car buying market!
Unfortunately, companies such as Aeotec are having problems getting certain components for the hubs. One such component is certain chips for the SmartThings hub. This in turn tanks production. As the supply of these components increases, so will the amount of Smartthings hubs. For now, it's more of a waiting game.
Ring Compatibility Issues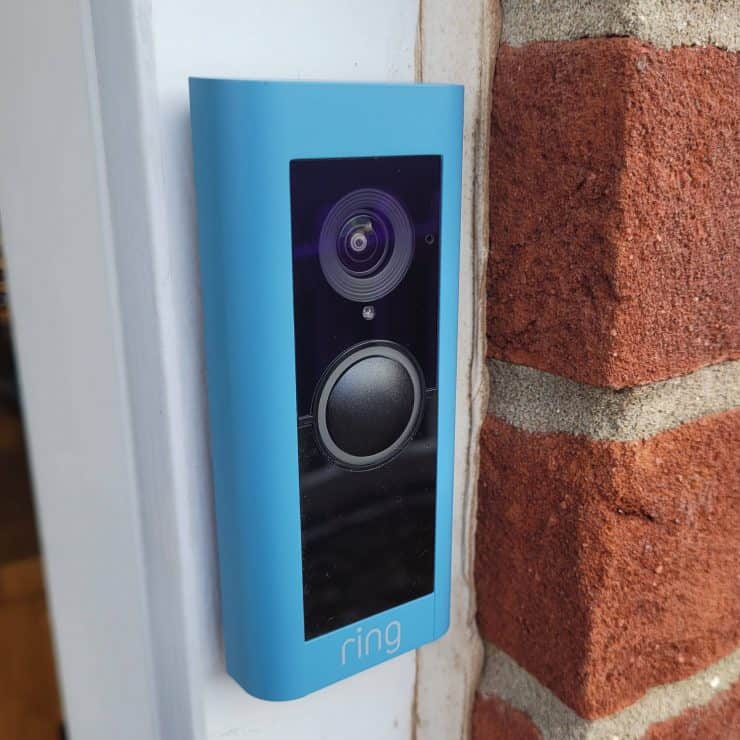 Some users have complained that SmartThings isn't working well with their Ring Video Doorbells. This is of course problematic, as Ring is one of the many companies that SmartThings is supposed to work with.
The fault doesn't lie with Samsung on this one. Ring themselves has made a note on their website that they have become aware of the situation. Some features such as Quick Replies, as well as certain functions with their Video Doorbells and cameras, aren't working as they should in the SmartThings environment. Ring states that they're working on the issue as we speak.
Equally some of Ring's newer products aren't supported at all, including the newer Doorbell Pro 2 (pictured above) which failed to work throughout much of 2021.
So while there are definitely some issues in that department, Ring is working on it. That issue in no way indicates the death of SmartThings, or the death of their ongoing relationship with Ring.
Alternatives to Samsung SmartThings
So let's say you're still put off by the rumors that Samsung SmartThings is dead, or you're fed up with their supply issues and wondering whether there's an end in sight.
Perhaps you're a Samsung SmartThings user and are just plain tired of it. Not to worry! When it comes to smart home automation, there are a few alternative smart home hubs that have you covered.
Amazon Echo & Alexa
First off, we've got Amazon's Echo, powered by Alexa.
Few smart home hubs have garnered as much publicity and fame as Alexa and the Echo. Even Super Bowl commercials feature America's favorite AI personality! And it's popular for good reason.
The Amazon Echo is compatible with wireless communication protocols such as Wi-Fi and (some) via Zigbee. Newer Echos can even serve as Zigbee hubs for products like Philips Hue. Everything is powered via the Alexa app where you add your devices, as well as create routines so that your devices work together.
Amazon is always updating and adding new features, making sure they stay up-to-date with the latest technology. They're compatible with almost every smart home device manufacturer on the market today, making smart home integrations a breeze. There are a wide range of Echo smart home hubs readily available at most retailers such as Amazon, Best Buy, and Target – so no supply issues here!
Home Assistant
Another popular option is Home Assistant.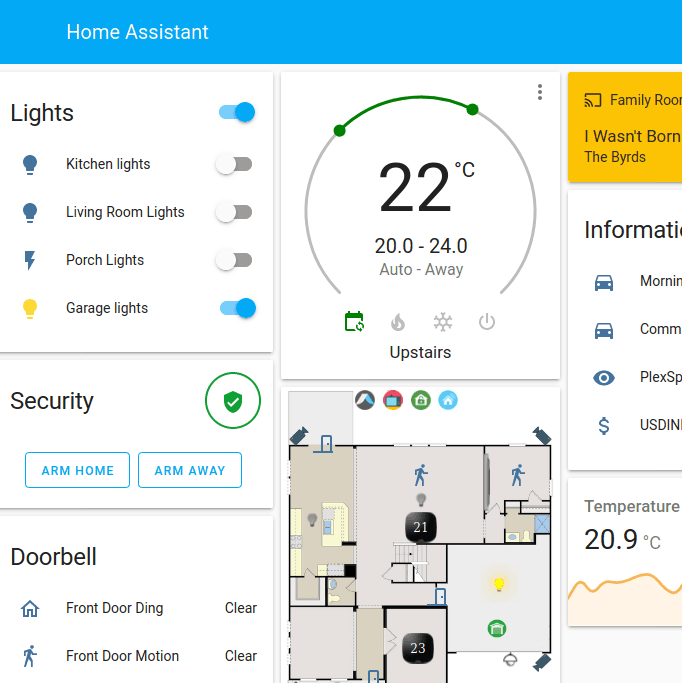 This one, though compatible with wireless communication protocols like Wi-Fi, Zigbee, and Z-Wave, can be a bit less user-friendly. Some describe it as a little tricky in the beginning-. However, once you get the hang of it, many people enjoy the fact that it's a little more customizable than most other smart home hubs.
For those that are pretty tech-savvy, Home Assistant has proved to be a great option. Many people have even been able to use it with other smart home hubs, thereby integrating all their devices onto one platform.
Google Home
Featuring the Google Nest products, Google/Nest Home is another contender gaining popularity in the smart home sector.
They have a wide range of products that can be used with their system. But their expanding compatibility has made it easier than ever to integrate your smart home devices into the Google Home system as well.
Apple HomeKit
Apple tends to be a bit more exclusive in their compatibility. So while they do offer a smart home hub via the Apple HomePod and HomePod Mini, the devices they work with are limited.
Apple Homekit is compatible with Apple devices of course, but also a select few others. Some of these include Logitech, Arlo, Eufy, LIFX, and Nanoleaf. If you use devices such as Ring, you may want to opt for a different smart home hub.
Alive and Kicking
All tech has issues at one point or another, and Samsung SmartThings is no exception to the rule. But to call it 'dead' would be jumping the gun. With the introduction of Matter, and being compatible with so many smart home brands, it actually seems that SmartThings is just getting started!
Still leery about the rumors and want to avoid SmartThings? Not to worry, there are a few other smart home hubs that you can connect your smart devices to. But few offer as much compatibility as SmartThings.