We love the convenience of smart devices, but wouldn't it be great to be able to put down the smartphone for a minute? There are plenty of ways to control smart devices, but can you control Kasa from your PC?
There is no official application that allows you to control Kasa from a desktop computer. There are several workarounds you can do such as using a Chromebook or iPad, using voice commands through an Amazon Echo or similar device, or relying on third-party apps like Apple homekit or third-party apps designed specifically for Kasa on desktop.
Here's how you can get in control of your Kasa smart devices from your Windows or Mac desktop PC.
What is Kasa, Anyway?
Kasa is an interesting smart tech company that is making big waves in an established market. Let's give a quick overview of Kasa, where this company came from, and what product they have to offer.
Kasa is more formally known as Kasa by TP-Link. That's right, the company that makes your favorite routers has recently jumped into the smart home businesses, and they're doing things a little differently.
Your average smart tech company tends to focus on a specialization. Hue handles your lighting, Ring focussed on cameras, you get the idea. Kasa dropped the specialization in favor of offering competitively costed alternatives all under one banner.
Kasa sells smart lighting solutions like dimmers, switches, and even LED light strips. They also offer Ring-like security cameras including their own smart doorbell. Kasa also offers smart plugs and outdoor plugs.
One thing Kasa doesn't offer is a smart desktop program.
Does Kasa Offer a Desktop Program?
It's pretty typical for smart devices to be controlled with mobile technology.
Hue, Google, and Amazon all favor using mobile apps and mobile devices to control their smart technology. Kasa is the same and does not offer a desktop program to control their devices. You'll have to use their mobile options if you want to control Kasa products with the Kasa app.
There are workarounds for controlling Kasa on desktop PCs, but we'll cover those later in this article.
A Quick History of Smart Desktop Software
Smart technology has always been about mobile devices. The focus has been on giving end-users total control from the palm of their hands without having to fire up their PC. To this end, it's been pretty rare to see a desktop-ready app from any smart brand:
There have been a few exceptions. Hue makes an app for Windows and Mac desktops (for Hue Sync), and Ring used to have support for both PC and Mac. SmartThings currently offers desktop support, and you can find third-party apps to run on your desktop that can control a variety of devices.
The most notable might be Apple's Homekit. Homekit works though iCloud which can sync your laptop, iPhone, and even your Apple Watch to give each device control over your home's smart devices.
Why Have So Many Smart Tech Companies Dropped Desktop Support
It really comes down to what these companies are designing for. The biggest selling point of smart devices is giving you total control over your home—even while you're away. The computer you're most likely to have whether you're at the office or relaxing on some faraway beach is your smartphone.
Your smartphone is also nearby when you're home. Your PC likely makes its home in an office, bedroom, or living room, but your smartphone is right beside you everywhere you go.
Another way to think about this is from the user's perspective. Would you rather run over to your desktop and boot it up just to change your lighting or does an app on your phone sound better?
There are still some great reasons for wanting desktop controls. They give you another layer of control, give you more options when you don't have your phone handy, and can act as an important backup when your phone breaks. However, desktop smart device controls are not currently a top priority for most companies.
Six Workarounds For Kasa On Desktop
Now we're going to cover a few workarounds that can help get Kasa working on your desktop. These aren't perfect solutions since there is currently no app directly from TP-Link that allows you to run Kasa on a desktop, but they do give you a lot of the features that you're looking for when it comes to controlling smart devices on your desktop computer.
Break Out Your Echo Show
Amazon Echo Show may not be a desktop PC, but it does give you a lot of the functionality you're looking for when you want to control smart devices from your desktop.
The larger Amazon Echo Show devices have 10 and 15-inch screens. While these definitely won't be replacing your PC's monitor, it will give you a lot more of the control that you're looking for.
You can even strategically place your Amazon Echo Show to get the functionality that you would expect from controlling smart devices from our desktop computer. Place some of these devices next to your desktop PC and dot them around the house will allow you to have seamless control over your smart devices without being so reliant on your smartphone.
Try a Chromebook
Chromebooks are interesting devices that aren't quite a laptop, but they're also not quite a tablet. They balance on an interesting space between being a mobile device and being a more beefed-up computer. One of the advantages they have for our purposes is that they work with the Android Play Store.
You can use your Chromebook device to install your favorite smart device controls as long as they have support for Android. These applications might not be optimized for your Chromebook, but you still get a lot of the control that you're looking for.
This is also a great choice if you do most of your work from a laptop anyway. Chromebooks are capable devices that offer all the coverage that you're looking for, but with a very lightweight footprint. You could even ditch the bulkier laptop in favor of something more agile that supports smart device apps.
Use Kasa on iPad
Another thing we're thinking about is just installing Kasa on your iPad. Your iPad supports the Kasa app which gives you an additional option for controlling your smart device: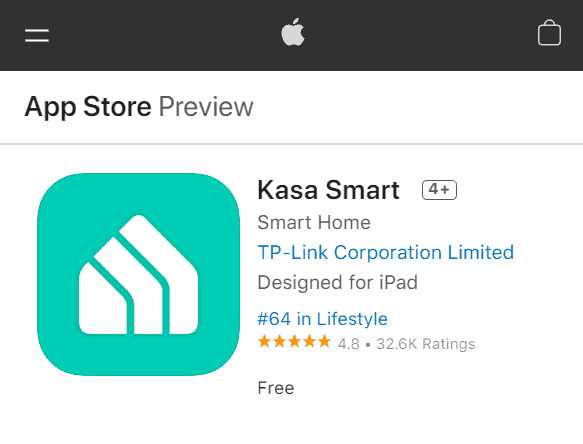 Your iPad also supports Apple's Homekit which can also be used to control Kasa and other smart devices.
Using your iPad is a great choice if your iPad typically remains parked in a few areas. We know plenty of people that keep their iPads near their desktop anyways so this creates a pretty seamless solution for an otherwise challenging problem.
If your iPad is integrated into your home media system, it also makes sense to add in support for all of your smart devices. This lets you control everything out of one device rather than juggling smartphones and other devices when controlling your entire home.
Install An Android Virtual Machine
VirtualBox is an awesome bit of software, that allows you to install loads of different operating systems – all from within Windows. This is often used by programmers or people wanting to play really old school games, but you can also install Android on the virtual machine. And then, of course, you can install the Kasa app without issue.
The first thing to know is that you should have virtual machine support enabled within your BIOS. Then you should install VirtualBox, and download the android-x86 virtual machine within it. The following video guide shows how to do this:
The neat thing about this approach (thanks to k1kwp in the comments for mentioning it) is that you are basically installing an Android phone – all within your Windows computer. It allows you to install lots of other smart home apps, too.
Try Out Voice Commands
One reason why people look for desktop applications that can control Kasa smart devices is that they need another point of control for their smart technology. One way to work around this problem is to use voice commands with Amazon Echo, Google Nest, or the HomePod.
These devices act as voice control hubs that you can place anywhere in your home. You could place one next to a desktop computer, in your kitchen, or even out in the garage to give you some control over your smart home without needing your smartphone on you everywhere you go.
Voice commands do take some getting used to. You need to spend a while getting used to the types of commands that your devices can accept as well as training your application of choice on your voice. These growing pains will subside with time and you'll be using voice commands like a pro before you know it.
For example, if your Kasa smart plug is called "study plug", you could say "Alexa, turn off my study plug". Or if you have a Kasa LED lightstrip called "living room light", you could say "Alexa, set my living room light to orange".
This does mean that you would not be able to have as many screens around the home. This has pros and cons as being able to visually inspect the settings for your smart home device gives you more granular control than you can get from voice commands.
Third-Party Apps for Kasa Desktop
The next thing that we have to take a look at are third-party applications that allow you to control Kasa devices from your desktop. It's worth noting up front that these applications are not made by Kasa or TP-Link which means that their support will be hit-or-miss.
It's also worth noting that Kasa currently has no plans to develop desktop support for their smart applications. This means that we're left with these workarounds, including third-party applications, until Kasa and TP-Link decide to build out their suite of applications.
You can find third-party applications that can control Kasa devices for both Mac and PC. There is TPLink Kasa Control made by UK company Rewster which is designed to work on Windows devices.
Another option is to download the mobile app, but run it on your PC or Mac via an emulator. This can get quite technical, but the install steps for 'Kasa Smart App for PC' runs you through this.
Technically speaking, Apple's Homekit also gives you third-party control over Kasa devices on desktop. The same can be said for SmartThings. There are several other applications out there that offer this functionality, but these are a few of the most popular choices.
Smart Tech Companies Still Offering Desktop Support
There's only a few options for smart tech companies who offer support for desktop devices.
Your best options are going to be with the OS that your desktop computer runs on.
Ring has discontinued support for their desktop app, so you can just write that one off. Philips Hue still has an app for PC and Mac, but that's about as far as smart device controls go on desktop.
Windows users have access to Connected Home and Cortana. All you need to do is configured Connected Home then Cortana can control all of your devices for you.
Get ready to say "Hey Siri" if you run a Mac. Mac OS desktop computers and laptops will be able to use Homekit to control their smart devices.
There are also the third-party workarounds we mentioned above. They give you control over your devices on desktop, but they do come with the added trade-off of not being officially supported.