Lutron Caseta are a premium smart switch brand, with a range of lights switches, detachable remotes, dimmers, and more. Since smart switches can often be better (and more user friendly) than smart lights, it's common for people in the UK, Australia and other non-USA countries to ask if they, too, can install Caseta products in their home?
The short answer is…
Searching for "Lutron Caseta" on Amazon UK, Australia and NZ shows various results, but the listed products are often unavailable to purchase – or the reviews say that they don't work in that country.
As a Brit myself who wants good quality smart switches, this got me wondering: what gives? Is it only America that can get good quality smart switches? Let's answer those questions by first exploring what the Caseta range is.
What Is Lutron Caseta?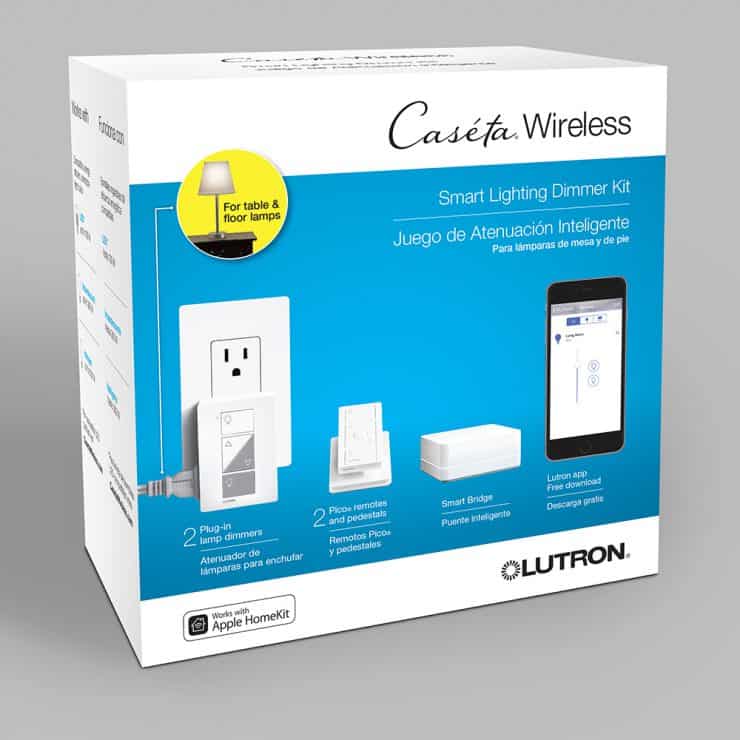 Caseta is a brand of smart switches, sold by the company Lutron. They are considered one of the best (if not the best) smart switch manufacturer. They sell smart switches, dimmers, smart plugs and more – and they are controlled with the Caseta Bridge.
Whilst they do sell detachable remotes (called Lutron Pico remotes), their main products are Caseta switches that get wired into your house's electrics: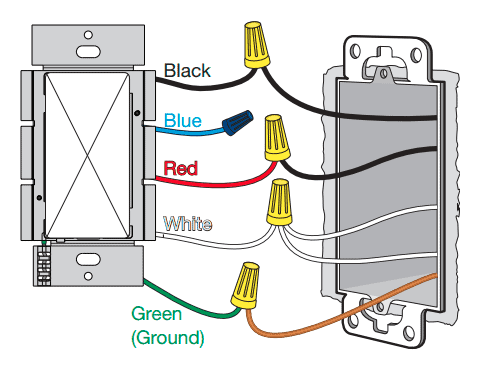 Most of Caseta's products run at 120V, which is the household voltage level within America. This poses a few questions though:
Since most other countries supply voltage to homes at 220-230V (the UK used to be 240V but is now 230V, in-line with much of Europe and Australia), can Caseta work there?
If not, why do Amazon appear to sell various Lutron Caseta products on their website?
If Caseta (the gold standard for smart switches) doesn't work in areas like the UK, Europe, Australia and New Zealand, what smart switches can you use there?
Let's answer those questions one-by-one.
Does Lutron Caseta Work Outside of America? (E.g. in the UK and Australia?)
If you were to purchase a Lutron Caseta starter kit (with 1 and 2-gang Caseta switches) from America, and then import it into another country (such as New Zealand or the UK), you will experience a range of issues:
The actual wiring diagrams for the Caseta switches almost certainly won't match up with your own country's wiring. Every country has different standards, codes and regulations for wiring, and this applies to electrical devices and switches too.

In other words, the Caseta switch instead probably can't be safely wired up into a UK home's electrics – even if you are able to match up the live, neutral and earth wires to the relevant parts of the Caseta switch.
There might be a wireless frequency clash between different Lutron products. The wireless protocol used by Caseta (Clear Connect RF) will be tied to a specific radio frequency (just like Wi-Fi is often 2.4 Ghz or 5 Ghz). However different countries have different rules on what radio frequencies can be used – Z-wave works on a non-standard RF band in Australia due to this.

This means that if you purchase an American Caseta kit, and then some Pico remotes from your own country, they might not immediately work together (if at all) due to them being produced for different frequencies.
Most of Caseta's products are rated at 120V, the American household voltage. But of course, many countries outside of America work on higher voltages – such as 230-240V. As a result, if you attempted to install a Caseta switch in a UK home (for example) the switch will eventually get damaged – but it could even be dangerous (such as causing an electrical fire).

Never wire-up a device rated on a lower-voltage at a much higher mains voltage

.
In other words, don't purchase an electrical product that was specifically designed for America, and then try and install it into a non-American electrical household. Bad things will happen!
But of course, Amazon are still selling various "Caseta" products outside of Amazon.com, so why is this?
Why Amazon Sells Caseta In the UK, Australia & Similar Countries
As I mentioned at the start of this article, if you go to Amazon UK or Amazon Australia (for example) and search for "Lutron Caseta", you get loads of results. So why is this, when the products don't really work in these non-American countries?
There's two main reasons for this:
Some of the "Caseta" results are for Pico remotes (or the Caseta hub), which can be used outside of America. We explore this in the next chapter.
Amazon sometimes lists 'global' products across all their websites. In other words, a product listed on America's Amazon.com might also appear on Amazon.co.uk (for the UK market) and Amazon.com.au (for the Australian market).
It's this second point that results in loads of "Caseta" products appearing on websites other than Amazon.com. But if you look closer, you'll see that many of the reviews are marked as "global reviews", and that often none of the reviews apply to the country you've browsing from:
I have seen the same on Amazon UK – a Caseta product is listed as available to purchase, but the UK-based reviews just say "the voltage is 120V, this is incompatible in the UK".
Amazon will eventually remove incompatible products from their respective non-America Amazon sites, but this can take some time.
So can you ever buy 'Caseta' products outside America? Well, some "Caseta" products actually aren't the hardwired Caseta switches – they are Pico remotes, or the Caseta hub. And thankfully, these can potentially work outside of America – which is why Amazon still list them outside of America.
The Only Way To (Sort Of) Make Caseta Products 'Work' Outside of America
Firstly, a bit of a disclaimer:
Whilst it might technically be possible to purchase a bunch of Caseta switches and jerry-rig it into a non-American home with the help of a step down transformer, you should not do this because it could be dangerous. Plus you might still run into a bunch of wireless frequency problems.
In my mind, the only reason for purchasing a "Caseta" kit in countries like the UK, Australia, New Zealand is because you want to use Pico remotes, and pair them with the Caseta Pro hub. This is a perfectly safe way of running Lutron products outside of America, since nothing needs to be wired into your house's electrical system. The Caseta hub is a plug-in device, and Pico remotes are detachable:
In this setup, you can pair the Pico remote with the Caseta hub, and then control any devices that you have integrated with the Caseta hub. For example, you might have a bunch of smart bulbs that support HomeKit, and by linking this with the Caseta hub, you can then turn the smart bulbs on and off using your Pico remote.
Whilst you can also turn bulbs on and off with voice control (such as with an Amazon Echo or HomePod), sometimes it's nice to have a physical remote that allows you to control your lights from anywhere in your home.
(This is partly why I like Philips Hue so much – their ecosystem supports other ZigBee-powered lights too – and all the Hue accessories including the smart button, dimmer switch and motion sensors can be used to smartly control the supported lights as you'd like).
Alternatively, people sometimes skip the Caseta Hub and instead go with Lutron RA2. Whilst the RA2 system is very expensive (Amazon UK are selling a single in-line RA2 dimmer for £132.37 right now!), RA2 is fully supported in the UK, Australia and New Zealand.
You can still use Lutron Pico remotes with RA2 too, meaning that if you're in a supported country (such as the UK or Australia), you can skip Lutron Caseta altogether and freely use Lutron Pico and RA2 without issue.
Of course, this will get expensive fast – so I wanted to explore some other non-Lutron smart light switch options below.
Alternative Smart Switches for the UK
It seems like smart switches are quite limited (or expensive) in the UK, probably because it's a smaller market so getting products licensed and mass-produced for the UK market might not always be worth it for companies. Nonetheless, the below smart switches seem to have fairly good ratings from UK smart home users:
Some of the above products could potentially be installed by a DIYer with electrical skill/competence, but some are best left to a qualified electrician. If in doubt, always call in an electrician.
Ideal Smart Switches for Australia and New Zealand
Whilst the choice of smart switches is limited in the UK, the situation for Australians and New Zealanders seems… very limited. (A technical description, I know!). For a variety of reasons, Australia and New Zealand often has a restricted choice of more niche smart home products – and smart switches unfortunately falls into this category. Nonetheless, there are some options open to you:
Aeotec modules seem to be highest up the list. These are Z-Wave modules that go behind the switch/wall plate. Just be sure to purchase from an Australian retailer, because American Z-Wave devices run at a frequency which is incompatible with Z-Wave in Australia & NZ.
Fibaro smart switches also frequently get mentioned in smart home discussions. This is another Z-Wave option, and Fibaro sell a hub to pair with any switches you purchase.
Shelly are an increasingly popular manufacturer of smart home products, and they are licensed in Australia. There are loads of different smart switch options by Shelly, so you should be able to find what you need.
Finally, Clipsal Saturn Switches are also Z-Wave and they have a wide product range choice too.
So there are options for people in Australia and New Zealand, although there does seem to be less choice than in the UK – especially if you want to avoid Z-Wave smart switches!