Home security systems have gotten smarter, but what good are all of these features if we can't hear the alarm? You might be forgiven for pulling all items out of your Ring Alarm Kit box, and wondering "where's the siren?".
The good news is that Ring has plenty of additional devices and features you can add to your home security system to improve the coverage of these security notifications.
Ring's security systems come with one siren and that's built into the base station. You can add sirens including the Ring Outdoor Alarm, Keypad, and the Indoor Dome Alarm. The Ring app and Professional Monitoring service also give users additional layers of alerts and coverage.
Here's the complete breakdown of all home security sirens, notification systems, and alarms offered by Ring.
A Quick Intro to the Ring Alarm System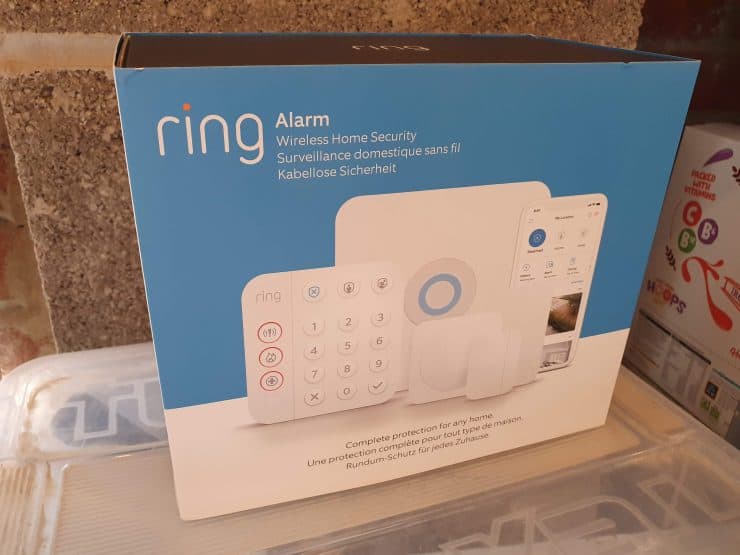 The Ring alarm system has quickly emerged as one of, if not the, best smart home security option that's widely available. It can be extended to dozens of tamper-proof alarm sensors, hook in with your Ring cameras and doorbells, and even connects you with professional security monitoring if you pay an additional subscription fee.
When Ring's security system first took off, it had one big problem. There is only one siren built into this alarm system and it was tucked away in the base station. This means that alarms that were looking to protect garages, sheds, and other locations struggled to get the attention they needed.
The good news is that Ring has addressed this hole in their security system. There are now plenty of ways to get notifications, alarms and sirens from your Ring security system. Let's break down some of the best ways to get the security notifications you're looking for from Ring.
A Guide to All of the Ring Alarm Sirens
We're going to start with a comprehensive guide to all of the sirens built into the Ring security system. This will cover everything from the classic base station all the way up to the security notifications that Ring sends to your smart devices.
We'll start with the classic and look at the Ring base station.
Ring Alarm Base Station Siren
The Ring base station is the core of any Ring security system. This is the central device that all other Ring security sensors connect back to. In fact, when you buy the Ring security kit, the base station comes with every possible combination of sensors and alarms.
It also packs a punch. It has a 104db siren that goes off if the alarm gets tripped. To put that into comparison, your average smoke detector has somewhere between an 85db minimum and a legal max of 110db. The Ring base station's 104db siren is louder than the average decibels from live music.
The 2021 base station (which is part of the Ring Alarm Pro package) also offers backup internet and local recording, which is a nice couple of added features compared to the first-gen base station.
Here's a few pros and cons for the Ring base station siren.
Pros
If you have a Ring security system, you already own the Ring base station
104db is extremely loud and will be heard outside of your home as well as inside
Cons
Limited placement options can hinder its effectiveness
Doesn't help with outside alerts
Only one siren means it's both easier to defeat and more susceptible to breaking down
Outdoor Ring Alarm Siren
Now we're moving up into more advanced, and optional, sirens for your Ring alarm system.
One of the biggest problems with the Ring base station is it just can't go outdoors. It's simply not built to stand up to the weather which limits how effective it can be as a security alarm. One of the advantages of an outdoor siren is that it alerts your community to a potential break in which also works to deter would-be thieves.
The Outdoor Ring alarm siren was designed to do just this. It has battery powered and hardwired options and is weather resistant. It's designed to be installed outside of your home on the wall.
This siren features a flashing red LED light and an alarm that goes over 100db. It also has a dusk till dawn feature which let's passersby know that your home is protected by Ring when the sun's down.
Pros
Loud, bright, and ideal for keeping your community alert
Purpose built to work outdoors
Can also add security to garages and sheds depending on range
Cons
It needs to be within 250 feet of the base station or a range extender to work
False positives can really upset the neighbors especially late at night
Indoor Dome Siren
The indoor Dome siren isn't actually made by Ring, but it is sold on the Ring website. Even though this isn't a Ring product, it does get the official stamp of approval.
The Dome siren is one of the best options if you're looking for a cheap, modular solution to extending the amount of coverage you get for your security alarms. It's got a bright red LED light and a 95db alarm which means it's going to rival every smoke detector in your home.
This siren can't go outdoors, but it is a great choice for adding a security alarm in places that the base station alarm would have trouble reaching like a basement or another floor of your home.
Pros
Cheap and modular makes them a great choice for adding more coverage
Loud and bright
Cons
Still needs to be within range of the Ring alarm base station
Does not act as a Z-Wave range extender
Can't go outdoors
Keypad Siren
Here's something that not everyone knows: there's a siren built into the keypad:
The Ring keypad siren is one of the best options if you're looking to expand the coverage of your alarms – especially since you can carry it around the house (or your backyard) with you.
What makes it stand out is that it's one of the few options on this list to actually add utility to your security system. It's not just another way of being notified that something's going wrong. It's a way of adding additional controls and an added layer of security to your home.
The drawbacks come when we consider the practical implications of the keypad. You're probably going to want to place this somewhere near a front or back door rather than in a location that would need additional alarm coverage like your basement.
It's also still dependent on being able to connect with the Ring base station (or an extender), which might mean that the alarm coming from the keypad it's probably going to get drowned out by the alarm coming from the base station.
Pros
Like the base station, you probably already have one
Gives you a natural second alarm in addition to the base station
1st and 2nd generation keypads have other features worth adding to your system
It doesn't need to be fixed onto a wall, meaning that you could carry it around with you (as long as you stay within range, of course)
Cons
No outdoor coverage and it still needs to be in range of your base station, unless you also use the range extender.
Realistically, there are limited placement options (Who's putting their only alarm keypad in their basement?)
The Ring App
We shouldn't overlook the Ring app when we are considering different ways that you can get alerts from your Ring security system.
Ring keeps rolling out new features for their app when it comes to security. You can independently adjust the LED lights, get notifications even when you do not disturb modes activated, and take full control over your security system from your app.
These features make the Ring app an absolute necessity if you're using the Ring security system. Well it won't add any additional layers of security to your home, the app will give you instant notifications and total control over your Ring security and alarm systems.
Pros
Works when away from the base station
You've likely almost always have your phone nearby
Combines alerts and controls in one device
Cons
No added security, just notifications
Won't notify you if your phone's Wi-Fi and mobile data are turned off
Professional Monitoring
Ring offers professional monitoring for their security systems. This feature is not essential and your Ring alarm kit will work just fine without it, but it does add a layer of security that is almost indispensable.
The professional monitoring gives you instant access to every alarm notification your system gives. You'll also be contacted by a professional security monitor when your alarms go off. You can either confirm the alarm and have emergency services sent to your home or they can be automatically dispatched if you can't answer the phone.
There are also other benefits to this professional monitoring service. The cellular backup service is particularly important. It allows your ring alarm system to keep operating even if your internet goes down.
Pros
Alarm cellular backup
Talking with a real security professional when you have an alarm
Automatically calls for emergency services if you confirm the alarm or can't answer
Cons
It now costs $20 every month, as part of the revised Ring Protect Pro plans
Every Way of Being Notified by Your Ring Alarm: Ranked
Now that we've gone over all the pros and cons of every type of alarm you can add to your Ring home security system, how do they all stack up? Let's rank these alarms from the most vital to the most optional.
Starting from the top:
Ring Base Station – Your alarm system simply won't work without it and it gives siren coverage for the entire indoors of most homes
The Ring App – You get all of the notification and controls in one place plus the smooth functioning of the in-house app
Ring Professional Monitoring – The added cost isn't that much when compared with all of the features this service unlocks
Ring Outdoor Alarm – The loud siren and flashing LED light will tip off your neighbors to anything going wrong in your home
Ring Keypad – This additional siren also adds another layer of security features and basic controls
Indoor Dome Siren – The most optional addition, this siren is great for adding coverage in places like basements, garages, and external stores like larger sheds