After shelling out $200 for a Nest doorbell or $349 for the Nest Cam IQ Outdoor, you could be forgiven for baulking at the $60 per year "Nest Aware" subscription fee on top. This is especially true when Ring's "Protect" subscription plan starts at just $40 per year. So are you able to skip the Nest Aware subscription?
Whilst you'll still be able to view in real time from your 1st gen Nest devices, nothing will be recorded without a subscription. Having said that, the newer Nest models do record motion-activated recordings for a few hours, which is better than nothing.
What Nest Aware offers
At first glance, Nest Aware seems expensive compared to Ring's plans, since Aware starts at $6/month but can be up to $12/month. This compares to Ring Protect Basic for just $4/month. But as it turns out, they aren't directly comparable: Nest Aware covers all your Nest cameras/doorbells, unlike the Ring Protect Basic plan that only covers a single device.
The general features you get from a Nest Aware subscription are:
30-60 days of video recordings (depending on whether you pay for the $6 or $12 per month plan).
Intelligent alerts which uses Google's AI to smartly detect people or sounds that you may need to check-out, and sends them onto you.
Activity zones, allowing you to customize the parts of your house/property that should trigger motion alerts for. This is useful if your Nest device is triggering too many notifications, based on overlooking a busy area.
Share clips easily with your friends and family, for as long as they are in your video history (i.e. for 30 or 60 days). You can also download these clips easily to store them permanently.
As hinted at above, there's two different plans: the Nest Aware which is $6/month (or $60 per year), and then the Nest Aware Plus at $12/month (or $120 per year). There's two big differences between the two plans:
With Nest Aware Plus, you get 60 days of video recordings (not just 30 days).
Also with the Plus plan, you get 24/7 recording – and these 24/7 recordings are kept for 10 days. In other words, motion based recordings are kept for 60 days whereas the rest of the recordings are kept for 10 days.

This is a significant improvement over Ring, which still doesn't offer 24/7 recording despite promising this back in 2018.
The price for each Nest Aware plan varies a little around the world:
| | | | | | |
| --- | --- | --- | --- | --- | --- |
| | America | UK | Canada | Germany/Europe | Australia |
| Nest Aware | $6/month ($60/year) | £5/month (£50/year) | $8/month ($80/year) CAD | €5/month (€50/year) | $9/month ($90/month) AUS |
| Nest Aware Plus | $12/month ($120/year) | £10/month (£100/year) | $16/month ($160/year) CAD | €10/month (€100/year) | $18/month ($180/month) AUS |
Nest Aware plans, with their price for different countries around the World
Nest Devices That Might Benefit From Nest Aware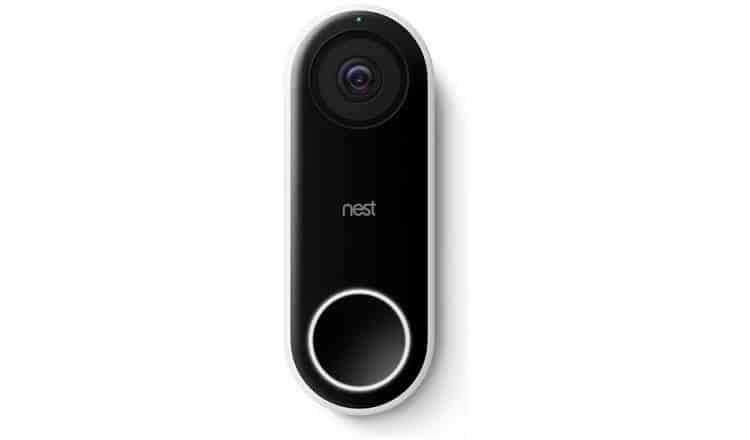 Whilst the Nest Hello is the best selling smart camera/doorbell from Nest, they have a bunch of other devices which will also benefit from Nest Aware – including some of their 'smart speakers', i.e. the ones containing a camera.
The full list of devices which can benefit from a Nest Aware subscription are:
Nest Hello (their 1st gen smart doorbell – wired only)
Nest Doorbell (their 2nd gen smart doorbell – available as battery or wired)
Nest Cam Indoor (their smart camera)
Nest Cam Indoor IQ (has extra recognition features, and a speaker)
Nest Cam Outdoor (their smart camera for outdoor use)
Nest Cam Outdoor IQ (their outdoor camera with extra features)
Nest Hub Max (their smart speaker which also has an integrated Nest Cam)
The benefit of the Nest Aware plans is that a single subscription covers all your Nest devices, meaning that for $6/month you can cover loads of Nest doorbells/cameras. This compares to Ring which only covers all devices on their Protect Plus plan at $10/month.
Of course, the reverse is also true: if you just have a single Nest device, you have to pay $6/month (or $60 per year) to get the 30 day's of recording (and intelligent notifications), unlike Ring which can cover a single device for just $4/month.
So what happens if you decide that $6/month is too much for you? Well, read on to find out.
Skipping Nest Aware for Your Nest Doorbell and Cameras
Hello is worthless without a Nest Aware subscription

u/goliveyourdreams, Reddit, June 2018
The above is a direct quote from a user on Reddit who had a Nest Hello Doorbell but didn't pay for the subscription. Unfortunately, even though the post was from June 2018, the number of features you get (or don't get!) without Nest Aware is still broadly the same.
In other words, without a subscription you don't get:
"Intelligent alerts", i.e. phone notifications that Nest think are important enough to send to you. Instead you'll receive all alerts for motion, even if they're for cars or animals passing by.
Any saved video recordings of captured events.
Still images (more on this later) are deleted after just 3 hours.
2022 Update: Thankfully Nest realised that this situation was not ideal, and they announced that the new Nest Cam and Nest Doorbell (released in late 2021) will record motion-activated video… for three hours. After this point, the recordings are lost. While not perfect, it is better than the situation with Nest's first generation of devices.
This seems like fairly crucial flaws in Nest's doorbells and cameras which market themselves as security devices, but what do you get? Well, without a Nest Aware subscription you'll still get:
The ability to watch the video stream live, whenever you want to.
Notifications if someone presses the Nest Hello doorbell.
Motion based alerts, but for everything (not just important alerts).
Image snapshots which fill in your 'Sightline' (basically the timeline of different events/recordings from each device). These are taken when your Nest doorbell/camera detects a face or relevant motion, and takes a still image of it. This is useful for seeing who has come to your door, however these still images get deleted after 3 hours (without the subscription).
For some people that's enough, for others it's not. I suspect that if you've bought a pricey Nest Outdoor IQ camera (i.e. with all the extra features that the 'IQ' introduces), it'd be annoying to lose some of the features from the aware subscription.
But if you picked up a cheaper Nest Cam Indoor in the sales and you just wanted to check in on your house from time to time, the subscription would be less useful.
How No Nest Aware Compares to No Ring Protect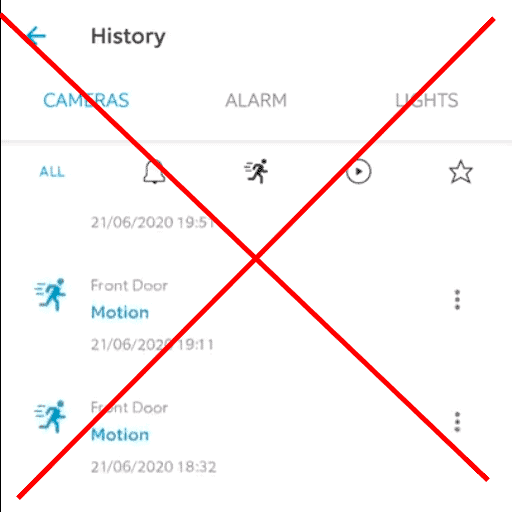 Throughout this article, I've been half-comparing the Nest Aware plan to Ring's Protect plan. I wanted to finish with a final comparison between the two: what do you get (or not get) if you don't have a subscription to each?
| | | |
| --- | --- | --- |
| | Nest devices | Ring devices |
| Motion notifications | Yes | Yes |
| Enhanced notifications (e.g. people only notifications) | No | Yes |
| Doorbell-press notifications | Yes | Yes |
| Video recordings | No | No |
| Still image snapshots | Yes, for 3 hours | No |
| Activity zones | No | Yes |
| Real time viewing | Yes | Yes |
| Share videos with others | No | No |
Features you do/don't get without a Nest and Ring subscription.
So they are fairly similar overall, but the inability to configure activity zones (which Ring call 'motion zones') – and also receive filtered-down notifications of only the most important events – could mean that you get bombarded by notifications whenever a car or animal goes by.
This isn't too bad if you live in a secluded area – any motion event could be important, meaning that it'd be good to know about it. But if your house is near the road, you'll get lots of motion.
With a Ring device (and no Ring subscription plan), you can still adjust your motion zones and turn on "people only" mode to get less notifications. But this isn't possible with Nest, unless you pay for the subscription.