(This newsletter was originally sent to subscribers on 8th March 2023)
Hi I'm Tristan! Welcome to today's Smart Home Point newsletter.
Today's newsletter is a little shorter than previous ones, because not much has happened in the past few weeks… apart from Ring screwing over their customers. Again.
News: "An Update to Ring In-App Features"
Ring posted the following message on their help pages, saying that some changes would kick in from March 29th 2023:
It sounds innocent enough, and actually part of the announcement talks about "Updated features" – implying that many Ring are improving some existing features?
Yeah, nope.
Unfortunately Ring have decided to take away the popular home and away modes from free Ring users. In other words, if you previous armed your Ring alarm system – or controlled your cameras and doorbells via modes – you now won't be able to do this (unless you buy a Ring Protect plan for your devices).
Subscription-less Ring Alarm customers will have to resort to using the Keypad. Equally, the alarm event history and some real-time notifications will also be lost to free customers.
This is a pretty frustrating set of changes. It's naturally annoying for Ring doorbell/camera owners who use modes, but it also massively nerfs the Ring Alarm system if you wanted to manage the system yourself. You're now almost forced into paying for a monthly subscription.
News: Ring's Founder & CEO Steps Down
The founder of Ring – Jamie Siminoff – has quit as CEO of Ring, however he is staying at Amazon-owned Ring as Chief Inventor.
This role will see him have less to do with the company's financial management, and more to do with the key role that originally made Ring famous: inventing new products.
When I first heard that Jamie was quitting from his own company, I wondered if it had anything to do with Ring nerfing their subscription-free tier (again). But since he's staying around, it probably is just due to Jamie wanting to spend more time inventing cool products.
Blog Post: Ring Camera/Doorbell Lens Has Popped Out? Here's What To Do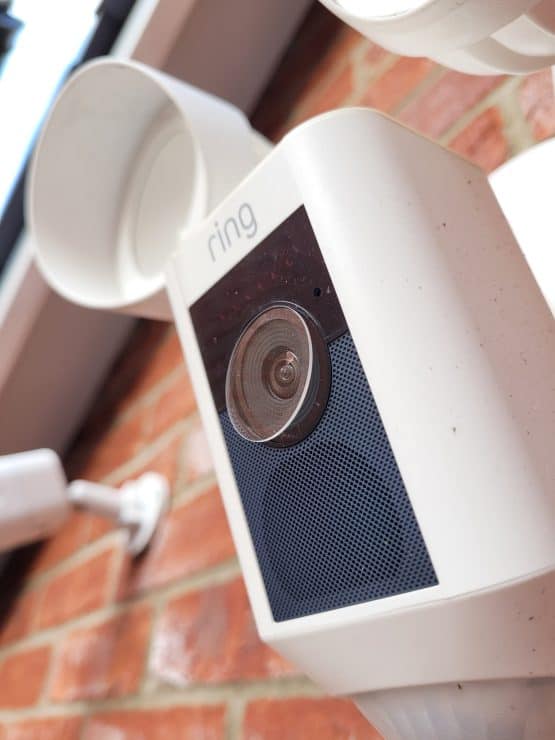 The plastic lens cap of my Ring Floodlight Cam Plus popped out recently – it's only 1½ years old too!
I read some bad advice online about what to do in this situation (including people saying to glue the cap back – even though this can further damage the sensor). So I wrote up what you should ideally do instead.
Two New YouTube Videos Incoming
I'll be releasing two new YouTube videos soon – one covering SwitchBot's Hub2 and their Matter support, and another covering an upcoming product called The Boring Lamp.
SwitchBot were kind enough to send me a pre-release version of their Hub2 so I could start playing around with it, and test out their Matter support too. This allows SwitchBot to finally offer HomeKit support on many of their products, including their SwitchBot Curtains and Blinds range.
The second video will cover The Boring Lamp, which is an intentionally ironic name because it's a pretty awesome sounding lamp with a range of cool features – from music sync to lightsaber battles.
I'm excited for both videos, and I'll provide more details on them soon. The SwitchBot one should be released towards the end of March 2023, once the Hub2 actually goes up for sale.
In Other News
Two other interesting smart home articles that I read recently are:
Apple Insider covered Sonos' new Era 100 and Era 300 smart speakers. They have improved spatial 3D audio, AirPlay 2 support, a redesigned user interface and a bunch more. The onboard smart speaker still doesn't support Siri, though, instead continuing with Alexa and Google Home support.
ArsTechnica syndicated an article from the Financial Times discussing how Amazon's big dreams for Alexa fall short. It covers similar ground to The London Times article I discussed in my previous newsletter, but it also touches on how the rise of AI will affect smart speakers and voice assistants.
Wrapping Up
That's it for today's newsletter – thanks for reading. I was disappointed to see Ring nerf Ring Alarm support even more. They basically doubled the subscription price a couple of years ago, and are now removing a key feature (home and away in-app arming) for users who wanted to skip the subscription.
Ring are increasingly becoming a subscription only service, and I can't say I'm too comfortable with that. I could see myself switching away from Ring cameras in the future, as a result.
As always, if you have any questions (or just want to say 'hi'), please feel free to reply to this email.
I'm aiming to send the next newsletter out in a few weeks. Until then, have a good one!
– Tristan