The rumor mills are always buzzing about one thing or another. Anything from celebrity gossip, to when the world will end. Unfortunately, the smart home sector doesn't escape the rumor mills.
First was the notion that Samsung SmartThings was being fazed out. Now the buzz is – is Philips discontinuing Hue? Philips Hue is practically a household name and is part of the smart homes of millions of customers worldwide. Can they really just up and discontinue it? What's making people wonder this, and is there any truth to it?
Key Points
Some Philips Hue products had temporary stock issues throughout the pandemic.
Certain products (such as the Hue Bridge version 1) have been discontinued.
However Philips/Signify are not discontinuing the entire Hue range; it's here to stay.
Recap: What Is Philips Hue?
Philips Hue is one of the most popular brands of smart lighting. Their extensive line is most known for its smart bulbs that come in a plethora of sizes and can display an almost infinite array of colors.
But they offer far more than great smart bulbs. Hue also has light strips for both indoors and outdoors.
They're one of the only companies that offer high-quality gradient light strips. Instead of displaying one solid color, gradient light strips gradually change color throughout the strip.
All of these lighting products use the wireless communication protocol, Zigbee. Zigbee, unlike Wi-Fi, is a mesh network. Mesh networks use nodes to connect to one another. Each node connects to the next, as opposed to connecting to only one central location.
The nodes in the Hue Zigbee system are the lighting products themselves, such as the bulbs. They all work with the Hue app, via the Hue Bridge. A Bridge is required in order to use Hue smart lights. It translates Zigbee to Wi-Fi, and vice versa, so that they can communicate with the Hue app, where you control your lights from.
You can customize themes so that the lighting matches the time of day, or even gives you optimal lighting for relaxing. Phillips Hue also works with smart home hubs such as Alexa and Google Home, allowing all of your smart home devices to work together seamlessly.
As popular as Philips Hue is, some people seem to suggest that it's being discontinued. How come?
Philips Hue Discontinued – Why the Rumors?
With such a successful company, why are there rumors that Philips Hue is being discontinued?
Supply Issues
First, let's talk about supply issues. During the pandemic, some Hue products had been increasingly hard to find. These included such products as some of the A19 and E26 white and color ambiance bulbs.
Before they're discontinued, many products go through a period of time where it's hard to find them. This left users wondering if Philips Hue was going to suffer the same fate as so many businesses at that time – failure.
Hue Bridge v.1 Announcement
Another reason this rumor discontinuation rumor started, is because of the announcement regarding the Hue Bridge v.1.
Philips Hue announced that support would soon end for the Hue Bridge v.1. This would mean no more updates, as well as loss of support for the Hue Bridge v.1 mobile app. One of the first indications of a business' demise is gradually losing support for some of its devices. This led Hue users to be concerned and wonder if other products would soon be affected as well.
Zigbee and Matter Compatibility
The issue with Zigbee and the Matter protocol was also of concern to many – at least those who were aware of the situation. Zigbee is a well-established wireless mesh network, while Matter is an emerging IP-based protocol that's designed to unify different communication protocols.
While the 'ZigBee Alliance' (since renamed to the Connectivity Standards Alliance) is an active part of the Matter project, ZigBee itself isn't one of the core technologies within Matter. Wi-Fi, Thread and Bluetooth Low Energy are the main protocols within Matter. With this in mind, some people were concerned about the future of Philips Hue – a ZigBee-heavy product.
Company Name Change
A company name change also sparked the interest of the rumor mills. In May of 2018, Philips Lighting announced that it had changed its name to Signify. Philips Hue still exists, but it's now under the parent name of Signify. The company has retained the product line name of Philips Hue, possibly to make it easier on customers they had before the name changed.
Some sources would have you believe that Philips and Signify are one and the same. Rather, they work hand in hand, Philips still being in existence, but now under the name and company, Signify, along with other brands such as Wiz.
So with all of these incidences occurring, is there any truth to the rumors that Philips Hue is being discontinued?
Is Philips Hue Being Discontinued?
In a nutshell, no, Philips Hue is not being discontinued. Take a look at the facts…
Philips Hue is one of the most popular brands of smart home lighting available today, serving over 19 million customers in 140 countries! The fact that they're always introducing new products that people eagerly buy, highlights just how popular they are. With such a profitable company, it's very unlikely they'll be going out of business anytime soon!
When it comes to supply issues, because of the pandemic, let's face it, most things suffered a tank in supply. This, however, was moreso at the height of the pandemic. Supplies have since increased and though supply issues still affect some countries, in general, Hue products are found more easily now. At the height of the pandemic, toilet paper was scarce too but we knew they weren't going to stop making toilet paper! That would be bad…
Though support has been removed from the Hue Bridge v.1, the Hue Bridge v.2 is fully functional and receiving regular updates.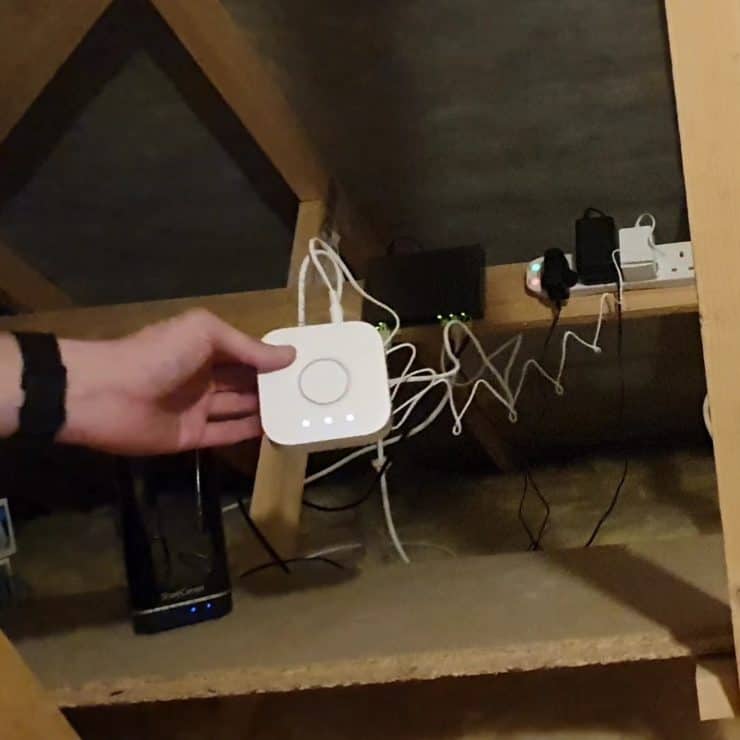 Another reason we know Hue is sticking around, is they are now getting compatibility with Matter. However, this is via a software upgrade to the Bridge, as Zigbee still isn't compatible with Matter. There's no word as to whether it ever will be. But Philips Hue, wanting to be part of the action with Matter, has made a way so that even though Zigbee isn't directly supported, Philips Hue can still be part of the wave of the future.
Now, even though Philips Hue isn't being discontinued, are there any specific products that they have sent out to pasture?
What has Philips Hue Discontinued?
While Philips Hue as a whole hasn't been discontinued, they have gotten rid of support for certain devices over the years.
The most notable change is regarding support for the Hue Bridge version 1. As of April 30th, 2020, Philips Hue announced that there will no longer be any updates for the Hue Bridge v.1. In addition, any online support would also be terminated at that time. As of April 30th, 2022, support for the Hue Bridge v.1 mobile app has also been discontinued.
This, however, doesn't indicate that the entire brand will be discontinued. As technology advances, companies make adjustments so that they can support and continue to improve newer devices. It also helps them focus on making newer products for their customers.
Older tech may have outdated components that won't be useful in the future, or can't be easily updated. To that end, companies, such as Philips Hue, decide to discontinue older products in order to focus their efforts (and money!) on newer ones.
This was the case when it came to Hue Lux, the first generation of bulbs designed to work with the Hue Bridge v.1. The Hue Lux line has been officially discontinued, and was replaced with the bulbs that many Hue users have come to know and love today.
What Would Happen If Philips Hue Was Discontinued?
Now let's say, hypothetically, Philips Hue were to be discontinued. Millions of homes that own Philips Hue products would lose support. If there's someone with oh, say, 10 bulbs in their home, with each bulb costing roughly about $30, that person stands to have $300 worth of products that they couldn't even use – and this isn't even counting the Bridge!
The bulbs may still be able to act like normal bulbs that turn on and off at the switch. However, changing colors and themes may not be possible. Zigbee needs to be translated to Wi-Fi via the Hue Bridge in order to work with the Hue app. No Wi-Fi and no connection to the app = no special lighting.
This also applies to voice commands (for example to an Amazon Echo that has been paired with Philips Hue): without cloud control, the cloud-based voice assistants would also fail to control your Hue products.
NB: Thankfully, though, offline control via HomeAssistant and Hubitat would still work fine for Philips Hue. That's a big benefit of Philips Hue's ZigBee approach: even if Hue's cloud control breaks, offline ZigBee controllers could still control Hue lights.
Pre-setup Hue accessories (like the dimmer switch and motion sensor) would also control your Hue lights without issue, since these would use ZigBee to directly communicate with your Hue lights.
Hue also sells Bluetooth products:
The range is shorter, about 30 feet (10 meters) but no Bridge is required in this case. You'd simply open the Hue Bluetooth app and connect all of your devices directly to them via Bluetooth.
Homes with Bluetooth models might experience less of a disruption. However, with no updates to the devices or app, these would soon become useless as well. No Philips Hue means zero support and millions of very unhappy former customers.
Fortunately, this isn't a scenario you have to deal with! Philips Hue/Signify is thriving and will continue to provide the modern smart home with top-tier lighting products for years to come.
Here To Stay
Rumors about Philips Hue being discontinued, spurred on by supply issues and the scrapping of the Hue Bridge v.1 swirl about. But not to worry, Philips Hue is here to stay.
With the introduction of Matter support, Hue is fully grounded and will continue to serve their millions of customers worldwide.