Philips Hue is still one of the biggest and best names in smart home lighting. Their Gu10 lights are an ideal choice for modern looking homes who want that recessed lighting style.
The only problem is that the Gu10 standard is a little inconsistent and Philips Hue Lights has also changed the size of their lights with the newest generation. This is causing some problems for smart lighting enthusiasts.
The new generation of Philips Hue Gu10 lights are smaller than the first generation – around half an inch shorter, in-fact! Whilst this is good for people with small downlight fittings, this is also causing sizing and fit issues for people who use this recessed lighting. The good news is that there are some quick solutions to get your interior design back on point!
The History of Philips Hue Downlights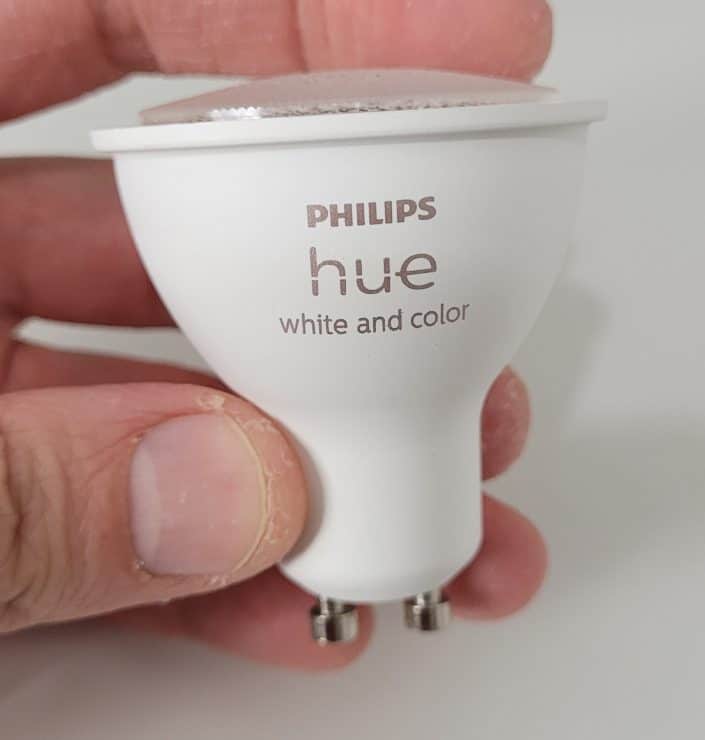 Hue got its start in 2012 as an Apple exclusive. This was the flagship smart lighting tech of Apple at the time. These lights used Zigbee Light Link communication and had your basic suite of smart functions.
Fast-forward to today and the Philips hue lights world looks completely different. Philips Hue is no longer an Apple Store exclusive and their product range covers nearly every conceivable home lighting need.
The Philips Hue Downlights are part of the modern wave of recessed lighting. These lights are installed into the ceiling rather than as part of a hanging light fixture. They look modern, eliminate the need for hanging fixtures, and can provide new style and lighting options for homeowners.
Philips hue lights has two generations of their downlights. Let's take a look at the difference between them.
Two Generations of Philips Hue Downlights
The Philips Hue Downlights are split into Gu10 First Generation and Gu10 Second Generation. While they are the same essential product, there are some clear differences to point out.
The first Hue Gu10 light was an early smart lighting product. While these lights still work great today, they are missing out on some of the nuances modern lights have. They also run on an older Zigbee format which can complicate their usage.
The second gen Gu10 lights from Philips Hue are much more modern. They are decently brighter: at 400 lumens (for the white and white ambiance), or 350 lumens for the full color bulbs. This compares to up to 300 lumens from gen one:
| | |
| --- | --- |
| Bulb | Lumens |
| Philips Hue GU10 Gen 1- White or White Ambiance | 300 Lumens |
| Philips Hue GU10 Gen 1- White and Color Ambiance (full RGB) | 250 Lumens |
| Philips Hue GU10 Gen 2 – White or White Ambiance | 400 Lumens |
| Philips Hue GU10 Gen 2 – White and Color Ambiance (full RGB) | 350 Lumens |
The brightness (lumens) of each Philips Hue GU10 downlight.
They also have better color science. This means they can reproduce colors with greater accuracy. This improves your home lighting and gives you more granular control as well as a higher bar for lighting options.
The biggest change between gen one and two was the addition of Bluetooth. While gen one ran on Zigbee Light Link, gen two is all about Zigbee 3.0 and Bluetooth. This boost in connectivity also came with a reduction in overall size.
The Exact Width & Length Of Hue's GU10 Smart Bulbs
Let's get down to the root of today's smart tech conundrum: lighting size.
The new Philips Hue Gu10 lights are quite a lot smaller than the first generation. Why is this?
Even with the addition of Bluetooth technology and the power boost, this light is still considerably smaller than the first generation. While it's not too much smaller compared to the first gen, it might be too small for your Gu10 fixtures to accommodate.
The first generation of Hue Gu10 lights were 50mm wide by 72mm long. This puts them more in pace with old halogen lights than modern LED bulbs, and the Amazon sales page has a suitable warning about their length (although the 0.1″ part seems wrong to us – the first gen GU10 bulbs are longer than this in our experience):
this GU10 LED smart flood light is Ideal for use in open recessed and track heads longer than 2.2 inches. This bulb measures 0.1 inch longer than traditional GU10 bulbs.

Philips Hue GU10 Gen 1, Amazon.com sales page
The new generation of smart Gu10 lights from Philips Hue are just 50mm wide by 58mm long. That's nearly square and nearly a 20mm shortening, and you can see that it looks like a typical (non-smart) downlight: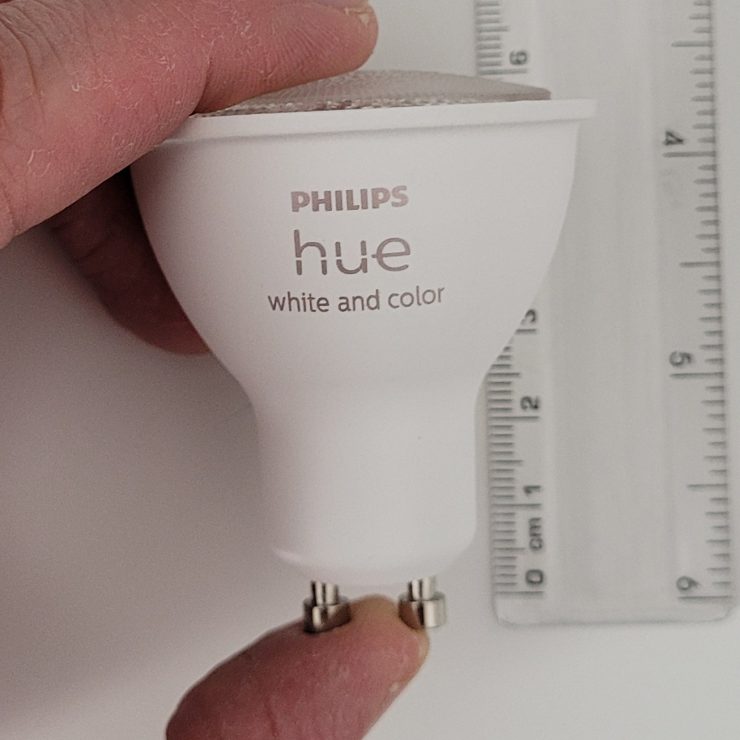 This change was bound to cause some issues.
Philips Hue GU10 Downlight Too Long – Size Changes and Fit Issues
Here's the core of the problem, these lights can be plugged into the same fixtures as long as they can fit.
If you have Gu10 fixtures designed to accommodate the larger and older Philips Hue models, then the newer generation might be a little too small. This could cause problems when it comes time to change or install new light bulbs. It can also lower the total output, cause lighting problems, and cast unpleasant shadows if the size difference is really extreme.
On the other hand, we have smaller Gu10 fixtures struggling with the larger and older generation of these lights. While it won't impact your light output, cast shadows, or be hard to change out, it will look a little off. Having Gu10 fixtures that are designed for shorter lights means that nearly 20mm of the 2nd generation bulb will be hanging down from the wall.
It kind of defeats the purpose of recessed lighting if it's not, you know, recessed.
How did Philips Hue get into this problem in the first place?
The Problem With Gu10
Here's the crux of the issue. That Gu10 standard that everyone uses for their downlights doesn't actually have anything to do with the lamp itself.
Gu10 is a standardized size for the lampholder. That's the base of the light. The light itself can be any size and still count at Gu10. Normally, Gu10 lights are all standard to within a few mm of each other. This helps them fit into the standardized housing.
There can be all kinds of fit issues between the Gu10 lampholder, the socket the light connects into, and the lamp. While the Gu10 base and the socket are usually great friends, the lamp can cause a lot of trouble if it is too wide or too long for the housing.
Our new era of smart technology is changing the size of the actual lamps. With the adoption of LED technology, these lamps don't have to be anywhere near as big as the old halogen bulbs needed to be. Paradoxically, some smart LED lights are actually larger than their old-fashioned counterparts due to the addition of Bluetooth and other smart tech. This means conflict with the Gu10 standard was bound to happen sooner or later.
A quick recap: Gu10 is the standard for the size of the base of the light, not the actual light bulb itself. Smart and LED tech are experimenting with the standardized size of lighting. A fact that was bound to put them in conflict with the Gu10 standard.
How Can You Get Around This Problem?
As with all smart tech problems, there are smart tech solutions.
Okay, these solutions are less "smart tech" solutions and more quick and easy fixes for having mismatched Gu10 lights and fixtures.
Here's how you can quickly get your ceiling back to looking like the picture of modern interior design.
Upgrade Your Smart Downlights
If your Philips Hue Downlights are too large, and they're hanging out of your fixtures, then all you need to do is upgrade to the 2nd generation model:
This will give you a shorter light that can fit more easily into smaller Gu10 pots. That's about as easy as this fix gets!
Roll Back a Generation
This is the inverse of our last fix. If your lights are just too small for your Gu10 sockets, then it's time to go back in time and pick up 1st generation Philips Hue Downlights.
Luckily, most online retailers, like Amazon, stock both the new and the old generation of Gu10 downlights. While this does cause confusion when people think they are getting the same size lighting, it also lets you buy the size you need to optimize your home's look.
Our next option is ideal for people who are just setting out in their recessed smart lighting adventure.
Change Out Light Fixtures
If you are looking to remodel and make some changes, why not change your Gu10 fixtures while you're at it?
There are countless options for Gu10 fixtures on the market today. If you are lucky enough to be remodelling and are looking into recessed lighting, it's a good idea to match your fixtures and your lights before you start work. This way you will always have the best possible match and not be caught out halfway through your build.
Already got Gu10 fixtures installed and want to make an easier change?
Mod Your Light Fixtures
There's always a DIY solution. Always.
This DIY hack involves modding your fixtures. You can either add a lip on the edge of the filter to make them more compatible with your larger lights, or build a bracket to adjust your fitting to the relevant (small) light:
Equally if your only real problem is changing the bulb, you can invest in a recessed light bulb changer. These handy little tools are basically a broom handle with either a light bulb-shaped grabber at one end or just a suction cup.
They can let you remove and install flights in hard-to-reach places. (Like a short generation 2 Philips Hue Gu10 in a pot meant for generation 1 sized lights.)