Philips Hue's range of smart bulbs is set apart from many other smart bulbs because Hue requires a separate Hub (also called a Bridge), and the bulbs communicate over something called 'ZigBee' to the Hue Hub. Equally some newer Hue bulbs can work over Bluetooth, linking with the Hue Bluetooth app on your smartphone. But does this all mean that you don't need internet at all for Philips Hue?
Internet is not required for the newer (and more limited) Philips Hue Bluetooth bulbs. The older style (but more flexible) ZigBee style Hue bulbs also work without the internet. But the initial setup and some Hue features do still require the internet. In short, Philips Hue requires the internet a lot less than many other smart bulbs.
How Philips Hue works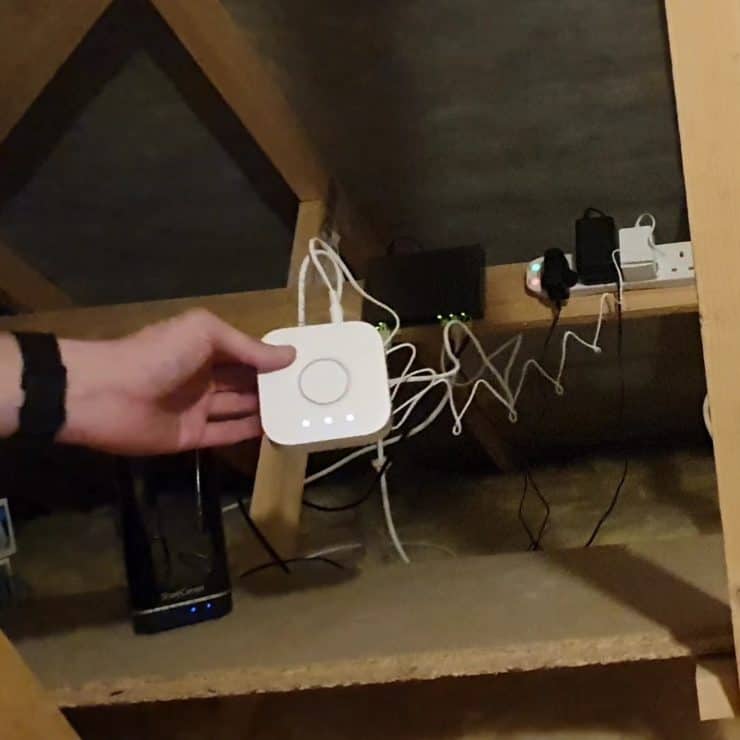 Philips Hue is a range of smart bulbs and accessories owned by Signify. The bulbs are quite good quality and come with a more premium price tag as a result. For example, Philips Hue BR30 bulbs are $45 each (when not in a sale), compared to TECKIN wifi smart bulbs which are less than $20 each.
However Philips Hue's smart bulbs can often produce some of the best colors and widest actual color ranges on the market. This is because many of their color bulbs don't just contain three LEDs (for RGB – red, green and blue) – they also contain white and 'warm white' (almost yellow) LEDs, for five LEDs in total.
This allows Hue bulbs to produce a really nice quality of color, along with good quality white light (whether it's bluey or yellowy 'white' light). This helps set Hue apart from many of the more budget smart bulbs out there, some of which can do 'color' fairly well but then do 'white' badly, or can do white well but not color.
Many of the Philips Hue bulbs (and all of their light strips and outdoor lights) require a Hue Bridge to be purchased and added to your home network. Mine is pictured above, which I've installed in my attic.
The bulbs then speak a 'language' called ZigBee (more on this later), which is different to 'languages' such as WiFi or Bluetooth. Whilst it's a bit annoying to have to shell out more money on a Hue bridge, the benefit of Hue's overall approach is that the bridge allows you to control your smart bulbs, even when the internet is off.
This compares to many smart WiFi bulbs that can't be controlled at all when your internet has failed.
Finally, some newer Hue bulbs can be controlled over Bluetooth instead, cutting out the need to purchase a seperate Hue Bridge. This is useful because these bulbs also don't care if the internet fails, although running Hue bulbs in Bluetooth mode does have some limitations.
What is ZigBee?
I mentioned above that most Hue bulbs require the use of a separate Hue Bridge, and the bulbs then speak to the bridge over 'ZigBee'. But what is this?
Well, ZigBee is known as a communication protocol, just like WiFi, Bluetooth, Ethernet and infrared. You can think of these all as 'languages'. Just like humans can speak to each other in different languages, computerized technology can also speak to each other in different 'languages' (i.e. communication protocols).
ZigBee is a communication protocol that was specifically designed for smart home devices, and it's a bit like Bluetooth in that it has low power usage and it has a limited range… at least compared to something like WiFi.
But where ZigBee is really smart is that its range (the distance each device can be away from the central hub – e.g. the Hue Bridge) can increase with every new ZigBee device that you purchase. In other words, the more Hue bulbs you have, the stronger your house's ZigBee range will be and your house's smart bulb network will be more reliable as a result.
This is because ZigBee devices form a mesh, known as ZigBee mesh, which is a bit like a spider's web. Each new device forms a new point on the 'web', strengthening the overall 'web':
You know how your WiFi signal becomes terrible when you go into your backyard or into your garage? This often means that you wouldn't be able to install an outdoor smart WiFi bulb.
However with ZigBee, the more bulbs that you have, the greater the range is. If you had a bulb near your back door, this can help any outdoor Hue bulbs to then be in range – due to the ZigBee mesh technology.
When Hue's 'ZigBee mode' does (and doesn't) require the internet
As explored above, ZigBee is different to WiFi. It's not an internet based protocol, and this means that your Hue Bridge can 'speak' ZigBee to all of your bulbs, even when the internet is down.
In other words, your bulbs can be controlled as normal when the internet doesn't work. Whilst this is also true of LIFX (which allows you to turn bulbs on/off and change their color when the internet is off), Hue's system is a lot more resilient to internet and router failures.
This is because the Hue Bridge contains all the automation routines for your smart bulb system, meaning that any schedules that you have setup will also still work when the internet is off. This is unlike LIFX and any other smart WiFi bulb, all of which require the internet for more complex routines and schedules to work.
Of course, nothing is perfect and the Hue Bridge instructions says that it must be connected to your internet router. So clearly something will not work when the internet is down, right? This is the case, but only a handful of cases won't work when the internet is down:
Updates to your Hue bulbs and Hue bridge, since the updates are initially sent over the internet.
The initial system setup, which requires some linking of the Hue bridge with an online Philips Hue account.
Out of home control, which allows you to be connected to a separate network (or use cell data) to control your Hue bulbs. This works by issuing commands from Hue's servers to your Hue bridge (via the internet), hence this won't work if your house's internet is down.
Use the Hue app if your router is also down. If just your

internet

is down, you can use the Hue app just fine to control your smart bulbs. But if your

router

is also down, you won't be able to launch the Hue app.
Whilst this might seem like a big list, let's compare what Hue bulbs (in ZigBee 'mode') can do when the internet is down, compared to some smart WiFi bulbs:
| | | | |
| --- | --- | --- | --- |
| Action | Works with Hue? | Works with LIFX? | Works with cheap WiFi bulb? |
| Setup your smart bulbs initially | No | No | No |
| Control via the app | Yes | Yes | No |
| Control via switches/buttons | Yes | No | No |
| Automation routines and schedules still work | Yes | No | No |
| Out of home control | No | No | No |
| Update your smart bulbs | No | No | No |
Actions that work/don't work with Hue and other smart bulbs, when the internet is down (but the router is up).
This shows the benefit that Hue has by having a centralized, non-WiFi based Bridge to control things. All your existing automation routines (including turning bulbs on/off based on sunsets and sunrises) still work fine without the internet, which is quite a big benefit of non-WiFi smart bulbs to be honest.
As touched upon above, Hue's accessories (the switches and buttons) – such as the dimmer switch and the tap button which can be programmed to control multiple devices at the same time – continue to work, even when the internet or the router has failed.
This is because these accessories also communicate over ZigBee, meaning that when you click them, they send a ZigBee message to the Hue Bridge, and this then relays the message onto the relevant Hue bulb(s).
This is quite a nice departure from WiFi smart switches, whose full feature set (such as dimming) don't work without the internet – even though they're often hardwired into your house! This is because the hardwiring is just to replace the existing hardwired switch: the WiFi switch then still needs to send an internet-based message out to ultimately get the message to the relevant bulb.
When Philips Hue's Bluetooth mode does/doesn't require the internet
The newer Bluetooth mode of operation for your Philips Hue bulbs is quite nice because it also doesn't require the internet for many operations.
In-fact, apart from the initial setup and any updates, you can control your bulbs fully in Bluetooth mode without the internet.
This is because the Hue Bluetooth app is a cut down version of the full Hue app, and it doesn't offer quite as many features – automation routines and sunset/sunrise alarms don't work on the Bluetooth mode, for example.
But this does mean that the available features – such as grouping bulbs and turning them on/off, dimming them and changing their color – are all fairly simple operations (from a technical perspective), and thus no internet is required for them at all.
This isn't altogether surprising because Bluetooth is a short-range communication protocol, meaning that you have to be at home to control your Hue bulbs in Bluetooth mode anyway. In this sense, Bluetooth and ZigBee are quite similar technologies.