When I first seen the Philips Hue Smart Plug, I thought "Why's it 3-4x more expensive than other smart plugs"? I then wondered whether the fact that it's controllable via Zigbee and Bluetooth offers any major benefit that justifies its price increase? After going out and buying this Hue Smart Plug, I wanted to write this article to cover these questions and a whole lot more.
What is the Philips Hue Smart Plug
The Philips Hue smart plug is a simple device – it plugs into a wall socket, and your device or appliance then plugs into this. You can then use your voice, a phone app and more to turn the plugged-in device on and off.
It is also compatible with Echo and Google Home smart speakers, and so in this sense, it's the same as most smart plugs on the market. So why does it usually cost more than its cheaper rivals?
Firstly, the Philips Hue smart plug supports Zigbee and Bluetooth. What this means is that it's quite a flexible product that can be controlled in multiple ways, even when the internet is down. This compares to some hue plug which can't be controlled when the internet is down.
Secondly, the Philips Hue range is generally a more premium set of products, and so they naturally tend to charge higher prices – even if the device is quite simple (such as the Hue smart plug). It's a bit like how Ferrari won't be releasing a budget car any time soon!
How to setup the Hue Smart Plug
Setting up the Hue Smart Plug is fairly easy, although the diagram in the manual can seem a little confusing at first glance:
Option A is the Bluetooth option explored below, whilst Option B is the Hue Bridge (Zigbee) mode – also covered below.
The final option involves using the Hue Dimmer Switch to directly control the Hue Smart Plug (also via Zigbee). The dimmer switch can control up to 10 lights/accessories which is pretty cool, although for any advanced control you will want the Hue Bridge.
Via the Hue Bridge (Zigbee mode)
The main Hue Bridge mode involves installing a Hue Bridge into your home network, which may involve plugging it into your router or a network switch elsewhere in your house: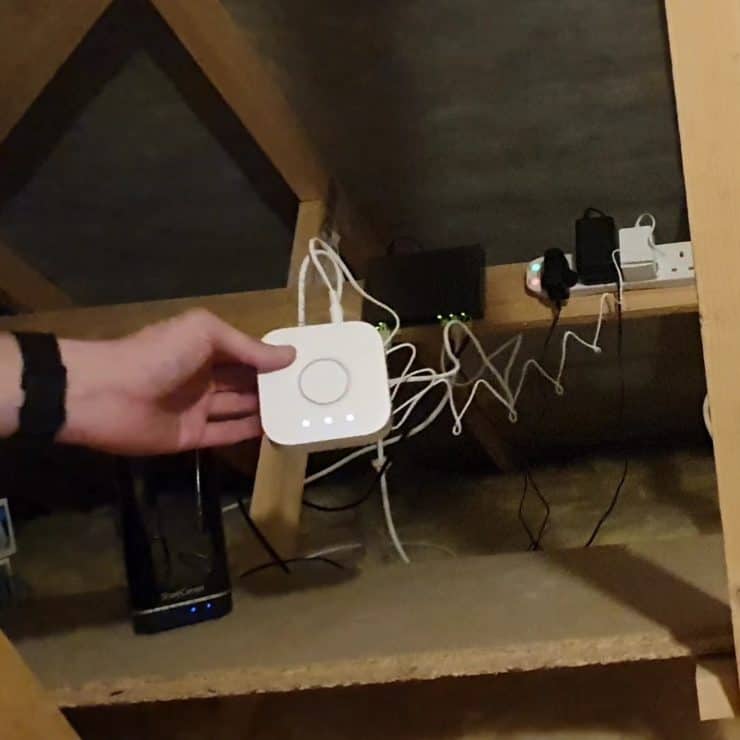 This Philips hue bridge speaks 'Zigbee', which is like WiFi but more geared towards smart homes. All your Hue lights and accessories can connect to this, and you can then configure and control them via the Hue app (or via your smart speakers).
Once the Hue Bridge is setup, launch the Hue app and go to Settings and then Accessory Setup:
Click to add a new accessory and choose "Hue smart plug" on the resulting screen:
After clicking to proceed, it should find the Hue smart plug after a few seconds (just be sure it's within range of the Hue Bridge, and it's obviously plugged into a wall socket and powered on!):
Once this is found, you can control it in the normal way – it basically functions as a smart Hue light bulb (well, one that can be turned on and off only!). You can add it to rooms, setup automated schedules for it, pair it with a dimmer switch for physical remote support, and much more.
This is the best way of controlling your Hue smart plug, but it does require the Hue Bridge which isn't always cheap. If you just want a simple smart plug, controlling it via Bluetooth can also work well.
Via Bluetooth
For this, you need to download the alternative Philips Hue Bluetooth app. Once you fill in the login forms and T&Cs, you then need to say "Add light", even though it's not a light:
Eventually it'll ask you to "Pair" with a "Hue Lamp" – this means the Hue Smart Plug! It's confusing but click yes, and you'll then be able to turn the smart plug on and off via the app's dashboard:
Is it worth the extra price?
The Hue Smart Plug is one of the most expensive smart plugs on the market. So, is it worth it?
Well, firstly Zigbee is more expensive than comparative WiFi smart devices (such as Kasa and GOSUND smart plugs) – so it's unfair to say "Kasa smart plugs are $7.50, Hue ones are $30".
Well, it's not unfair – it's a totally fair thing to say, but it's not comparing the same thing. Zigbee brings a range of benefits including a more reliable home automation network (since Zigbee forms a network mesh), plus there's Zigbee devices work together much better than most WiFi smart devices.
Therefore the Hue Smart Plug is expensive for three main reasons:
It's powered by Zigbee not WiFi, as I cover earlier. This does drive up the cost.
Philips Hue tend to be more on the premium end of the market, meaning that even a simple smart plug will probably cost more than a competitor's smart plug. It's like how Apple are often more expensive than rival laptop and smartphone makers.
It also supports Bluetooth, which is rare within smart plugs. Most only support WiFi or Zigbee.
Nonetheless, if you already have a Hue Bridge and so you don't care about Bluetooth support, you may want to check out the Innr smart plug which is Zigbee based (and hence can be controlled in the Hue app) but it generally works out cheaper.
What's the max wattage/amperage of the Hue Smart Plug?
In America, the Hue Smart Plug is rated at 15A which (given 120V) gives a max wattage of 1800W. In the UK, it's rated at 13A which (given 220-240V) gives a max wattage of 2860W.
This will also be clearly listed on the box or manual – the example below is for the UK smart plug:
The reason you can't simply say "the max wattage is X" is because of the formula used to calculate this.
The supply voltage (V) multiplied by the amperage (I) gives the watts (P). In other words, P = V x I.
Because voltage varies depending on the country (it's 120V in America, but 220-240V in many other parts of the world), you can't simply give a max wattage rating unless you know the country and exact product used.
Does the Philips Hue Smart Plug work without the Hue Bridge?
Yes, the Hue Smart Plug also supports Bluetooth as well as direct configuration with the Hue Dimmer Switch. The product manual clearly shows that this is possible:
Option A involves downloading the Hue Bluetooth app and pairing with the Hue Smart Plug within the app, and you can then use your smartphone as a Bluetooth remote.
Option C involves you holding the dimmer switch down for 10 seconds near the plugged-in smart plug. It will then bind to the smart plug (and up to 9 other devices, for 10 in total), allowing you to control them easily. This uses Zigbee messages to do this.
The Hue Bridge can cost up to $50 by itself, so it's nice to have the option to control the Hue smart plug with other methods too.
Does the Hue Smart Plug offer HomeKit support?
Yes, the Hue Smart Plug integrates with Apple HomeKit natively, meaning that no third party extensions are required. It all works really well and seamlessly.
Setting this up within HomeKit means that the Hue Smart Plug can be used in all the usual HomeKit triggers and scenes, just like any other HomeKit-enabled smart light.
Can you dim lights with Philips Hue's smart plug?
Unfortunately you can't use the Philips Hue smart plug for dimming of lights, no. Whether the lights are smart or normal dimmable bulbs, the average smart plug will never be able to dim a light.
This is because dimming occurs when the amount of voltage supplied to an LED light is reduced, leading to lower brightness levels. This occurs within the light bulb of a smart light (a smart bulb contains a power regulator within it that achieves this function), whereas it occurs via the dimmer switch for normal (dumb) dimming lights.
The only exception is Insteon who offer a dimming smart plug, although this can't be freely paired with a normal floor lamp – you need to ensure all parts of this are compatible.
Does Hue's smart plug offer energy consumption monitoring?
Whilst many people (including myself) would love this feature: no, Hue's smart plug doesn't contain any sort of energy consumption monitoring. It is literally a standard smart plug with on/off functionality (via Zigbee and Bluetooth), but not much more.
You'd think that Hue would include this feature considering it's one of the most expensive smart plugs (plus they include things like temperature monitoring within their motion sensor), but they never did offer it.
Does Philips Hue's smart plug have Google Home/Nest integration?
Philips Hue offers a good level of Google Assistant (i.e. Google Home/Nest) integration, and the smart plug is included in this: you can control the Philips Hue Smart Plug within the Google Home app and with your voice as normal.
You may have heard that Philips Hue integration with Nest ended in November 2020, but this didn't affect the core integration of being able to control Hue products within the Google Home app (or with your voice).
Can the Hue Smart Plug act as a Zigbee repeater?
The Hue Smart Plug acts as a Zigbee repeater so that your overall Zigbee home network gets more robust and has a longer range, yes. This is true of nearly all plugged-in Zigbee based device, and the Hue smart plug is no exception.
What this means is that the moment you configure your Hue Smart Plug within the Hue app, it is another node within the Zigbee mesh network:
This is good because even if your Hue Bridge has a temporary blip, your smart lights (and smart plug) can continue to work as expected. This compares to many WiFi smart products which will struggle to work if your internet router fails.