Philips Hue's popularity has earned it a place in the smart homes of many – maybe even yours! And while oftentimes smart lights use Wi-Fi to connect to their respective apps, Philips Hue doesn't. There seems to be some confusion as to whether they use Zigbee or Z-Wave, or if they can even support both.
So which one is it? Or can Philips Hue's lights support both of these wireless communication protocols?
To answer those questions, let's start with a brief recap of what Philips Hue is, and how they work (connect) to other devices.
What Is Philips Hue?
Philips Hue is a popular brand of smart lighting. They have an extensive line of lighting products for your every possible lighting need. Their product line includes smart bulbs in a plethora of sizes, floor lamps, light strips, floodlights, and more!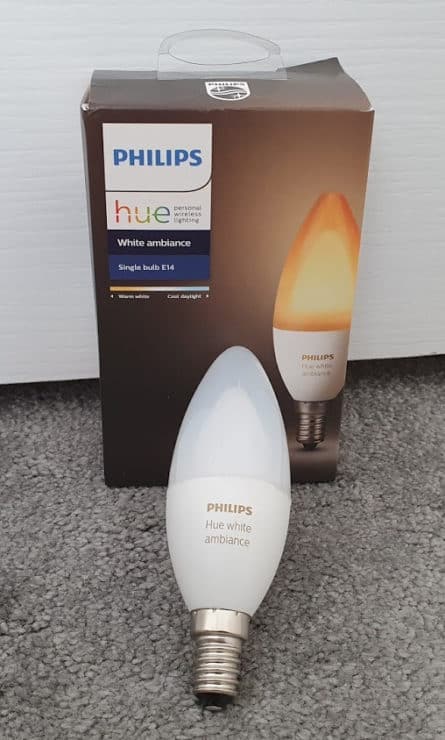 Their smart lighting gives you the ability to create the ambiance for whatever you're doing. Whether it's mood color lighting for a relaxing night in, soft white light as you cook, or festive colors for a backyard get-together.
To control your lights, as well as their many colors and settings, you'll need the Hue app. This is where you'll set up your lights, as well as any schedules or presets you want to have.
Philips Hue's lights connect to each other and the Hue app via Zigbee. This wireless communication protocol, unlike Wi-Fi, is a mesh network. When it comes to Wi-Fi, the router is the central point of communication that each Wi-Fi-enabled device connects to.
When it comes to Zigbee, each smart device (i.e. smart lights, lamps, etc) acts as a node or connection point. This results in a stronger, more stable connection. Even if one device were to malfunction, the signal would automatically jump to the next device. This results in the uninterrupted operation of your devices.
Now, the devices still need to communicate with the app, which uses the internet via your phone's Wi-Fi or mobile data connection. Because of this, a hub, or bridge is required. This is why Philips also sells the Hue Bridge. You also have the option of using Zigbee-enabled hubs such as newer Amazon Echos (i.e. Echo Plus, and Echo Show 10).
These hubs translate Zigbee to Wi-Fi in order for the Hue devices to be able to connect to the Hue app. Z-Wave works similarly to Zigbee, just at a different radio frequency, so the two can't intermingle. In a nutshell, Philips Hue doesn't use Z-Wave, but Zigbee.
How Does Philips Hue's Bluetooth Work?
Another communication protocol used by some of Philip Hue's devices, is Bluetooth. In fact, most of Philips Hue's devices now allow you to choose between using Zigbee with the Hue Bridge, or Bluetooth.
Bluetooth is a wireless means of data exchange between devices. If you have an iPhone and Apple Watch, this is how they communicate and sync information. Unlike Wi-Fi, Zigbee, or Z-Wave, Bluetooth range is much shorter and is not used to connect to the internet. It's moreso used in files and data transfer between devices. So how do you use Philips Hue lights with Bluetooth?
To start, you would install your lights where you want them to go. Then you'll download the Hue Bluetooth app. Bluetooth and Zigbee use two different apps, so you'd have to make sure to use the Hue Bluetooth app.
From there, you'll set up your lights according to the prompts.
Now, unlike Zigbee, using Bluetooth means you can only control the lights in one room of your home at a time. You won't have the benefits of a mesh network throughout your home, as Bluetooth's range is only about 30 feet, unobstructed. If this isn't a problem, however, using Bluetooth is a great secondary option for controlling your Hue lights if you don't want to be tied down to using the Hue Bridge.
Can Hue Lights Be Controlled Via Z-Wave?
When it comes to your Philips Hue lights, the only two wireless communication protocols by which you can directly control your lights are Bluetooth and Zigbee. 
Z-Wave, though similar to Zigbee, is a different protocol that operates on an entirely different frequency. Zigbee uses a 2.4 GHz frequency (with 915 MHz also potentially available), while Z-Wave uses a 908.42 MHz frequency. Because of this, devices that use Zigbee cannot directly communicate with those that use Z-Wave – and vice versa.
This extends to the control of Zigbee devices, such as Philips Hue. You can't use Z-Wave to control Philips Hue lights.
Now, if you want to use Z-Wave devices along with Philips Hue, however, you can do so in a more roundabout way. For instance, let's say you own an Amazon Echo and want to be able to include both Zigbee and Z-Wave devices in your smart home routines. While newer Echo devices do support Zigbee, they don't support Z-Wave.
In order to get Z-Wave devices to work along with your Amazon Echo, you would have to use a Z-Wave hub or bridge. This would make it possible to 'translate' Z-Wave to Wifi, something that the Echo and Alexa app would 'understand'.
If you have Samsung SmartThings as your smart home hub, however, it can understand both Z-Wave and Zigbee. Using this hub, you can connect your Hue lights as well as any Z-Wave lights or devices you may have and get them to work together with various automations.
If you happen to have Apple HomeKit, however, it doesn't support Zigbee, only Z-Wave. The only way you can get the two to intermingle is if you used the Hue Bridge.
Are there any Z-Wave Specific Lights?
While Z-Wave is a fairly popular communication protocol among smart devices such as switches and many Yale smart locks, there are very few bulbs that support it. And the few that do support it are pretty tough to find.
For example, a brand named Aeotec produces a Z-Wave smart bulb, as well as Z-Wave smart hubs so that you can use them. However, some of their bulbs are labeled as 'Currently Unavailable' on sites like Amazon.com, making them a tough option to locate if you want to use them.
The Z-Wave Alliance website also mentions brands such as Enbrighten and JascoPro Series – names that, let's face it, aren't common and you've probably never heard of. Because of such, they're tough to find.
Though Zigbee lights are in abundance, Z-Wave smart bulbs are few and far between.
How Do Thread and Matter Factor In?
Thread and Matter are fairly new ways for smart home devices to connect to each other and the internet. This forward-thinking technology might make the argument of Zigbee vs Z-Wave obsolete. How so?
For starters, we should understand what Thread and Matter are, and how they differ.
Thread is a wireless communication protocol. Much like Zigbee and Z-Wave, it operates via a mesh network. It also uses very little power, which helps push its popularity, especially in comparison with the power-hungry Wi-Fi.
A growing number of smart home manufacturers are starting to incorporate Thread into their smart home devices. So in addition to the internet protocol they're already using, some companies, such as Nanoleaf, add Thread support. Thread is expected to become more commonplace as time goes on because of its many benefits for the smart home.
Matter is a little different. It's a new operability protocol that's designed to connect different communication protocols such as Wi-Fi, Zigbee, and Bluetooth. Its goal is to be able to control all smart devices, regardless of what they use to connect, from one hub.
It was developed by companies such as Google, Amazon, the Zigbee Alliance, Samsung, and Apple – some of the biggest contenders in the technology market today. Other companies have also joined in the development of Matter as well.
These innovative connection protocols are steadily growing in popularity to the point they may make all others obsolete, including Zigbee and Z-Wave. Being as the Zigbee Alliance is already involved with Mattter, this may happen sooner than later.
Other Popular Smart Home Lights
While Philips Hue may be one of the most popular in smart home lighting today, there are many other contenders. Here are a few, and what communication protocols they use.
| | |
| --- | --- |
| Brand | Communication Protocol |
| LIFX | Wi-Fi |
| Innr | Zigbee |
| Nanoleaf | Wi-Fi and Thread |
| WIZ | Wi-Fi |
| Wyze | Wi-Fi |
Which communication protocols the other top smart lighting providers use
If these popular brands don't fit your budget, Amazon offers a wide range of budget-friendly brands such as GoSund and Sengled. Though they come in at a lower price tag, they still hold their own in the smart home sector as good, functional smart LED lights.
Zigbee vs Z-Wave
While Philips Hue supports Zigbee, it doesn't support Z-Wave. Even though both of these are innovative mesh networks, they don't work interchangeably. You can, however, get them to work together via smart home hubs that act as bridges for Zigbee and Z-Wave devices.
Whether you want to use Zigbee, Z-Wave, or traditional Wi-Fi devices for your home, fortunately you have quite a few choices.
But it's not to be noted, as Thread and Matter continue to gain a foothold in the smart home sector, the Zigbee vs Z-Wave debate may soon become a moot point.