I started off my smart home journey years ago, by purchasing a simple Amazon Echo Dot. It was an early model with poor speakers… but it was awesome! The fact that it offered so many features (from playing music to managing my calendar) for a low upfront price and no monthly fee was great.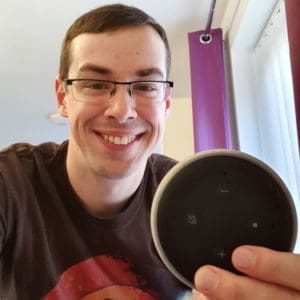 Since then, I've tested and purchased dozens of smart home products over the years so I wanted to write this guide to cover the top smart home products that I recommend.
If you're just starting out, the product I would recommend above all else is the latest Amazon Echo (the 5th gen model shipped October 20th 2023) – click here to view price and purchase info on Amazon. Otherwise, keep reading and feel free to jump to the section that most interests you.
Please note: this post contains Amazon affiliate links (so I earn a commission at no cost to you). Please read my disclosure if you'd like more info on this.
The Best Smart Voice Assistants
Smart voice assistants – also called smart speakers – are essentially the heart of a smart home. Not only do they have a range of useful features including playing music, giving weather forecasts, allowing you to make calls and a whole lot more, but you can also use them to manage other smart home devices.
For example you could say "Alexa, turn on my lights" to turn on your smart lights. Or you could say "Alexa, show me my front door" to view the footage from your smart doorbell.
A few big companies produce virtual assistants, with the most popular being:
The Apple HomePod. You can use HomeKit, Apple's smart home platform, to integrate your HomePod with lots of other smart tech.
Google Nest. This range of smart speakers offer a lot of features, along with some awesome voice-powered search – which you'd expect from a Google-based product. But Nest's third party integrations are lacking nowadays.
The Amazon Echo range. The Echo range is my favorite since they integrate seamlessly with so many other smart products. Unless you love Apple or Google, I would recommend Amazon Echo purely from a pragmatic point of view.
The Echo Dot is the most compact, and the 3rd gen is shown below: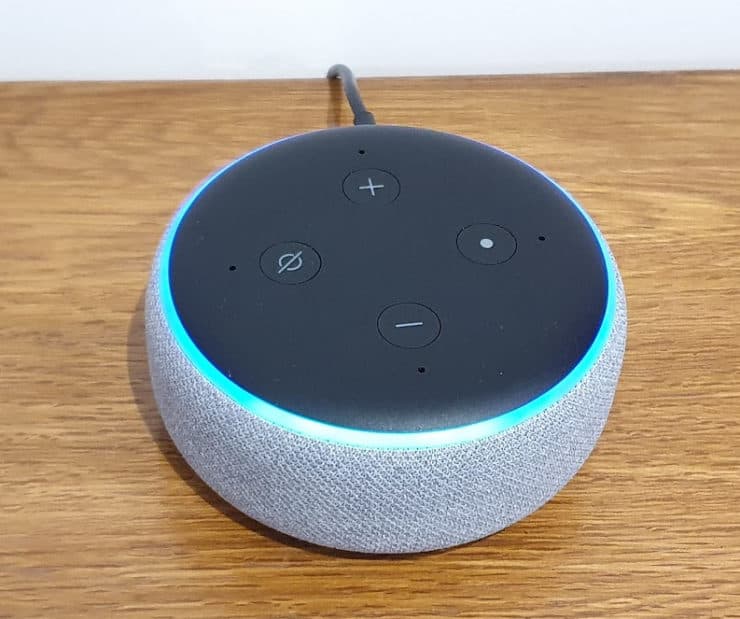 However I would recommend buying the full-size Echo (either the 4th or 5th generation models):

This is because Amazon have included something called a Zigbee chip inside of it, which allows you to control hundreds more smart home devices without buying extra hubs. We discuss this more in a separate article, but this is quite a nice benefit – and so the 4th or 5th gen Echo is my main recommendation right now.
Alternatively if you prefer using a touch screen (which also allows you to watch footage from your smart doorbells and cameras), the Echo Show is a must-have:

Smart Doorbells (So Many Benefits!)
I have to admit that I'm a big fan of my Ring Doorbell Pro: if I'm out and someone delivers a parcel, I get a notification on my phone and I can speak to the delivery person – telling them where to leave my parcel.
It also acts as a crime deterrent, with Ring claiming a few years ago that it cuts crime by up to 55% in some neighboorhoods. It's really useful to get video records every time motion is detected by your front (or back) door, plus you can customize the settings a lot.
If you currently have a hard-wired doorbell, I'd suggest to get the Ring Doorbell Pro 1 or 2 if your budget allows for it:

This is because the Pro 2 has loads of nice features. However it is a bit pricey, and the Ring Doorbell Wired offers 90% of the same features for a whole lot less.
If you don't have a hardwired doorbell already (or you're unable to swap out the wiring), the battery powered Ring Doorbell 4 brings lots of nice features.
My Favourite Smart Indoor Cameras
When I first heard of smart indoor cameras, I admit that I was a little creeped out: why do you need cameras looking at what you're doing inside your own home?! But in reality, there's a number of benefits to them:
As a makeshift baby monitor. Put a smart camera in the nursery, and then you can just check on it on-demand.
As a way of protecting your outbuildings: I have one in my garage, other people keep them in their sheds.
Keeping an eye on your home when everyone is out at work and school. With Ring you can use modes to stop all indoor camera recording when people are home again, too, meaning it'll only ever record when everyone is out. (Although as of March 2023, Ring now requires you to buy a Ring Protect subscription to use this feature – which sucks! Previously it was free to use).
Whilst there's a number of smart cameras, I am a big fan of Ring's Indoor Camera due to its easy installs, the number of customization options and the seamless integration options with Echo: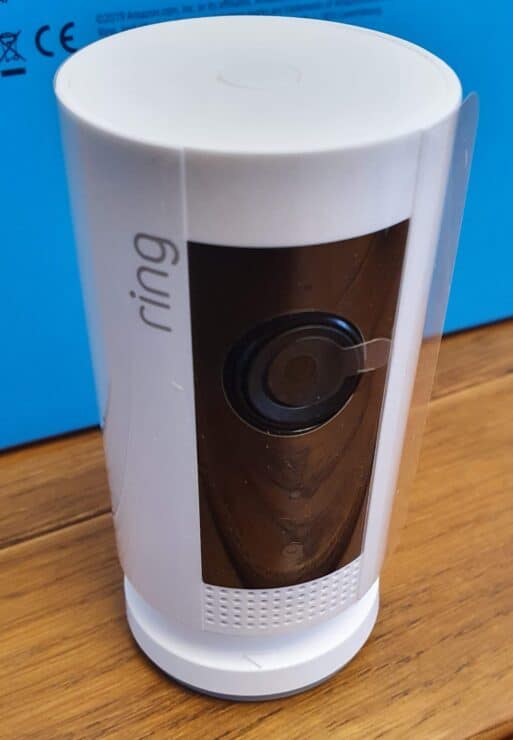 However if you have tried Ring and they aren't your favorite product, you can check out my YouTube review of four other smart home cameras:
Smart Outdoor Cameras (Great Security Devices)
Just like indoor smart cameras bring various benefits, waterproof outdoor smart cams can also bring lots of benefits.
The main benefit, of course, is that they help increase your house's security: they can deter would-be burglars, and if you ever 'catch them in the act' you'll have full HD recordings of them, and some smart outdoor cams also have sirens.
The hardwired Ring Floodlight Cam Plus is a bit pricy but has an awesome siren, along with all the usual great features that come with Ring devices:

Smart Light Bulbs for More Convenience – & Fun!
Smart lighting is a pretty awesome thing. Whilst I was firstly a bit unsure ("why do people need to dim their lights, and set them to bright orange?!"), I quickly started to appreciate just how useful they can be.
I have some table lamps that come on when it's getting dark outside (i.e. based on the sunset). I have white smart bulbs which I dim down to 20% – quite handy when I'm doing an early-morning nappy change for my young children! I also have full color (RGB) bulbs which… are just fun! You can even have them change color in time with music.
Whatever you want them for, I'd personally recommend Philips Hue's ecosystem. You need to buy a Hue Bridge if you plan on having 10+ Hue bulbs, but this actually introduces lots of extra features – plus you can get the Hue Bridge as part of a starter kit which comes with a bunch of Hue bulbs:

Smart LED Lightstrips
Following on from smart light bulbs, smart LED lightstrips are also just as awesome – they can be dimmed, they can change color, be animated (i.e. follow fun set patterns of light and brightness) and a whole lot more.
Plus they can be easily installed under cabinets, couches, TVs, and a whole lot more.
Some smart lightstrips require you to have a separate controlling hub, which is fine if you already have a hub (such as Philips Hue's hub to control their Hue Lightstrips). But if not, take a look at any third party light strips that support your smart speakers – such as Alexa-compatible lightstrips:

There are dozens of choices out there. Just be sure to check the reviews – firstly that there aren't too many 1/5 reviews, and secondly run the product through a review checker to ensure the 5/5 reviews aren't fake.
Smart Plugs (Remote Control is Really Useful)
Have you ever been driving home and thought "it'd be really useful to have the slow cooker on right about now"? Or you were on holiday and wanted to control your plug-in lights in a better way than with mechanical timers? Or perhaps you wanted to enforce a "no internet" rule by automatically turning the router off at a set time each night?
Well with smart plugs you can! They plug into your wall socket, and then your device(s) plug into this. You can then turn the device on/off via the smart plug app, automatically (via pre-set timers) or with your voice (e.g. via your Echo devices).
They're really useful, and TP-Link's Kasa range of smart plugs are a good product to buy. They're reasonably priced, don't block out two socket spaces, and they're highly rated:

Smart Thermostats (You Can Save $100s Each Year)
The idea behind smart thermostats are simple: they learn the routines of your household, and then they adjust the heating to suit these routines whilst also saving you money (by slowly tapering down the heating and preventing unnecessary waste, such as heating an empty house).
And, of course, you can turn the heating on/off via your phone app even if you're 2 hours away – no more coming home to a freezing cold house!
Many smart thermostats support HVAC systems, underfloor heating and a whole lot more, meaning they are highly likely to be compatible with your home.
Amazon unveiled their own brand of smart thermostats in mid 2021, and they are available for a pretty good price:

Smart Door Locks – Convenient and Safer
Are you fed up with struggling towards your front door with dozens of bags (okay, 4 bags – but it feels like a dozen!), putting them down one-by-one, unlocking the door, and then picking the bags up again?
Or when you're out of town and a neighbor says they noticed something weird around your property (be it a potential burglar, or possible smoke), having to try and arrange for someone to check in when they don't have a key?
Smart door locks are the solution to these problems, and a lot more (AirBnb hosts are increasingly using smart locks so they can remotely manage their properties). Smart locks use some clever technology to determine when you're nearing your front door, and then they unlock it. They naturally have a bunch of safety features too, especially August who's smart locks are well worth exploring:

Smart Alarm and House Security (Including CO/Smoke Alarms)
The final product I wanted to explore is smart alarms and CO/smoke sensors. Gone are the days of paying $60/month to some expensive alarm monitoring system. Smart technology means that you can have a safe, effective alarm for a fraction of the overall cost.
Ring's alarm system is the one that I'd recommend: you get a bunch of window/door and motion sensors (with the option to add more), and the system works over WiFi but with the option to have cellular backup and professional monitoring too (for $20/month).
This means that your alarm system will be reliable and robust. Plus you can add CO/smoke alarms, panic buttons and more to the Ring alarm system and these integrate seamlessly with each-other: