We tend to forget about the placement of our bring sensors and once they've been up for a while, but there's actually plenty of good reasons why you'd want to move a Ring sensor after you've installed it.
You might want to move your Ring sensors in order to improve the plan for your home security system. You also might need to move them when you do some redecorating and remodeling to change the layout of your home. Then there's always replacing broken sensors and upgrading to the latest models to keep in mind.
Ring sensors that have been connected with adhesive tape just need to be slowly twisted in a clockwise or counterclockwise direction to remove them from your wall. In order to remove a Ring sensor that's been screwed into the wall, you first need to remove the sensor from the baseplate and then unscrew the baseplate from the wall. Make sure to disable the sensor, so you don't accidentally trigger any tamper alerts.
Now let's take a look at why you would want to move your Ring sensors and how you can get that done fast.
What Are Ring Alarm Sensors (And How Are They Used?)
Ring is most popular for its cameras and its smart doorbell, but it's also making waves in the smart home security scene.
Ring sensors come in two major varieties: there are Ring motion sensors, as well as Ring contact sensors.
The motion sensors or something you're probably familiar with. They simply detect motion and then activate other smart devices such as your lights: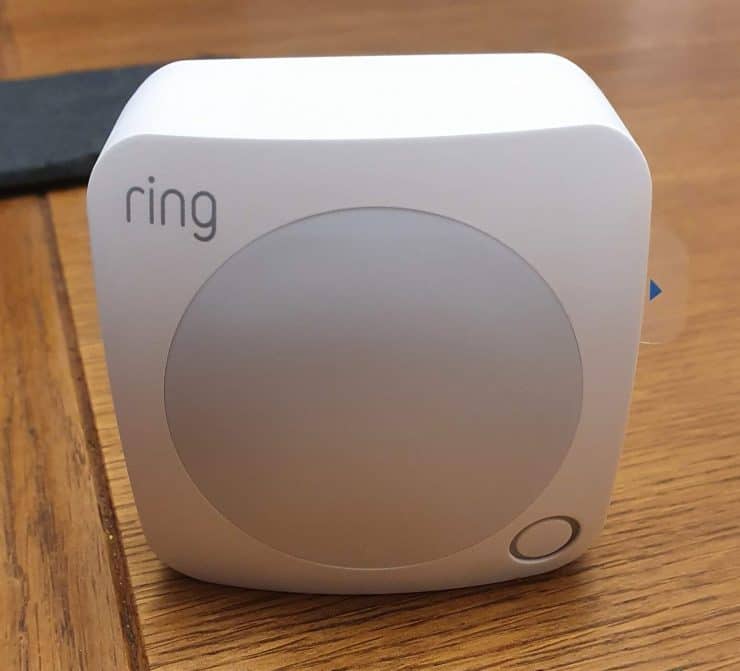 The contact sensors are placed on doors or windows and can detect when that door or window has been opened:
Ring sensors are mostly used for home security. This ranges from having your Ring sensors turn on the lights, to make it seem like someone's home all the way to paid protection plans that have security experts contact law enforcement when a sensor is tripped.
Let's cover how you can mount Ring sensors before we get into the hows and the whys of moving them.
How to Mount Ring Sensors
There are essentially two ways to mount your Ring sensors:
Each Ring sensor comes with some adhesive tape that you can use to stick to walls, doors, and windows.
The Ring sensors also have pre-drilled holes in the back that you can use to mount them with screws.
Using Screws
Mounting your Ring sensors with screws is the most secure way to connect them to any surface. Simply slide off the back plate of the sensor, and screw the back plate to the relevant surface: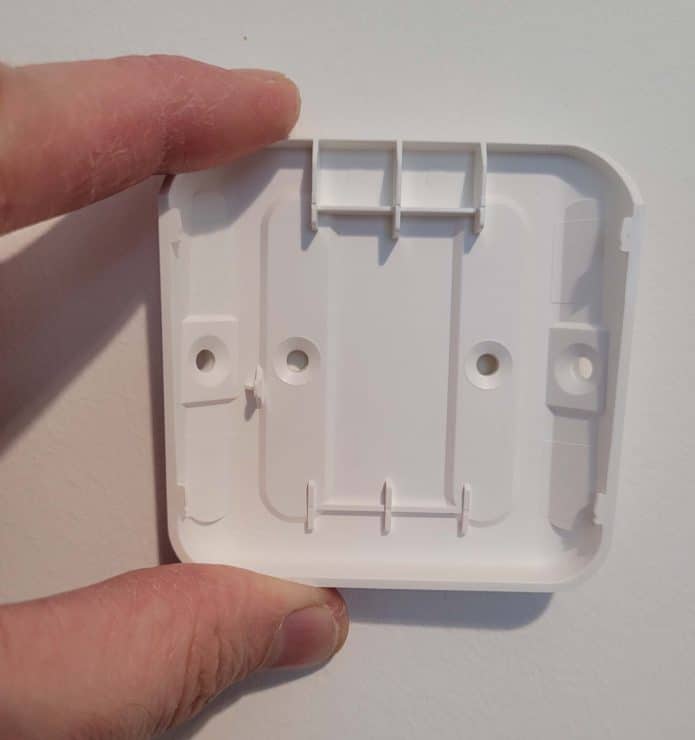 This will make it nearly impossible for them to fall to the ground and accidentally trigger an alarm detection event. The big downside to screwing your motion sensor into the wall is that this means putting some extra holes in your walls that you might have to plaster over later.
Using Adhesive Strips
Using the included adhesive strips is the fastest and easiest way to mount your Ring sensors:
All you need to do is clean the surface that you're mounting your sensor to, peel off the covering of the tape, and stick your Ring sensor in place. The trade-off here is that these adhesive strips have a bad reputation of losing their adhesion and causing your sensors to fall to the ground.
Falling sensors trigger false positives when it comes to motion detection. Depending on how you set up your smart home security system, this could set off your home alarms or even contact the police.
Why You Might Want to Move Your Sensors
There's a lot of reasons why you might want to move your smart sensors around. Here are a few of the common ones that you should consider every once in a while.
The first and the most obvious, is that your sensor has stopped working. You might need to take your sensor down to return it, use the warranty, or just replace it with a more updated version of the sensor. This is probably going to be the most common reason for you to move your sensors around after you've installed them.
You also might be re-evaluating how you set up your sensors and your home security system. There are good reasons to change up where you place your home security sensors. These include remodeling your home, changing up your decor, or even relocating contact sensors after a break in.
There are countless reasons for changing up your Ring sensors, but you need to know how to get that done safely first.
Removing Sensors With Adhesive Strips
We mentioned earlier that attaching your Ring sensors with the included adhesive strip is the easiest way to get them up and running. This is also the most convenient set up when it comes to taking down your Ring sensors as well.
All you should need to do is to firmly grab your Ring sensor and slowly twist clockwise or counterclockwise until it comes free from the wall. There will be some residue behind on the wall that you can clean off with GooGone or another cleaner.
If your sensor is being a little stubborn, there are a few tips that you can try to get it to come off your wall quicker. Try taking some dental floss and using it to cut the foam of the adhesive strip. You can also use a putty knife or another tool for extremely stubborn tape, but this could damage your paint job.
Removing Sensors Attached With Screws
It's also really easy to remove Ring sensors that have been attached with screws.
The first thing you need to do is to remove the faceplate of your Ring sensor. You'll either need to press the release tab at the bottom of your sensor or the two tabs on the sides of your sensor to slide it off of the base: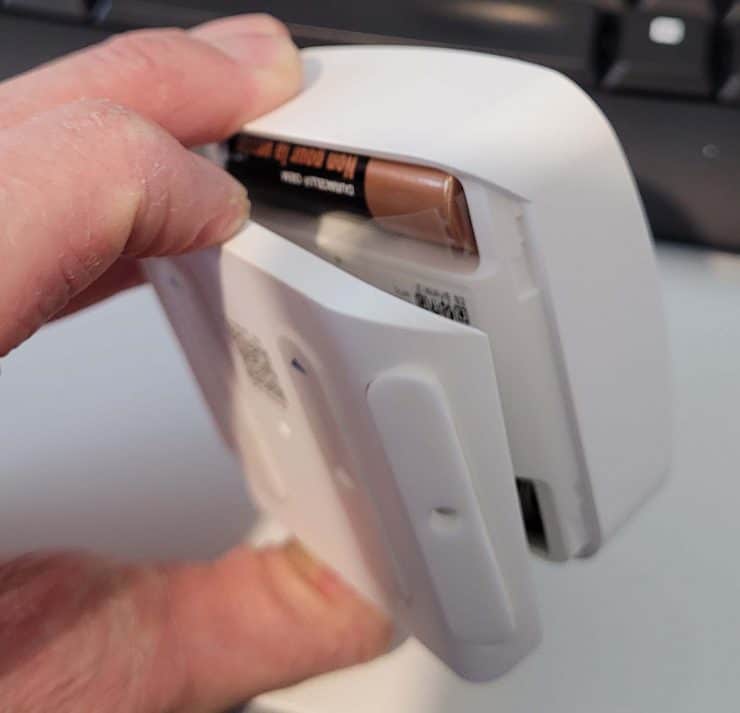 Once it's off of the base, all you need to do is unscrew it from the wall and you're good to go.
How to Prevent Ring Sensor Tamper Alerts
Here's the big thing we need to talk about when you're removing your Ring sensors.
Ring sensors are built with a proofing feature that makes it difficult to meddle with the Ring sensor in order to bypass it. This is what happens if you just try and yank off a sensor:
Here's how the tamper alert works.
Inside of each of your bring sensors is a small plastic tab that presses down on a button. If this setup is moved at all, it sends a temporary alert to your device saying that it has been tampered with. If you're paying for Ring's professional alarm monitoring service, this alert could automatically have them call local law enforcement.
There's a good chance that you're going to trigger an alert when you're removing your Ring sensors. Here's how you can temporarily disable tamper alerts to remove your Ring sensors without having to deal with any unexpected events.
Remove the Sensor
One way of preventing an alert is to simply delete the sensor from your Ring device. This will disconnect it from your smart home security system and make any temporal alerts completely irrelevant. This is the best option if you're removing a Ring sensor because it's broken or you're upgrading the model.
Follow these steps to remove any Ring sensor from your home security system.
Open your Ring app
Tap the menu
Choose Devices
Open the Alarm Base Station
Tap the sensor you are removing
Tap the gear icon
Select Advanced Options
Tap "Remove Device" or "Remove Failed Device" depending on whether it's broken or not:
This method also works if you're just temporarily moving your Ring sensor. You'll just have to pair it with your Ring app again later to get it back into your security system. There's also another way to mostly disable a sensor without removing it.
Make it "Information Only"
Here's a little trick that you can do with any Ring sensor in order to effectively disable it. You'll still receive notifications when the sensor is triggered, but they won't have any impact on your smart home security system.
This is called "information only" by the community and is a way to prevent sensors from alerting the authorities of a potential break in.
Here's how you can set up information only mode on a Ring sensor.
Open your Ring app
Tap the menu
Choose Devices
Open the Alarm Base Station
Tap the sensor you are removing
Select Mode Settings
Deselect both "Home" and "Away"
Now your Ring sensor will still send you notifications while you're moving it, but it won't be triggering any alarms in your home security system.
This is a great work around if you are just making a quick repositioning of your alarm or you don't want to deal with the hassle of pairing it and sending it back up again.