So you recently paid $229.99 for a Ring Doorbell 3 Plus and $99.99 for a Ring Stick Up Smart Camera, and you've finally installed them. Phew, now you can sit back, and relax in the knowledge that your house is protected by 24/7 video surveillance, right?
What do you mean no?!
Ring's smart doorbells and cameras do not currently support constant 24/7 recording, they only support on-demand live view and motion-based recording. Ring did promise to offer 'all the time' recording in 2019, but this hasn't yet happened.
I take a look at this in more detail in the blog post below, or if you prefer video you can check out my YouTube video on this:
How video currently works for Ring Doorbells & Cams
The Ring Doorbell range (which includes the Ring Doorbells 1-4, the 3 Plus, the Wired, Pro 1/2 and the Elite) and the Ring Smart Camera range (which includes the Indoor Cam, a range of Stick-up Cams and also light-based cameras) both offer video capability in the same way:
Live View: this is where you login to the Ring app (on a mobile phone, or a computer) and you see the video capture of your Ring device – whether it's a view of your front door (via a Ring Doorbell) or anywhere else on your property (via a Ring Smart Cam).

When you go into Live View, this live capture is saved into your Ring cloud account – as long as you pay the monthly fee for Ring Protect. This currently costs $3 per month for a single device, or $10 per month for all Ring devices.
Motion is detected: when a Ring device detects motion, the recording feature starts. As long as you have a Ring Protect plan, this recording is saved to your Ring account so that you can view it back later. If you don't have a Protect plan, you will get a notification (that motion has been detected) and you can view the footage using Live View.

Motion detected by the Ring Alarm system will also trigger video recording on any of your configured Ring cameras, which is a nice feature. In other words, if you have a Ring Indoor Cam and your Ring Alarm goes off (detects an intruder), your Ring Cam will start recording.
The doorbell is pressed: All models within the Ring Doorbell will start recording when the doorbell is pressed. You'd naturally expect the recording to start before this when the doorbell detects motion, but it's good to know that if the motion detection somehow failed, you'll still get recordings from the point when your visitor clicks the doorbell.
It's worth re-iterating that you must have a paid-for Ring Protect plan for any of these video recordings to be saved.
You might also be thinking that you've found a loop-hole: just keep watching Live View, and because this records, you'll get 24/7 recordings. Simple. Well unfortunately that's not the case. Live View recordings tend to be capped at 10 minutes, and Ring does reserve the right to take action if you 'abuse' their services.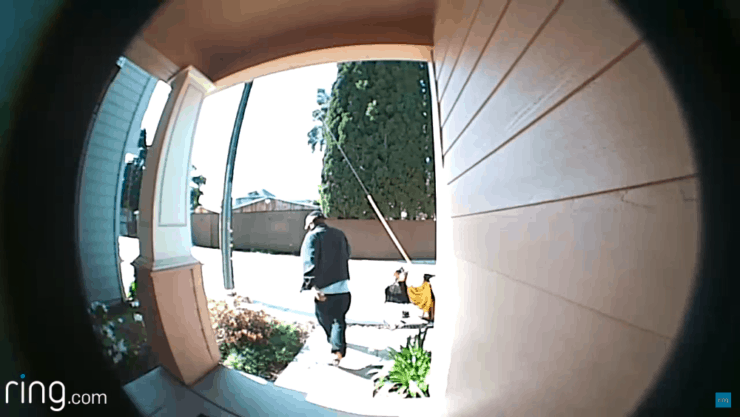 In other words, if you set-up some automation that logged into Live View ever 10 minutes, Ring could start capping your recordings – or even close your account. Some people have noticed that their recordings (or Live View)start being capped when trying out '24/7 recording' scripts on things like Home Assistant, so be careful.
To be honest, I wouldn't try and 'find a hack' that records Ring footage 24/7. I'm almost certain that Ring have detection measures in place to find (and stop) such attempts.
What are your options, then? Well firstly let's explore Ring's announcement in October 2018..
Ring's 2018-2019 promise for 24/7 recording
In October 2018, Ring announced that they are working on 24/7 recording for any hardwired models. In other words, a purely battery operated Ring Doorbell or Camera would not support this feature, but a Ring Doorbell Pro, Stick-up Cam Plug-in or a Ring Doorbell 1/2/3 with hardwiring would support this feature.
The reason for this is simple: 24/7 recording consumes a lot more battery power than just doing motion detection and occasional recordings, so to protect the battery life, the 24/7 recording would only apply to hardwired versions.
In terms of the feature itself, the idea was that Ring Protect subscribers could pay an extra fee and their cameras would then record 24/7 – fully protecting their home. Noice. This is like how the first gen Nest Hello doorbell offers 24/7 recording if you pay for the Nest Aware Plus plan worth $120 per year (the basic $60/year plan doesn't offer 24/7 recording).
Unfortunately despite this being mooted for 2019, the feature never got released. It's now well beyond 2019 and all Ring support say is that the feature will be 'coming soon', but without any specific timelines given.
The fact that Ring haven't said this feature isn't coming is a good thing, I guess, but right now you shouldn't buy a Ring doorbell/camera on the expectation that 24/7 recording will be released imminently.
Site Note: Blink also do not offer 24/7 recording, and they are also owned by Amazon. My hunch is that Amazon simply dislike the idea of offering 24/7 recording, which is why Blink and Ring have shunned this feature (compared to many other competitors that do offer this).
Some people also think that the relatively new Snapshot Capture feature is to replace the 24/7 promise, which brings us too:
Is Ring's "Snapshot Capture" good enough?
Firstly, if you haven't heard of 'Snapshot Capture' – it is where a Ring device will take images at set intervals throughout the day, allowing you to see this on the Ring timeline:
In essence, this provides a nice way of seeing any changes outside (or around) your house without your device's battery being drained with 24/7 recording… not that that's currently a feature, though.
Anywhoo, the snapshot images are fairly low-res at 640x360p but they nonetheless give some way of noticing any weird occurrences in/around your house:
The nice thing about the Snapshot Capture is that if your WiFi (or general internet connection) fails, a certain number of captured images are stored on the local flash storage and uploaded to Ring once connectivity returns.
In terms of whether this feature is 'good enough'? Well it wouldn't compare to 24/7 recordings at full HD, but it's better than nothing and the feature works quite well overall.
Get more recordings via tweaking some app settings
In addition to enabling snapshot captures, there are two other key settings which will allow you to get move saved recordings:
Increase the video recording length.
Increase motion sensitivity.
Using linked devices.
Video recording length
Increasing the video recording length is accessible by launching the Ring app, clicking on a device, clicking 'Device Settings', then 'Video Settings' and finally 'Video Recording Length':
Naturally the longer you set the recording length, the more gets captured. Whacking the setting up to 2 minutes will record more than a 50 second recording length.
Motion sensitivity
Secondly, Ring devices only record when motion is detected. So it stands to reason that if you increase the motion sensitivity all the way up, more motion will be detected and more recordings will be made. You can access this by launching the Ring app, selecting your Ring device, selecting 'Motion Settings' and then 'Motion Sensitivity':
Setting this to 'MAX' will record more, getting you a little closer to "continuous recordings".
Linked recordings
Finally, if you have other Ring devices, you can set those other devices to record when they detect motion. In other words, I can set my Ring Doorbell Pro (by my front door) to record when my Ring Indoor Cam (in my garage) detects motion:
This is quite a a neat feature, and the three tips above mean that my Ring Doorbell Pro sometimes records 5 or 6 times in a 10 minute period:
Of course, recording for 5-6 minutes in a 10 minute period is the exception not the rule, and it's certainly no replacement for genuine 24/7 recording. Which brings us onto our next question…
Can you record locally instead?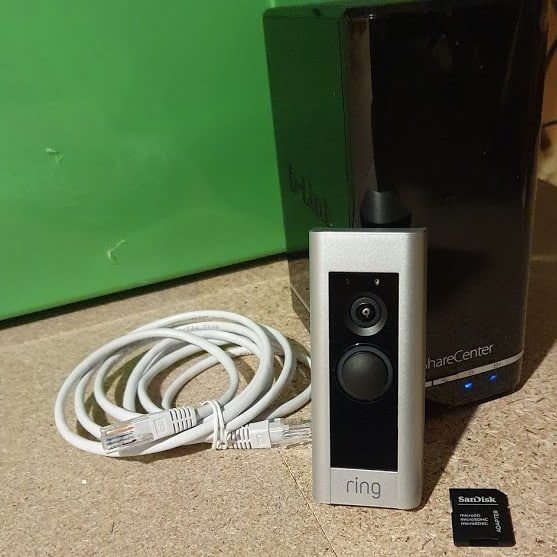 Okay, so full HD 24/7 recording up to the Ring cloud isn't possible, but is it possible to instead capture the video recordings and store this locally instead?
Well lots of very smart people have tried to reverse engineer how (or if) you can capture the recording capability of Ring's cameras/doorbells, and either live stream this video (on something like Home Assistant) or save it locally.
I speak about this a lot more in another post, but the short answer is that with a bit of technical knowledge, you will be able to initiate a live recording from your Ring device.
However this will more be 'on demand' – as in, it will start up a new recording, not force your Ring device to record 24/7.
You'd then have to have the required technical knowledge to save the video stream locally… and also hope that Ring don't push out a software update which blocks this 'local recording hack' – like they have done many times over the years.
So whilst you can technically record Ring video locally right now (unless you have the Ring Alarm Pro and also pay $20 per month, giving you access to Ring Edge), Ring specifically don't want you doing this and it's probably much less hassle to look for a smart camera/doorbell that actively supports this feature.
Smart products that DO allow continuous recording
The following two sections show which smart doorbells and cameras support recording all-the-time:
Smart doorbells
Various DoorBird IP doorbell models.
eufy's security doorbell with attached storage.
The Amcrest 1080P Video Doorbell Pro, which can record to an SD card (up to 128 GB) and streaming video to store locally is also supported with a range of integration options.
LaView's 1080p doorbell with SD card.
Nelly's security doorbell with SD card.
Smart cameras
If you're wanting whole house camera surveillance on a 24/7 basis, one of the many companies that used to offer 'conventional CCTV' cameras, but have now added cloud-viewing capability, will probably be a good option for you.
I discuss some of these options in greater detail in another article: