I've spoken before about how I prefer Ethernet (network cable) to Wi-Fi. This is for a number of reasons: to prevent Wi-Fi jamming, to avoid having to re-enter Wi-Fi passwords all the time, and for better reliability.
So when I recently ran out of free Ethernet ports on my home's router, I grimaced… but I didn't have any spare network switches, so I had to decide which device to turn off. But then I had a better idea: the Ring Alarm system supports both Ethernet and Wi-Fi. Woohoo! I could just be lazy and connect it to Wi-Fi instead (…and totally forget that Wi-Fi jamming attacks could render my alarm system useless).
So I took the Ethernet cable out of my Ring Alarm base station, and launched the Ring app. That's when my problems started. I tried changing the network connection to Wi-Fi, but I failed at the first hurdle: my Ring Alarm wouldn't enter pairing mode. So how did I fix this? Well, the short answer is…
When your Ring Alarm won't enter pairing mode (e.g. to change the Wi-Fi details), you can try relaunching the app, removing the battery and more. But sometimes none of this will work, and you have to take more time consuming measures.
Yep, I tried everything I could think of. But in the end, I went back to an Ethernet connection. Anywhoo, this article covers exactly what you should do if your own Ring Alarm base station won't enter pairing mode. Whilst I don't have the Ring Alarm Pro base station, the debugging steps are all pretty much the same.
Before diving into that, let's briefly recap on what the Ring Alarm system is and how it works.
A Recap Of The Ring Alarm System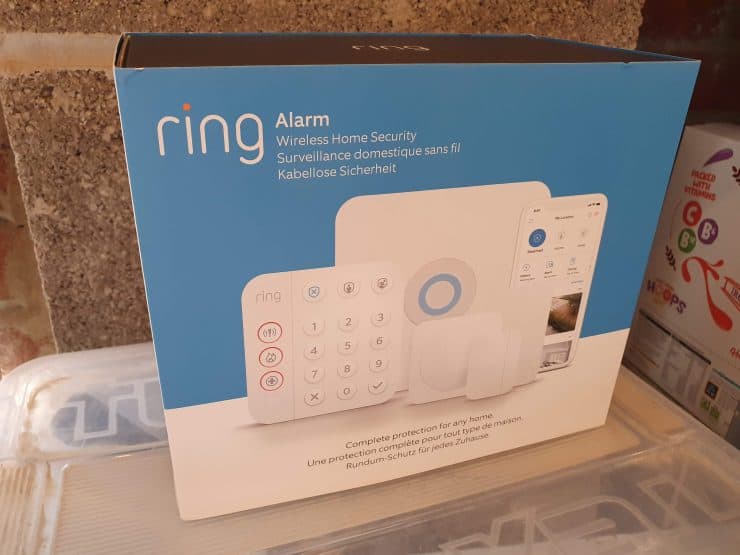 The Ring Alarm system was released in 2018, and it was a big step forward for home security: instead of paying $50+ per month to ADT, you could just pay $10 per month for professional monitoring – or simply pay nothing and monitor the system yourself. Awesome!
And what's also nice about this system is that all the components are wireless, and can often be stuck on purely with adhesive strips:
So you don't need to worry about running wires everywhere – just install the contact sensors and motion sensors where you want them, and they'll connect wirelessly (using a technology called Z-Wave):
The individual components all connect back to the Ring Alarm base station, which 'speaks' Z-wave to each component – and then transmits the data back to Ring's cloud servers (and hence your Ring smartphone app) using the internet.
How the Ring Alarm System Connects to the Internet
As mentioned above, the individual Ring Alarm components (e.g. the sensors and range extender) all 'speak' Z-Wave, but naturally your home's router doesn't care about Z-wave – it only cares about internet data.
Therefore the Ring Alarm Base station (both the version pictured above, and the Ring Alarm Pro – released in 2021) receive Z-Wave data, and then sends this data back to Ring's servers via the internet (or cell signal, if there's an outage):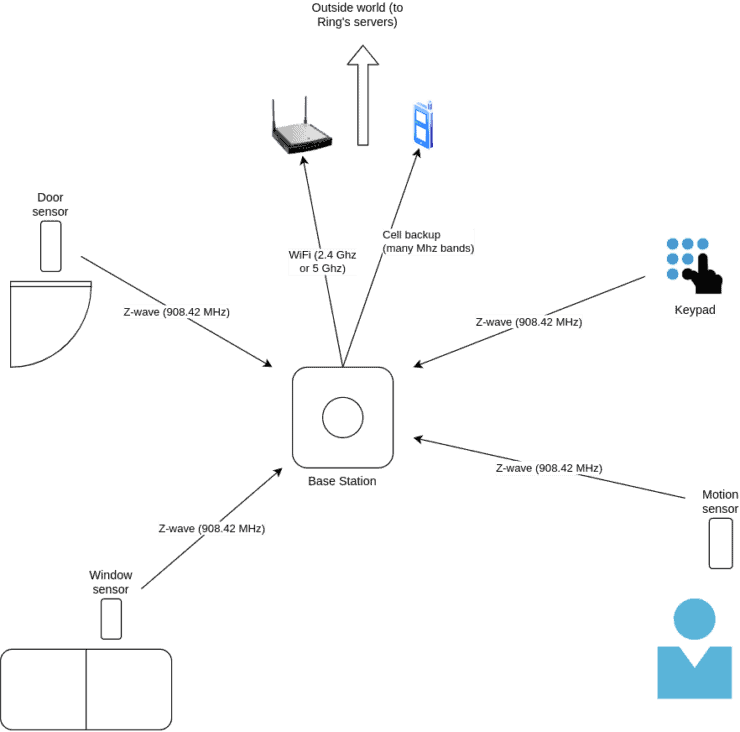 Most people connect their Base Station to the home's WiFi (as shown above) for ease of installation, but you can also connect it via an Ethernet cable.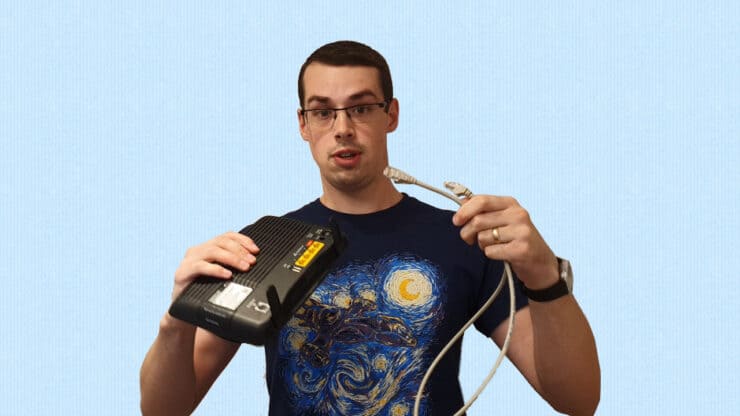 All this means that if:
you previously connected your Base Station to Ethernet, and want to switch to WiFi… OR
you already connect your Base Station to WiFi, but want to update it to a new WiFi network
You will need to change the WiFi details. This sounds simple enough, right?
All you have to do is launch the Ring app, go to the Ring Alarm Base Station (under the Devices menu) and then start the process of updating the internet connection.
Well, this sounds good in theory – but sometimes there's a problem. The app asks you to enter setup mode by holding down the pairing button:
It's quite easy to see and press down – even an idiot like me can do it right:
But in my case… nothing happened. The Ring Alarm base station logo is meant to light up and spin when it has entered pairing mode, but this didn't happen for me.
As a result, I wasn't able to update the WiFi details of my Ring Alarm system after removing the Ethernet cable. Doh! Luckily there's a few steps you can follow to resolve things – as I explore below.
Possible Solution #1: Keep re-trying the 'official' advice
The 'official' advice here is to basically do nothing different. I know, it doesn't sound very helpful. But some users have reported that they closed their Ring app, pressed the pairing button again (on the Base Station), and it eventually worked after 5-10 attempts.
This is the IT equivalent of "have you tried turning it off and then on again"? But it apparently has worked for some people, so it's probably worth trying things again.
As you can guess though, it didn't work for me. I tried pressing the pairing button loads of times, but nothing helped. So I moved onto the next step.
Possible Solution #2: Remove the battery
One of the good things about the Ring Alarm Base Station is that it has a battery backup.
But one of the bad things is… it has a battery backup! You can't simply turn the Base Station off and on again, like you can with a Ring camera or your cell phone. Well, you could simply wait 24-48 hours for the battery to die. But that's not always efficient.
So instead you can try removing the battery pack too. To get started, make sure that you take the power cord out firstly. Never remove a battery backup when live power is still flowing through the device.
Then get a screwdriver, and remove the screw of the battery comparment:
This will show you the actual battery: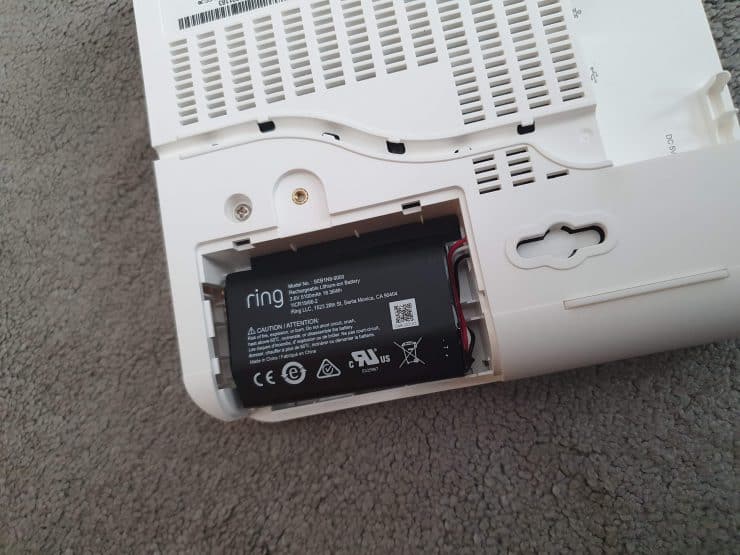 At this point, you can see three wires (a red, black and white one) go into a plug. This has to be removed to turn off your Ring Alarm Base Station. It can be a little tricky, and you don't want to pull the wires themselves. Instead, get a flat screwdriver head and pry it from the back:
Eventually it will be removed:
At this point, wait 1 minute and put the battery pack back, screw the compartment cover back on, and try repairing again.
Some users said this fixed it for them. Unfortunately it didn't help me, so there's other steps to follow.
Possible Solution #3: Contact Ring Customer Services
Ring's customer services are usually pretty helpful – albeit the phone can often take 15-30 minutes due to the various debugging steps to walk through:
If you have already tried the first two steps, there's a chance that something's buggy within your Ring Alarm Base Station – and customer services might be able to help resolve this from their end.
To get their number, just check out their "Get in touch" page – but be sure to select the right country from the top drop-down box.
Possible Solution #4: Delete And Re-Add It From The App
If you didn't want to call up Ring, though, another option is to delete the Ring Alarm and re-add it to the app. It's worth pointing out, though, that this approach should be used with caution. The Base Station still must be put into pairing mode as part of the setup process, so that it emits the relevant Bluetooth signal to be noticed by the app:
It's entirely possible that you can't add the Base Station again from within the Ring app, meaning you're stuck with a Base Station that simply doesn't work anymore. (And then you're back to solution #3 – a lengthy call with Ring customer services!)
So for me, I just went with solution #5 below..!
Possible Solution #5: Give Up And Use Ethernet
In the end, nothing was working – my Ring Alarm system was still showing offline. Since I prefer Ethernet anyway, so I decided to shell out a massive £15 on an 8-port network switch:
I then just re-connected the Base Station back via Ethernet: the Base Station connected to the network switch, which then connected to the router.
You might be thinking that this doesn't help in your case, and you might be right – but there's actually an unexpected benefit of hooking it up via Ethernet. Instead of your Ring app's alarm page showing this:
It instead now shows this:
It's basically "back online" again.
This means that I can now access device settings, and properly start the setup (or WiFi details change) process. In other words, by hooking up your Base Station to Ethernet – even temporarily – you might be able to enter the pairing mode again.
One note of caution, though: when I plugged in the Ethernet cable, nothing happened. The app still said that I was on cellular backup. It actually took 5-10 minutes before everything sprung to life, and I finally got a notification that I was connected to the internet again:
So if all else fails, just use an Ethernet cable – even temporarily (if you prefer WiFi) – wait 10 minutes and you should be back online. You can then hopefully enter pairing mode again.
If not, contacting Ring customer services might be your only option – but hopefully one of the steps above will help you!