When someone presses your Ring Doorbell, an external 'ringing' sound is played. One time – not long after installing my own Ring Doorbell Pro – someone pressed the doorbell (without knowing what it was) and then they visibly jumped a bit as it abruptly played a sound back to them!
This does seem like a bit of a weird design choice from Ring: traditional doorbells don't ring back to the person who pressed them, so why does Ring do this? And more importantly: if you dislike this feature, can you change (or disable) this sound? Equally can you change the sound that gets played to visitors, during special seasons and holidays such as Halloween and 4th July celebrations?
Right now, Ring don't offer the ability to change the sound that plays outside on your Ring doorbell. You can, however, turn this sound off completely – and then use a couple of ingenious solutions as an alternative.
The Outside Ring Doorbell Sound
The external Ring doorbell sound is the following:
Whilst it's the same as the default internal Ring chime sound, it can still seem abrupt to your visitors – especially at the default 100% volume which can be quite loud. I've actually turned mine down to 50% volume and this thankfully doesn't startle my visitors anymore!
Equally you might want to change the outdoor sound during Halloween, 4th July celebrations – or on various other holidays and events. Is this possible? Let's find out.
Options For Changing This Sound For Halloween, 4th July & More
Unfortunately you can't currently change the external Ring doorbell sound: this just isn't a feature that Ring offer. Whether they'll offer this feature in the future or not remains to be seen, but Marley (who works for Ring) did say the following in November 2019 when someone asked them on the Ring community forums:
At this time you cannot change the tone that sounds from your Doorbell's speaker when the button is pushed… This sounds like an excellent feature request, in which we've seen other neighbors share interest in such a feature as well! Consider this shared with the team.

Marley_Ring, 20th November 2019, Ring Community Forums
As a result of not being able to change this sound, you have a few options available to you:
Lower the volume, or turn if off completely, to stop startling your visitors!
Learn to live with it, and hope that your visitors do as well.
'Change' the sound, using one of the three workaround methods that I discuss below. I'll look at this more later, but this is what you'll need to do during Halloween, 4th July or other holiday seasons.
Before doing anything, though, you'll firstly need to turn off the outside Ring doorbell sound, by:
Launching the Ring app.
Clicking on your Ring doorbell, and going to settings.
Clicking "Device Settings".
Clicking "General Settings".
Drag the "Doorbell Ringer Volume" setting all the way down to 0% on the left hand side:
This will stop that annoying "ding dong" sound that gets played to visitors outside. Then you can choose which of the methods below you prefer.
'Changing' the sound #1: using an external Echo and its chime sounds
Your Echo devices can act as an extended doorbell chime, playing a doorbell sound when your Ring Doorbell is pressed. There are quite a few different doorbell sounds available, which I explore in a separate YouTube video:
So option #1 is to firstly turn off the doorbell sound completely (as mentioned earlier), and then you can plug an Echo device into an outside socket.
Note: this obviously works best if you have a porch area so that your Echo can't get wet at all (and preferably you have enough cameras that someone wouldn't easily steal the Echo!).
Since the Ring doorbell volume is turned off and your Echo is setup to play a doorbell sound that you'd like to hear, you finally just need to ensure that your Echo is setup to play a chime sound when the doorbell is pressed.
To do this:
Launch the Alexa app.
Go to 'Devices'.
Click on 'Cameras', and select your doorbell by its name (yes, Alexa considers smart doorbells to be cameras right now!).
Click on 'Announcement devices', and ensure that your outdoor echo is selected here by clicking it so that it has a tick next to it:
At this point, your outside Echo will play any sound that you've selected (when the doorbell is pressed) – a better option than relying on Ring's single doorbell sound!
There are dozens of doorbell sounds to choose from within the Alexa app:
The full list of these is below, along with what you might want to use them for:
| | |
| --- | --- |
| Alexa Doorbell Sound | When To Use This |
| Default | |
| Blink | |
| Pager | |
| Pattern | |
| Sonar | |
| Traditional | |
| Bells | Christmas, Weddings |
| Clock Strikes | Christmas |
| Deck the Halls | Christmas |
| Jingle Bells | Christmas |
| Sleigh Bells | Christmas |
| X-mas Elves | Christmas |
| Fireworks | 4th July, Thanksgiving, New Years |
| Baseball | |
| Birds Chirping | |
| Spring | |
| American Football Hut Hut Hike | Superbowl |
| Sports Whistle | Superbowl |
| Kiss | Valentine's Day |
| Thanksgiving | Thanksgiving |
| Hava Nagila | Various Jewish festivals |
| Turkey | Thanksgiving |
| Bats | Halloween |
| Door Creak | Halloween |
| Howl | Halloween |
| Funeral March | |
Various Echo/Alexa doorbell sounds, and what you can use each for
'Changing' the sound #2: use an Echo and custom Alexa routines
Another alternative is to not choose your outdoor Echo as an announcement device, but instead include it in a custom routine within the Alexa app.
You can select the trigger ("When this happens") to be smart home -> front door (your doorbell) -> doorbell, meaning that the routine will trigger when someone presses your front doorbell.
You can then select one or more actions ("Add action"), which could be:
Play some music. "Still Waiting" by Sum41 could work well here?!
Add an "Alexa says", which could be anything from the standard "I'll be there in 1 minute" to something insulting/jokey!
This approach is quite nice, because you can choose practically anything. You can play a sound, read the news, turn a smart light on/off, and more. Basically if it's available within the Alexa app, you can play it (or automate it) through your Echo.
This offers you more choice than method #1 (using the built-in sounds), but of course it's slightly more complicated to set-up.
'Changing' the sound #3: using a Ring Chime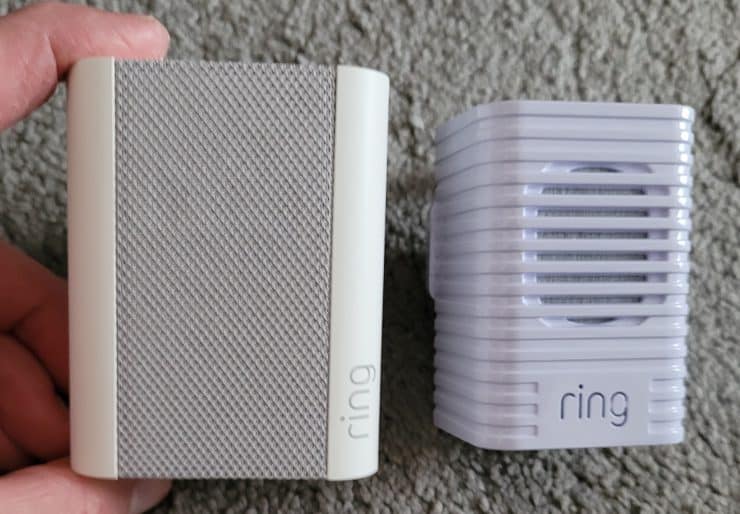 The second option open to you is to use a Ring Chime, which comes with around 15 customizable sounds on the first gen chimes and 30+ sounds on the second gen chimes (released in 2020). My video below shows the 15 sounds of the first gen chimes:
What you could do is plug a Chime into an outdoor socket, and have this sound play instead of the default Ring doorbell sound.
This again requires an outdoor socket in an area which doesn't get wet, and also ideally in a place where the Chime won't get stolen! But since you'll get access to 15-30 customizable chime sounds, this could be better than relying on the standard Ring doorbell sound with its single sound.
Unfortunately whilst there's a reasonable number of chime sounds, some aren't as "holiday oriented" – meaning that you might struggle to choose the right one for Christmas or Halloween.
I list the choices below for the 2nd gen Ring Chime (the non-Pro version):
| | |
| --- | --- |
| Ring Chime Sound | When To Use This |
| Ring Default | |
| Ring Alert 2 | |
| Ring Alert 3 | |
| Harp | |
| Flashback | |
| Triangle | |
| Upbeat | Maybe Superbowl |
| Navi | |
| Xylophone | |
| Train Whistle | |
| Charge! | Maybe Superbowl |
| Dogs Barking | Maybe Halloween |
| Doorbot | |
| Ding-Dong | |
| Westminster Soft | New Years |
| Westminser | New Years |
'Changing' the sound #4: wire up an external doorbell chime
The final option is to do something a little weird sounding at first… but before installing your Ring Doorbell, you will have had a wall-mounted doorbell chime unit (for your old doorbell):
Assuming you took this down during the install, you could actually install this again – but on the outside of your house. As long as your Ring Doorbell is compatible with your chime unit, you can then configure your Ring doorbell to play sounds through this chime unit (via the 'Doorbell Type' under 'General Settings' of the Ring app).
Generally speaking, the Ring Doorbell Pro 1 and 2 work fine with an external chime, as do the Ring Doorbell 1-4. However the Ring Doorbell Wired does not support an external chime.
This will then play the original doorbell sound when someone clicks your Ring doorbell.
Of course, this is a bit of a weird suggestion because you're still stuck with a single doorbell sound (unless you have a fancy digital chime unit) and I've never heard of an externally mounted doorbell chime unit.
But Ring thought that it's a good idea to play an outside sound to visitors, so I thought I'd include this suggestion here in-case your wiring permits it since this could be a useful idea to some people.