Ah, bling. Everyone loves a bit of it. Of course for most 'normal' people, "bling" would refer to some flashy jewelry. However for big nerds like me, it refers to totally-awesome faceplates that adorn my Ring doorbell: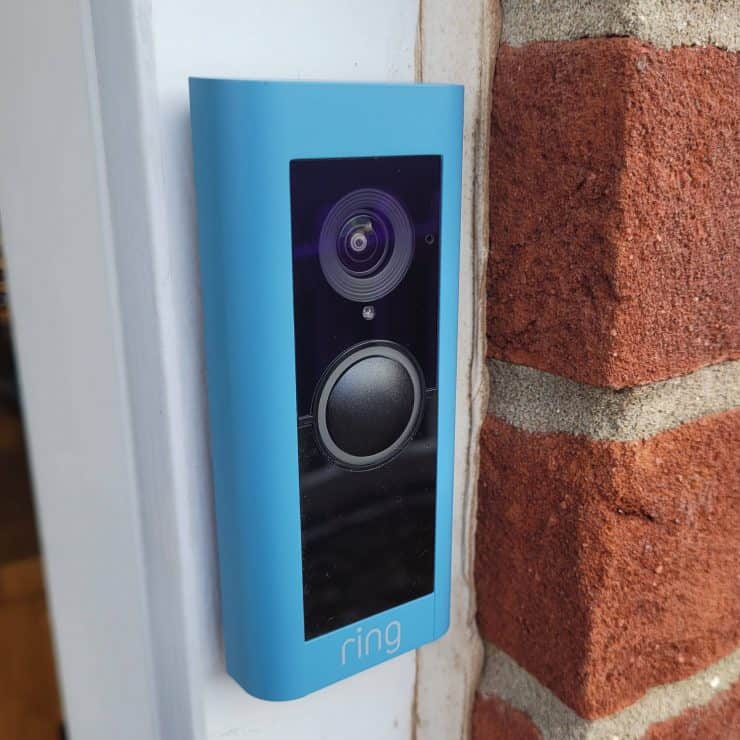 And what's better is that this was free. Well, it wasn't totally free because I had to buy a Ring Doorbell in the first place, but the faceplate itself didn't cost me the $15/£15 retail price due to Ring's "Complimentary Faceplate" offer. But what exactly is this offer? And what should you do if you purchased a qualifying doorbell, but had loads of issues claiming this offer?
Purchasing the Ring Doorbell 4 or the Pro 2 should trigger a free faceplate coupon email once you set-up the device. But email issues, and bugs in the Ring order page, can block you from using this offer.
Let's get your Ring doorbell bling situation sorted.
Ring Doorbell 'Bling' (I.e. Changeable Faceplates!)
I wanted to briefly recap on Ring's faceplates in-case you are reading this, unsure why I keep talking about bling or changeable faceplates.
Ring doorbells usually have front covers that can be removed, and changed with other covers. These are known as faceplates, and they are available to purchase on pretty much all Ring doorbells. They usually cost $15 in the US, but sometimes they go on sale for $10 or less.
Most Ring doorbell's faceplates are a silver color, although the Ring Doorbell Wired has a dark faceplate instead:
If you want to change the default color, the Ring.com website sells lots of different color faceplates, including seasonal ones:
Once you have purchased these faceplates, you can swap them out by removing the security screw at the bottom, pulling off the old cover, and putting the new cover on: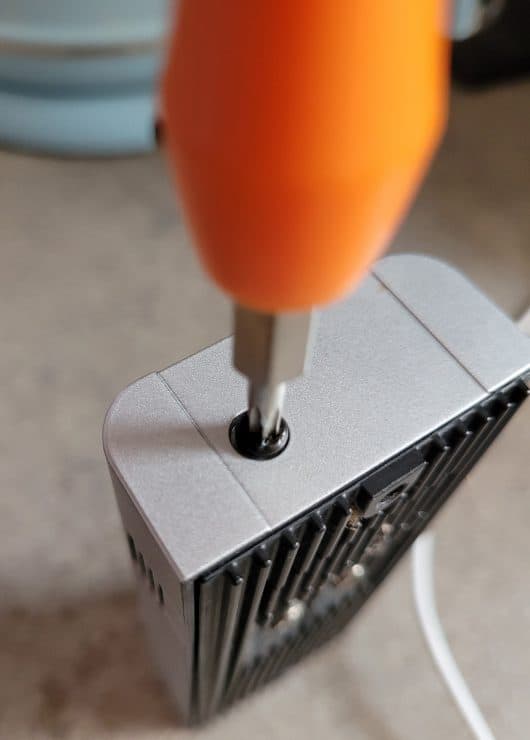 Whilst you usually have to pay for these faceplates, you should get an extra one free one when purchasing the Ring Doorbell 4 or the Ring Doorbell Pro 2. For example, the Amazon sales page for the Pro 2 says:
Ships with a Satin Nickel faceplate. After device set up, you will receive a digital coupon for one free additional faceplate. Select colors apply

Amazon sales page, Ring Doorbell Pro 2, June 2022
Whilst this sounds an easy process, it sometimes has issues. Plus why do Ring feel the need to email you a "complimentary faceplate coupon" – instead of just including all faceplates in the box?
Why Don't Ring Include All Faceplates In The Box?
When I first purchased the Ring Doorbell Pro, it included four colored faceplates right there in the box?
This was much easier than Ring's current approach of emailing a coupon code, since I could just choose whichever faceplate I wanted. So why did Ring change this approach?
Well the answer is two-fold:
Most people stick to the default faceplate color, so shipping multiple faceplates in the box was often a waste, especially since it resulted in larger boxes and shipping fees. The original box for the Ring Doorbell Pro 1 was more than double the size of the Pro 2's box, for example.
There's now lots of faceplates to choose from. The Ring Doorbell 2 has 18 faceplates to choose from, with the Ring Doorbell Pro 2 having 19 to choose from. There's no point in Ring shipping all these with a doorbell, when only one will be used at a time. It's arguably better for Ring to give people the choice of what faceplate to have.
Assuming, of course, that the Ring doorbell you purchased actually offers a free faceplate. Many don't.
Which Ring Doorbells Offer A 'Free Faceplate'?
As mentioned earlier, right now the only Ring doorbells that offer complimentary faceplates are the battery-powered Ring Doorbell 4 and the hardwired Ring Doorbell Pro 2. These two are considered the 'best' in their respective ranges (battery and hardwired doorbells), which is why only these two offer a free faceplate.
However there's another caveat to be aware of. Some people purchased a qualifying doorbell (such as the Pro 2), but didn't receive the email. After chatting to Ring, this was because they purchased from an 'unauthorized' store – such as a random eBay seller or local shop.
In theory you should always qualify for this offer if you purchase from Ring.com and Amazon.com, but when purchasing from other retailers, be sure to read the description and make sure that they also mention the free faceplate offer.
Assuming you purchased the right type of doorbell, and it was from a qualifying retailer, you should have no problems redeeming the offer, right? Well, there's still a few issues that you might experience.
What If You Don't Get The Complimentary Faceplate Email?
In theory, you should always get the 'complimentary faceplate' email within 2-3 days of setting up your Ring doorbell on the Ring app (i.e. after adding it as a new device):
But Ring's forums (and Reddit) are full of people complaining that they registered their Ring Doorbell 4 or Ring Doorbell Pro 2, but didn't receive the email – even after a few weeks. There's a few things you should check in this case:
Check your email spam folder. I know this is the equivalent of "have you tried turning it off and on again?", but it's worth checking. I have had a few Ring emails go into my Gmail spam folder, so it's worth doubling checking this.
Check your linked Amazon email address. Some Ring emails will go to the linked Amazon account, not your actual Ring account email. How do I know this? Well I have all my Ring devices against my own email address, but we have linked this Ring account to my wife's Amazon account (since she has Prime). This has sometimes caused confusion for the Ring customer support team (when ringing up about faulty devices), who say that they've emailed me, but I end up having to text my wife for her to check her emails.
Make sure you purchased the right Ring doorbell. There are a lot of different Ring doorbells to choose from, and not all of them qualify for the free faceplate offer. Heck, the expensive Ring Doorbell Elite and Pro 1 models don't currently qualify. Only the Doorbell 4 and Pro 2 qualify at the time of writing. So double check that you did actually purchase the right type of doorbell: it's easy to get caught out by this point.
Ensure you bought from a qualifying retailer. As mentioned earlier, Ring might not always honor the complimentary faceplate offer if you have purchased from an unauthorized retailer. Purchasing from Ring.com or Amazon.com should be safe though. Other than that, make sure that you read the retailer's description to ensure that they also mention the free faceplate.
If you've checked all that, and done everything right, but still not had the email, the next step is to contact Ring customer services. They offer live chat in a few countries (including America, of course), but you can also call them up.
They might ask you to check your spam folder (again!), but after a few checks they often provide you with a coupon code with minimal hassle.
Once you have this code, the next step is to finally place your order. This usually works without a hitch, but I ran into a couple of issues – which I explore in the section below.
How To Order The Free Faceplate (Without The Form Crashing!)
I'm not sure if this happens to non-UK customers, but when I ordered my free faceplate, I couldn't enter my coupon code (on mobile) until the very final screen. This meant that I had to select the "Standard Shipping – £3.95" option on the "Shipping" screen.
Therefore when I went to the final "Payment" screen and then entered my coupon code, it was still saying that I had to pay £3.95 shipping costs – even though the Ring email said that "shipping costs are on us".
Note: this flow is different on desktop: you can enter the coupon code in the right hand sidebar. So the issue I discuss here will probably only affect mobile users.
In the end I had to go back to the "Shipping" page, and it then showed up with an error message:
At this point I was able to adjust my shipping method to the "Free Shipping" method, and then I could check out without paying anything. Score!
And a few days later, my lovely blue blingy faceplate had arrived – ready for install:
Other than the order form messing up for me on mobile, my free faceplate experience was quite straightforward with Ring. However I have heard lots of stories of frustration, so I hope this article helps you out with any issues you face along the way.