The Ring doorbell is a great little device. It notifies you when someone is at the door, and they help protect your property by recording after motion is detected. However some would-be burglars have considered just ripping the Ring doorbell off the wall (or door). Is there any protection against this? The short answer is yes:
The Ring doorbell uses two main types of screw to protect it: a standard wood screw for mounting it, and a special T6 security screw for the faceplate. There's also a less commonly used third screw, for mounting the doorbell to a bracket. The size of these screws all vary between models.
Let's dig into this in a bit more detail, along with why some Ring doorbells require different length screws.
Ring Doorbell Overview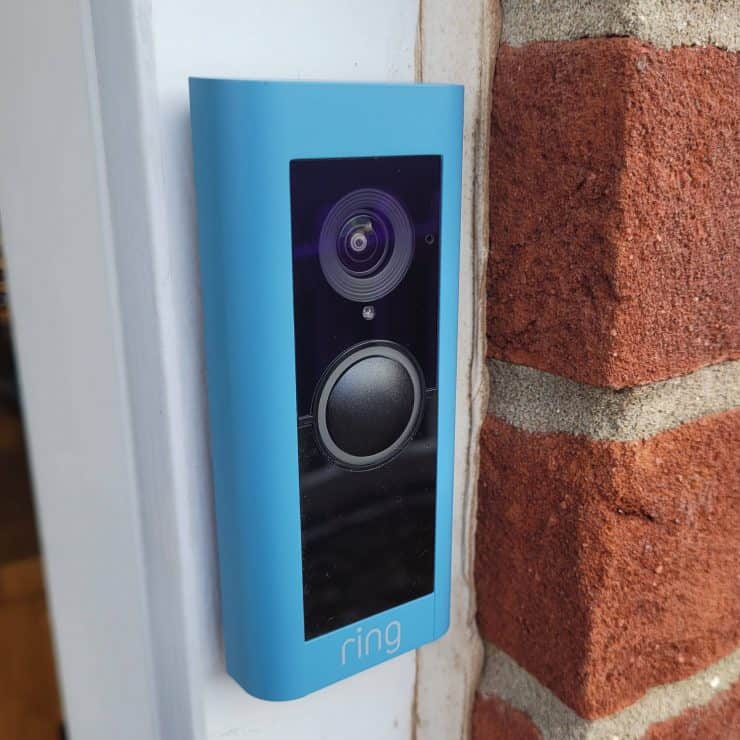 Ring sell a number of different doorbells, although the main difference is whether they are battery powered, or hardwired into the home's electrics. The Ring Doorbell Pro, Pro 2 and Wired are all examples of hardwired doorbells, whereas the Ring Doorbells 1-4 (including the 3 Plus and 4 Plus) are battery powered.
Other than their power source, most Ring doorbells offer similar levels of features: all current models record in full HD, all offer motion-activated recordings, none offer 24/7 recording (boo hiss!), and they all offer extra features via the paid-for Ring Protect plans.
One (admittedly minor) difference between these models is that the battery powered Ring doorbells require a slightly longer security screw than the hardwired ones, which we'll cover in detail later. But why do they require security screws in the first place?
The Different Types Of Screw That Ring Doorbells Require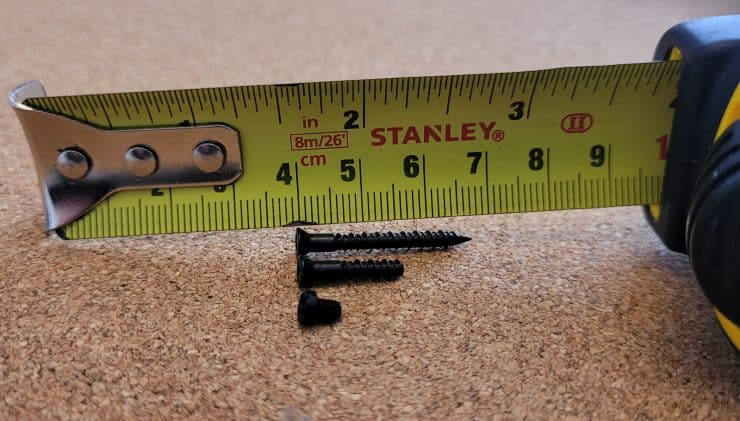 There are two main steps to installing your Ring doorbell: mounting it on the wall or door, and then putting the faceplate over it. Each step requires a different type of screw. For example, the first step either involves installing a mounting bracket to your wall/door, or simply screwing your Ring doorbell straight to the surface: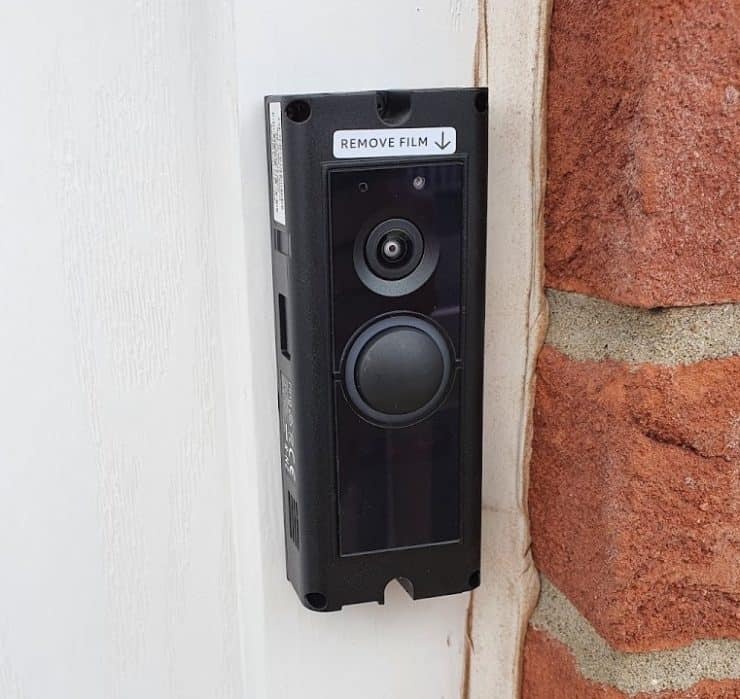 In the picture above, the two wood screws are screwed through the Ring Doorbell in the top and bottom. If you were mounting it on a solid surface, you would use wall anchors/plugs and then screw into that.
Alternatively if you use a bracket (such as a corner bracket), you need to mount the bracket to your wall/door, and then screw the Ring doorbell to the bracket. There's then an extra type of screw (labelled "C") that you would need to use:
Mounting the doorbell itself requires a crosshead 8 ga (5/16″) wood screw, but this should always be included in the box.
Of course, simply having these two mounting screws in full view of everyone wouldn't be very safe – a burglar could just unscrew it and run off with your Ring Doorbell. As a result, Ring have introduced faceplates, that slot over the Ring Doorbell and, crucially, cover these two mounting screws.
The faceplate is then secured in place with a different type of screw (put in the underside of the doorbell): a T6 Torx security screw. Whilst Ring call them "security screws", there's technically nothing magic about them, since you can easily buy a T6 screwdriver to remove them.
The picture below shows the different heads on the screws (the bracket and mounting screws have the same crosshead size, whilst the security screw if a T6 torx head):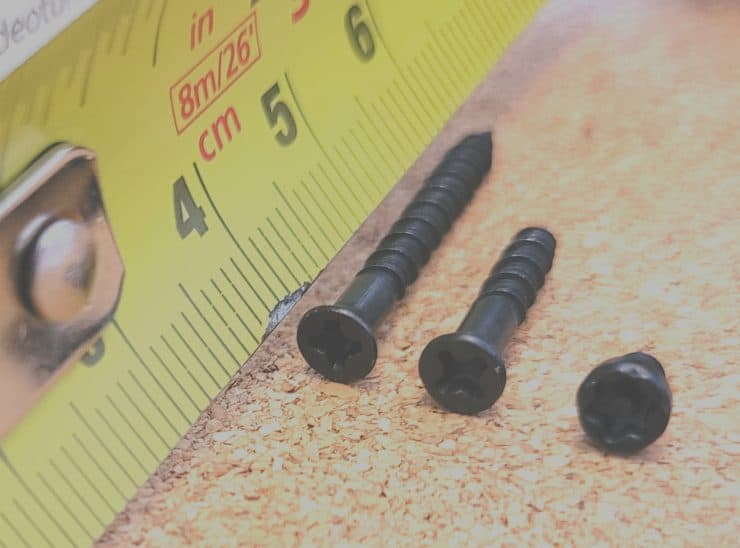 The Ring manual clearly reminds you that you need to use a security screw at the bottom, since using a wood screw could puncture the doorbell and damage it: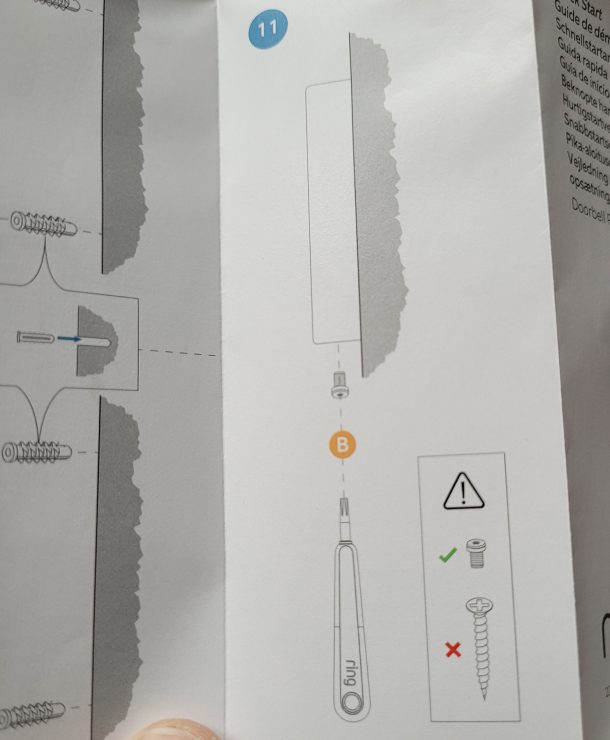 Now that we know of the three types of screws required for a Ring Doorbell, it's worth also knowing what size they need to be.
Torx Security Screw Size
The security screw used by Ring is always the same general type: it is a T6-head Torx screw. But the length of it can vary.
The hardwired Ring Doorbells (including the Ring Doorbell Wired, Pro 1 and Pro 2) all have a fairly short T6 security screw – it appears to be around 5mm (1/5″) in length to me:
This is a fairly small screw, and you can see that the depth is fairly shallow on the doorbell itself: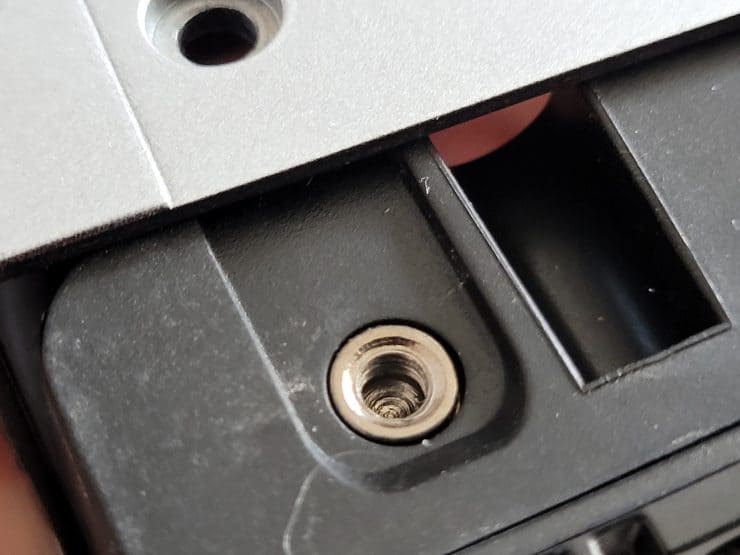 The security screw length on the battery-powered doorbells can vary quite a lot per model, unfortunately. The Ring Doorbell 1 and 2 require a longer security screw (that Amazon sell), whereas the newer Doorbell 3 and 4 models appear to require the shorter 5mm (1/5″) security screw too.
However as you can tell, finding the exact screw you need for your model can get a bit confusing. So if you're missing a screw for your Ring doorbell, it might be best to simply purchase one of Ring's 'spare part' kits.
I explore this option at the end of this article, but let's next look at the mounting screw size.
Mounting Screw Size
The mounting screws included with the Ring doorbell are 'standard' wood screws (8ga 5/16″ crosshead screws, to be exact). They are usually around 25mm (1″) in length: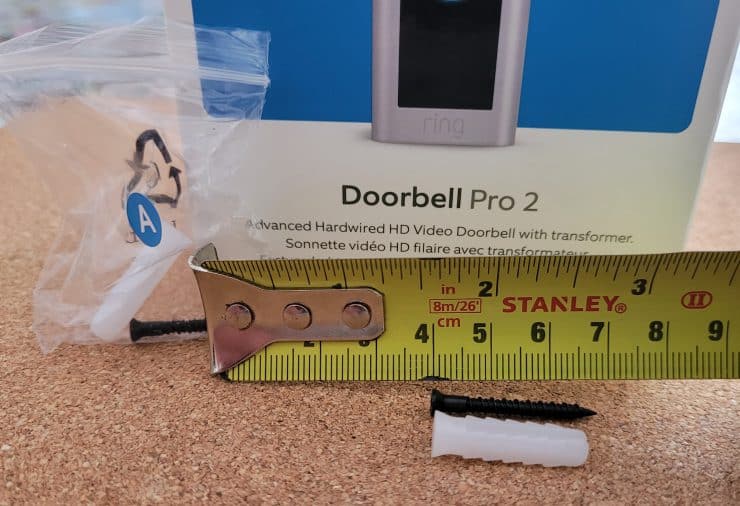 However it's worth noting that this is only what Ring suggests you might need. You should always inspect the surface you are mounting to, and buy a different type of screw if required.
For example, if you are mounting to a solid wall which has 1.5″ of crumbling render, you would want to buy a screw that is at least 2.5″ long – otherwise you will purely be mounting your Ring doorbell to a crumbling surface.
Mounting Bracket Screw Size
If you are installing your Ring doorbell in an awkward spot, or you need to angle it a bit, you might end up using the corner kit or wedge mounts that are often included in the box (you can buy them separately if your model doesn't include them):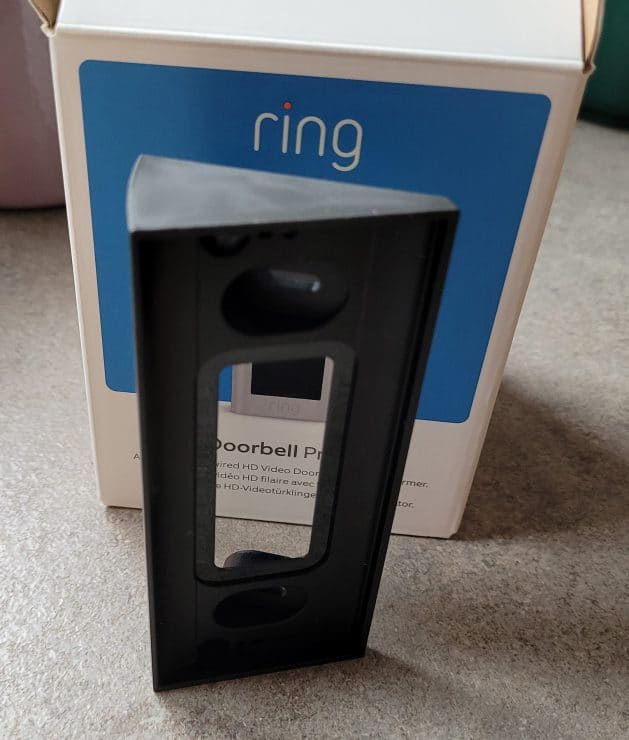 I covered how you install this earlier, but the gist is that you use the mounting (wood) screws to attach the wedge/corner bracket to your wall or door. You then use a shorter special screw, to attach your Ring doorbell to the bracket: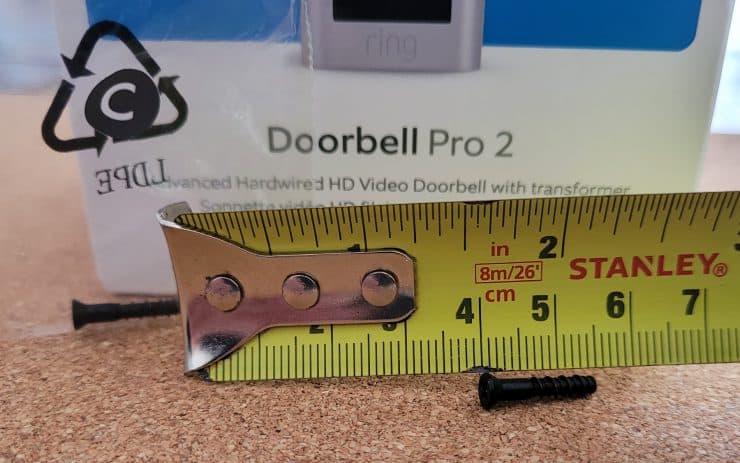 As you can see, this doorbell-to-mounting-bracket screw is 15mm (3/5″) long. It has a 5/16″ wide cross head.
Unlike the mounting bracket screw, this is one screw that you don't want to lose – since it's a fairly custom design (there's no thread towards the top of the screw, for example). But don't worry too much if you do lose it: I cover buying the spare part kit at the end of this article.
What Screwdriver(s) You Will Need For Ring Doorbells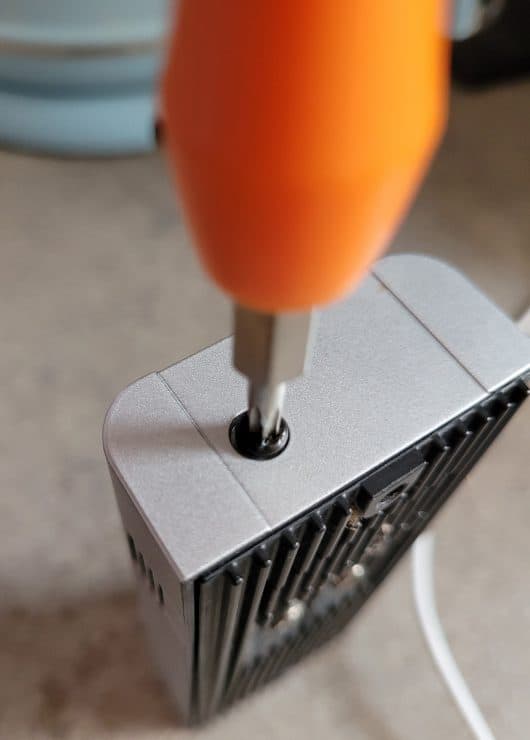 The screwdriver that comes with your Ring doorbell is fairly useful, because the driver head can be can changed between the torx head and a standard cross head: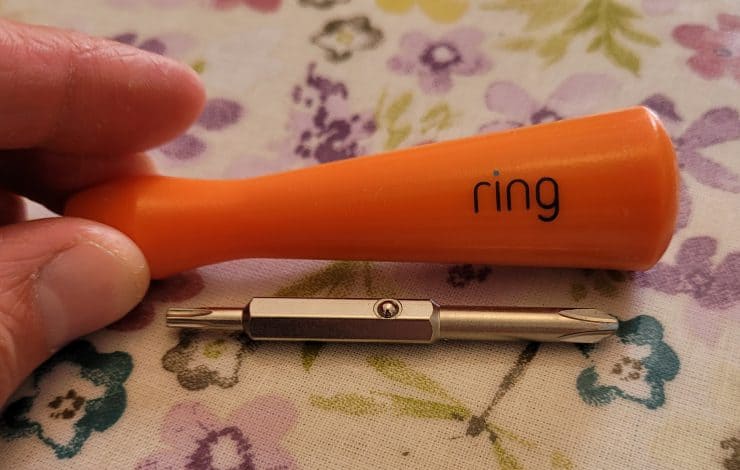 However if you have lost it, it's not a big problem. There's many other screwdrivers that come with changeable heads. Alternatively you can purchase two separate screwdrivers. The main thing to know is that you'll need:
A T6 Torx head screwdriver (or screw bit), for the faceplate security screw.
A 8ga (5/16″) crosshead screwdriver, for the mounting screws.
Replacing Lost Ring Screws/Screwdrivers
If you have lost the screws (or the screwdriver) that came with your Ring doorbell, you can thankfully buy new ones fairly easily.
Now that you know the exact sizes to purchase, you could just go down to Home Depot or Lowes and buy a replacement. Alternatively, Amazon and Ring.com both sell replacement screw part kits.
For example, Amazon sell both the short and long T6 torx screws that both types of Ring doorbell (battery and hardwired) require. However this approach can be fraught – some of the reviews say that the ordered screws were of low quality, or didn't fit the doorbell mentioned in the title. Great!
Thankfully Ring sell loads of spare part kits, for pretty much every doorbell they have produced: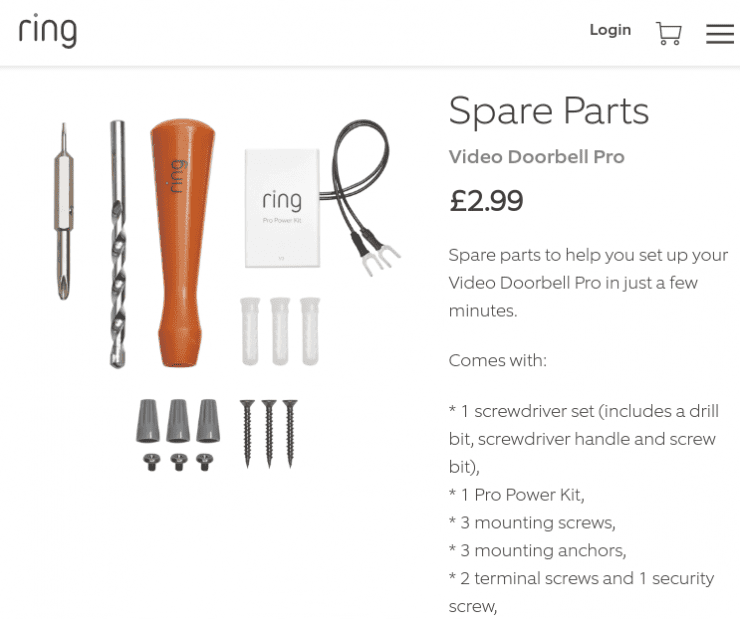 Since navigating their store isn't always the easiest, I tend to Google "Ring Doorbell Pro spare part kit" (replacing "Pro" with whatever doorbell you own) and this gives the required results quickly:
These parts include the replacement screwdriver, some extra wire and wire nuts, the mounting screws and the torx security screws. You will probably have to pay for shipping, but it should work out a fair bit less than $10/£10 total.
In my opinion, this is worth paying for the convenience of knowing that you're definitely getting the right screws for your model. Going down the Amazon route might work out slightly cheaper, but the resulting screws might not be of a high quality.