Ring's line of products is dynamic – always expanding and changing. Some devices get upgrades, others, new versions. But the bottom line is, Ring is always finding new ways to expand their line of smart home devices. One way they've done this is with their smart Floodlights and Floodlight Cams.
While originally many thought there were maybe one or two, there turns out to be multiple versions of the Ring Floodlight and Floodlight Cam! So what are these, how do they differ, and which one should you get?
Key Points
All of Ring's floodlight products contain a bright, motion-activated light.
The 'Ring Smart Floodlight' is part of Ring's Smart Lighting range. It does not contain a camera.
The 'Ring Floodlight Cam', released in 2017, is part of Ring's popular Camera range. It has a camera to record motion.
The Ring Floodlight Cam Plus and Pro models were released in 2021, improving on the original 'Ring Floodlight Cam'.
A Recap Of Ring's Smart Products
Ring has an extensive line of smart home devices designed to help you secure your home. The ability to check on what's going on around your home from anywhere helps you to keep your home, and loved ones, safe and secure.
While their most popular products remain their Video Doorbells, Ring also has several other smart cameras and devices. These include smart lights, including a smart Floodlight. In addition, there are Indoor Cams, Spotlight Cams, and Floodlight Cams. Ring also has an alarm system that comes in two versions; the Ring Alarm and the Ring Alarm Pro.
To control these devices, you'll need to download and create an account in the Ring app. Here is where you'll connect all of your Ring devices, and configure their settings to suit your home's needs best.
Most of Ring's cameras and doorbells connect to each other and the Ring app via Wi-Fi, whereas Ring's smart lights communicate over LoRa (more on this later).
Ring has many products to choose from – some of which many may not even be aware of! Take, Ring's Smart Floodlight and Floodlight Cams for example. Especially when it comes to the Floodlight Cams, there are so many to choose from, each with slightly differing capabilities. This has left some customers confused as to which one is best for their home.
So what are these different Floodlights and Floodlight Cam versions, and how do they differ?
Ring Smart Floodlight
The Ring Smart Floodlight is part of Ring's Smart Lighting range, and it is a floodlight designed to light up some of the darkest areas around the outside of your home. It comes in three different versions; Solar, Battery, and Wired. One of the main differences between these three is how they're powered.
As the name indicates, one is Solar-powered, with included solar panel. The Battery version is powered via 4 D-cell batteries (not included), and the Wired version has to be hardwired into a junction box.
Another difference between the three versions, is the number of lumens, or brightness of the lights, each Floodlight version delivers. For example, the Floodlight Battery version delivers 600 lumens, while the Wired version gives you a whopping 2,000 lumens!
The Floodlight Solar gives you up to 1,200 lumens, and the brightness can be adjusted in the Ring app.
In order to use the Ring Smart Floodlight, you'll need the Ring Bridge. This is because Ring's line of smart lighting uses LoRa. In order to use your smart Floodlight with the Ring app, the Ring Bridge is needed so it can 'translate' LoRa to Wi-Fi. This also gives you the ability to use smart home integrations like Amazon's Alexa.
The Ring Smart Floodlight has capabilities such as:
180-degree field of view
4-Way Positionable Motion Detector
The ability to adjust Motion Detection in the Ring app
The Ring Floodlights work with a sensor that detects motion. Once motion is detected, the lights come on. You can adjust how sensitive motion detection is, as well as where it detects motion in the Ring app.
It's to be noted, however, that the Ring Smart Floodlights do not record video. Want illumination and have videos recorded? You may want to opt for one of Ring's Floodlight Cameras instead.
Ring Floodlight Cams
Ring Floodlight Cams are smart cameras designed for the outside of your home. Just like the smart Floodlight, these cameras have two lights attached to the top, providing bright lighting. This way, when a Motion Event occurs, in addition to recording, the area is illuminated.
Floodlights are particularly useful for normally dark areas such as the side of your house, the driveway, as well as the backyard. These convenient cameras can be mounted either on the side of your house, garage, or even on a ceiling.
To get the most out of your Ring Floodlight Cams, it's a good idea to purchase a Ring Protect Plan. Without one, though your cameras will record, the recordings won't be saved. The two most popular options are Ring Protect Basic and Ring Protect Plus.
Ring Protect Basic covers one camera, while Plus covers all of your cameras. If you have multiple cameras, Ring Protect Plus ends up being more cost-effective.
Note: Ring released the original Floodlight Cam (gen 1) back in 2017. However this was deprecated back in 2021, making way for the Floodlight Cam Plus and Floodlight Cam Pro range (gen 2) in 2021.
Ring's 2021-era Floodlight Cams come in four different varieties which all work similarly. Some, however, are powered differently than others, and come with different capabilities.
Floodlight Cam Plus Plug-In
Like all the Floodlight cams, this camera provides great coverage to large areas outside of your home. Like many Ring cameras, this camera provides such functions as:
Live View
Advanced Motion Detection
Customizable Motion Zones within the Ring app
Siren (105 dB)
As the name indicates, this camera has to be plugged in to work. Because of this, you'll need to place it within reach of an electrical outlet. The included 20 feet (6 m) cord usually provides enough slack for you to plug it in wherever you need to.
You do have the option of hardwiring this camera as well, though it may require some tech-savviness.
The Floodlight Cam Plus Plug-In only works with the 2.4 GHz band of Wi-Fi. So if you're accustomed to, or want to use the 5 GHz band, it, unfortunately, won't work.
Floodlight Cam Wired Plus
The Wired Plus is very similar to its 'sister' camera, the Plus Plug-In. The main difference is that instead of being plugged in, this camera has to be hardwired into a standard junction box (which is included in the box).
If you happen to have, or had, a more traditional floodlight installed outside, you'd simply replace that one with the Ring Floodlight. Hardwiring requires a little more technical expertise, and you may need to get a professional electrician to do it:
Having a hardwired camera as opposed to one that's plugged in can be convenient, as you don't have to worry about running cords. In addition, you can change the brightness of the Floodlights in the Ring app.
Besides the power and ability to dim the lights, however, the Floodlight Cam Wired Plus is pretty much the same as the Plug-In version.
Floodlight Cam Pro Plug-In
This camera is the most advanced of Ring's Floodlight Cameras. You can choose from the two standard colors, black and white, or their newer colors, Graphite and Dark Bronze.
It builds on the standard Ring smart camera functions, such as two-way talk and color night vision, with enhanced capabilities. These are:
Radar-powered 3D Motion Detection
Enhanced Audio+ audio
HDR Video
Siren
Dual-band Wi-Fi
Microphone that limits sound distortion
Siren (110 dB)
All of these capabilities make it that much easier to help keep your home safe and secured. The Bird's Eye View feature is especially interesting: it makes use of the 3D motion detection too, to build up a map of where any visitors (or would-be burglars!) have walked:
Since it's the Plug-In version, it connects to power via a standard power outlet. The included cord, much like the Plus Plug-In, is 20 feet (6 meters), which should be more than enough.
With the Pro, you can now use either band of Wi-Fi, whether it's 2.4 GHz or 5 GHz, depending on which suits you better.
Floodlight Cam Wired Pro
In general, the Wired Pro is very similar to its 'sister' camera, the Plug-In Pro. In terms of aesthetics, this camera also comes in four different colors; Black, White, Dark Bronze, and Graphite.
Also much like the Pro Plug-In, the Wired Pro has an angled view, giving you the ability to see more of your property via the Ring app.
Just as its name states, this camera is wired, meaning, it has to be hardwired into a standard junction box. All of the materials needed are included in the box when you purchase your camera: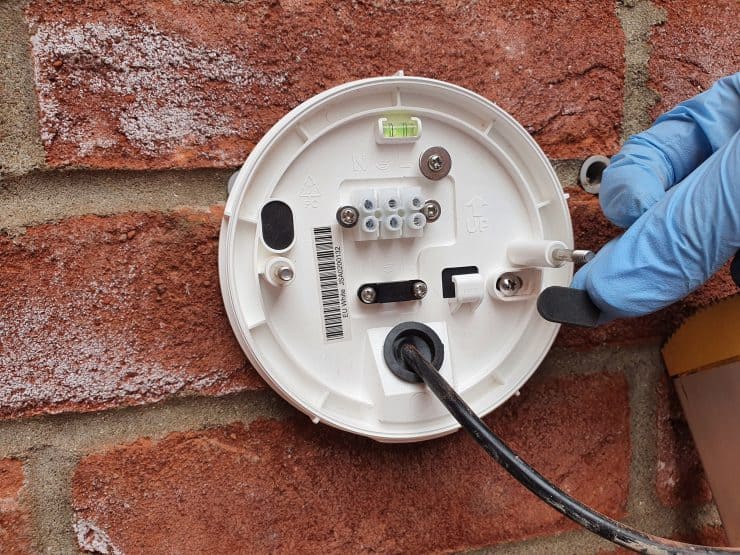 Which Should You Buy – Floodlight or Floodlight Camera?
So now that all the basics are covered as to what each Ring Floodlight and Floodlight camera does, the next question is – which one do you choose?
Simply put – whichever suits your home and needs best. Each has its own pros and cons.
Floodlights
Let's start with Floodlights. The main goal of the Floodlights is to alert you to motion around your home by lighting up darkened areas when motion is detected. When the lights come on, it may also deter would-be criminals who now think someone is on to them!
However, while they do provide bright light and can be a great deterrent, the benefits pretty much stop there. If a persistent criminal wants to stick around, especially if they realize no one is actually watching them, there's no way to see what's going on.
Enter the Floodlight camera.
Floodlight Cameras
Floodlight cameras come in a few different versions. For example, Plug-in cameras are essentially plug-and-play and don't require any special expertise or electrical knowledge. However, it may be easier for a determined criminal to cut power to the camera, especially if the cord is visible.
On the flip side, a Wired Cam provides more secure power as the power can't be cut as easily.
Then there's the question of Plus vs Pro. The Plus has great features, which suit most homes just fine. The Pro, however, is top of the line. The Pro is probably a good choice for businesses, as it provides more detailed coverage such as the detailed Bird's Eye View, unlike the Plus.
The Pro carries a higher price tag, but Bird's Eye Views, Dual-band Wi-Fi plus a louder siren, make the extra $40 – $60 worth it for many people.
The size of your home or business can also play a role. If you have a house with a large perimeter and lots of land, you may decide to opt for the Pro. Conversely, if your office building is small and the camera doesn't have much to keep an eye on, you may go with the Plus.
Floodlights Abound
Ring's line of smart home devices is no doubt extensive, highlighted by the variety of Floodlights and Floodlight Cams they have available. From the eco-friendly Solar Floodlight, to the beautifully bright wired Floodlight, you can get the light you need for your home's perimeter.
Want to record video as well? Ring's Floodlight Cams have you covered! From the Plus, to the advanced Pro, to Wired or Plug-In – there are so many options.
At the end of the day, the Floodlight or Floodlight camera that you choose depends on the coverage you and your home, or business, needs the most.