The Ring Indoor Cam was released towards the end of 2019, and whilst it's been out for a little while now, there's still quite a few questions being asked about it. So I wanted to write this 'frequently asked question' guide to answer some of the 10 most commonly asked questions about it.
Read on for the text guide, or if you prefer video, feel free to check out my YouTube video instead:
1) What's the difference between the Indoor Cam and Stick Up Cam?
Ring's Stick Up Cam – which can be used indoors or outdoors – has been around for a few years, and it can be powered by battery, solar or be plugged in, whereas the Ring Indoor Cam is less than a year old, it's indoor only and can only be plugged in.
That's the main differences, but the table below shows the full details:
| | | |
| --- | --- | --- |
| | Ring Indoor Cam | Ring Stick Up Cam |
| Original Release Date | 23rd October 2019 | 2015/2016 |
| Current Generation | 1st | 3rd |
| Power | Plug-in only | Battery, solar or plug-in (electric or PoE). |
| Can be used outdoors? | No | Yes |
| Customizable motion zones | Yes | Not on the battery version. |
| Price (without a sale) | $59.99 | $99.99 (battery + plug-in versions) |
| Night vision | Yes | Yes |
| Can be wall mounted? | Yes | Yes |
| Records 24/7 | No | No |
| Size | 1.81″ x 1.81″ x 2.95″ | 3.82″ x 2.36″ x 2.36″ (battery version) |
| Color options | White and black | White and black |
| Supports 5 Ghz WiFi | No | No |
Comparing the Ring Indoor Cam to the Stick Up Cam.
2) Does the Ring Indoor Camera rotate?
The Ring Indoor Cam can be mounted in a variety of walls: on a table, a wall or the ceiling. As a result, the captured video may appear upside down or in the wrong orientation.
If this applies to you, you can fix this rotation problem in the Ring app by:
Launching the Ring app
Selecting your Ring indoor camera
Going to device settings
Going to video settings
Clicking the "Rotate Video" toggle
Going forward, this will then record the opposite way to how it was recording previously – and hopefully the correct way up!
However this is a "set it then forget" setting: you can't actually move or rotate your camera around whilst in 'live view'. This is a feature that's possible on most professional security cameras, but not something which Ring tends to offer on its smart cameras.
3) Does the Ring Indoor Camera record sound?
Yes, by default the Ring Indoor cam supports sound – but this can be turned off. It records sound once it has started recording, unless you turn this off by launching the Ring app:
… and selecting your Ring Indoor Cam
Going to 'Device Settings'
Going to 'Video Settings'
and clicking the "Audio Streaming and Recording" toggle button.
Equally, the Ring indoor camera supports two-way conversations meaning that if you are in 'Live View' mode, you can talk through it and the person by your camera can hear you and speak back to you.
4) Does the Ring Indoor Camera have night vision?
The Indoor Cam does support night vision, just like the rest of Ring's smart cameras and doorbells. This is made possible by an infrared sensor which detects the low lighting conditions, and starts to record in black-and-white instead.
When the lighting conditions improve (e.g. in the daytime), the sensor should switch back to the full color mode instead. This all happens automatically so you don't have to worry about adjusting from 'daytime' to 'nighttime' mode.
5) Does the Ring Indoor Camera have a siren?
The Ring Indoor Camera sort of has a siren, but it's complicated. It doesn't have a separate siren hardware unit like the Ring Floodlight and Spotlight Cams, but it does now have a manually-activated siren option under live view:
When clicked, this plays a sound through the existing speakers. It's nowhere near as loud as the 110 decibel siren that the Ring Floodlight Cam has, but it's better than nothing. It might scare off some would-be burglars.
6) Does the Ring Indoor Camera record all the time?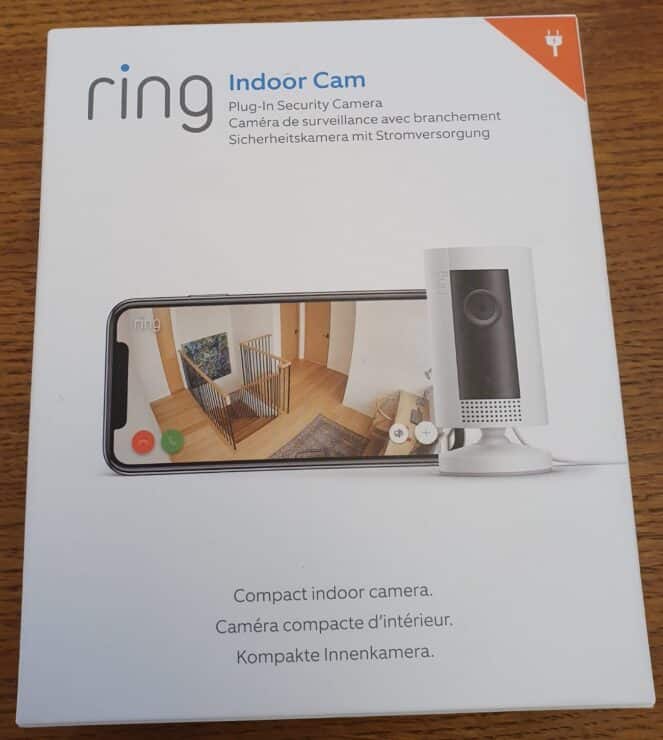 A Ring indoor camera that's watching you 24/7 is a scary thought! Thankfully, this Ring camera doesn't record all the time. Like other Ring cameras, it only records when motion is detected (or 'live view' is activated). However beyond this, it also won't record if you are set to 'Home' in the Ring app's "Mode" feature:
You can change whether you're at home or not in the Ring app, but also automatically via the Ring alarm system.
Note: Ring took away the modes feature from free customers in late March 2023. In other words, unless you pay for a Ring Protect subscription (starting at $3.99/month per device), you can't use modes anymore.
If you don't want to rely on modes, you can also stop a Ring camera from recording by opening it in the Ring app, and toggling the "Record motion" option so that it's off.
If you did want it to record 24/7 (for example it's in an outbuilding), unfortunately you're out of luck. Ring still haven't delivered this feature, despite promising 24/7 recording a couple of years ago. You can, however, use snapshot captures which takes still images every 30 seconds.
7) How can I talk through my indoor ring camera?
To talk through your Ring Indoor cam, you firstly need to open up the video stream. You can do this in the Ring app (by going to 'Live View') for the device), or via an Amazon Echo Show (by saying "Alexa, show me my [name of camera]").
Once the feed is up and running, ensure that the microphone is enabled – there might be an icon with a cross through it, or it might say "Mic muted". Ensure that you un-mute it so that the mic isn't crossed out anymore.
At this point, you are able to talk through your Ring indoor camera just like a video call on WhatsApp or any other video messaging service.
This can be useful for dropping in on a family member when you're away travelling, scaring off a burglar, or trying to sooth a crying baby.
8) Does the Ring Indoor Cam work through glass and windows?
Yes, the Ring Indoor camera does work through windows (i.e. glass) – but only in daytime mode. The moment night vision kicks in, motion detection through glass stops working.
This is because the Ring Indoor Cam only records when motion is detected, and motion detection in daytime light works via pixel detection (as in, the Ring camera looks for actual changes to what's being recorded).
But once night vision kicks in, the Ring camera falls back to the infrared camera sensor and motion detection instead relies on PIR (passive infrared) sensors to see if motion has occurred.
This works fine overall, but one downside is that infrared readings won't work through glass: as-in, someone could be walking around your backyard, but your Indoor cam won't detect this. This is because that person's infrared emissions will be cut off by the window, meaning that the indoor cam won't pick this up.
Your Ring Indoor Camera can still show you video in Live View mode, however.
9) Can I use the Ring Indoor Camera outside?
The Ring Indoor Camera does not have any weatherproofing so – as its name suggests – it can't be used outdoors where it can get wet. Of course, it could still be used in an outdoor area if it's undercover and there's no chance of it being rained on.
If you have an undercover porch area – or a backyard patio area with an overhead cover – you can use a whole range of 'indoor only' electronics outside. It's quite common for people to use Kindles and tablets in this case which is also safe to do as long as they don't get wet, so using a Ring Indoor Cam here will also be fine.
10) Can my Ring Indoor Camera trigger my Ring alarm?
No, it's not currently possible to have your Ring Indoor Camera (or any Ring camera, for that matter) triggering your Ring alarm. Currently you can only manually trigger your Ring alarm's siren (if you see a burglar, for example) via the Ring app.
Its worth pointing out that when your Ring alarm goes off, it does automatically set your Ring cameras to record (to try and capture any break-in attempts, for example). So there is some level of integration between the two, but unfortunately it's not currently possible to have your Ring camera trigger your Ring alarm when motion is detected.