If you own Ring smart home cameras, you know that one of their most attractive features is customizability. You have the ability to configure your cameras to work the way you want them to. One such option is the ability to create motion schedules.
These are convenient because you can cater them to when you want to, and don't want to, receive motion alerts. But what happens when those motion schedules don't work as they should? How do you fix it?
Ring Cameras and Doorbells – What are they?
Ring's line of smart home cameras and video doorbells are some of the most popular among their competitors in smart home security today. Though they sometimes run a higher price tag versus the competition, many argue that because of their quality, they're worth it.
Their cameras come in a wide variety of options, depending on the coverage you want for the inside and outside of your home. Indoor cams, for example, come in both wired and wireless versions.
While the wired Indoor Cam can only be used indoors, the Stick-Up Cam is more versatile. It's weather-resistant with an IP rating of IPX5, so it can be used both indoors and outdoors. It's also wireless, so it can be placed virtually anywhere in or outside of your home.
Ring's Outdoor cams come in an even wider variety. You get options such as Floodlight and Spotlight cams, as well as the aforementioned Stick-Up Cam. Floodlight and Spotlight cameras provide extra illumination to the darker areas of your home, such as backyards and driveways.
Ring cameras and doorbells use Wi-Fi to connect to the internet and the Ring application. The only exceptions are the Elite cameras, such as the Ring Video Doorbell Elite and the Stick-Up Cam Elite. They connect to the internet and power via an ethernet connection, using Power over Ethernet or PoE. 
All of your Ring devices can be set up and their settings configured in the Ring application. Here is where you can set up your cameras according to your preferences. You have the option to create Motion Zones, Privacy Zones, as well as different Modes.
You'll also notice an option for creating Motion Schedules. But just what are motion schedules?
What are Ring Motion Schedules?
Ring Motion Schedules are an option that helps you get notifications only when you want them. You can create these schedules in the Ring app under each individual camera's settings.
To get started with Motion Schedules, you'll first go to the specific camera you're trying to create a schedule for. From there, you then go to Motion Settings. In Motion Settings, you'll select Advanced Settings, and there is where you'll find the area to create Motion Schedules.
Here is where you'll decide when you don't want to receive alerts for motion-detected events. Perhaps your device is loud and will go off and wake a baby that you (finally!) got to sleep. Or perhaps you work at night and need to sleep for a specified time during the day. You would then set your cameras to avoid sending notifications during these crucial times.
It's to be noted, however, that even though the notifications are silenced, it doesn't mean that your camera stops recording any motion detection. Your camera will still be triggered by and record motion. If you have a Ring Protect Plan, the videos will then be saved in the Ring app and on the Cloud so that you can view them later.
So the purpose of the Ring Motion schedules is just to make sure you aren't disturbed by notifications when you don't need or want them. Think of it as a 'Do not disturb' mode for your cameras.
While Motion Schedules usually work without a hitch, sometimes, problems come up. Like what? And what do you do to fix said problems?
Common Problems With Ring Motion Schedules
So you've set your Ring Motion schedules, you've made sure you selected just the right times for each device. Next thing you know, you're getting a notification when you're scheduled to not get notifications. What gives?
Sometimes things happen. Fortunately, there are a few fixes.
Problem #1: Still Receiving Notifications
The point of having Motion Schedules is so that you don't receive notifications during certain times.
With this in mind, it's definitely understandable to be annoyed when you still get those notifications, especially if they disrupt you at sensitive times, like a work meeting for example.
So what causes this and what can you do about it? First, you'll have to carefully re-evaluate how you set your schedules.
You may also need to check on your device's operating system and find out if there are any apps that might push notifications through and ignore your Motion Schedules. Both iOS and Android systems have some apps that can conflict with Ring settings – Ring's help section lists many of the affected Android apps, although some also appear on the App Store.
Check in your Settings which apps affect notifications. Sometimes in your device's settings, just the fact that Ring notifications are always on, can affect how they react to your motion schedules.
If you're using or considering downloading Rapid Ring, no need to worry if you'll have to set up Motion Schedules there as well. This app works along with your Ring app as well as any special settings in it. Rapid Ring is essentially a lite version of the Ring app, so it's simply another way to receive Ring notifications and view your live feed without opening the Ring app.
Problem #2: Alexa/Echo Notifications
Many Ring users also use Alexa via their Amazon Echos. Even if Motion Schedules work perfectly with the Ring app and any connected smart devices such as smartphones and tablets, it's not always the case with Alexa and the Echo. This is particularly the case when it comes to Ring Video Doorbells.
This is unfortunately a common problem that Ring nor Amazon has remedied as of yet. No matter what motion schedules you have set up, Alexa will still push through notifications. This could be because it's running off the Ring skill in Alexa, as opposed to the actual Ring app.
The Ring skill is mainly there to show you notifications, and allow you to speak through your cameras – but that's about it.
There is, however, a way to work around this – sort of. The solution can be somewhat complex, so it's up to you to decide if it's worth the extra steps. But it involves removing Ring alerts from Alexa's Ring skill. Then, in the Alexa app, you would have to set up routines of your own that would notify you when someone comes to the door, and when.
For example, the trigger would be "Smart Home" and then motion or a doorbell press from your Ring Device. The action would then be "Announcement", and you then specify which Echo devices should announce the motion or doorbell press.
By disabling the notification aspect of the Ring skill (not the Ring skill itself), your Ring notifications can't push through. Setting up extra routines may be annoying (and time consuming!), but it's an option if you really don't your Ring devices, or your Echo, alerting you during certain times.
Problem #3: Notifications Coming On at the Wrong Time
At times, some have reported that their Ring cameras don't start blocking notifications until hours after the motion schedule is set to start. Then the notifications keep going past when they're supposed to stop. What gives?
The same problem may be in set-up. You should ensure that your Ring app is set to the correct time zone, by verifying the location. Sometimes the discrepancy can cause your cameras to operate improperly.
In other words, launch the Ring app, click the menu bar (the three lines in the top left), go to "Settings" and then "Change Address" if your address looks incorrect in any way: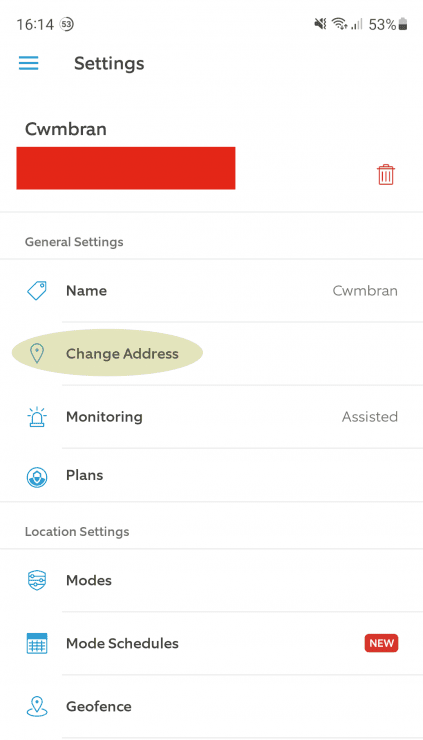 Sometimes a minor issue (such as a stray space in the zip code) can be enough to cause the Ring app to put your cameras in the wrong timezone.
If you find that everything checks out with your settings and time zone, it may be time to contact Support, and give support team a call.
Alternative Smart Home Cameras
So suppose Ring just isn't going to work for you, so you look into other smart home camera brands that have similar features. Fortunately, most smart home cameras offer much the same in terms of options for creating motion schedules or 'do not disturb' times so you don't get motion alerts.
One such option is Wyze.
Their cameras are more affordable than Ring, and they offer many of the same functions and abilities. Wyze gives you options to set up what they call, Rules. Among the many things that Rules can dictate, is notifications for motion-detected events.
Another brand is Arlo.
You have the option to set different schedules for your cameras. You can do this either in groups or with each individual Arlo camera. These schedules let the app know when to send you notifications, and when not to.
Google Nest is also a popular option.
In the Nest app, you can also create schedules. It's to be noted that these schedules turn your cameras off, not just stop notifications. So your cameras won't be recording while notifications are off.
Keeping On Schedule
There are few things more frustrating than not having your motion schedules cooperate. This can lead to unwanted notifications interrupting your day, or night! Fortunately, there are a few fixes.
If despite your best efforts, technical issues arise that can't be solved with a little tweaking, it's best to reach out to the Ring team.