Many Ring users make use of the Ring app's geofencing capabilities. This convenient feature allows the actions you specify to be carried out when you leave your home and/or when you return. While this is no doubt a great feature for an individual, what about a family?
Ring's geofencing is typically used with only one user/device. But this can sometimes cause certain issues if other family members are still in the home – like unwanted alerts. This leaves many users wondering – is it possible to use Ring's geofencing with more than one user? If so, how?
Key Points
The Ring app supports multiple users, plus geofencing, but not together (i.e. multi-user geofencing is still not available).
Ring has not announced any ETA for this feature either.
DIY hubs like Home Assistant and Hubitat will offer this, though.
Rival cameras from Eufy and Arlo do offer multi-user geofencing out of the box.
Ring & Geofencing – An Overview
The ever-popular Ring is best known for its line of smart cameras, and even alarm systems. Their indoor and outdoor cameras have long been indispensable tools when it comes to smart home security.
In order to use their smart cameras and alarm system, users have to download and use the Ring app. The Ring app offers a lot of great ways to use your smart cameras. One such way is with geofencing. But what exactly is geofencing?
Setting Up Geofencing For A Single User
A geofence is basically a virtual perimeter created around a specific location. Your home for example. In the case of geofencing, this is when a mobile app (Ring, for example), uses GPS or RFID technology in your mobile device to trigger an action. This occurs when the app detects that you've left or arrived at said location.
With Ring's geofencing, you can trigger such actions as stopping motion notifications, setting your mode to Away (a function only available with a Ring Protect Plan), or even snoozing alerts when you get home. If you use Ring's pathway lights, geofencing can also trigger an alert to light up your path when you get home.
You configure your geofencing settings in the app. You start by opening the Ring app. On your Dashboard, go to the three lines on the upper left-hand side to open the side menu. From there, select Settings.
On the next screen, you'll see an option for Geofence.
After you hit that, the Ring app will take you to the steps to create your geofence. You'll first choose what your geofence perimeter will be. Then, you'll get to choose which devices are affected and what actions they perform when you leave or arrive at your geofenced location.
It can even create reminders to arm your smart home.
As great as geofencing is for one device and user, does Ring support this for multiple users?
Does Ring Support Multi-User Geofencing Yet?
When it comes to whether Ring supports multi-user geofencing – the answer is unfortunately no. There is no way to set up multiple users in the Ring app. It doesn't seem as if Ring is planning to do so in the near future either.
In the Ring community, there are actually quite a few people looking for this particular feature. In fact, there have been so many outcries that Ring has definitely taken notice and issued a statement on the Community forum. The statement just basically says that many people have asked, and a link where you can add your vote – and it pretty much stops there.
So at this point, it's up in the air as to whether they'll actually do something about this or not. In the meantime, it seems like they're just trying to appease the masses with a little link that doesn't really do anything.
Why Multi-User Geofencing Would Be Useful
Geofencing is a great tool to have for the smart home. In today's busy world, sometimes it's hard to remember to lock doors, turn off lights, or change certain camera settings each and every time you leave home. With geofencing, all that is done for you just by you leaving (or coming back to!) your home.
Now, if you don't live alone, this can also present an issue. If you have a Ring Protect Plan, you have the option of setting modes to Home or Away. When you leave home, and Ring is consequently set to Away mode, if someone is still home, you're most likely going to get bombarded with alerts!
This can get beyond annoying – especially if multiple family members have access to the app and everyone is constantly getting alerts. Your spouse shifts on the couch and your Ring Indoor camera goes off like, 'wait, someone's in the house' – not an ideal situation!
With an option like multi-user geofencing, Ring wouldn't be set to Away unless everyone is out of the house. This thereby reduces the number of unwanted alerts and also results in better battery life for any affected battery-powered devices.
So now we know its benefits, and that doing it via the Ring app isn't possible, are there any workarounds or options?
Creating Multi-User Geofencing with Ring – Is It Possible?
Finding simple workarounds for beginners to achieve multi-user Geofencing with Ring has proven near impossible. Any workarounds with Ring are typically complex, time-consuming, and aren't foolproof. Meaning, you can go through the effort to set them up, but there's no guarantee that they'll work properly.
When it comes to workarounds for different devices, it's usually Alexa to the rescue! Unfortunately, not this time. Though geofencing is available in the Alexa app, setting it up to work with your Ring cameras is a no-go. They show up, but as unsupported devices.
Even if it were possible to create a geofencing routine in the Alexa app for Ring, it would most likely still be confined to just one user/device. Similar is true when it comes to Samsung's Smart Things. Though Ring devices show up as available for geofencing automations, they would still be confined to one user or device.
Even though Alexa and Smart Things aren't helpful in this regard, there are a couple of options you can try for multi-user geofencing in your home.
Smart Home Hub Integrations
Multi-user geofencing and Ring apparently don't go hand in hand in many cases. However, some users have had success using DIY hubs like Home Assistant and Hubitat. This is mainly for the tech-savvy, however.
These open-source home automation software programs allow you to write your own automations, giving you greater control over how your devices work.
The YouTube video below covers adding Geofencing support to Home Assistant, including taking into account multiple users:
With Hubitat, users have found success using the Combined Presence app. By using this, they've been able to create automations that arm/disarm their smart homes – Ring and otherwise. You can set such parameters as the first person home sets the mode to Home, while the last person out sets the home to Away.
IFTTT
Another option some have explored is using IFTTT (If This Then That). This platform, best for the tech-savvy, has applets that are designed to get different smart home manufacturers to work together in order to create smart home automations. This option exists even within the Alexa app.
The premise of IFTTT is that the trigger of one app will get the other app to perform an action. This might be able to circumvent the lack of ability to add Ring cameras to Alexa routines.
In the past, users have had luck using the applet Life360. Unfortunately, it's been done away with, and has seemingly been replaced with Switchur – but unless you're an IFTTT pro, it would probably be better to look at Home Assistant or a few other workarounds.
Arm Devices Manually
The most surefire way to make sure your home is secure when everyone is out would be to manually arm and disarm Ring. While shared use of geofencing may not be possible, shared users on the Ring app are. Make sure any family members are added to the Ring app so that they can control the system.
The last person to leave the home would simply have to set the mode to Away or arm the system. Then, if someone is the first to come back home, that family member can disarm Ring, or set it to Home.
Note: This would involve family communication as well, but in today's connected world, that shouldn't be too much of a problem!
What Smart Camera Systems Support Multi-User Geofencing?
If you're not into using Ring or any complex workarounds to achieve multi-user geofencing, you may look into other camera brands that actually do offer this.
One example of a company that offers such is Eufy.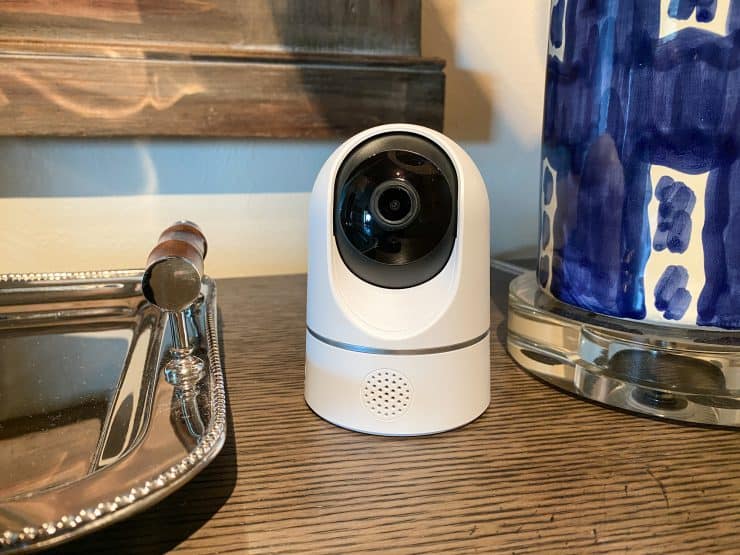 With Eufy's multi-user geofencing, multiple users can be registered. This way, even if only one person is home, the system still stays in Home mode. However, if the app detects that everyone is out of the house, then Eufy goes into Away mode.
Arlo also supports multi-user geofencing, though some users complain that this is off and on and sometimes doesn't work as well as it should.
Wyze doesn't support multi-user geofencing, and neither do Google's Nest cams. Being there are so many people looking for this option, it would stand to reason that these companies would make multiple-user geofencing a standard option.
But it's anyone's guess whether these companies will include them in the near future. We'll keep an eye out, and update this page when we hear more.
Fenced In
Geofencing is a great option to have in today's busy world. But with many people living with family, having multi-user geofencing would be an even greater option! Unfortunately, at this time, Ring doesn't have such, and any workarounds can be more trouble than their worth.
To that end, you might decide to use a different smart home camera system. Companies like Eufy and Arlo offer multi-user geofencing, making things easier and more convenient for families. Ring may or may not add multi-user geofencing in the future. So for now, we have to employ workarounds – or go with another company entirely.