Ring Stick-Up Cameras are a great choice for smart home enthusiasts who either want to expand their home security technology as well as people just taking their first steps into home automation and security. These cameras are versatile and designed to be attached to a wide range of different surfaces.
If you've been worried about getting into smart home security because the thought of having a complicated, and intimidating, home camera was setting you back, you're in luck. These cameras offer easy and elegant security services for today's smart home.
The Ring Stick-Up Camera comes with a mount. However, the included mounting options are inherently limited, and you might want to turn to other mounting solutions to make the most out of your Ring camera.
What is the Ring Stick-up Cam?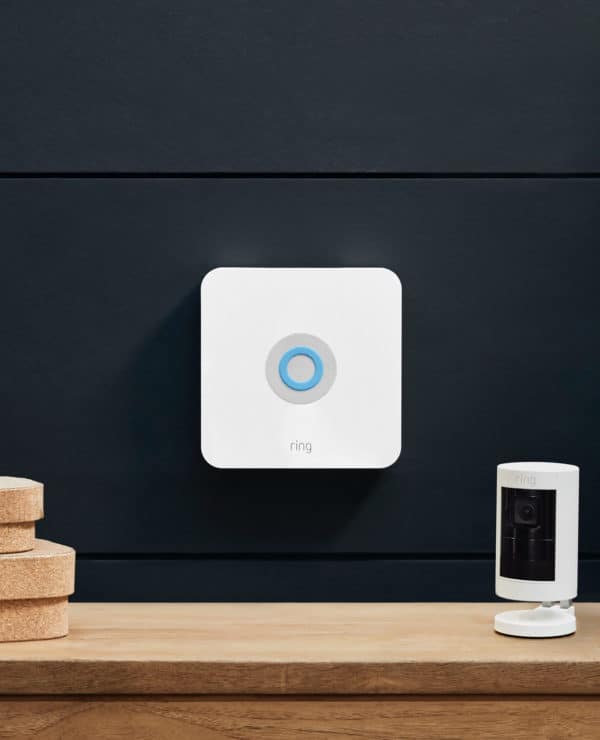 The Ring Stick-Up Cam is an entry-level smart home security option. This camera is designed to give you both a recorded record of activity in or near your property and enhanced communications options for people coming and going in your home.
At the heart of this camera is the 1080p recording, live view options, and a night vision mode. These features alone make this a solid choice for people who are just starting to build a smart home security system as well as established users who are looking to add a little more coverage to their most important places.
The camera connects via WI-Fi and has plug, battery, and solar options depending on which models and accessories you go for. Multiple cameras can be networked together to really cover your security needs.
The basic Ring Stick-Up Cam mount
The Ring Stick-Up Camera does come with its own built-in mounting options. The base of each Ring Stick-Up Cam is actually a mounting bracket that is ready to go:
All you need to do is detach the mounting bracket and screw it onto any surface to enjoy all new camera angles:
There is also dedicated mounting accessories that connect the camera to a swivel arm – this is sold separately. This allows you to articulate the camera's placement and achieve much better coverage than the standard options allow.
This camera is a great choice, but it does have its drawbacks. Even the expanded mounting options have their limits and this camera has been waiting for a key update since it's first generation.
Getting Creative With the Mounting
What if you want to change the orientation of your film, or even the angle at which you are filming?
Unfortunately, the Ring Stick-Up Cam is locked into a single orientation. Only purchasing different Ring ecosystem technology will free up your camera so that you can use it from any angle – such as the Ring Indoor Cam that allows you to rotate the video upside down:
The fact that this useful feature isn't offered for the Ring Stick-Up Cam is a pity, since it might be a pretty major deal breaker for someone looking to get more security bang for their buck.
But what about simply changing the camera angle a bit, to capture different levels of detail?
Whether you are flipping the mount for aesthetic reasons, or you want to explore a home security coverage option with strict footprint requirements, flipping your view should be standard in today's technology.
And thankfully it is possible to alter the angle a bit, using the built in mount that I explored earlier. By screwing the wall-mounted part in at an angle, you can then hang the Ring Stick-Up Cam at an angle too.
But what happens if you want to do something more drastic, like mount on a ceiling or roof?
Can the Ring Stick-Up Camera Be Mounted Upside Down?
In short, no.
As mentioned above, this camera has its orientation locked into position. Even though the included mounting bracket could be screwed in upside down, the resulting recordings would also be upside down – and motion detection may not work fully either. Plus, there's no "lock" mechanism on the basic mount, meaning that the Ring Cam would probably slide straight off from it (if mounted upside down)!
Third party mounting brackets and even the additional bracket would help you get upside down mountings without it sliding off, but the same basic problem remains – the camera can't handle flipped footage, meaning any recordings (and possibly motion detection) would have issues.
Having said that, you can rotate the angle of your Stick-Up Cam using the articulated mounting arm, and move it around to find a slightly better recording 'spot' – which can help you achieve new angles whilst not impacting on motion detection nor recording performance.
Ring's Proprietary Mounting Options
Ring has one additional official choice for people who are not satisfied with the included mount. Before we start talking about what this additional mount has to offer, let's briefly look at how the included mount works and what kind of limitations it poses to smart home uses.
Included Mount
The included mount is literally built into this camera.
In the default position, the mounting system is actually part of the base of this camera. In order to use the mount, you must detach the base from the camera body and then mount it to a wall of your choice:
This might be good enough for almost every smart home setup, but if you are looking to get the most possible performance out of your camera, you are going to eventually want a more interesting angle.
A key part of using the included mount is matching the arrows. This prevents the camera from sliding out of the mounting. This is a great, low-tech safety feature that prevents your Ring camera from just falling off of the wall due to gravity.
There is one major trade-off you make with this system, however. The mounting system is unidirectional. This means you can only mount it one way and still rely on the device being safe.
If you want to break out of the mold and try a new mounting approach, you are going to need the mounting arm.
Mount for Stick Up Cam
Ring's official Mount for Stick-Up Cam kit comes with everything you need to attach this camera to any surface. The mounting arm includes masonry bits for tougher walls as well as an articulated arm which allows you to get any angle you want:
The advantages for this dedicated mounting system are pretty clear. You'll get an attractive mount that helps you achieve angles that your camera would otherwise not be able to capture.
This might not matter for you if you are simply using this camera to watch over an open and conventional doorway. However, today's modern needs often involved integrating the camera into a slightly more specific zone.
The mount allows you to effortlessly attach this camera to ceilings and other hard-to-reach places. While this mounting stick is great for reaching new angles, it still can't help with the footage capture.
Between the two included mounting options, you should be able to do everything you need. However, if you are looking for a dedicated mount with different options, you can always shop around for third party products.
Should You Use Third Party Mounts?
Third party mounts save you money and get the same job done. Of course, as with any third party technology, you need to be aware of the risks before you use the item.
Any third party mounting kit won't be officially supported by Ring, especially since they sell their own separate mounting kit. If your Ring Stick-Up Cam is having issues with motion detection or recording and Ring suspect it's due to your third party mount, their support team probably won't help you.
Equally some third party mounts may be lower quality than the official Ring mounting kit. So if it fails and your Ring Cam falls on the floor, you're not going to be covered.
With those warnings out the way, there's a range of simple mounts on Amazon that are compatible with the Ring Stick-Up Cam:
The TIUIHU mount offers full rotation options for almost half the price of the official Ring kit, so it's clear to see why you might go with this option instead. Just remember that you can't rotate the video within the Ring app, meaning that the "360 degree rotation" isn't as much of a selling point as you may think..!