Picture it; you've finally got your new Ring camera and you're all ready and excited to set it up! Everything goes well with connecting it to your Wi-Fi network and the Ring app, so for the last step, it starts updating the firmware. So you wait, and wait…and wait. Wait…why's it taking so long??
Some users have gone through this exact scenario. Either during setup or some time during use, their cameras get stuck on firmware updates. What's going on? How do you fix this?
Key Points
Ring's devices automatically update themselves, especially after their first set-up.
This usually only takes 5-10 minutes, but sometimes it takes a lot longer.
Changing the Wi-Fi network or re-booting the app and device usually resolves this issue.
Ring Doorbells and Cameras – How They Work
Ring is a common household name when it comes to the modern smart home. This smart home manufacturer makes a wide range of smart cameras and video doorbells to suit the needs of every home and business. They even have Alarm Systems that you can use your cameras with.
They make cameras designed to be used indoors, as well as some that can be used outdoors. The options for outdoor cameras are actually more plentiful.
For example, there's the plug-in Indoor cam.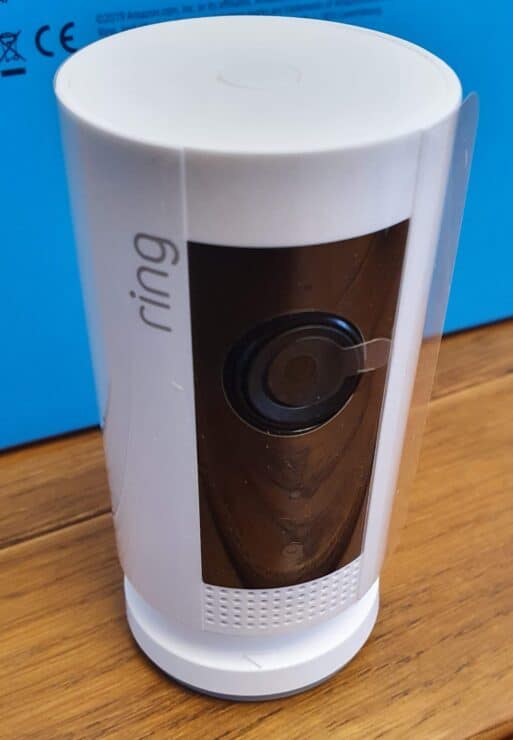 Then there's the ever-popular Ring Video Doorbell range, that serves as a doorbell and security device in one. Two-in-one lights and camera units, such as the Floodlight and Spotlight Cams are other options to keep your home or business safe.
Ring's line of cameras and video doorbells connect to the internet via Wi-Fi (the only cameras that don't use Wi-Fi are the Ethernet-based Elite devices).
All of Ring's smart devices are set up and configured in the Ring app. This app is your central hub of control for all of your Ring devices. If you have a Ring Protect Plan, It's also where you view any recorded videos from your cameras. Without a Ring Protect Plan, your cameras will still alert you to Motion Events, but won't store any of the videos.
Either at setup, or sometime during your time using them, Ring cameras and video doorbells go through various firmware updates. When connected to the internet, these devices perform auto-updates as needed. But what are firmware updates exactly?
Firmware Updates – What Are They?
Firmware updates are updates for Ring devices. Much like software updates to the Ring app, these usually occur automatically. Firmware refers moreso to the hardware within the camera, as opposed to the app updates many are more familiar with.
This is why firmware updates often take a little longer than software updates: they affect the internal workings of your cameras and video doorbells.
During a firmware update, battery-operated cameras are unusable. Hardwired devices can be used, but they won't perform as efficiently until the firmware update is complete.
These updates often happen when you first get your camera. As the last part of the setup process, they update the firmware, in order to make sure your cameras are ready to perform optimally. They can also happen at random if Ring releases a necessary update.
To check if your Firmware is up to date, go into your Ring app's Dashboard, then select the camera that you're interested in checking.
Go to Settings, then to Device Health.
Scroll toward the bottom to where it says 'Firmware'. Most of the time it says 'Up to Date'.
If it doesn't and an update is needed, you may have to manually start it, especially if something caused it to stop before.
Most firmware updates, though they take a while (up to 30 minutes), usually happen without any problems.
Unfortunately, this isn't always the case. Some users have reported that their cameras freeze during a firmware update, leaving them useless and their homes or businesses vulnerable. What's going on?
Firmware Update Issues – How to Handle Them
So why is your firmware update freezing? And what do you do if this happens to you? Fortunately, there are a few steps you can take to troubleshoot your device and resolve the issue.
Check on the Internet
This is one of the first things to check when a firmware update goes awry. Spotty or weak internet won't allow the device to connect to the internet and download the update properly, or in a timely fashion. Check to make sure that your internet connection is strong. Ring's Elite PoE devices rarely experience this issue, as Ethernet internet is often more stable than Wi-Fi.
Check your device's Wi-Fi signal by first going into your Ring app, then to the camera you want to check on. Then go to Device Settings.
Scroll down until you see the Network subheading, and look at Signal Strength. If it's green, your Wi-Fi is strong and good to go. If it's red or yellow, however, this indicates your Wi-Fi signal is weak and causing connection issues.
The number next to RSSI (which stands for Received Signal Strength Indicator), can also tell you how strong your Wi-Fi is. The lower the number is, the better. For example:
Numbers from – 66 to -90 indicate weak internet with heavy interference.
-65 to -41 is average, though you may occasionally have video playback issues.
-40 or less indicates a very strong connection that gives your devices more than enough bandwidth.
If your signal is weak, you can first try restarting your router. In some cases, you may need to switch to a different, stronger Wi-Fi network, if possible.
Try a Different Wi-Fi Network
It could be that the Wi-Fi network that your cameras are connected to, is slow or not connecting properly. If that's the case, you can try connecting to a different Wi-Fi network in your home, if you have one.
Tip: If you don't have an alternative one, you might be able to create a temporary one via your phone – by turning on the hotspot settings. This uses your phone's mobile data to create a temporary Wi-Fi network. You can then connect your Ring device to this hotspot Wi-Fi network.
To change the Wi-Fi network, go into your Ring app, and on the Dashboard, select the camera you want to change Wi-Fi for. Then go into Settings, then to Device Health.
There, you'll scroll down to the Network section and select "Change Wi-Fi Network".
Follow the prompts that come up, and select the Wi-Fi network you want to switch to.
If the old Wi-Fi network was the issue, the firmware update should now proceed more smoothly.
Force Close The Ring App
Another reason for the firmware update freezing could be that there is some issue with the Ring app itself. The firmware update could be progressing, but the app, if frozen, isn't registering that the update is progressing properly.
To remedy this, force close the Ring app, as well as any other background apps that you're not using. Then, after a minute or so, re-open the Ring app.
The exact process here depends on your phone, but on Android you usually go to Settings, then "Apps" and select the Ring app. From here, click "Force stop" and click "OK".
Force closing other apps will also free up processor space on your mobile device, making it easier for your device to tell how far along the firmware update is. It can also give more bandwidth for downloading the firmware update.
Power Interruption
Interrupting the power to your smart camera for a few minutes can force stop and reset the firmware update, allowing it to start again and (hopefully!) complete successfully.
How you do this depends on what your camera's power source is. For cameras with a removable battery, you simply remove the battery.
Plug-in cameras would just need to be unplugged, and Elite devices would get disconnected from their Ethernet cables.
When it comes to cameras or Video Doorbells that are hardwired, you would have to go to your circuit breaker and cut power to that particular camera or area of your home. Anywhere from 1 to 5 minutes should be all you need.
Then there are the tricky devices, such as the Ring Video Doorbell, the 2020 release specifically.
This one is powered by an internal rechargeable battery. But this battery is unfortunately not removable. The only way to disrupt power to this device would be for the battery to run out. This could take quite a while! So, unfortunately, in this case, power interruption isn't an option.
Reboot Your Device
It may be that you need to reset or reboot your smart camera altogether. This may be needed to clear any internal errors and reset the internal workings. Doing this will also give your firmware update a fresh start.
You can do this by going into your Ring app's Dashboard, then going to the camera's settings. In Settings, select Device Health. Scroll down all the way to the bottom to Reboot This Device.
Make sure your device is online before you do this. You'll lose access to your camera while this happens, but the reboot should be relatively quick.
The Wait-and-See Approach
One of the most common things that people try first, is the wait-and-see approach. If your internet is stable but slow, things may take much longer than expected. However, it may still be progressing.
If after a couple of hours, however, the firmware is still updating with seemingly little to no progress, it may have frozen again.
If despite all of your troubleshooting your cameras are still freezing during their firmware updates, you'll need to contact Ring.
It could be that your device is defective or damaged and needs to be replaced. If you have a Ring Protect Plan it includes an extended warranty that will cover issues like this.
Tough Updates
Firmware updates are necessary, there's no doubt about that. The freezing part is what's annoying! Fortunately, there are a few troubleshooting fixes that you can try before chucking your camera to the wind! Restarting the cameras or Ring app, as well as temporarily disrupting the power supply can all help things start moving along.
If all else fails, however, it may be time to reach out to Ring and see if they can solve the issue.