The basic Ring Protect plan costs $40 per year (per device) and it appears to offer a bunch of nice features over and above not having a Ring subscription. But after shelling out hundreds of dollars on Ring devices, you might be forgiven for wondering whether you can skip paying the extra Protect fees too.
What will work without the subscription? And – crucially – what won't work? I wanted to write this article to cover these exact questions, and more. Well, the short answer for Ring doorbell and Ring camera owners is:
Without a Ring Protect subscription, you won't be able to view back any recordings at all – even ones triggered by doorbell presses or your Ring alarm system. If you get a notification of motion in the middle of the night, you have to watch the stream live there and then – or you won't be able to access the recording later.
I have covered this point in a YouTube video which you can check out below:
However that's just a summary – there's a lot more to know on this topic, especially if you own multiple Ring doorbells or cameras, or any of Ring's other products (such as the Ring Alarm, or their lighting range).
Before diving into that, let's discuss exactly what Ring Protect offers – and how much it costs.
What Ring Protect offers
Ring's website aptly explains all parts of their Ring Protect plan, saying:
With Ring Protect Plus you'll receive 24/7 monitoring for your Ring Alarm system and be able to save up to 180 days of Ring videos for a reasonable price.

Ring.com website
This sums up the big value that Ring Protect brings, to be honest:
For the alarm system, you get 24/7 professional monitoring (so that Ring's staff will check in on things if your alarm system is triggered) along with a cellular backup in-case your internet connection drops.
For their cameras and doorbells, all events – whether it's motion being detected or your doorbell being pressed – are saved to the cloud for 180 days, allowing you to go back and check on any suspicious activity for almost 6 months. This used to be just 30-60 days of storage, but Ring increased it to 180 days in June 2022.
There are three Ring Protect plans (more on this in a second) and as of July 2022, all three plans give a 10% discount on products on the Ring.com store. Ring's website often have the same offers and discounts as Amazon, so an extra 10% on top can be quite useful.
The Cost of Each Plan (Updated For July 2022)
There are three Ring Protect plans:
Ring Protect Basic – this is paid per camera.
Ring Protect Plus – this is per Ring account, in other words it covers all Ring cameras, doorbells and alarm systems.
Ring Protect Pro – this is exclusive to North America, and it's for the improved Ring Alarm system from September 2021.
Here's how much each plan costs in different countries:
| | | | | | |
| --- | --- | --- | --- | --- | --- |
| | America | UK | Canada | Germany/Europe | Australia |
| Ring Protect Basic | $4/month ($40/year) | £3.50/month (£35/year) | $5-6/month ($50-60/year) CAD | €4/month (€40/year) | $5/month ($50/year) AUD |
| Ring Protect Plus | $10/month ($100/year) | £8/month (£80/year) | $15/month ($150/year) CAD | €10/month (€100/year) | $15/month ($150/year) AUD |
| Ring Protect Pro | $20/month ($200/year) | Not available | Not available | Not available | Not available |
Ring Protect plans, along with their price in various countries.
It's worth noting that Ring Protect Basic is per device, but the other two plans cover an unlimited number of devices. So if you have three devices or more, it's worth going for the Ring Protect Plus plan.
As you can see, the price varies a bit around the world but they all work out to roughly the same monthly/yearly price. Nonetheless, the features that are offered are fairly consistent worldwide. With the Ring Protect Basic plan, you get the following (over and above not having a subscription):
Video recordings are saved for 180 days as of July 2022 (this was 30-60 days previously), whether they're triggered from motion, live view or a doorbell press.
The ability to share and save videos.
Snapshot captures (also called 'camera preview'), where still images are taken every 30 seconds – 3 minutes to give you an overview of what each Ring camera/doorbell is picking up.
10% off various Ring items on Ring.com (and Amazon, depending on the country).
With the Ring Protect Plus and Pro plans, you also get an extended warranty for all Ring devices that are currently under warranty. In other words, a 4 year old Ring camera wouldn't suddenly get a warranty again, but newer devices would. The standard Ring warranty is 1 year in America and 2 years in some other countries (including the UK).

The extended warranty continues until you cancel your Ring Protect Plus subscription, i.e. it will provide 3 year's of extra warranty if you hold the Plus subscription for all 3 years.
And with the Ring Protect Pro plan, you also get professional monitoring for your Ring Alarm system, making your alarm system more like the professional at-home alarm systems that used to cost $30+ per month to run.
Now that we know how much this costs, the next question is obvious: do you need to pay it?
Ring Devices That (Might) Benefit From Ring Protect
The items that Ring sell fall into four main groups:
Let's dive into whether the Ring Protect plans might apply to each 'group' of products, starting with both Ring doorbells and cameras.
Does Ring Protect help Ring Doorbells and Cameras?
In my opinion, the Ring Protect plan (either the 'Basic' and 'Plus' version of Ring Protect) will definitely benefit Ring's smart doorbells and cameras.
This is because you'll start getting 180 days' worth of saved video clips, along with the useful snapshot capture feature.
This costs $4 per month or $40 per year for Ring Protect Basic (per device you own), and it's definitely worth it because otherwise you'll receive a motion notification at night, but then you have no way of knowing what triggered it. Without the paid-for plans, you always have to be 100% alert and jump onto Live View the moment that you receive a notification.
In other words, if you are asleep when motion is detected, you won't have any recording later on showing what triggered the motion event.
I'll dive into this point in more detail a bit later on.
Does Ring Protect benefit the Ring Alarm System?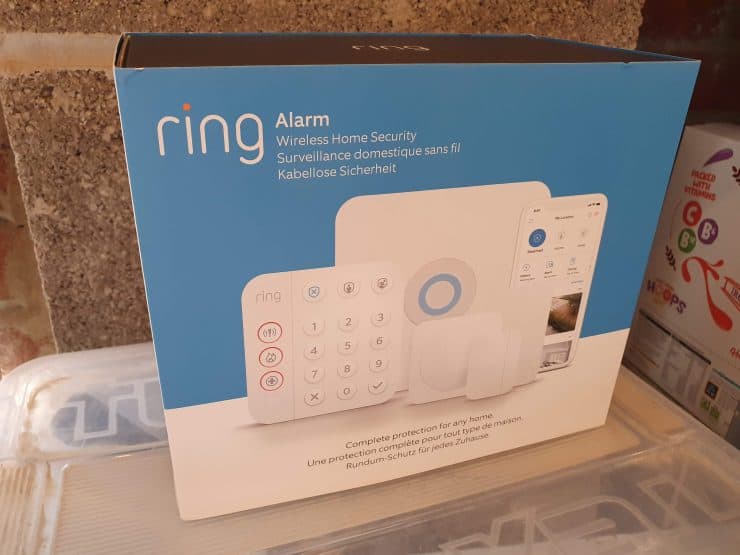 The Ring Protect Plus and Pro plans can be very useful if you have the Ring Alarm system, although you don't strictly have to have a Plus or Pro subscription with your alarm system (as I look at later on).
The two main benefits from a Ring Plus/Pro Protect plan are:
It introduces professional alarm monitoring (with the Protect Pro plan), which is a fairly standard – and useful – benefit of alarm systems, and one which can often cost much more than $20 per month with traditional alarm system companies.
You'll also get a cellular backup as part of your Ring alarm system (with the Protect Plus or Pro plans). This can be very useful in-case your WiFi fails (or worse, gets jammed). This means that your Ring alarm system can still notify you (and/or Ring) when there's a possible intrusion attempt.
Of course, these features vary per country. Not all countries receive a cell backup, or professional monitoring. The UK, for example, only receives 'assisted monitoring' – which is where your emergency contacts get called up when the alarm is going off. There's no 24/7, Ring-managed monitoring available.
So if you're not based in North America, be sure to double check whether you'll get professional alarm monitoring and/or cell backup before paying $20 per month for the Plus plan.
Does Ring Protect benefit the Ring Smart Lighting range?
No, you don't need a Ring Protect plan for the Ring Smart Lighting range. In-fact, you don't really get any extra features if you own the Ring Smart Lighting range and then buy a Ring Protect plan.
This is because the smart lighting range works as you'd expect from any other smart lighting provider: lights turn on and off based on motion, and schedules. They don't have built-in cameras (or alarm sensors), so it wouldn't make much sense for Ring to require you to buy a subscription for the service.
---
Now that I've covered what you gain with a Ring Protect plan, let's dive into a bit more detail about what you lose if you skip it.
Skipping Ring Protect for Ring Cameras/Doorbells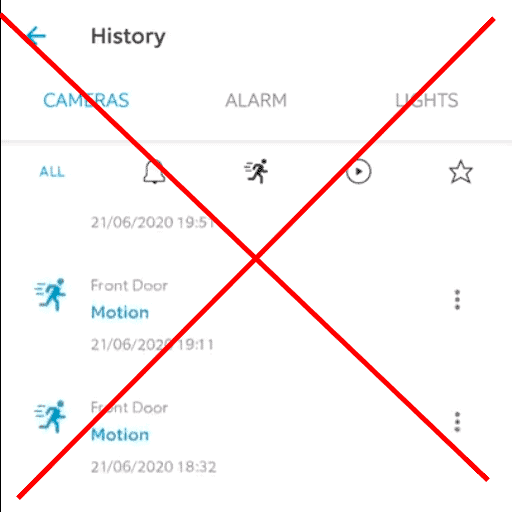 So you've bought a Ring doorbell or camera, but you didn't realize that you have to pay an extra monthly fee. Annoying, right? As a result, you decide "screw it" and to run without the subscription. So what happens?
Well, if you're on your phone a lot – and maybe you have some Amazon Echo Shows around your house – you may not notice too much downsides. This is because when motion is detected – or your doorbell is pressed – you'll get a notification on your phone, and also the output can appear on your Echo Show devices.
When you receive the notification, simply click it to enter 'Live View' and get a realtime view of what your doorbell/camera is seeing – and what triggered the motion alert.
Simple.
Unless, of course, you do that annoying that that some humans do: sleep.
Many opportunistic burglars go around at night, usually 1-4am. They try door handles to see if people forgot to lock them, and get up close to houses to see if there's open ground floor windows. If so, they seize the moment and burglarize the house. This is what happens in at least 41% cases of burglaries – i.e. they are unplanned and not targeting a specific house.
So in this case, your Ring devices will be sending you motion-detected alerts in the middle of the night.
You have two choices here:
Keep your phone on loud, so you can always wake up and check the 'Live View' feed (even if it's a false alarm: cats and critters still trigger motion detection at times, even with "people only" mode enabled!).
Keep your phone on silent, and ignore any overnight notifications. After all, you can't check the recordings the following day so you could just not worry about them.
For me, neither option is ideal really. You either keep getting waking up at night (possibly for false alarms), or you lose a key benefit of Ring's doorbells and cameras – the ability to spot opportunistic burglars.
This is why I'd personally always pay the $40 per year (per device) for the Ring Protect Basic plan, but it's totally up to you.
As I say, if you're near your phone quite a lot and it's usually on loud, you might get by just fine without the paid-for plan – especially if you live in a secluded area and so don't get many motion-detected events.
Skipping Ring protect for the Ring alarm system
This is where the decision to 'subscribe or not subscribe' gets more complicated. Home alarm systems traditionally have come with bulky and expensive monitoring solutions, and Ring's alarm system sought to end this with its smart functionality which means that you can 'DIY' and manage your home security yourself.
But some people wanted more, and so the $10 per month (or $100 per year) Protect Plus plan was formed, which introduced the professional monitoring and cellular backup that I mentioned earlier.
For me, the cellular backup is a nice feature, but probably not worth $100 per year unless my WiFi connection regularly drops and fails (in which case I'd probably get a new router, to be honest!)
However professional monitoring – the ability for Ring to monitor your system too and contact local law enforcement if they notice anything suspicious during alarm events – is quite a nice benefit.
Unfortunately Ring doubled the price of this feature in September 2021, when introducing the Ring Protect Pro plan. Yes, $20/month is still a bit cheaper than Simplisafe and ADT, but not by much,
It will have people asking whether they really need to pay $20/month for Ring Protect Pro, or whether they should just skip the professional monitoring and pay nothing – or $10/month for cellular backup.
In other words, your choice with the Ring Alarm system is to:
Have no subscription (pay $0/month): you won't get professional monitoring, nor cellular backup. You will have to monitor the system yourself.
Buy the Ring Protect Plus plan (paying $10/month): you get cellular backup, but not professional monitoring.
Buy the Ring Protect Pro plan (paying $20/month): you get both cellular backup, and professional monitoring. You do also get backup internet with the Alarm Pro base station, which is a pretty nice feature.
The choice really comes down to how you plan on monitoring and securing your home.
Why Ring Protect Plus Might Be The Best For You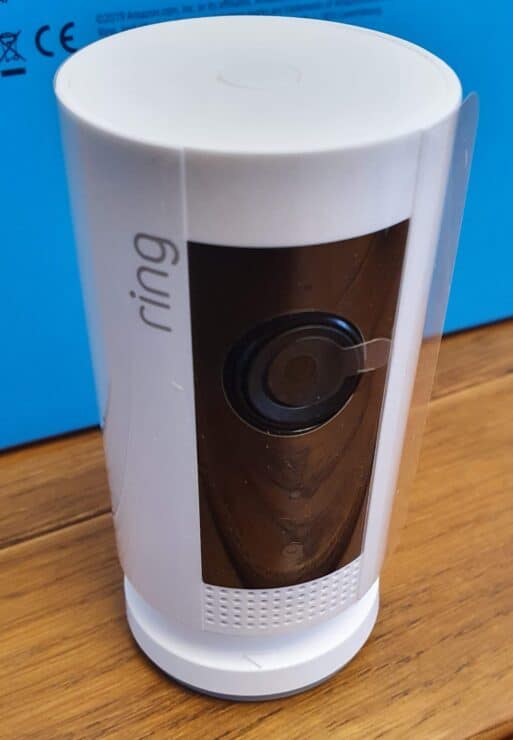 I've covered quite a few of the features that you gain or lose with the Ring Protect plan, but there's a few quick points that I wanted to make about the potential financial benefits of paying for a Ring Protect plan – and specifically, the Ring Protect Plus plan.
Side note: I don't mean to come across as a Ring salesperson. I don't get commission if you buy their products or services. It's just that I've crunched the numbers, and buying their Protect plan makes sense in many cases.
Firstly, if you have 3 (or more) Ring devices and stick to the Basic plan, you'll be paying 3 x $40 = $120 per year for four doorbells/cameras. In this case, you'll be better off paying $100 per year for the Ring Protect Plus plan that protects all your devices.
As mentioned earlier, the Ring Protect Plus plan gives you an extended warranty. This means that if you buy a $250 Ring Floodlight Cam and it dies after 3 years, Ring will replace it for you. Without the Plus plan, you would need to shell out another $250 to buy a new Floodlight Cam.
I have made use of this extended warranty twice. Early in 2022, my 2 year old Ring Chime briked itself – and Ring replaced it without issue. Then in mid-2022, my Ring Doorbell Pro button cracked. Even though it was 2.5 years old at that point (and the UK warranty is just 1 year), since I had the Ring Protect Plus plan for two years, I was covered and got a new doorbell.
Wrapping Up
The choice of whether to buy a Ring Protect plan is entirely yours, and if you don't get many motion alerts, you might want to monitor everything yourself.
But for me personally, I feel that paying $40/year per device (or $100/year for all devices) is a price worth paying. After all, if you don't feel like checking all your Ring cameras every time you get a doorbell, camera or alarm alert, paying for a Ring Protect subscription fee could definitely make sense.
The Protect Plus plan is also priced quite well, in my opinion. After all, the relative cost of the Plus plan also falls with every new Ring doorbell or camera that you buy. Instead of paying $40 per year for each new device, you get the 180 day of recordings 'for free' under the $100 per year Plus plan.
In other words, if you have 3 Ring cameras (which would have cost 3 x $40 = $120 per year) you'll end up paying more than if you just 'upgraded' to the Plus plan.
Before Ring hiked their fees in June 2022, it was cheaper to pay for three Ring devices on the Protect Basic plan since this cost just $90/year. But it's now only cheaper to stick with the Basic plan if you have 1 or 2 Ring devices.
By going with the Plus plan, you then get an extended warranty, and cellular backup if you also own the Ring Alarm system.
That's a pretty good deal, and much cheaper than the subscription fees to traditional alarm companies!