Ring is one of the most popular smart home device manufacturers available today. To keep themselves in the running, they're constantly upgrading their devices and software. These updates sometimes include new and ever more useful features for their line of smart cameras. One of these recent upgrades, however, has gotten mixed reception. It involves a voice recording that tells people that they're being recorded.
While this can be a great feature to deter intruders, it can get a bit weird too. Just imagine walking past a house, or going to your friend's house. Out of nowhere, you hear a disembodied voice tell you you're being recorded – definitely startling! So to avoid scaring guests, and possibly yourself, can you turn this feature on and off at will?
What is Ring?
Ring is a smart home manufacturer that creates smart home products that help keep your home safe and secure. Their most popular products are their rather extensive line of smart cameras, as well as their video doorbells. Because these devices connect to the internet, they allow you to monitor your home, no matter where you are.
Their cameras and video doorbells run mainly on Wi-Fi, except for the Elite cameras. The Ring Doorbell Elite and the Stick Up Cam Elite use PoE, or Power over Ethernet, and are connected via an ethernet cable by which they receive power and internet. Certain video doorbells such as the Ring Doorbell Pro are wired, so they receive power via a wired connection (but these still use Wi-Fi for internet connectivity).
All of Ring's devices are controlled via the Ring app. There in the Ring app is where you set up your cameras, and control what they do and when. Things you can set up in the Ring app include Motion Zones, Motion Sensitivity, as well as how and when you get notifications. 
The Ring app often updates. These updates include such things as bug fixes and security patches. If Ring is going to add a new feature, these updates often add on new features. One such new feature that has received mixed reviews, is Motion Warning.
But what is Motion Warning – and do you need it?
Ring's Motion Warning Feature
As of recent, Ring introduced a new feature to their Ring cameras and video doorbells. This feature is called Motion Warning. Motion Warning is a message that plays through your camera and video doorbells' speakers. This message notifies people that pass through your Motion Zones, that they're being recorded, by saying "Hi, you are being recorded."
It activates when motion within your Motion Zones has triggered the device. It then lets the person (or perhaps even inanimate object!) know that they're being recorded.
In order to use this feature or even have it activated, you'll need to have your Motion Zones set up.
However, this feature doesn't work with all Ring devices. So which devices does Motion Warning work with?
Devices That Use Motion Warning
Motion Warning has only been introduced in the US at this time, so if you're outside of the US, you won't see this feature as of yet. It's also not available on battery-powered devices – oddly enough as a good portion of Ring's cameras and video doorbells are battery-powered!
Some devices that have this Motion Warning feature are:
Ring Video Doorbell Pro & Pro 2
Ring Video Doorbell Elite
Stick-Up Cam Elite
3rd Generation Stick-Up Cam Plug-In
Spotlight Cam (Wired & Mount versions)
Floodlight Cam (including Wired Pro & Wired Plus versions)
Indoor Cam
If you're unsure if your device supports this, go to your home screen, and select your device. Under your particular device's settings you'll see the 4 toggle options; Ring Alerts, Motion Detection, Motion Alerts, and Motion Warning.
If you try to toggle the Motion Warning and you get an error message, your device doesn't support this feature.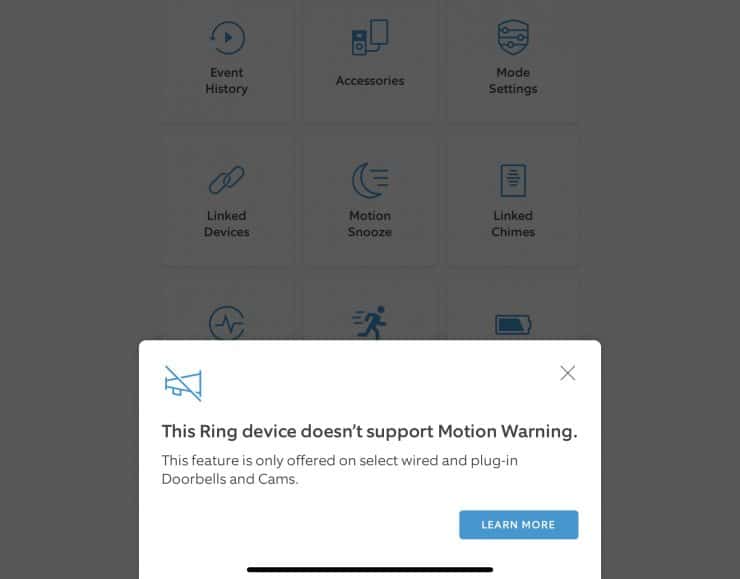 If you don't, however, you're good to go to use this feature – or not, if you so choose.
How to Turn Motion Warning On and Off
So let's say that you find that disembodied voice popping up to be a little creepy – and so do your guests!
If you want to be able to turn this feature off, fortunately, you can. To do this, however, you need to go into the settings of each device individually. Once you go into the device settings, you'll toggle the Motion Warning button. That's it!
Now your guests won't be surprised, and neither will you – until you decide to turn it on again.
But let's say you want to inform people they're being recorded, just not in such a scary way. There are a few options you can explore.
Other Ways to Warn People They're Being Recorded
Fortunately, you're not limited to using Ring's Motion Warning. Between Ring, and more generic options, you have other ways of letting visitors, and potential intruders, know they're being recorded.
Physical Signs
One of the first options, is the classic physical sign. Most Ring devices come with a Ring sticker that you can place in a clearly visible spot on your property.
This makes guests and not-so-welcome visitors aware that a Ring camera is on the premise. They'll also be aware that said Ring camera is most likely recording them and whatever they're doing.
Another option is a generic sign. You can find these in stores such as Home Depot, or even online at Amazon.com. These signs basically say something like 'Video Recording is in progress'. This way, everyone is aware that there's a camera, and that they're being recorded.
Ring Smart Responses
Another option is Smart Responses in the Ring app. Even though many Ring cameras have speakers, this feature is only available on Ring Video Doorbells.
With this feature, unlike with Motion Warning, you have a few default message options to choose from. Will it still be creepy? Maybe. But at least it sounds a tad more friendly!
To enable Smart Responses, go to your Video Doorbell in the Ring app. You'll see a button that says "Smart Responses".
After you hit that button, on the next screen you'll see the option to enable 'Quick Replies'.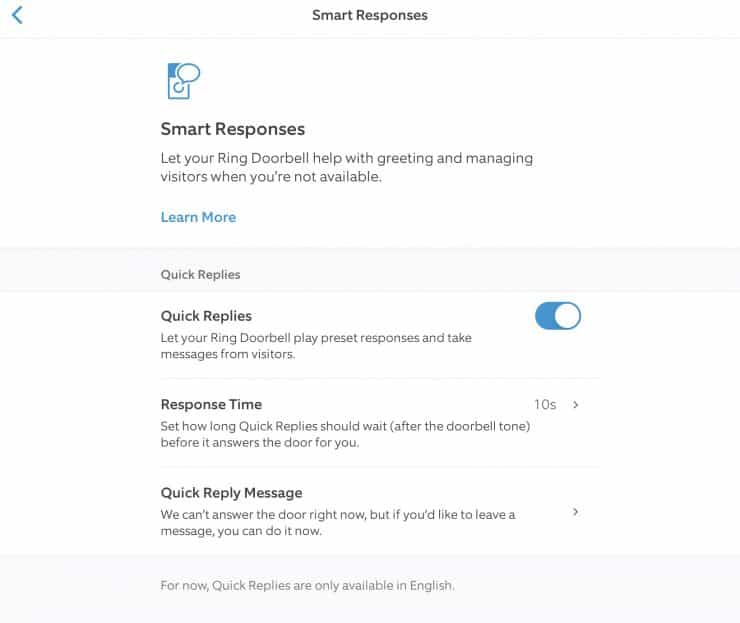 Once you've done that, you'll be taken to the next screen where you can select one of the pre-set messages.
Smart Responses also gives visitors the ability to leave messages for you if you're unable to speak to them at the moment. You can even choose how long after the doorbell press the response will be said.
You'll need a Ring Protect Plan to take full advantage of this feature. Without a Ring Protect Plan, you can't view the messages in your video history, you can only see them live.
Motion-Activated Lights
This works particularly well with Floodlight and Spotlight Cams.
When someone enters your Motion Zones, lights come on, alerting individuals to the fact there's a camera. This works best in areas such as the side of your home, the backyard, and other poorly-lit areas where thieves and other nefarious individuals like to lurk.
You can also use a combination of all of these features, making sure that everyone is well aware they're being recorded.
Warning: Recording in Progress
The Motion Warning feature can be useful – but not if it's scaring your guests! Because of that, many seek to disable this feature. But what if you still want to be able to make people aware that they're being recorded? There are a few options.
Physical signs, motion-activated lights, and Ring's smart responses are all viable options when it comes to letting people know they're being recorded.