When it comes to controlling your new smart home device, you'll probably see that most devices nowadays "support Alexa". Some support Google Home, too. However you may also have seen people talk about their 'SmartThings Home Hub', or perhaps their 'Home Assistant hub' running from a Raspberry Pi.
So what gives? Do you need a separate smart home hub, and are people right that SmartThings is 'dead'?
Smart home hubs are useful if you have various smart home devices, which you want to manage visually in a central place – and potentially set-up some more complicated custom routines and automation for those devices.
Can't you just use an Echo or Google Home?
Imagine that you have 5 Amazon Echos, 2 Google Home devices, a Ring doorbell and 3 Ring stick-up cameras, along with 3 FireTV sticks, 2 smart thermostats, 10 smart plugs, 8 Hue bulbs and 2 smart door locks. Oh yeah, and the smart garage door opener you tend to forget about.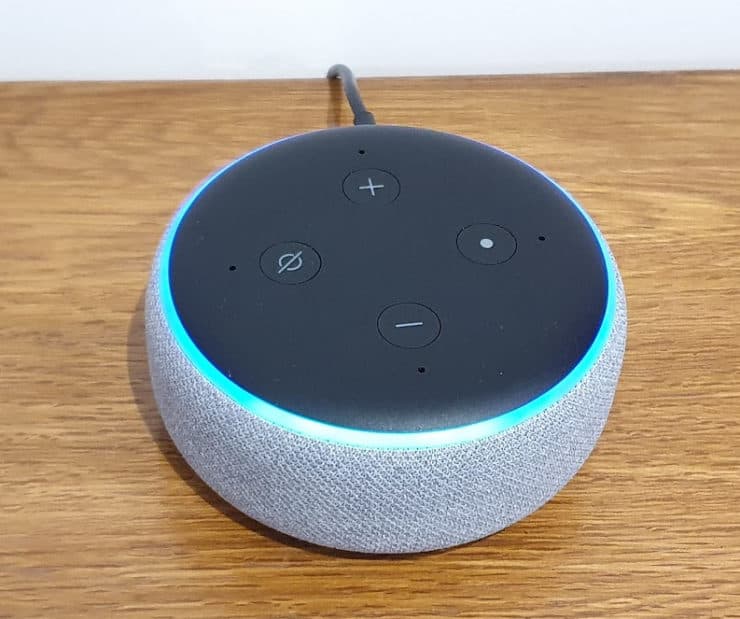 This collection of 37 smart devices make up an automated smart home, and whilst it might sound like a lot of devices, this is fairly typical for hardened smart home users. It'll probably be typical for many consumers in 5-10 years, too.
Whilst many of these devices will "support Alexa", if you purely want to manage your smart home from your Echo devices and the Alexa app, you'll quickly run into some headaches:
Firstly you'll want to name every device, and then you have to remember these names when issuing commands to Alexa. You: "Alexa, turn on the bedroom 2 lights… crap, no, sorry, I mean the guest bedro-"… Alexa/Echo cuts you off saying: "Alexa, sorry I don't see any devices with that name" – doh!

It's hard enough getting the names of my 2 pets and son correct when I'm quickly saying (or shouting!) something, let alone trying to remember all 37 smart device names that I listed earlier.

This quickly becomes unmanageable.
Secondly even if you do magically remember all the device names, Alexa can sometimes mishear you. If you're issuing dozens of voice commands each day, you'll start to have mis-hearings multiple times a day – which gets annoying quickly.
Thirdly, some more specialized smart devices (such as smart sensors) can only communicated over Zigbee or Z-wave, meaning that they don't offer Echo/Google Home support.
Finally you will probably want to setup various routines to manage your smart home, some of which will be complex and contain multiple devices. It's therefore unfortunate that you can't create new Alexa routines on a PC or laptop, only via the phone app.

Yes you can use a bigger-screen tablet to setup routines but over a third of American households don't have a tablet. Plus the whole point of 'smart homes' and 'the cloud' is you can easily manage things anywhere, on any device. So not being able to setup potentially complex routines on a PC/laptop is a big oversight.
The other big downside of having loads of smart devices is that many of them can provide really useful statistics and views, such as a plugged-in device's energy usage (via certain smart plugs), your house's temperature or the video footage from your front and backyard. Oh yeah, plus you can check if you left the garage door open. I keep forgetting that!
But if you rely solely on an Echo or Google Home device, you can only get a single device update at a time. In other words, you can ask for your house's temperature, or to view Ring footage – but that's it. You get that 'update', and then you have to ask about another device. And another. You could be issuing loads of 'tell me about…' commands every day.
Wouldn't it be easier if you could go to a central place and view all the information about your smart devices? And also create and trigger routines from this central place, easily automating your smart home?
It's almost like a smart home hub would be really useful in this case…
So what are smart home hubs?
A smart home hub is a central place to view and manage all aspects of your smart home. They will typically scan your home network and detect your smart devices, giving you an awesome view of your smart home. The below is from Home Assistant's demo, which is a free smart hub software: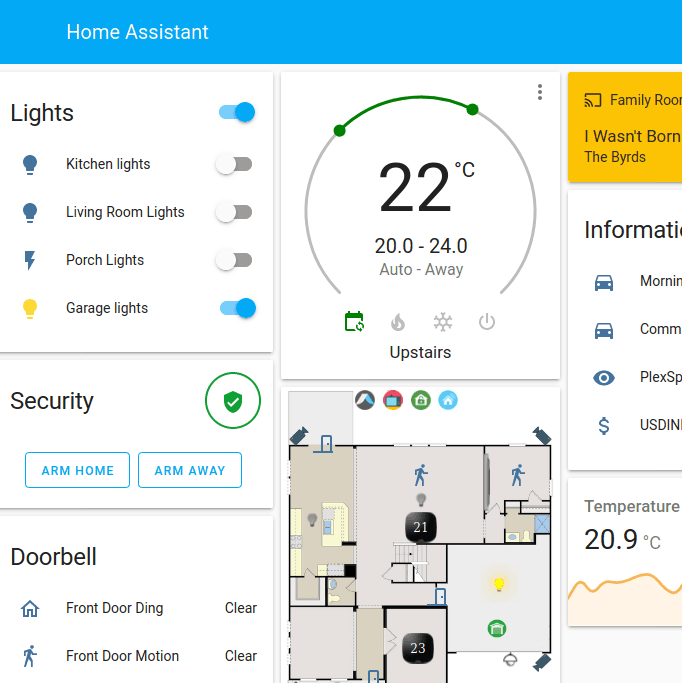 Yes some extra configuration is required if you want to get things to that demo's view (the tool can't magically know your house's floor plan, for example!), but even 'out of the box' it provides a much better user experience than relying on an Echo or Google Home device to manage your smart home.
Overall, smart hubs bring a range of benefits:
They are a simple, central place to view and manage your entire smart home. As I mentioned earlier, this is much easier than getting a device-by-device update from a smart speaker.
You can get the important phone notifications (from your smart devices) from a single, central phone app – instead of having to have a large array of phone apps from the individual smart home providers.
It's easier to view, create and manage your routines with Home Assistant and similar 'hub' providers, because some provide a computer/web based interface for the control panel. Unfortunately SmartThings does not, so the picture is admittedly mixed.
Most smart hubs provide support for Bluetooth LE, Zigbee, Z-wave and more. These are all protocols that smart devices can communicate over, meaning that home hubs often support a larger range of smart devices than Alexa or Google Home. This is especially true for more specialized and older smart home technology, which may not 'support Alexa'.
Speaking of specialized devices, you can buy vibration and water sensor smart devices from SmartThings (and a couple of other sources). These can be really useful in flood or earthquake prone areas (or simply if you're having a lot of work done on your house, and fear water leaks!). Such devices tend not to support Alexa/Google, but they will be registrable to some smart home hubs.

In other words, a smart hub will give you access to a larger array of more specialized smart home kit.
Of course, nothing's perfect and smart hubs have disadvantages too:
A smart hub is yet another purchase. Yes it's a cool and exciting purchase, but it's another expense that some households simply won't need. Unless you have a lot of smart devices, you may find that your smart hub sits in the corner providing no benefit to anyone.
There have historically been a lot of different ways that smart devices can communicate – Zigbee, Z-wave, Bluetooth LE, WiFi/Ethernet and proprietary methods too. This provides a headache for smart hubs, and whilst they tend to offer fairly good support, it's always tricky to support a range of different technologies. Sometimes smart devices which should be compatible with a home hub do not work as expected – either they don't register at all, or the device's full feature set cannot be managed by the home hub.
Most smart hubs don't have their own voice assistant. Some now work alongside an Echo or Google Home device (which you talk to, and that relays back to the smart hub), but if you did want to issue voice commands to the hub, your buying options will be a bit limited.
Finally, you're dependent on the home hub's developers to keep providing new updates – and maintain the existing servers, too. Sonos got into trouble a few months ago for planning to turn off their older smart speakers, whilst people are often complaining on the SmartThings message boards that development is taking ages – or simply not happening.

Whilst the same could happen with Amazon or Google, the chances of them simply stopping support for your Echo Dot or Google Home device is a lot lower. After all, Amazon and Google are actively developing smart products, along with buying similar smart companies. In other words, Amazon and Google appear to be in it for the long haul.
That's the gist of what smart home hubs are and what features they provide. I'll now take a more specific look at some of the main smart hub options.
Samsung's SmartThings home hub
There are three versions of the SmartThings hub, with the third generation model retailing for under $70 and it was released in August 2018:
There's a mobile/tablet app for Android and iOS to manage your smart home, although the web interface for PCs and laptops is quite limited – and mainly just allows you to view information.
In terms of the features that SmartThings offers over and above using Alexa or Home to manage things:
Supports over 40 "partner brands" meaning that your smart home device will almost certainly be supported, even if it doesn't support Alexa. They achieve this by putting Zigbee and Z-wave chips inside their SmartThings hubs, meaning that they can communicate with a wider range of smart devices.
Provides 24/7 monitoring and a smarter way of knowing when to send notifications to your phone. You can manage this in one central place, instead of across loads of different phone apps.
Access to a range of more specialized smart home sensors such as vibration, water leak and moisture sensors (many of which are specifc to SmartThings).
Gives a more streamlined way of easily setting up home automation and routines. For example you can more easily control certain 'home actions', such as leaving for the day or going to bed. Yes you can also do this with the Alexa and Home apps too (via routines), but SmartThings says it makes this process easier and more streamlined.
The current 3rd gen smart hub from SmartThings has a 3.6/5 rating on Amazon with 48% giving 5/5 and 21% giving 1/5 (at the time of writing).
Is SmartThings 'dead' like many of its customers say?
When searching on Google for "SmartThings", one of the auto-suggested searches is "Is SmartThings dead?". Following this takes you to SmartThings' own forums, where a thread posted 2 years ago asks if it's dead and 54 people have replied.
The thread makes for sobering reading, but to sum-up: SmartThings seem to be prioritizing 'behind the scenes' smart home integration, such as ensuring that smart fridges can speak to the 'Samsung cloud'.
There are various software bugs that have been reported years ago that haven't been fixed, and some newer smart home APIs have not been supported – meaning that some newer smart devices cannot be used with SmartThings.
Their support team are still responding to issues, but many people are seeing various issues with SmartThings and it doesn't seem like genuine software bugs are being fixed quickly.
Having said that, there are still updates. And some new smart devices are supported by SmartThings. So it's not quite dead… just struggling a bit, perhaps.
The Sengled smart hub
Sengled are a German smart home manufacturer with a base in America and China, too. They make smart plugs, lights, cameras and more.
Their products can integrate with Alexa, Home and SmartThings, but they also produce a sub-$30 smart home hub which manages their products in a central place – whilst also allowing Echo or Home integration. It has a 4/5 rating with 65% 5/5 reviews and 16% 1/5 reviews.
Unfortunately this hub is purely for Sengled products, so whilst it might make managing your smart home easier, you would be tied into Sengled. If you use a lot of their products then it might make sense to use, but otherwise it's worth looking at other home hubs.
Wink's smart home hub
So this is a tricky smart hub to talk about. On paper it's almost perfect: whilst it doesn't have a web interface, this Will.i.am-backed smart hub supports more smart home protocols than any other smart hub – meaning that it supports more smart devices than any other smart hub.
Over 400 devices are supported, in-fact, plus all the features you'd expect – including home automation and smart device monitoring – are provided.
The Wink Smart Hub 2 is expensive at over $180, but it aims to be a higher end product – hence its various features and device support.
So what's the problem? Well, most of the above is based on the product's marketing. What it doesn't tell you is that the last real product/protocol integration was back in 2017, and throughout 2018 and 2019 they seen supply shortages which meant the smart hub was unavailable to purchase.
In mid 2019, people were unable to connect to Wink's servers. Towards the end of 2019, users couldn't contact Wink's support team as they weren't accepting calls.
And then to top it all off, on 6th May 2020, Wink announced that all their devices would stop working imminently, unless you start paying them a $5 per month subscription fee. Whilst paying monthly will help Wink develop their systems going forward, randomly announcing that everyone's expensive Wink systems will stop working in a matter of weeks did not go down well – and has led to many people leaving the Wink ecosystem completely.
In short, Wink has undergone various ownership changes, and they are clearly struggling, leading to various blogs no longer recommending the Wink smart hub.
If Wink's situation improves, it might be worth buying their higher-end home hub, but right now it's probably not worth considering.
Home Assistant (on a Raspberry Pi, or elsewhere)
Home Assistant is a free, open source software platform which can be installed on a local computer or server, or a Raspberry Pi: basically any device at home which runs 24/7.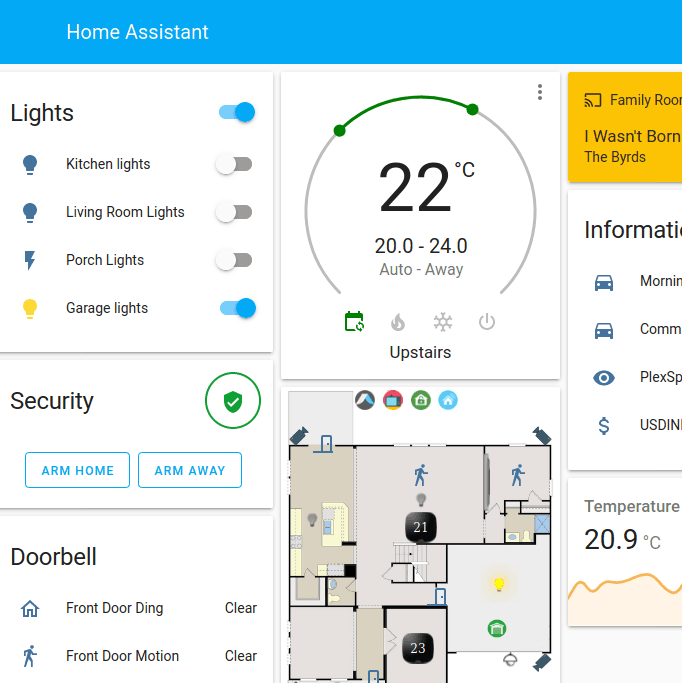 What this means is that it's not as easy to get up and running as buying a smart home hub off Amazon, because you need a device which runs 24/7 at home, then you need to install Home Assistant on it. This is more effort than the 'plug and play' products we looked at earlier.
What's the benefit of this option, then? Well, the fact that it's open source means that it can be regularly developed and updated. Indeed, its GitHub repository usually has over 100 commits a week. That's 100 possible new features, bug fixes and product integrations each week.
Home Assistant is now the most stable smart hub provider with the largest number of product support/integration. It has a computer/web-based control panel (demo here), along with mobile phone apps and Alexa/Home support.
It has lots of support for home automation, and a raft of integration with external providers meaning that you can have some really interesting automation triggers. For example you could turn on some lights (the action) when particular shares on the stock market drop below a certain amount (the trigger).
That's a slightly contrived example (a more common example is to turn lights on/off based on it being sunset/sunrise), but it shows that Home Assistant can be used to provide some really awesome automations.
Note: If you want to control ZigBee or Z-Wave smart devices (such as Hue smart lights), you will need to purchase a separate dongle to add to your Raspberry Pi. Aeotec are known to produce some useful Pi-compatible dongles for this.
Amazon Echo Plus
Another smart hub option appeared in 2018, and it's from Amazon: the Echo Plus. Some people assumed the "Plus" was just marketing, but the Echo Plus contains a ZigBee chip – meaning that it can integrate with the large number of more traditional smart devices on the market (including various smart sensors, and the Philips Hue range of smart lighting).
In-fact, the Echo Plus currently ships with a free Hue bulb right now and it's a similar price to the full size Echo, so it seems like Amazon are eager for people to go for their own smart hub:
Because the Plus contains a Zigbee chip, you can add your Hue bulbs directly to the Echo Plus and not purchase the separate Hue Bridge. Having said this, you do lose some automation options and you can't (for example) sync your bulbs to music, like you can when using the Hue Bridge.
Also the Echo Plus doesn't contain a Z-wave chip, meaning that the fairly sizeable number of Z-wave based smart sensors and devices aren't supported (unlike the SmartThings hub that does support them).
In other words, the Echo Plus is a good development by Amazon because it does start to offer people an entrypoint into the sometimes confusing world of smart home hubs. Plus unlike the other hubs, you get all the usual features of Echo and Alexa devices.
Summing up…
Smart home hubs are great for households with lots of smart home devices, but not so useful if you only have a handful of smart devices.
Plus you need to be really careful which brand of smart hub you purchase, because some of them are considered 'dead', or lock you into their own products.
Home Assistant is probably the most flexible option available to you, but you need some basic technical knowledge before going down this route.