Some smart locks are keyless, not requiring (or allowing) any sort of key at all. However other smart locks come with a physical new key, usually as a backup option incase the smart functionality fails. But what happens if you lose your key – can you rekey this backup smart lock? This would be a nice money saver, compared to having to buy a brand new Smart home security.
Smart locks with a physical backup key option can usually be rekeyed. Sometimes this is easy, but sometimes it requires you to disassemble the smart lock unit itself. This is still possible, but it's more complicated than other options.
How smart locks work
There are dozens of Smart home security on the market and they all work slightly differently. However the basic gist is that they typically fit over (or in place of) your existing door's single-cylinder deadbolt lock, and they enhance the lock's convenience by also offering WiFi, Bluetooth and GPS based detection of when someone is coming home.
Once it detects you are approaching the front door, the smart lock will active – unlocking the deadbolt and hence unlocking the door. Some Digital lock – such as the August Smart Lock Pro – actually fit on top of your existing deadbolt, sitting on the inside of the door: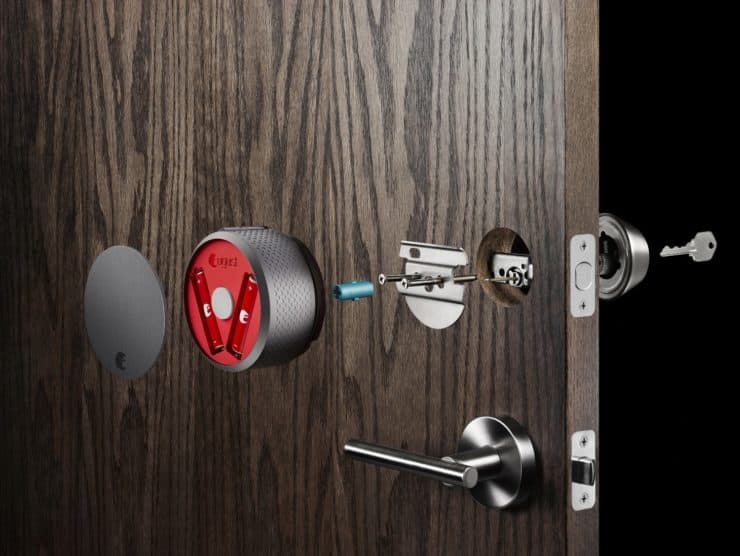 What this means is that you still have the existing lock and key, but the internal smart lock is able to open it as required.
Another type of Digital lock actually replaces your door's lock completely, sitting on the outside of the door – for example the Schlage Sense Smart Deadbolt:
In this case, the Schlage smart lock offers you three ways to unlock the door:
Smart functionality (auto-unlock based on WiFi/mobile data/GPS/Bluetooth signals).
A keypad touchscreen.
The keys that Schlage provide to you.
There's a final type of smart lock which are completely keyless, such as the Yale Assure Lock SL:
This item deliberately doesn't come with a backup key option, meaning that your existing deadbolt is replaced with this – and hence you can throw away your house's keys (well, or grind them up so they're useless).
The main idea with smart locks is that you rely mainly on the smart functionality, based on having your phone (with the smart lock app installed) on you at the time. There should then be a fallback option for when this isn't the case – which sometimes is a key/lock, but other times is a touchscreen.
Smart locks with a backup physical key
As seen above, some smart locks offer a physical key/lock, whilst others do not.
If you purchase a 100% keyless systems such as Yale's Assure Lock SL, you may want to keep your old door lock and keys around just incase you want to swap them back out. But certainly with this system, you're not able to rekey the lock… because there isn't one!
That's why some people insist on only buying a smart lock with a physical backup key, either one that replaces the existing Latch (such as Schlage's offerings) or August's approach which fits over the existing door lock, moving the deadbolt as required.
These type of smart locks can be rekeyed, thankfully – but how simple this will be varies. For example the August Smart Lock keeps your existing Latch, so you just need to replace this – which is simple enough. But Schlage's one is in-built, meaning you need to deconstruct the unit in order to rekey it. More on this later.
Downsides of having a rekeyable backup lock
Some people argue that you should either switch to smart home tech 100% and have a smart lock with no key at all. This is because keys can be lost or stolen, and then a burglar has a simple way into your house.
Equally keys can be cloned without your knowledge (granted this is rare, and more common with very disgruntled housemates or ex-partners) – again giving them simple access to your house.
Without a smart lock, if your keys were stolen or cloned, you could simply swap out your door lock in minutes – no big deal. But with the Schlage smart locks (for example), it's a major headache to try and disassemble it and rekey the lock.
This is the big downside of a smart lock with a physical key option – so be sure to read the final section for recommended smart locks to buy.
How to rekey the backup lock (if it's possible at all?)
Okay, so as hinted at throughout this article, if your smart lock has a physical key option, you can rekey it. In theory..!
Firstly, the simple case: August's smart locks just control your existing door lock, so these can be 'rekeyed' simply by changing the existing door lock as you normally would. This is straightforward enough.
But then we come to Schlage's range of smart locks which contain a key slot, and hence have an integral key lock.
This naturally doesn't give you easy access to the lock: you instead need to remove the smart lock, disassemble the front handle/cover, remove any clips inside (if relevant) and then you can remove the cylinder to replace it.
This isn't ideal and Shlage actually used to make things much easier, which I'll look at in a second. But for now, you'll have to consult their 19 page PDF guide which covers how to rekey a range of their smart locks.
Unfortunately this can require some specific tools, such as a 'cylinder cap removal tool' and a 'rekey kit'. Luckily you can buy specific kits for this, such as from HomeDepot:
Obviously be sure to double check that the kit will work with your specific smart lock before buying, though. Once you have a kit, either follow the PDF guide from before or a relevant YouTube tutorial such as the following for a Schlage deadbolt lock:
Alternatively, many HomeDepot and Lowe's stores offer a rekeying service that covers smart locks from Schlage, or you can go to a locksmith who can do it (albeit at a more expensive price!).
Finally, companies such as Kwikset actually make it easy to rekey their locks and actually offer a simple kit for this purpose:
However right now, none of their smart locks seem to feature SmartKey technology (despite the name), but keep checking since Kwikset do produce a range of smart locks so it makes sense that some will start to support this easy re key technology.
Annoyingly, Schlage used to offer this capability too – in their smart lock range. Back in 2010, they announced their new SecureKey technology that allowed you to buy a simple rekeying kit to rekey any of their Shlage SecureKey smart lock range.
There were some issues with this technology, however – making them vulnerable to possible lock-picking attacks – and they were apparently fragile inside, so Shlage seem to have moved off this idea now.
In short, if you're interested in rekeying your smart lock before buying it, be sure to do your research and only buy a particular smart lock make if you know you can easily rekey it (whether via a cheap local service or yourself).
Recommended rekeyable smart locks
I've already mentioned a few brands of smart lock throughout this article, and most of them are 'rekeyable' to some extent (apart from the Yale Assure lock SL without any backup key, of course).
If rekeying is important to you though, I'd suggest to only purchase a Schlage lock if you feel confident to rekey it yourself, or there's a locksmith/Lowe's/HomeDepot nearby that offers this service. The last thing you want is to lose your keys and then find that no-one nearby offers this service.
The August Smart Lock and Smart Lock Pro have really useful designs, in that they fit to the inside of your door and control your existing deadbolt lock – making rekeying it straightforward. In August's case, the smart technology does genuinely enhance what's already there – instead of some smart locks that scrap what's already there, making basic things (like rekeying) harder.
The Lock Pro is the more expensive of the two, although it does come with useful smart hub integration options. If this isn't important to you, though, then the August Smart Lock will work just fine – and right now they're available for less than $120 on Amazon.