When you plug a device into a smart plug, it's sometimes easy to forget that the device itself isn't suddenly smart. And by that I mean that it's still the same old device, merely plugged into a smart plug which can turn it on or off.
A standard light – even one which supports dimming – is still going to be limited by what a smart plug can do. The plug can turn the light on or off, but it can't alter the supply voltage to make the light brighter or darker. If you want smart dimmable lighting, you do still have options however.
Let's See, can smart plugs dim lights?
How smart plugs work
A smart plug is plugged into a wall outlet, and then your electrical device is plugged into this. If the outlet has a switch, leave this enabled so the smart plug can control things fully. You can then use the smart plug's app – or an Echo or Google Home (if supported) – to turn the plugged-in device on and off.
Many smart plugs allow a single device to be plugged into them, but you can also buy smart power strips which enable you to control multiple devices in a smart way.
You can also setup schedules (also called timers), allowing you to automatically turn the power on/off at convenient times of day. This can be good for turning indoor and exterior lights on (or off) at specific times, or even for setting the coffee maker to brew coffee in the morning!
Some smart plugs also track a device's energy usage, helping you to see the exact cost of running a device or appliance and allowing you to control this – potentially bringing down your energy bills.
How smart plugs can control lights
If you can plug a device into a wall outlet (or power strip), you can instead plug it into a smart plug dim lights. Well, assuming you don't exceed the plug's power rating of course.
Anywhoo, this means that instead of plugging a side lamp or overhead light directly into a wall outlet, you can instead plug it into a smart plug dimmer (which is itself plugged into the wall outlet).
You can then use Echo/Google Home, or your smart plug mobile app, to control the light.
Of course, the control that I speak of is still fairly limited by nature of what a smart plug is. You can:
Turn the light on or off (whether you're at home or out).
Set up schedules/timers to automatically turn the light on/off at set times.
And… that's basically it. Notice how I don't say "Sent lower voltage levels to control the lights dimming"?! Now this doesn't mean that smart plugs are bad: in-fact they work really well. It just means that most smart plugs will not be suitable for dimming lights.
If you really want to smartly control dimmable lights, however, read on for your options.
Option #1 for having dimming lights with a smart plug
So this first option is quite limited, however it'll work great for you if you like having a light or lamp on a single dimming setting.
Basically you can set the light to a specific dimming setting, and leave it at that in the 'on' position. Then this is plugged into the smart plug, and you can use the smart plug to turn the already-dimmed light on or off.
This is useful if you like to use a partially-lit light/lamp at certain times of day, such as in the evening for reading.
My wife and I actually do similar: we have a side lamp (pictured in the earlier section) which we put on in the evening. It's nice to have a dimmed light on, instead of using the main ceiling lights which can be too bright especially when you're trying to relax before bed.
Option #2 for having smart dimmable lights
The other option is to ignore smart plugs, and buy a suitable smart light – as in, a smart light dimmer plug.
This is probably the best option for you, to be honest, because whilst there isn't quite as much choice (compared to smart plugs), smart dimming lights are specifically made for this purpose and they work really well.
There's firstly the Philips Hue Smart Wireless Dimming Kit which comes with a dimmer smart switch. You can control the dimming via the switch or the Hue mobile app, and the benefit of this is that you can add 9 other Hue bulbs onto the dimmer switch (when paired with a separate Hue hub). The downside is that you do need this extra kit – definitely a smart switch, but possibly the Hue hub, too.
Other more light-weight options (meaning, no separate kit is required) include:
The Wyze Bulb 800 A19s, which support Alexa/Google Assistant for dimming, alongside the Wyze app. It's handy that no separate Wyze switch is required.
Sengled's A19 smart bulb range, which also supports Amazon and Google smart speakers and the Sengled Home app.
It really depends what you're after – a smart switch can be really useful (especially if it supports motion detection, since you can turn your smart lights on automatically when entering a room), but if it's overkill for your needs then the Wyze or Sengled bulbs probably make more sense.
Option #3 – explore Insteon or Lutron smart products
The third option is to explore slight more proprietary smart home kit, such as Insteon who produce a smart wall switch that is marketed as the "worlds most advanced remote control wall switch".
It supports on/off and dimming, of course, whilst also supporting gently ramp-up and ramp-down of the dimming lights, which can work well alongside the customizable scenes routines.
Beyond this, though, there's a (potentially) even better solution: Insteon's Plug-in Dimming Module. This is essentially a smart plug that supports dimming: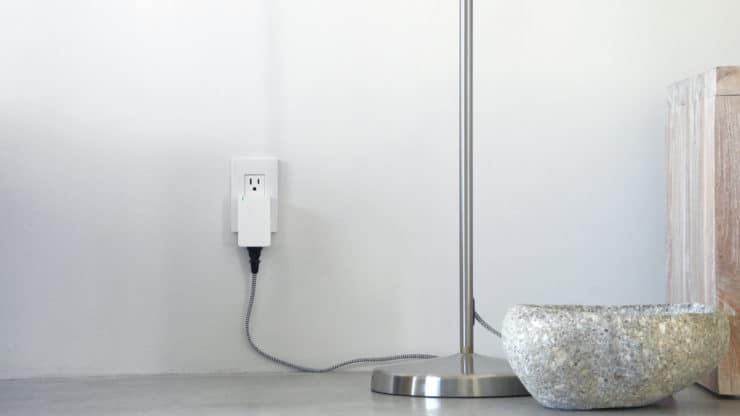 An Insteon hub is required for any of Insteon's products, but then Alexa and Google Assistant support is available.
Insteon produce a range of other smart tech, so if you're interested in their line-up then they are worth considering – especially since SmartThings doesn't seem to be doing as well recently.
Finally, Lutron do a range of smart switches, some of which support dimming. For example the Sunnata dimmer is a touch switch which looks pretty cool and easy to use:
If you don't like the idea of a touch switch, Lutron do more conventional dimming switches too.
Lutron's devices don't use WiFi (they use 'Clear Connect RF' – radio frequency), meaning that a Lutron smart bridge must be plugged into your router to receive the RF signals of the Lutron devices and make everything 'internet aware'.