Amazon regularly do bundle offers on smart devices, such as smart plugs with an Echo or Echo Dot. But why are they often included as a bundle – can you effectively use smart plugs with an Amazon Echo?
Whilst you probably won't want to plug your Echo into a smart plug (unless you have privacy concerns), you can control your smart plug via your Echo device. This voice control is quite a useful feature.
Recapping how smart plugs work
Smart plugs work by plugging them into your wall socket, and then you plug an electrical device into this (or multiple devices, if you have a smart power strip).
You can then use the smart plug's phone app – or a smart speaker (once hooked up) – to turn the smart plug on and off, thereby turning the electrical device on and off.
There are many uses of this, including turning the internet router off at meal times (always a favorite..!) or turning a slower cooker in whilst you're at work, so you'll have the perfect meal waiting for you when you arrive home.
You can also set automatic timers, so that the smart plug will turn on and off based on the time of day that you have configured. In this way they replace the old style mechanical timers.
Another nice benefit of smart plugs is that you can use them as part of automation routines with other parts of your smart home. For example, you can connect your smart plug with an Echo (or similar device) and then have a routine that says "when someone says 'dinner time'":
Announce 'dinner time' on all Echo devices in the house.
Turn off the internet router (via the smart plug).
Flash the landing and hallway lights on/off (via smart lighting).
How Amazon Echo works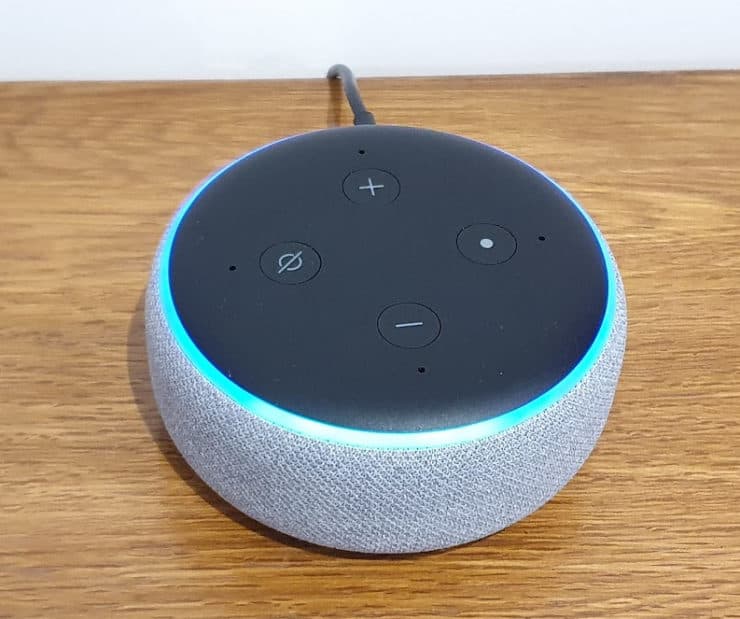 Amazon's range of smart speakers is known as Echo, and there's various types of Echos: there's the Echo Dot, a small voice assistant the size of a hocky puck, the full-size Echo which is 5x the height and has better speaker quality as a result, and finally there's a range of recently-released Echos with actual screens (such as the Echo Show range).
Echo is plugged into a wall socket (i.e. it doesn't run on battery power) and it uses WiFi to connect to your internet router, allowing it to get answers to any questions you ask your Echo.
The smart functionality – i.e. the 'brains' of the system – is powered by Amazon's Alexa, a cloud-based virtual assistant that turns your voice questions and commands into machine language, and carries out your instruction.
The nice thing about Echo is that even with the cheapest Echo Dot (which can be as cheap as $22 during Black Friday) allows you to hook up a range of other smart devices, including smart lights, smart cameras and doorbells, smart plugs and loads more.
You can then setup routines which allow you to combine multiple devices together, and perform specific actions when a trigger occurs. The trigger might be your voice (i.e. someone saying a particular phrase) or a particular time of day.
Should you plug your Echo into a smart plug?
If you've bought an Echo and smart plug bundle deal (or one simply came free with the other), you might be wondering whether Amazon are suggesting that you plug your smart plug into the wall socket, and then plug your Echo into the smart plug?
After all, the Echo doesn't run on batteries so it must be plugged into something, right? Well…
It's unnecessary to plug your Echo into a smart plug. The Echo ideally needs constant power, whilst a smart plug can cut the power to your Echo – which you probably don't want. It's much better to plug your Echo directly into the wall socket (or a non-smart power strip).
Since you can mute your Echo's speakers, and separately mute the microphone from listening to you, there's only two cases I can think of for plugging the Echo into a smart plug:
You want to track how much electric energy is being used by your Echo, and you have a smart plug which tracks this.
You have privacy concerns about the Echo and you don't believe that the software-based 'mute microphone' button really works. In this case, you could use a smart plug to fully cut the power to your Echo at particular times of day. Of course, you could also just unplug it – but a smart plug is a bit more convenient.
The real reason that Amazon often sell an Echo + smart plug bundle is simple: they want to get more and more people interested in smart home products. After all, they sell a range of smart devices themselves, and they also own Ring (the smart camera and doorbell company) so Amazon have a vested interested in getting more and more of its customers using smart devices.
Controlling your smart plug via Echo/Alexa
Once you have a smart plug powered on and ready to go, you'll probably have already downloaded the smart plug phone app and played around with this a little bit. If so, you'll probably have:
Thought it's cool that you can turn household devices on/off from anywhere in the world.
Wished that you could turn devices on/off without having to pull your phone out.
As it happens, you can easily integrate your smart plug with your Echo via your Alexa app. Simply launch the Alexa app and go to 'Devices'. From here, click the 'Add' icon (which is a plus icon) in the top right, and you'll come onto a screen such as the following:
Click on "Plug" and it'll ask you to select the smart plug brand – such as TP-Link Kasa, Amazon and SmartThings. You can then follow the relevant instructions to link the two, although the general process is that it'll launch the smart plug's phone app and ask you to authorize linking it with Amazon/Alexa.
Once this is done, you can say things like "Alexa, turn on my smart plug" and it'll turn the plugged-in device on. You can also go to 'Settings' and 'Routines' in the app, and then set-up automations which allow you to control your smart plug based on other, external factors (such as a voice command, the time of day or other smart devices doing something):
Setting up routines might seem overkill if the Echo and smart plug are the first ever smart devices you've owned, so don't worry about this part for now – you don't need to setup routines to control your Echo nor smart plug. I mention this mainly so you're aware of the option.
Simply by linking your smart plug with the Alexa app, you can:
Control your smart plug with your voice (by talking to your Echo).
Control your smart plug with the smart plug phone app.
Control it with the Alexa app (under devices).
Control it with Alexa automation routines.
That's a lot of different options, so you can pick your favorite and stick to just that – but it's nice to know there's more flexibility if you need it too.
Amazon Echo Flex or the Amazon Smart Plug: the perfect solutions?
In the last couple of years, Amazon have started releasing a lot more smart devices. One of them is the Echo Flex, a plug-in device which then 'has Alexa' on it. But what does this mean, and can it do away with an Echo+smart plug combo?
The short answer is no. The Echo Flex is plugged into a wall socket, and it then provides a simple way of communicating with Alexa. As in, you can quickly issue a voice command (e.g. "turn on the lights" or "what's the time?") and it'll respond accordingly.
But the Echo Flex doesn't have a pass through socket on it. As in, you can't plug other devices into it. It also has a fairly small speaker which isn't optimized for playing music. In other words, the Echo Flex isn't a replacement for a smart plug, and it's also not a replacement for a proper Echo device. It's more of a way of allowing you to easily control your smart home in rooms where you may not want a full Echo device.
Finally, there's the Amazon Smart Plug. This was released on 11th October 2018 and it is a smart plug to rival the massive range of smart plugs on the market. At $25 (when not part of a sale), it's slightly pricier than some of its rivals, but it's not too expensive.
Amazon's smart plug works the same way as any other smart plug, and it also doesn't contain Alexa itself. You still need a separate Echo device in order to manage the smart plug.
Due to this, the Amazon Smart Plug is also not a replacement for a smart plug+Echo bundle: it is literally one of many smart plugs that you can use alongside an Echo.
It would be nice if Amazon released a smart plug which contained Alexa, and I suspect that they are working on this, but it'll be tricky for Amazon to pack all that power and functionality into such a small space.