One of the most important features in the Ring application is also one of the most buggy and inconsistent. How are you supposed to make the most of your smart devices when you can't get them connected to the internet in the first place?
The easiest way to force an update to the Device Health section of the Ring application and see your Wi-Fi strength is to trigger an event. You can also try switching into live you to force an update. You can also use a third-party Wi-Fi strength detector including the ones already built into your smartphone, laptop, or even a physical Wi-Fi strength meter.
We got some tips and tricks for forcing an update on your Ring Device Health tile and checking the strength of your Wi-Fi network even when Ring doesn't want to work.
What is Ring Device Health?
The Device Health Report section in your Ring application is there to let you know all of the essential, operational information about your Ring devices.
Ring's Device Health section covers everything from the current battery level to the strength of the Wi-Fi network that your Ring device can access. Device Health Report also covers a variety of other essential troubleshooting stats for your Ring device: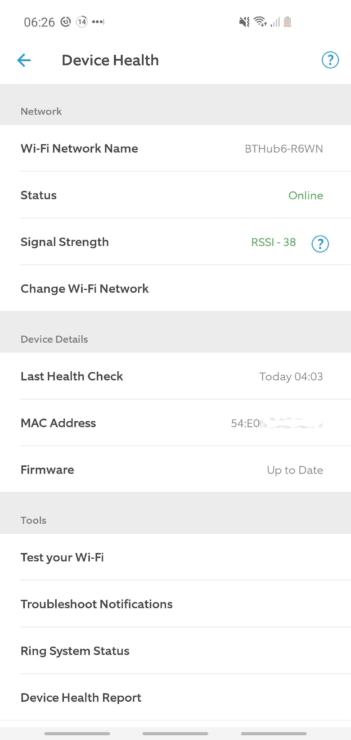 Ring Device Health has been programmed to update every time an event is triggered. However, Device Health has never worked quite as well as it should and there are often bugs with this section of the Ring app.
That's a shame because knowing the current strength of the Wi-Fi networks around your Ring devices is essential to setting up a smart home that actually works. Missing loads of recordings due to dodgy Wi-Fi is never fun, after all!
Why Check the Wi-Fi Strength in Ring Device Health?
There are three main reasons why you need to be able to get the latest reading for the strength of your Wi-Fi network for your Ring devices:
The most important reason that you need to stay on top of your Wi-Fi strength is that your Ring devices need a strong Wi-Fi network to work properly. If your Wi-Fi network is spotty or having trouble connecting, your smart technology will not function as intended.

Even the most cutting-edge smart devices will lose most of their functionality if they can't connect to the internet. The single most important component in your smart home ecosystem is the strength of your Wi-Fi network.
The second reason you need to be able to check your Wi-Fi strength is troubleshooting. Many of the problems that we see with smart devices have to do with an inconsistent internet connection. If you can quickly check signal strength in the app that controls your devices, you'll be able to troubleshoot any problems that much quicker.
Being able to check the strength of your Wi-Fi network is also going to help you set up a smart home. This allows you to more efficiently position nodes in a mesh network, Wi-Fi range extenders, and the smart devices themselves.
So, if Device Health isn't updating properly in your Ring app—here's how to get it working again.
How to Update Wi-Fi Strength in Device Health on the Ring App
We're going to walk you through 7 quick ways that you can refresh the Wi-Fi strength section of Device Health on the Ring app. Will be starting with the easiest fixes that will take you no time at all and rounding out this list with some fixes that work generally for common Ring app bugs.
Let's get the Ring app working properly with the easiest, and most overlooked, fix!
Change Your Chime Tone
The Ring app forces a Device Health update every time you change the settings of your smart devices. If you're looking to update the Device Health section on a Ring doorbell, the fastest way to do this is just to quickly change your Ring chime tone.
Changing the time chime tone is fast and reversible. Simply select the Chime device in the app, go to "Audio Settings" then "Chime Tones", and select a new chime tone.
It should take a few seconds to trigger a Device Health update for all your devices, which will get the Wi-Fi scanning running again. You might need to wait a minute or two to see an updated status on the Wi-Fi strength checker.
If this doesn't work, there's another fast fix that works on a similar principle.
Switch to Live View
If you're looking to update the Device Health on a Ring camera that offers Live View, all you need to do is switch into Live View and that will (usually) force a Device Health update.
How Live View works is a little unique when it comes to how the Ring device operates. It's essentially a way to force an event to happen immediately which will then push updates to your timeline as well as to the Device Health.
Note: Keep in mind that this does not work for all models or devices. It seems that users have mixed success with the Live View updating the Ring Device Health Wi-Fi signal strength.
Trigger an Event
Speaking of events, a sure-fire fix for this problem is just to trigger any event.
Events are the heart of how the Ring device ecosystem operates. Whenever an event triggers, it pushes updates across your app including in Device Health. Forcing an event is a great way to push and update on the Device Health section or any other area of your app that seems to have gotten stuck.
Here's a quick list of some of the easiest to trigger events for Ring devices.
Live Views.
Motion Detection Events.
Person Detected.
Answered or Missed Rings on Ring Doorbells.
3rd Party Linked Device Events.
In other words, go and walk in-front of your Ring device – or press the doorbell. This should trigger an internal Ring event, which should – in theory – update the Device Health status.
Reboot Your Device
The Ring app now allows you to reboot devices, under Device Health. This is often preferable to the more nuclear option of setting up the device again (which we cover next).
Rebooting the device will flush out any temporary data glitches within the Ring device, and it will also force through another device health check. Just click "Reboot this device" at the bottom of the Device Health page:
Set It Up Again: Pair Your Ring Device
There might be a bug that's preventing your device from communicating with the app effectively. This could be a glitch that happened during a firmware update or a network connectivity problem. Either way, a quick fix for most device errors is to simply delete the device and reconnect it.
This will force an update as well as reset the device's settings. This might shake out any problems that are preventing your device from continually sending an updated status to your app, with the obvious downside that it can be a bit time consuming (it will often take 10-15 minutes).
Here is how you can quickly set-up a new Ring device with your app:
Open the Ring app.
Tap "Set Up a Device".
Scan the device's QR code or enter the MAC ID Barcode number.
Set your location.
Name your device.
Follow the on-screen setup instructions for your device.
Reinstall the Ring App
Then again, the problem might be with the Ring app rather than with the device itself.
In this case, you should uninstall the app and then reinstall it on your device. This will essentially factory reset the app to get rid of any problematic settings or bugs that happened during an update.
It might also be worth trying to install the Ring app on another device. Another smartphone, tablet, or other device could be a good choice for making sure it's the app, and not your device, that's causing the problem.
Check Your Wi-Fi Network
Our final port of call is to check the strength of your Wi-Fi network overall.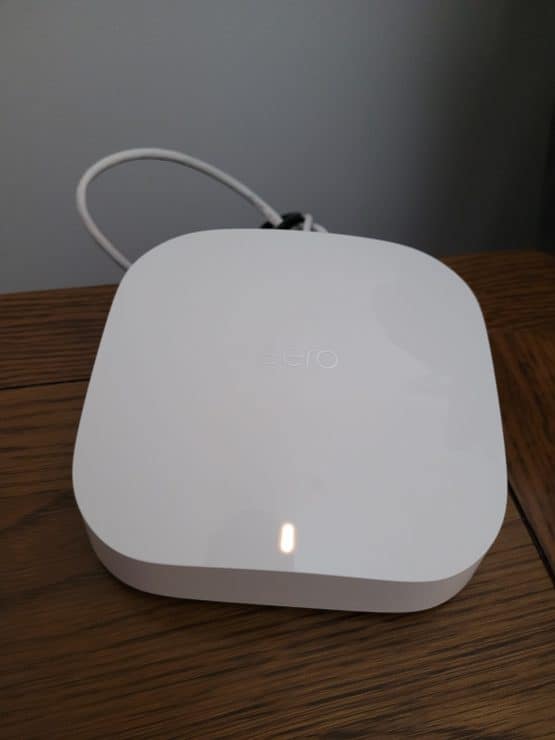 If your Ring devices are having trouble communicating with each other and with the app, it might be because your Wi-Fi network isn't strong enough to accommodate all of these smart devices.
If anyone in the house is streaming lots of video, downloading large files for work, or gaming and live streaming, your internet bandwidth might be reaching its limit. Smart devices require a fair amount of bandwidth in order to constantly communicate with their servers, your smartphone, and other devices in your ecosystem. Keep checking online bandwidth test.
To fix this, you can update your Wi-Fi router to a new model, contact your internet service provider to get a faster plan, or try pairing down the number of devices you have connected to your WiFi network. Using a smart hub adds Wi-Fi alternatives like ZigBee or Z-Wave and relieves your main network.
Given that more and more devices are starting to require an internet connection to function, it's a good idea to practice good Wi-Fi hygiene to future-proof your smart home.
Alternatives to Checking Device Health for Wi-Fi Strength
Sometimes, working with the manufacturer's applications, or their devices, doesn't yield the results that we are looking for.
If this is the case for you trouble updating the Device Health section of the Ring app, it's time to check for alternatives to what Ring has to offer.
We got some clever ways that you can check the strength of your Wi-Fi network without having to rely on rings inconsistent technology.
Try a Wi-Fi Analyzer App
The first thing you can try is a Wi-Fi analyzer app. Also known as Wi-Fi strength meter, these applications check the strength of the Wi-Fi network that your smartphone is connected to.
There are plenty of apps that offer this functionality. You can find free options or paid options. These apps are on essentially every platform.
We recommend looking for something that has a lot of downloads and a lot of positive reviews. This will help weed out anything that might be junk.
This app gives you a great alternative to using the Device Health section of the Ring app. It's good to also be able to check the strength of Wi-Fi networks when you're traveling or throughout your home in order to optimize your own home internet connection.
Use the Built-In Wi-Fi Tools in Your Laptop, Tablet, or Smartphone
Here's a little secret about your smartphone, your tablet, and your laptop. You've already essentially got a Wi-Fi analyzer app built into all of these devices. Where this feature is will depend on the devices that you're working with.
Most devices keep this functionality inside of the Wi-Fi and network section of your settings menu. You'll be able to locate this in your settings or by clicking on the Wi-Fi icon in your system tray.
You can also get a Wi-Fi analyzer app that works on a desktop or laptop computer. These are often more robust and come back with a lot more features, but they will keep you posted on the overall strength of your Wi-Fi network.
Another place that you can find this functionality is inside of your Wi-Fi router. Your Wi-Fi router either came with either a website you can visit or software that lets you check on things like what devices are connected to your Wi-Fi network and how much bandwidth is currently being used.
Try a Physical Wi-Fi Detector
Since we're here, why not take a James Bond approach to fixing your Wi-Fi network.
You can buy a dedicated Wi-Fi detector to have a single device whose only purpose is to check the strength of Wi-Fi networks. Some of these devices come packed with other features that are designed for penetration testing in cybersecurity settings, but you can get a basic model that just checks the Wi-Fi strength wherever the device is located.
This might not be the most practical option since these features are built into almost every device you own, but it is pretty fun to own a physical Wi-Fi detector.