In order to help people get the best use out of their cameras, Wyze offers a few subscription services. In addition to Cam Plus, Wyze's most popular plan, they've recently added Cam Plus Lite, Cam Plus Pro, as well as Home Monitoring. These subscriptions add on a few enhanced capabilities, giving you new ways to enjoy your cameras.
Now while Wyze cameras aren't necessarily expensive as compared to some other brands, you still might turn your nose up at the idea of shelling out more money for a subscription service.
Let's face it, as cheap as Wyze cameras are, if you purchase more than one, the cost can add up. For example, let's say you opt for the Wyze Cam v3, which retails at about $29.99 on Wyze.com. Perhaps you purchase two for outdoor monitoring, and another two for the inside of your home – altogether you've just spent almost $120! Now to add a subscription service?
Because of this, you might wonder if that extra service is even necessary. Is not having the camera enough? Do you actually need a Cam Plus plan as well?
What is Wyze?
Wyze, also known as Wyze Labs, Inc, is a manufacturer in the smart home sector, and as such, has created a line of smart home products designed to enhance the functionality of the modern smart home. The company, started by former Amazon employees, was created with the money-savvy consumer in mind. They wanted to offer these budget-conscious individuals options for smart home security that won't break the bank.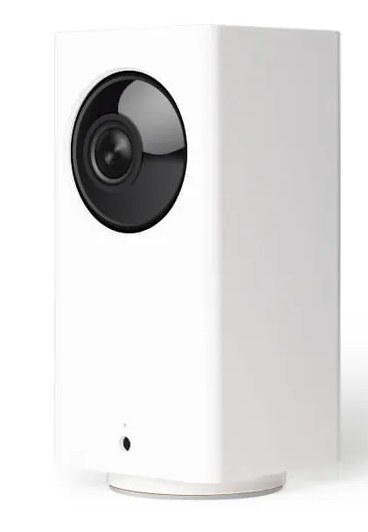 At the outset, Wyze produced mainly smart home cameras for both the inside and outside of your home. Since then, Wyze has expanded their line to include other smart home products. Though their line isn't as extensive as some other smart home manufacturers, such as their top competitor, Ring, it does contain quite a few products that most smart homeowners find useful and essential in their everyday lives.
In addition to their smart cameras, they also make smart lighting, such as smart LED bulbs and light strips. Their product line even boasts other helpful items such as thermostats, robot vacuums, a home security system, and even smartwatches!
In order to use and control these devices, you'll need to download the Wyze app and ensure you have a good Wi-Fi connection. The stronger the connection, the better, as it helps prevent lags in performance and video recordings.
They produce a wide range of useful products at affordable prices, without sacrificing quality – a win-win situation. In order to get the most out of their cameras, though, many have opted to take advantage of Wyze's Cloud plan, Cam Plus. In recent times, however, Wyze has changed and even expanded their Cloud plans. So what does this mean for you?
What do the New Wyze Cloud plans offer?
Wyze, once only offering the Cloud subscription plan, known as Wyze Cam Plus, now offers a few more at various price points. These plans were created to help you get the most out of your smart home monitoring devices, while keeping in mind everyone's budget and needs. So let's get into a breakdown of what these plans have to offer, and which cameras they affect.
Cam Plus Lite
This newer plan is designed with the most budget-conscious consumer in mind – as most of Wyze's customers are. It gives you the option to name your price – even if that price is $0!
Wyze recently announced this plan as a way to continue previously free or standard benefits such as 12-second event recordings and person detection. It also includes motion and sound detection, smoke and CO alarm alerts, and 14-day event cloud storage.
Unlike regular Cam Plus, Cam Plus Lite has a 5-minute delay between events. Meaning, that if something else occurs less than 5 minutes later, you won't be notified, and it won't be recorded in any way.
Cam Plus Lite is available for Wyze Cams versions 1 – 3, Wyze Cam Pan versions 1 and 2, and Wyze Outdoor Cams.
How do you Sign Up for Cam Plus Lite? (Is $0.00 Possible?)
When Cam Plus Lite was first introduced, there seemed to be some confusion as to how to sign up. So how do you get the coveted $0/month plan?
When it first changed over, Wyze sent alerts to current consumers' smart devices. After clicking on the link provided, it took you to the Wyze website where you could make the necessary selections. If you missed those, no worries, you can get this plan by going into your Wyze app.
First, go to Account at the bottom of the screen.
On the next screen, select Services.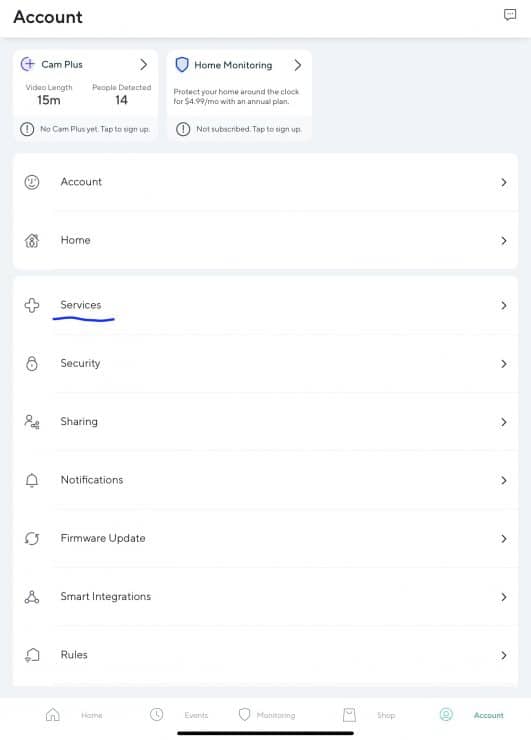 Across the top, you'll notice tabs for Cam Plus, Cam Plus Lite, Home Monitoring, and Sprinkler Plus (useful only if you have the Wyze Sprinkler).
If you go to Cam Plus Lite, you'll click the appropriate link, which will redirect you to the Wyze website where you can name your price.
You also have the option of subscribing once you sign in on Wyze.com. You would simply navigate to Cam Plus Lite, then follow the prompts to subscribe for each camera.
Of course, Wyze is really hoping you'll pay something, so a prompt may come up explaining how any contribution helps deflect operating costs and all. At the end of the day though, you really can choose to pay nothing – I did!
Cam Plus
With Cam Plus, of course, there is a price – and this one is non-negotiable. It's $1.99/month per camera, or $14.99/year per camera, depending on how you prefer to be billed. This plan has expanded a bit and offers more than before. It's available for all Wyze Cams, except Wyze Cam version 1.
Cam Plus really enhances how your cameras work. For example, you get advanced AI detection that differentiates between people, packages, vehicles, and pets. They're even on the verge of giving facial recognition benefits to Cam Plus subscribers!
Of course, you also get the other essentials such as Sound and general Motion detection, as well as smoke and CO alarm sound alerts. Event video length is unlimited, and there is no delay between recordings. This means that your cameras will catch everything, and record until the source of motion is gone.
Users who currently have Cam Plus Lite will notice alerts to upgrade to Cam Plus.
Of course, this is optional. But Wyze is really hoping you'll spring for the upgraded benefits.
Cam Plus Pro
Cam Plus Pro is a notch above Cam Plus and comes in at $3.99/month per camera, or $39.99/year per camera. This plan is designed to enhance your home security, and they even give you 24/7 professional monitoring to give you that extra piece of mind.
Cam Plus Pro only works with Wyze cams versions 2 and 3, and the Wyze Cam Pan version 1. This is also one of Wyze's newer plans.
This plan gives you the option to arm and disarm your cameras just as you would an alarm system. It also offers Alarm Triggers so you can always know when something is amiss at home.
With this plan, instead of buying an expensive alarm system, each of your cameras is the alarm system. It monitors your home for suspicious activity. If something suspicious is detected and the alarm goes off, an alert is sent to both you and a live representative. If you don't disarm your alarm via pin or safe word, emergency services are dispatched to your home.
Home Monitoring
Wyze's Home Monitoring offering takes your home security up even further. It gives you everything that Cam Plus Pro does – plus much more. You get such perks as extra Arming modes, battery back-up in case the power goes out, and even an Emergency Panic Button.
Billing is also slightly different. Once $4.99/month, it now comes in at $9.99/month per account (as opposed to camera), or $99.99/year per account.
In terms of billing, this actually works out nicely. You can have up to 5 cameras covered by this plan, and as long as they're part of your account, they're covered. In this case, the more cameras you have, the more cost effective it is.
Home Monitoring is available for all Wyze cams. But to note, this is more of an add-on plan. A Wyze Cam Plus subscription is included for one camera. You'll have to purchase additional Wyze Cam Plus subscriptions if you'd like options such as 12 second recordings, back to back recordings, and 14-day video storage.
While some may balk at the extra cost of adding on any kind of Cloud subscription plan, Wyze Cam Cloud subscriptions do offer some undeniably convenient and forward-thinking options.
Why Did Wyze Change Their Subscription Plans?
As inflation seems to affect every aspect of our lives, unfortunately, it has also trickled down to our smart cameras. Many companies, even Ring, have raised their prices to deal with the growing demand of upgrading and maintaining their technology and security.
Wyze Cam Features That Still Work Without a Subscription
While Wyze Cam Plus can be a great addition to your smart cameras, you may not want to shell out the extra money per year – or month, depending on how you choose to be billed. Because of Wyze's recent changes to their plans, without a subscription of any kind, your cameras' operations are very limited.
Instead of the 12-second videos users were once able to enjoy for free, now there's only a snapshot. So if you don't catch the event live, you can only see a snapshot in your smart device's notifications.
You'll still be alerted to motion, sound, and your smoke or CO alarms. But again, this will only be in the form of a still snapshot – no video.
If you want to do more, but still pay nothing, you can opt for the Cam Plus Lite subscription, and choose to pay $0. This plan offers everything Wyze used to offer without a subscription.
You can sign up using the Wyze smartphone app, which also can be used with or without a subscription:
It's to be noted, though, when it comes to SD card recording, you can still use this even without even a Cam Plus Lite subscription. If you have a microSD card installed in your camera, you can go into your Wyze app settings, and opt for Continuous recording.
Your camera will continuously record until the microSD card is full, then start overwriting older footage. This is a great option if you don't want to even use Cam Plus Lite.
What You Lose Without a Subscription
Unfortunately, when it comes to motion detection, your camera will no longer be able to differentiate between actual people and inanimate objects. This may cause you to have more false alarms than you'd like. That tree on your front lawn is about to get a lot more screen time.
You'll also lose video recordings due to the fact that you only get snapshots now. While this may not be much of a problem to you at first, it can be when suspicious activities are afoot and you get a snapshot right before someone does something nefarious – but see nothing after that.
How Wyze Compares to Ring and Nest
While once you didn't lose much without a subscription, things have changed. At this point, Wyze is very much like using a Ring camera with no subscription.
Without Ring's Cloud subscription, none of your videos are recorded – at all. If Ring detects motion, it will give you a snapshot and the option to view the Event live – but that's it. If you're unable to view the live feed, or just didn't, you're out of luck as you won't be able to see what caused the motion event in the first place, just that an event occurred.
As you can imagine, this doesn't sit well with most consumers, especially if video evidence can help catch a burglar red-handed. Because of that, most Ring users deem the Ring Cloud plan to be necessary, instead of just a convenient add-on. Considering Ring cameras aren't exactly cheap, this added expense can also be a sore spot for many.
When it comes to Nest Aware, similar is true. With Nest Aware, you can go back to your Event history to see what happened that triggered your cameras. Without the plan, however, much like Ring, you won't have video of the event, just that one occurred. You would've had to view it live to see what actually happened.
Again, a frustrating scenario. When you buy a smart home camera, you expect it to be able to do everything that it can and have full access to all of its features. But in fine print, they add, 'with paid XYZ subscription'. False advertising? Not necessarily. More like, selective omittance.
You Might Want to Consider Cam Plus
Beforehand, not having Cam Plus didn't have a huge bearing on the use of your Wyze cameras. However, after the recent changes, in order to get the best use out of your cameras, you may want to consider a subscription plan, even if it's just Cam Plus Lite.
Without it, you'll still have access to motion settings, and snapshots of motion and sound events. Being as Wyze cameras aren't pricey to begin with, many go for the Cam Plus, as it still works out to being cheaper than purchasing a camera, and subsequent Cloud subscription, from the competition.
So while it's not definitely needed, as the name states, it's definitely a "Plus".